The holidays are over and so begins a new year with a brand new set of titles from our favorite publishers. Whether you are looking for a collection of short stories, a historical narrative, or a mystery there are plenty of new titles hitting the market in January. We've compiled a few of our most anticipated releases into this January book list.
Take a look at this list of titles and see if anything strikes your fancy as you curl up in your bedroom post-holidays.
---
1. Lucky Boy by Shanthi Sekaran 
Solimar Castro Valdex is eighteen and drunk on optimism when she decides to cross the US/Mexican border. Weeks later, she arrives in Berkley, CA on her cousin's doorstep dazed by a first love found, then lost, and pregnant. This was not the plan, but Soli learns that when you have one precious possesion in the world, you guard it with your life.
Kavya Reddy, has always followed her heart. She's a contented chef at a UC Berkeley sorority house who desperately wants to have a child. When she can't get pregnant, her desire tests her marraige, her sanity, and puts her on a collision course with Soli when Soli is detained and her infant son comes under Kavya's care.
Kavya becomes a singing, story-telling inventor-of-the-universe mother that she has always dreamed of, but she has built her love on a fault line with her heart wrapped around someone else's child.
Lucky Boy is an emotional journey and a story with no obvious hero. Sekaran has taken real-life and applied it to fiction; the results are moving and revelatory.
Release Date: January 10, 2017
---
2. The Lost Girl of Astor Street by Stephanie Merrill
Set in 1924, The Lost Girl of Astor Street follow eighteen-year-old Piper Sail is an amateur sleuth that is attempting to solve the mystery of her best friend Lydia's disappearance. After Lydia vanishes without saying goodbye, Piper goes against high society expectations to look for answers regarding the whereabouts of her friend who disappeared from an affluent neighborhood.
Soon, Piper discovers that the answers to her questions be tied to the corruption stranging 1924 Chicago. These ties could lead back to her own privledged neighborhood, and Piper must decide how far she is willing to go to seek the truth to the mystery before her.
---
3. History of Wolves by Emily Fridlund 
Linda is fourteen-years-old and lives in the beautiful, austere woods, of northern Minnesota. Their abandoned commune stands as the last vestige of a lost counter-culture world. Linda is isolated at home and at school but is drawn to the enigmatic, attractive Lily, and new school teacher Mr. Grierson. Then, Mr. Grierson is charged with possession of child pornography and the implications of his arrest deeply affect Linda who is wrestling with her own fledgling desires and cravings to belong.
The Garnder family moves in across the lake, and Linda finder herself welcomed into their home as a babysitter for their little boy, Paul. While it seems like she is starting to find a sense of purpose in her life, Linda is drawn into secrets that she doesn't understand. Over the course of a few days Linda makes a set of choices that reverberate throughout her life as she tries to find a way out of the sequestered community to which she was born.
---
4. Lotus by Lijia Zhang
Sometimes the best stories are based on fact, and Lotus is one of those. Written based on the deathbed revelation that her grandmother was sold into a brothel during her youth, Lijia Zhang captures China's bustling undergound world with insight and compassion, as well as the strength of people who are forced to make tough choices.
Lotus follows a young woman who defies her fate and escapes to the city.  Surviving on her wits along, Lotus heads to the city of Shenzhen determined to pull herself out of the gutter and decide on her own path.
Wiring the money she earns as a streetwalker back to her family, claiming that she is earning the ages waiting tables. Lotus' striking eyes catch the attention of many and Lotus weighs the options she has among her suitors. She's caught the eye of various people from a savvy migrant worker, a photojournalist, and a rich and powerful playboy.  But Lotus also knows that fortunes can change and, in the end, the choice she makes leads her on a different journey entirely.
---
5. Nine Folds Make a Paper Swan by Ruth Gilligan 
Three voices tell the story of Jews in twentieth century Ireland. Nine Folds Make a Paper Swan tells the heartbreaking story of what it means to belong and how storytelling can redeem us all.
In the early twentieth century, a young girl and her family emigrate from Lithuania in search of a better life in America, only to land in Ireland instead.
In 1958, a mute Jewish boy is locked away in a mental institution in Dublin and forms an unlikely friendship with a man who is consumed by the memory of the love he lost almost twenty years ago.
In present-day London, we see an Irish journalist forced to confront her conflicting notions of idenity and family when her Jewish boyfriend asks her to make a leap of faith.
These three arcs span generations and entwine in revelatory ways. They tell the story of Ireland's all but forgotten Jewish community, and dare to ask the question: Just how far will be go to understand who we really are and what it means to feel at home in the world.
---
6. Everything You Want Me to Be by Mindy Mejia
This book, full of twists and turns, reconstructs a year in the life of a dangerously mesmerizing young woman. As she inches closer to death, a small town's darkest secret come to the forefront.
Hattie Hoffman is a high school senior who has spent her life playing many parts: the good student, the good daughter, and the good citizen. Then she's found brutally stabbed to death on the opening night of her high school play, and the tragedy rips through the fabic of her small town community. Local Sheriff Del Goodman, is a family friend and vows to find her killer, but trying to solve Hattie's murder leads to more questions than answers.
It seems that Hattie's acting talents go far beyond the stage. Told in three points of view–Del, Hattie, and a new English teacher who's marriage is crumbling–readers are taken along the journey of Hattie's last year of school and the events that drew her closer to death.
Release Date: January 3, 2017
---
6. The Animators by Kayla Rae Whitaker
A novel about friendship, art, and ambition, The Animators takes place on a private East Coast college, where two young women meet in art class. Sharon Kisses, quietly ambitious but south doubting arrives from rural Kentucky. Mel Vaught, is brash, unapologetic, and wildly gifted from the backwaters of Florida.
Both outsiders, they become fervent friends, bonding over Ren and Stimpy, R. Crumb, and dysfunctional families. Their friendship helps Mel to understand her own tumultuous past, and Sharon to lose herself all together.
A decade later Sharon and Mel are an award-winning animation duo. Their first full-length feature is about to be released and they are standing on the edge of success. But, while on tour to promote the film, cracks begin to form in their relationship. Sharon starts to feel like a taglong and suspects that raucous Mel is the real artist. Then tragedy strikes and long-buried resentments rise to the surface, threatening relationships with their families, lovers, and each other, and hastening the wreckoning that no one sees coming.
Release Date: January 31, 2017
---
7. The Most Dangerous Place on Earth by Lindsey Lee Johnson
The wealthy enclaves north of San Francisco aren't the paradise they appear to be, and the students of a local high school know it. These adolscents are navigating a landscape where every roomer, feeling, and action is potentially postable and shareable.
Johnson's debut novel weaves together a kaleidoscopic tale aboute hte real human beings beneath the high school stereotypes. There's the overachiever who enters into an illicit relationship with a teacher, the B-student who struggles to live up to his parents expectations, the gifted dancer who balances her rigorous rehearsals with weekends, and a kid who has returned from rehab to prove he can be redeemed. Then there is the former queen bee who has become a hippie outcast.
The delicate ecosystem of the school is upset when an idealistic young teacher arrives and strives to connect with her students.  The Most Dangerous Place on Earth is written with an urgency that turns teenage drama into adult fiction, ripe with sorrow, passion, and humanity.
Release Date: January 10, 2017
---
8. Difficult Women by Roxane Gay
If you aren't familiar with Roxane Gay, you should be. She is a powerhouse writer and award-winning author. Her book of essays Bad Feminist was a New York Times Bestseller.
Her new collection of short stories puts a spotlight on love, passion, hardwork, quirks, and human connection.  The women in Roxane Gay's Difficult Women span every spectrum: they live lives of privilege and poverty and have happy and turbulent marriages. They come from all walks of life from a stripper to an engineer. One thing is for sure, the women who live on these pages are anything but shrinking violets and they will leave with you a strong impression.
Release Date: January 3, 2017
---
9. The Hundred Lies of Lizzie Lovett by Chelsea Sedoti
This newly released young adult novel tells the story of obsession. Hawthorn wasn't trying to insert herself into a missing person's investigation, but is drawn in by the disappearance of Lizzie Lovett.
Lizzie Lovett was popular girl, and bad things don't happen to popular girls. Hawthon is convinced that Lizzie will turn up at any moment, which prompts her to develop her own theory for Lizzie's disappearance.
The theory is way too absurd to take seriously at first, but the more that Hawthorn spins her yarn, the more she believe. She immerses herself in Lizzie's life. She gets a job at the diner where Lizzie worked and starts hanging out with Lizzie's boyfriend and in the process, Hawthorn may uncover the greatest truth is within herself.
Release Date: January 3, 2017
---
10. Caraval by Stephanie Garber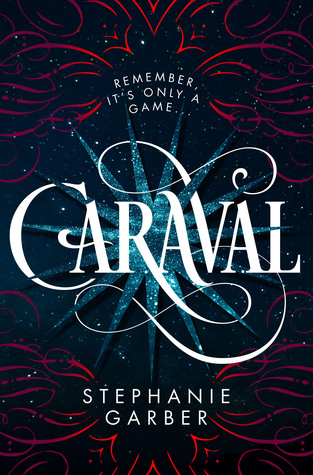 It's not just a game or a performance, but the closest you will come to finding magic in this world. Stephanie Garber's Caraval tells the story of two sissters who escape their ruthless father when they enter this legendary game.
Scarlett and Tella live on a tiny island with their powerful cruel father. Scarlett is about to enter an arranged marriage, and with the impending nuptuals, Scarlett things that her dreams of seeing Caraval are over.

But then the invitation arrives, and with the help of a mysterious sailor, Tella whisks Scarlett away to the show. Once they arrive, Tella is kidnapped by the show's organizer, Legend, and Scarlett quickly finds out that this year's performance revolves around Tella. Whoever finds her sister first, is the winner. 
Scarlett has been told that Caraval is an elaborate performance, but she becomes entangled in the game of love, heartbreak, and magic. Whether or not the game is real, Scarlett must find her sister before the game is over, and her sister disappears forever.
Release Date: January 31, 2017
---
11. Her Every Fear by Peter Swanson
Kate Priddy grew up with bouts of anxiety that exploded into panic attacks when her ex-boyfriend kidnapped her and nearly ended her life. When she is offered the chance to temporarily swap apartments with her cousin Corbin in Boston, she agrees, hoping that the time away from her flat in London will help her overcome the recent wreckage of her life.
Shortly after Kate arrives at her Corbins's apartment, she discovers that his next door neighbor has been murdered. When the police question Kate about Corbin, she is shaken and has few answers for them, but it also brings up questions of her own. 
Her curiosity intensifies when she meets Alan Cherney, a handsome quiet man who lives across the courtyard, who had seen Corbin come and go from his neighbor's apartment. Then she runs into a man claiming to be the young woman's old boyfriend, who insists that Corbin did the deed the night he left for London. 
As evidence piles up, Kate begins wo wonder if Corbin could be the killer.
Release Date: January 10, 2017
---
12. Carve the Mark by Veronica Roth
Veronica Roth, author of The Divergent Trilogy, returns with the first book in a duology. In Roth's new universe, we see a new planet where violence and vengance rule, in a galaxy where some are favored by fate. In this universe, everyone develops a currentgift, a unique power meant to shape the future.
For Akos and Cyra their currentgifts are more of a curse than a gift. Their gifts make them vunerable to other people's control. Cyra's gift gives her pain and power, and it is often exploited by her brother, a tyrant. To her brother, Cyra is a blade in his hand, but she is also resilient, quick on her feet, and smarter than he knows.
Akos is from a peace-loving nation and he possesses great loyalty to his family. When his brother is taken by Cyra's brother, Akos will do anything to get him back alive. As he is thrust into Cyra's world, their enmity seems insurmountable and they must decide if they want to help each other survive or destroy each other. 
Release Date: January 17, 2017
---
13. The Strays by Emily Bitto 
This haunting story tells the tale of three sisters who grew up on the fringe of their parents glamorous bohemian lifestyle and the girl who befriends them.
On her first day of school, Lily, an only child, befriends one of the daughters of an infamous avante-garde painter. Lily is taken in by the wild and makeshift lifestyle that Evan Trentham and his wife have cultivated with a group of like-minded artists who are working together to escape the stifling conservatism of 1930s Australia.
Lily is infatuated with the creative chaos of the Trentham's home and aches to really belong to it.
While Lily sees the outward glamour of the artist's lives, their real lives are shaped by Faustian bargains and spectacular falls from grace. The girls find themselves drawn closer to the white-hot flame of creativeity as emotions and art collide with explosive consequences and soon Evan's own daughters may be forced to pay the price for his choices.
Release Date: January 3, 2017
---
14. 4 3 2 1 by Paul Auster
Archibald, Isaac Ferguson, is the one and only child of Rose and Stanley Ferguson. He was born on March 3, 1947 in the maternity ward of Beth Israel Hospital in Newark, New Jersey , almost two weeks early.
From this one beginning, Fergusons life takes on four simultaneous and independent fictional paths. These four idential Fergusons have the same DNA and ar the same boy, but go on to lead different, parallel lives.
In these four lives, family fortunes diverge, along with intellectual passions, sex lives, friendships, and athletic skills, but each Ferguson falls under the spell of Amy Schneiderman.
But each Ferguson has a different relationship with Amy.
Readers take in each Ferguson's pleasures, and ache with each of his plans as the mortal plot of each of Ferguson's life continues in this dexterously constructed novel.
---
What books are you looking foward to reading in January? Did you set a reading New Year's Resolution? Let us know in the comments below!