Pins and brooches are in vogue, and if you are a fan of Harry Potter you might be missing out on some of the cool Harry Potter pins out there.
Independent artists have created beautiful works depicting everyone from "The Boy Who Lived" to "Voldemort's Last, Best Lieutenant."  So whether you side with the Death-Eaters or The Golden Trio, if you're a Slytherin or a Gryffindor, you are sure to find a pin that fits your Hogwarts spirit.
With everything from enamel pins to laser cut pins, these beautiful works of art will liven up the lapel of your denim jacket, or a tote bag you decorate with your pieces of flare.
---
1. Harry Potter #1 from Ideal Bookshelf
Jane Mount started the Ideal Bookshelf project back in 2007 offering portraits of people through the spines of their favorite books. Her shop includes several themed prints based on different themes such as writing and travel and you can even order your own customized painting.
If you are looking for a gateway drug into her store, you may like her enamel pins where she captures the essence of a book in less than one-inch square. She has several of the HP series plus many classics to choose from. Here is her version of Harry Potter and the Sorcerer's Stone.
PRICE: $11
---
2. "You Coming To Get Me?" Bellatrix Lestrange Enamel Pin
Hogan McLaughlin is a fashion designer, artist, and dancer who captures the gothic beauty of Bellatrix Lestrange in this enamel pin.
He is currently taking pre-orders for his Bellatrix Lestrange enamel pin. It's 2″ tall with a double clasp and consists of black enamel and white enamel cloisonné.
PRICE: $12
---
3. Professor Snape 2.0 Lapel Pin
Face it, a Harry Potter enamel pin collection isn't complete without a tribute to Severus Snape. Here is the Severus Snape 2.0 pin from Kill 'Em With Cuteness. This is a 1.5″ soft enamel pin with a double rubber clutch backing, but particulars aside, it really captures this enigmatic professor. Don't you think?
PRICE: $8
---
4. The Flying Ford Anglia Brooch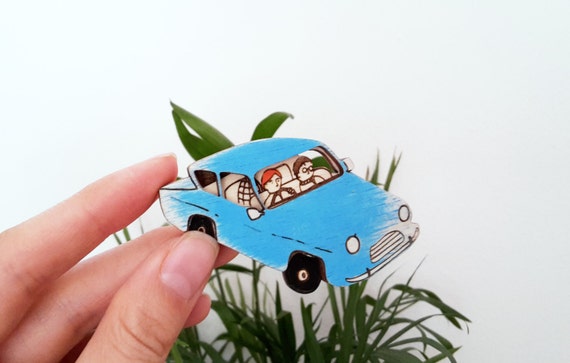 The flying car scene in Chamber of Secrets has to be one of my favorites ever. Mostly, because traffic would never be an issue if I possessed said enchanted car.
This hand-painted brooch from KatesLittleStore complete with tiny Ron, Harry, and a caged Hedwig is the perfect addition to your Harry Potter pin collection.
It may not be an enamel pin but we it's still pretty awesome.
PRICE: $20
---
5. Wizard School "Prefect Badge" Enamel Pin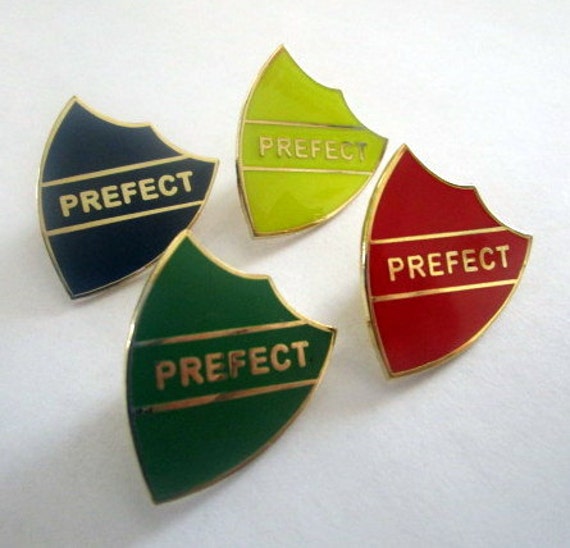 Show off your smarts with this Prefect Enamel pin. Get it in your house color and show your house pride as well. LegendaryLetters, the shop that makes these pins, also sells a package that comes with a congratulatory letter and a pinhead enamel pin.
PRICE: $5
---
6. Nine and Three-Quarters Hard Enamel Pin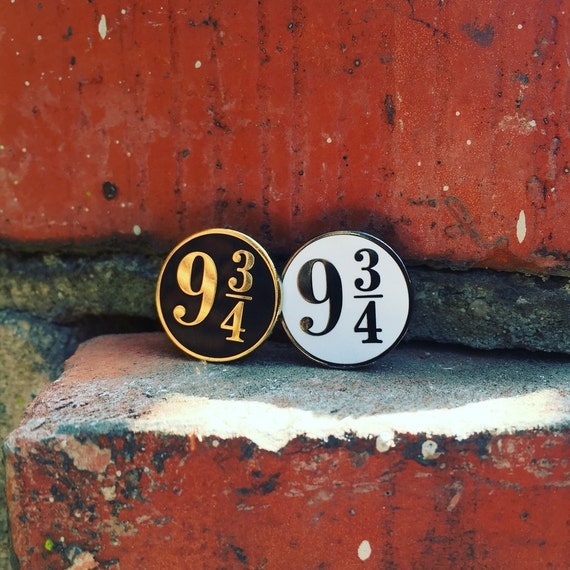 Who doesn't dream of heading to King's Cross Station and boarding the Hogwarts Express to Platform 9 and 3/4? You may not be able to get on the train with your favorite characters but you can carry the emblem around with you with this classy enamel pin.
PRICE: $8
---
7. Laser Cut Wood Hermione Brooch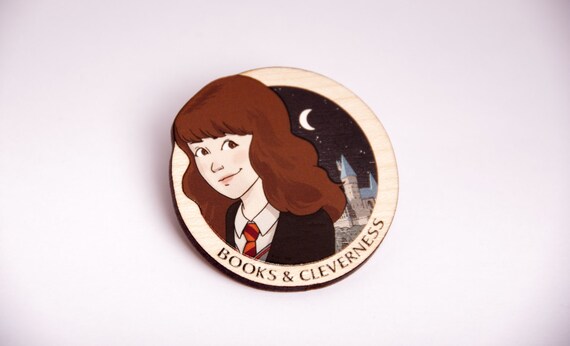 Let's be real here: Hermione saves the day in just about every Harry Potter book. (Actually,  every Harry Potter book.) In this laser cut wood pin from Fox Paradox, artist, Laura Krivine captures "the brightest witch of her age" in about 2″ inches of space.
PRICE: $11.54
---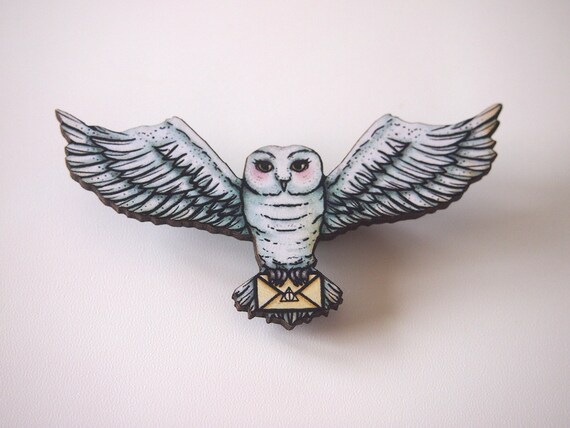 Hedwig was Harry Potter's constant companion through his seven years at Hogwarts. This beautiful laser cut brooch from Hungry Designs beautifully captures the snowy owl. The added detail of the deathly hallows symbol on the letter is an extra special touch.
PRICE: $18
---
9. Harry Potter Pushin Cat Brooch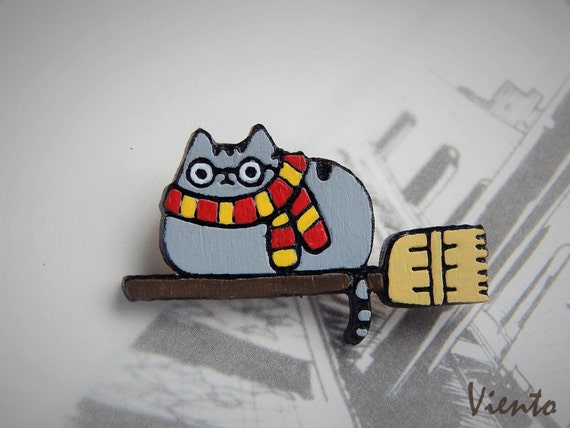 Combine your love Harry Potter and Pushin cats with this pin. This laser cut wood pin from Viento Wood will make an adorable addition to your collection.
PRICE: $5.77
---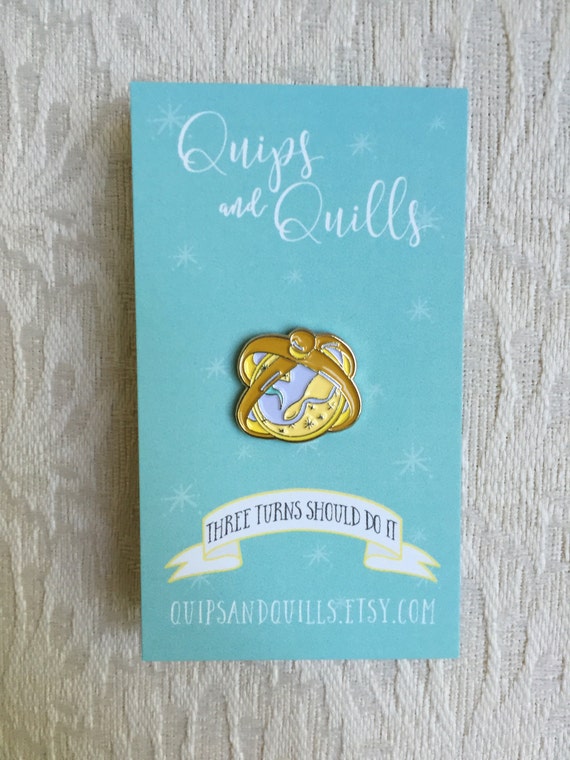 Who said that the ministry destroyed all the time turners? This 2-centimeter depiction of this handy magical gadget (god, what we wouldn't give for them to be real!) from Quips and Quills will be the perfect addition to your backpack, lapel, or tote bag.
PRICE: $10
---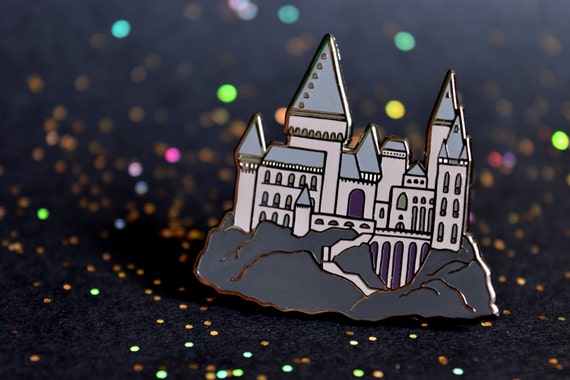 The silhouette of Hogwarts castle is probably one of the most iconic in the Harry Potter movie collection. So, it only makes sense that we include one enamel pin on our list of list.
This enamel pin from Sore Winners depicts the Hogwarts castle at it's best. It's about 1.75″. The perfect addition to your collection of Harry Potter pins.
PRICE: $12
---
12. Avada Kedavra Brooch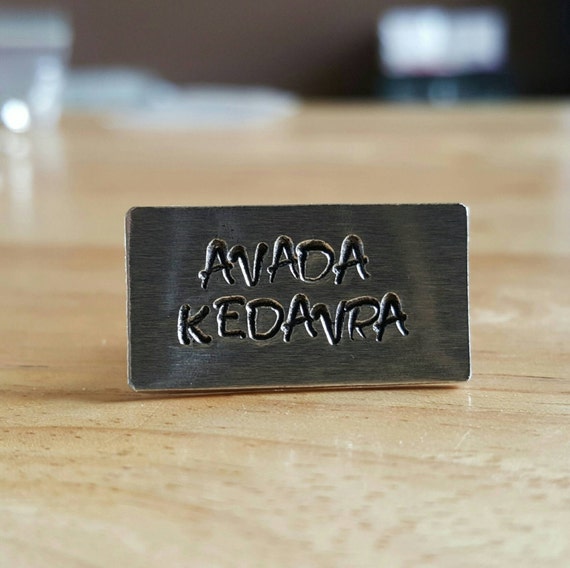 Voldemort's favorite unforgivable curse can now be carried around on your lapel or backpack. MiMoGeekery sells this hand stamped aluminum brooch that reads "Avada Kedavra."
PRICE: $6
---
13. Ron Weasley Hand-drawn Pin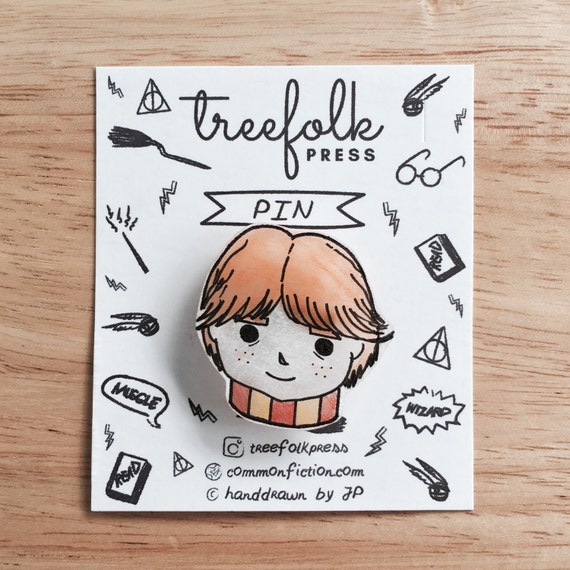 Ron Weasley made us fall in love with ginger-haired boys.  This adorable portrait pin from Tree Folk Press deserves to be added to your Harry Potter pin collection. Each one of these pins is hand-drawn, hand-cut, and hand baked so the one that arrives at your door might look a little different. so the one that arrives at your door might look a little different.
You can also check out the Harry and Hermione pins as well so that you can have each and every member of The Golden Trio in your collection of pins.
PRICE: $8.50
---
14. Dobby Enamel Pin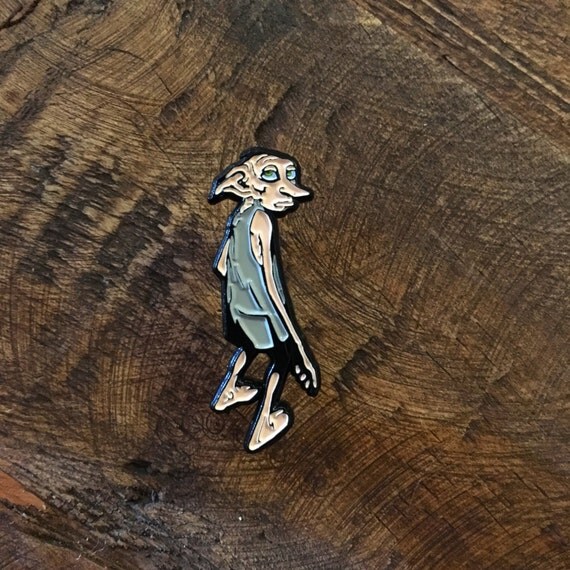 Talk about characters that had our hearts from the beginning! Dobby was a loyal supporter of Harry Potter and an essential part of any Harry Potter pin collection.
This enamel pin is made by PinDuh and is made of 1.25″ of soft enamel.
PRICE: $10
---
15. Spectrespecs Hard Enamel Pin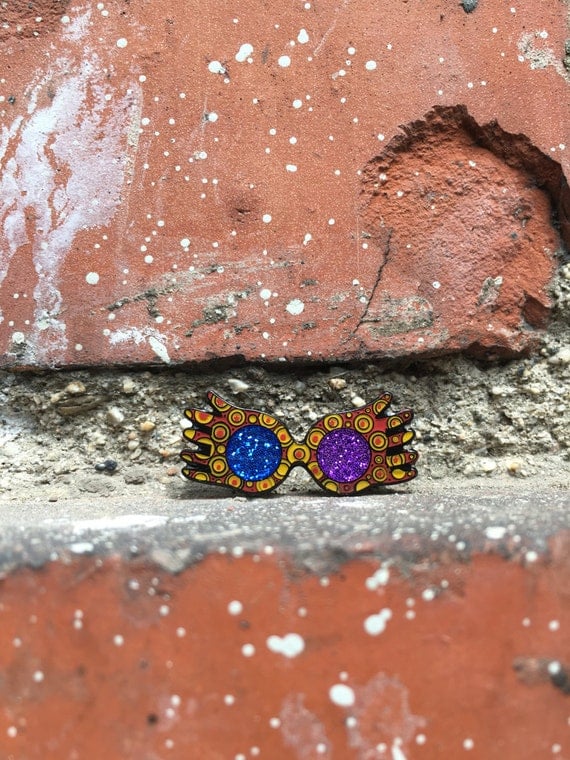 The adorkable, free-spirit of Luna Lovegood is an example to us all, and this Spectrespecs Hard Enamel Pin is the perfect embodiment of her off-beat self-assured character. Made with 1.25″ of hard enamel, glitter, and love, these kooky glasses are captured perfectly by Good Good Pins.
PRICE: $10
---
There you go, fifteen magical pins to show off your Harry Potter pride. Which of these pins is your favorite? Let us know in the comments below.