For a true bookworm, the biggest problem when packing for a trip is always which book do I pack. Not just what do I pack, but how many books do I pack? Fortunately, many travel destinations feature at least one bookstore that you can browse and replenish your supply of vacation reading, should you run out.
Here are a few unique bookstores to help you plan your next literary adventure.
1. McNally Jackson 
Location: 52 Prince St, New York, NY 10012
What Makes It Unique: McNally Jackson is an independent bookstore located steps away from the Spring Street subway stop on the 6 train. This independent bookseller arranges their fiction in a unique way: by nation.
Their unique arangement of their fiction section means that you will have to freshen up on your literary knowledge to find the authors you are looking for, but their engaged staff is happy to help if you find yourself lost on your literary travels.
You can spend hours browsing their selection of books with everything ranging from bestsellers to small presses. They also offer a print-on-demend press, and a bustling cafe.
2. Shakespeare and Company
Location:  37 rue de la Bûcherie 75005 Paris, France
What Makes it Unique: If you are an American visiting Paris, this bookstore should be on your list. Shakespeare and Company is an English-language bookshop located on the banks of the Seine opposite of Notre Dame. It's been a left bank literary institution since 1951.
Here's a fun fact for you! The bookstore was originally opened by an American named George Whiteman at 37 rue de la Bûcherie, Kilometer Zero, the point at which all French roadsigns begin, which makes this bookstore a landmark in more ways than one.
3. The Open Book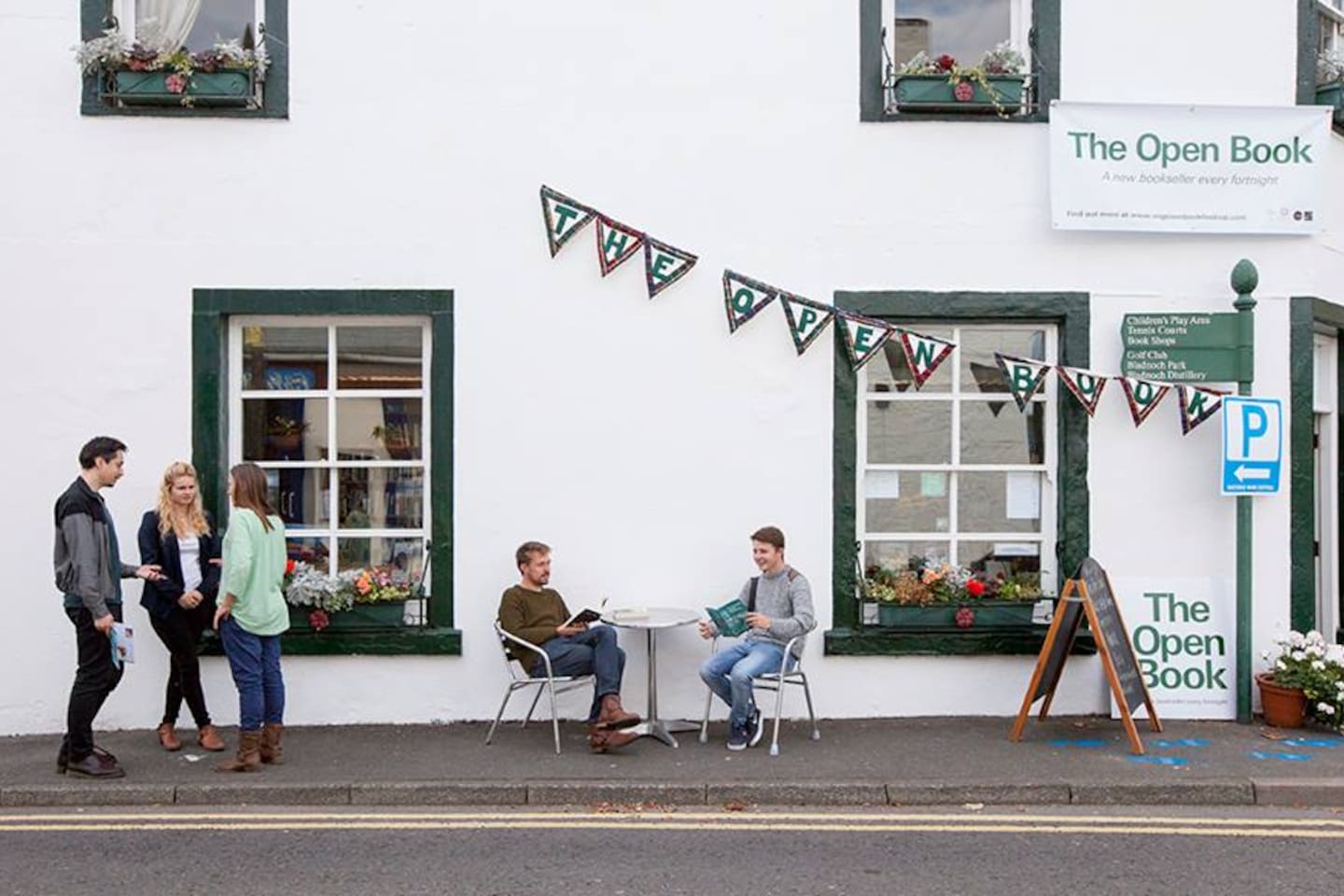 Location: Wigtown, United Kingdom
What Makes it Unique: The Open Book is not just a bookship, it's AirBnb Listing makes it a unique tourist destination. Instead of just visiting a bookstore on holiday, you can stay in  the apartment above the shop and run the bookstore for a week or two.
So, not only do you get to be in a bookish place, but you get to live a dream of running your own bookstore by the sea in Scotland? Sign us up! Of course, availability is slim. So keep an eye on the listings for a six night block you can scoop up.
4. City Lights Booksellers and Publishers
Location: 261 Columbus Ave, San Francisco, CA 94133
What Makes it Unique: City Lights is a true literary landmark. Located in San Francisco, this bookstore is called a literary meetingplace. Founded in 1953, this bookstore and publisher is known for its legacy of anti-authoritarian politics and insurgent thinking.
City Lights was the nation's first all-paperback bookstore and now comprises three floors which hold newly released hardcovers next to quality paperbacks. Their selection includes titles from major publishers, alongside an impressive range of smaller, hard-to-find, specialty publishers.
6. Bart's Books of Ojai
Location: 302 W Matilija St, Ojai, CA 93023
What Makes it Unique: The largest independently owned outdoor bookstore, Bart's Books of Ojai features a wide variety of rate and captivating books that any bookworm is sure to love browsing.
Bart's Books has a unique history all it's own. In 1964, Richard Bartinsdale's collection of books got so overwhelming that he constructed a series of book cases along the sidewalk so that passersby could peruse the titles.
"Bart," as he was called, gave birth to the book store's honor system legacy, by leaving coffee cans on top of the book cases, so that people could select titles and leave payments in the cans.
In nearly half a century, the book story has grown to sell everything from thirty-five cent specials along the sidewalk to rare, and out-of-print first editions and art books that cost thousands of dollars.
7.  Politics and Prose 
Location: 5015 Connecticut Ave. NW Washington, D.C. 20008
What Makes it Unique: Washington D.C. is the epicenter of political discussion and thought so it makes sense that they would have an awesome bookstore to foster the discussion.  (Plus, President Obama gets his books there!)
Politics and Prose started in 1984 by Carla Cohen and Barbara Meade. with a mission to offer superior service and unusual book choices while also serving as a gathering place for people interested in reading and discussing books.
Today, Politics and Prose sells books about the nation and the world, about people lives and their ideas, and of course a great selection of fiction. It's also rumored that they make a mean chai!
8. The Bookworm
Location: Building 4, Nan Sanlitun Road, Chaoyang District, Beijing 100027, P.R China
What Makes it Unique: The Bookworm is a hit among Beijingers. you can while away the hours browsing thousands of books, sipping good espresso, and catching up with friends. There are spacious interconnected rooms with floor-to-ceiling books and an atmosphere that is light and airy in the summer and warm and cozy in the winter.
Oh and did we mention that there is a roof terrace where you can sip on cocktails?
The Bookworm isn't your traditional bookstore; it's a lending library. A membership purchase allows you to borrow from over sixteen thousand volumes.  Combine this unique approach with a restaurant and regular author events, and you have a hub for literary culture.
9. Corso Como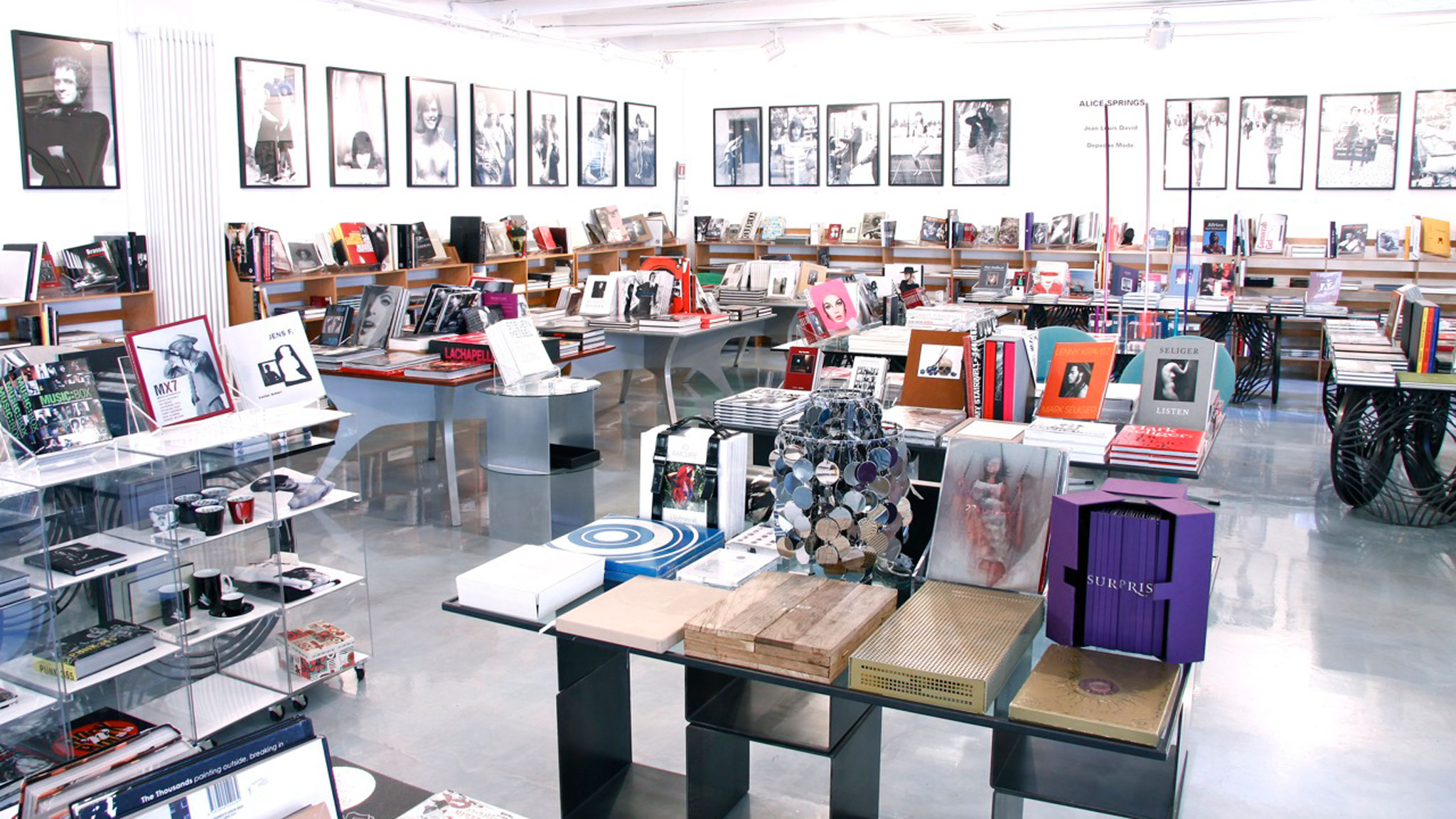 Location: 10 Corso Como, Milan, Italy
What Makes it Unique:  You can walk right past this Italian gem if you aren't careful, but enter the gates of this special place, and you'll be in for a treat. Corso Como is not just a bookstore, but also a high-end fashion cafe, bookstore, and art hub locatied in the heart of Milan.
10. Powell's Books
Location: 1005 W Burnside St. Portland, OR 97209
What Makes it Unique: If you're been around the blogosphere, you've probably heard of Powell's Books. This independent bookseller has been serving the Portland, Oregon area since 1971. Their flagship store houses over one million volumnes, and they employ 530 million people across their five stores and Powells.com.
Even though their size has grown, they've remained grounded with the companies core values, and employ a staff that loves books and drives them forward. Their relationship with the Portland community is really strong, with Powell's being one of their top attraction.
They host over 500 author events a year in addition to children's storytimes, writing workshops, and book clubs, meaning there is sure to be something amazing going on during your visit to Portland.
11. Persephone Books
Location: 59 Lamb's Conduit St London WC1N 3NB
What Makes it Unique: If you are looking for a place where you can find lesser-known work from the mid-20th century by mostly women writers, then you have to stop by Persephone Books in London! They've reprinted 117 fiction and non-fiction titles, many by female writers. The result is a collection is this neither too literary nor too commercial.
Their collection of novels, short stories, diaries, memoirs, and cookery books are published with elegant grey jackets, a 'fabric' endpaper, matching bookmark, and a preface by writers such as Jilly Cooper, David Kynaston, and Elaine Showalter.
12. Cook & Book 
Location: Place du Temps Libre 1, 1200 Woluwe-Saint-Lambert, Belgium
What Makes it Unique: Don't be fooled by the name, Cook & Book doesn't just sell cookbooks. Instead, it's a bookshop and restaurant located on the main line of the Brussels metro.  Their website is in French but they also carry a good selection of English books as well.
The shop is divided into two seperate buildings with nine rooms. Each room houses a different selection and each space has its own character and atmosphere. Cook & Book even has a terrace where you can eat, read, or eat while you read. It even features a playground for small children.
13. Atlantis Books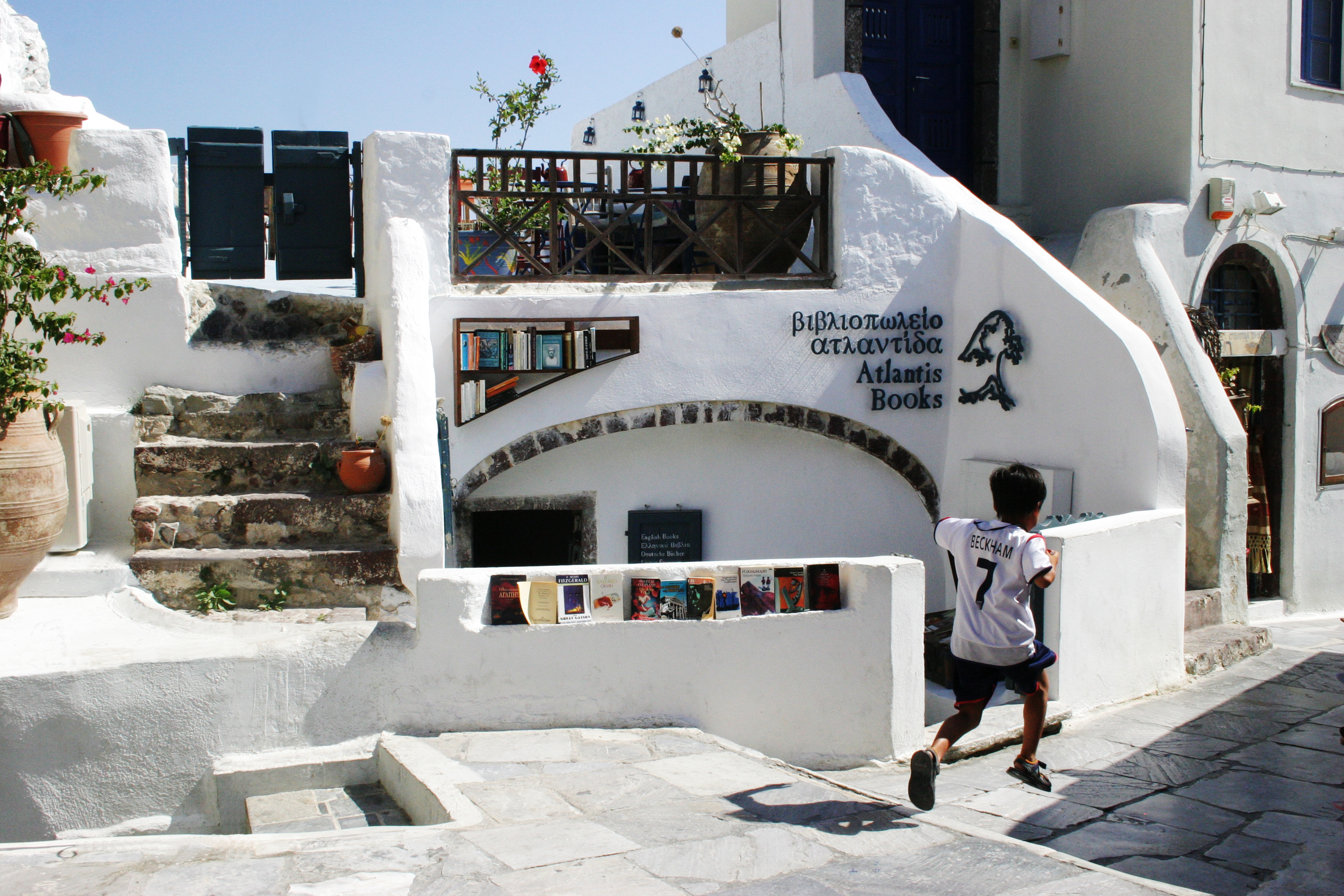 Location: Oia, Santorini T.K. 84702 Kyklades Greece
What Makes it Unique: Two friends visit the island of Santorini and were surprised to see that the island didn't have a bookstore. So, over a bottle of wine, they decided to create one. It sounds like the plot of a book but it is 100 percent true!
Atlantis Books opened in 2005 in a neglected old village house and has since become a haven for writers and readers. They host festivals and sunset readings, and have even started their own publishing house in the back room of the shop.
14. The Brattle Book Shop 
Location: 9 West St. Downtown Boston, MA
What Makes it Unique:  Founded in the Cornhill section of Boston in 1825, The Brattle Book Shop is one one of the largest antiquarian book shops in the country.  Visitors can spend hours browsing over 250,000 books, maps, prints, postcards, and ephemeral items in all subjects throughout the three-story building.
In addition to used and out-of-print stock, The Brattle Book Shop maintains an inventory of first editions, collections, and fine leather bindings in its rare book room.
15. Munro's Books
Location: 1108 Government Street Victoria BC  V8W 1Y2 Canada
What Makes it Unique: Occupying a landmark location in the heart of Victoria's Old Town, Munro's Books has been a destination for book lovers for more than 50 years. Jim and Alice Munro, yes the author, started the shop in 1963 in a long narrow space on Yates Street near Victoria's movie theatres.
There weren't many book stores in Victoria then, and their main competition came from the selection at local department stores. Their location appealed to younger, movie-going customers, and the staff's interest in new trends build a loyal clientele as the store moved to Ford Street in 1979 and then to Government street in 1984.
16. John K. King Used and Rare Books
Location: 901 W. Lafayette Blvd. Detroit, MI 48226
What Makes it Unique: You know that musty smell that can be found in old bookstores that you just want to bottle up and turn into a perfume? Yes? Then you will want to pay a visit to John K. King Used and Rare Books the next time you are in Motor City.
Located in an old glove factory, this shop has four floors of used and rare books. A vistor can easily get lost browsing their inventory and you won't leave empty handed. And if you're hunting for treasure,  you'll love their collection of first editions and out-of-print books.
You'll also love the history behind this iconic bookshop. John K. King originally started this shop out of the trunk of his car. Now it has one flagship store and two smaller locations within the city.
17. Cafebrería El Péndulo
Location:  Calle Hamburgo 126, Cuauhtemoc, Zona Rosa, 06600 Ciudad de México, D.F., Mexico
What Makes it Unique: Shopping for books is almost just a bonus at Cafebrería El Péndulo. This Mexico City bookstore also hosts live music, poetry readings, and stand-up comedy. Their attractive interior features balconies and lush plants.
Their Zona Rosa shop stands out for its selection of English titles along with Bukowski's Piano Bar, named after the poet and novelist Charles Bukowski, and "all writers inspired by alcohol."  Order one of their literary themed cocktails and spend hours browsing the stacks.
While you are there, give a nudge to the sand-filled pendulum that sways back and forth making different patterns as customers give it a gentle push.
Are you ready to jump on a plane and visit one of these bookish locations? Tell us your favorite in the comments below!