You know the moment when you're watching one of your favorite couples on television and something special happens that makes you stop for a moment and pay attention a little more so that you don't miss the magic happening right in front of your eyes? It's those couples – the ones with INSANE chemistry – that make it so easy to forget sometimes that they are fictional and not a living, breathing, real-life couple.
It's one thing to write a love story on paper. But it's something else entirely to manage to bring that to life. That falls as much on the actors as it does the script. You could say even more so than the script. Chemistry is what spells the rise or fall of a romance or relationship on screen.
Most of the time couples that you watch on television have a decent amount of chemistry to come across as convincing. But there are a select few that really make you stop and admire that chemistry and make you fall head over heels for that couple. Those are the couples we're honoring today.
Here are 17 television couples that have INSANE chemistry that leaves us breathless and gasping at the same time:
1. Oliver & Felicity (Arrow)
Sometimes you can't really predict when fate might intervene and bring together two actors that, when together, bring the kind of chemistry and heart to two characters that Stephen Amell and Emily Bett Rickards have done with Arrow's Oliver and Felicity. And in the process alter the course of a show – for the better – forever. The greatest thing about this story is that this was never intended. Oliver and Felicity were never meant to be a couple. They were never meant to even be two characters than interacted on a regular basis. But luckily the greatest accident ever happened. The chemistry between Oliver and Felicity is the kind you don't see too often. It's magical. They can say a million words with a single look or a single motion. They're so in sync with each other that they often mirror each other's body language. It's the stuff of magic. No, it's the stuff of fate.
2. Emma & Killian (Once Upon A Time)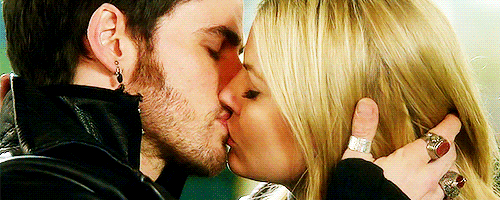 Some things you plan – yes, the show-runners always intended to bring Captain Hook into the show, and they always intended to go the romance way with him and Emma. But there's planning, and then there's the pure magic that they found when they put Colin O'Donoghue and Jennifer Morison on screen together. Sparks doesn't even cover it. Before you know it, Captain Swan was gaining ardent fans, screen-time, and a story-line that took it's time and presented a realistic portrayal of a man and a woman who were not perfect, who didn't fall in love at first glance, but who met, recognized a kindred soul in one another, and then went through a lot of ups and downs before they could finally choose, not just each other, but a path they could walk through, hand in hand.
3. Halstead & Lindsay (Chicago P.D.)
When you think of procedural shows you don't normally think epic romance and insane chemistry. But that's exactly what Chicago P.D. has captured with Sophia Bush and Jesse Lee Soffer and their characters Lindsay and Halstead. The chemistry between these two sizzled throughout the slowburn that is Linstead before the two actually became an item in early season 3. Given that they're partners and rely on each other it's brought another element to their relationship. But it's the organic connection between the two actors that has made Linstead into the kind of ship that makes your heart ache with desire. With a single look or a single movement towards one another, Lindsay and Halstead show us what real chemistry looks like.
4. Lucy & Wyatt (Timeless)
There are times when you go into a show not expecting to find a ship but end up falling head over heels in love with two fictional characters. Timeless' Lucy and Wyatt are an example of that. Abigail Spencer and Matt Lanter had an instantaneous rapport from their first scene together. It's the kind of rapport that makes you sit up a little straighter in your seat and pay attention because you suspect something magical is happening right in front of you and you don't want to miss it. What we've seen in the short time we've loved Lucy and Wyatt has been a connection that continues to strengthen and a chemistry that continues to thrive in situations of conflict and levity. We can't help but be memorized.
5. Stiles & Lydia (Teen Wolf)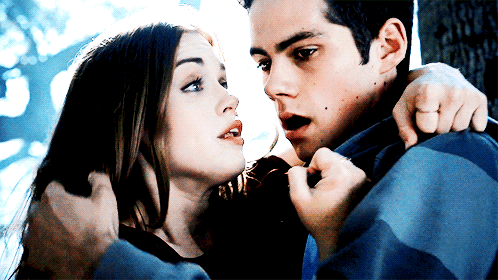 Here's the thing about Stydia: We're a quarter of the way through Teen Wolf's sixth and final season, and Stiles and Lydia have never been an official couple. They've only shared one kiss – meant to stop Stiles' panic attack. But if you were only slightly familiar with the show, you would think they were together. Stiles and Lydia's chemistry is so clear, whether they're comforting or sassing each other. The two are perfectly matched: smarter than others give them credit for (at least initially), witty, and loyal. Over the years, the two have grown so much both individually and as friends. They look out for each other, they understand each other, and they never give up on each other. And now, it seems like that compatibility may finally (FINALLY!) take the next step romantically. Stiles never stopped loving Lydia, and she's realized – as fans hoped all along – that she just might love him too. Cheers to the year of Stydia.
6. Barry & Iris (The Flash)
It's one thing for a couple to have insane chemistry on paper. But it's another story entirely when it's accurately translated onscreen the way that Grant Gustin and Candice Patton have done with The Flash's Barry and Iris. So much of Barry and Iris' slowburn romance in the first two seasons was built on that strong foundation previously established with a lot of longing for more thrown in the mix. That means those single looks and those comforting moments held so much more than what was being presented. Barry and Iris light up the screen with their magnetism and the way it always feels like they're the only ones in a room. Their bond has transcended multiple Earths and timelines further proving that some couples are just meant to be – no matter what you throw their way.
7. Chloe & Lucifer (Lucifer)
If you're looking for the kind of chemistry that's as hot as hell itself then look no further than Chloe and Lucifer on Lucifer. Tom Ellis and Lauren German make sparks fly on a weekly basis with their easy charm and connection that has made us a fan since day one. It's so easy to get lost in these two characters and their witty banter and even easier to get lost in those meaningful conversations that leave us a sobbing mess on the floor. You can't buy that kind of chemistry. The kind where a single look sends you into a fit with every unspoken word. You could say we're as charmed with Chloe and Lucifer as much as they're charmed by each other.
8. Casey & Dawson (Chicago Fire)
Casey and Dawson are one of those couples that bring an instant smile to your face. Their love has triumphed all of the struggles they've faced over the past five years. But it's their sizzling chemistry that landed them on this list. Jesse Spencer and Monica Raymund have such an honest connection that really lends itself to their portrayals. Those sweet smiles, those smoldering looks, that uncanny in-syncness that makes our heart melt. One of the reasons that Dawsey has resonated so much with Chicago Fire's audience is the way the couple connects with the audience. You have the strong yet kind Matt and the sweet yet badass Gabby that balance each other out so perfectly. It's no wonder that fire is still going strong.
9. Alex & Maggie (Supergirl)
Sometimes you create a couple on paper that you hope not only connects with the audience but also manages to put together two actors that take it to an entirely different level. Thus is Chyler Leigh and Floriana Lima as Supergirl's Alex and Maggie. From the moment these two interacted with each other on screen you just knew it was magic in the making. They had this magnetic energy between them that told us immediately that there was something special happening right in front of us. Most of that magic happened in the buildup to the moment when they finally had that perfect kiss. It's those longing looks and small interactions that mean so much more coming from these two that show us just how amazing Alex and Maggie are together.
10. Ginny & Mike (Pitch)
There's a certain kind of instantaneous chemistry that can electrify a show. There's a certain kind of magic between two individuals that can manage to capture an audience. Kylie Bunbury and Mark-Paul Gosselaar have such an easy chemistry that makes their scenes so delightful to watch. And that's all without the romantic implications, which weren't introduced until one of the final episodes of the fall. Pitch was easily one of the best new shows this fall and a big part of that success rests with the dynamic between Ginny and Mike. It was the spark in the pilot that intrigued us. And it was the payoff ever since that has kept us glued to our screens.
11. Sara & Snart (Legends of Tomorrow)
While they might've been taken from us far too soon, one thing Legends of Tomorrow can never take away from us is the undeniable chemistry between Sara Lance and Leonard Snart. Captain Canary were one of those rare couples that was formed due entirely to the chemistry of the actors, in this case Caity Lotz and Wentworth Miller. From Legends of Tomorrow's pilot there was no denying that their interactions kind of caused you to stop for a moment and wonder – no, know – that something special was happening right before your eyes. It stuck with you through every character interaction from thereon out until the magic moment when we finally got everything we ever wanted. And then it was taken from us. Sometimes you have to be thankful that you got to witness it at all. And we are. That chemistry will live on even in Snart's death.
12. Magnus & Alec (Shadowhunters)
While we might've had our issues with the pacing of Magnus and Alec's relationship on Shadowhunters, one thing that we've never questioned is the sizzling chemistry between Matthew Daddario and Harry Shum Jr., who have brought to life the chemistry fans knew from the books. Perhaps the most difficult thing in television and movies is to bring to life an indescribable chemistry that is the written word. But that's something that Daddario and Shum have easily captured. It's in the way their eyes wander to each other, it's in the charged (yet brief) moments they've shared, it's in the way they found their way to each other. Now that's the kind of thing we can get behind!
13. Claire & Jaime (Outlander)
A show that hinges on the romance between it's two main characters can only survive if the leads have insane chemistry. And Outlander hasn't just survived, it's thrived, because Sam Heughan and Caitriona Balfe make us believe not just that Claire and Jamie Fraser are real, but that they love each other in a way that transcends time and space. Whether it's in more intimate scenes or just standing by each other in a sea of people, these two just transmit that sense of connection that makes a romance work – that makes a show like this work. Even when they're apart, you're just holding your breath, waiting for their next scene together. Now that's chemistry.
14. Clarke & Bellamy (The 100)
The show clearly looked to deviate from the books – where Bellamy and Clarke are together pretty much the whole way through – and yet, how can you write against the chemistry between Bob Morley and Eliza Taylor? (Well, they did. But not for long) Bellamy and Clarke might not be a couple – they might not even be close, but there's no denying that we want them together in every scene, that the show is infinitely more interesting when they're allies and partners and not just two characters whose story-lines don't really coincide. And if we see the sparks that fly when those two are in the same room together and want more – who can blame us?
15. Klaus & Caroline (The Vampire Diaries/The Originals)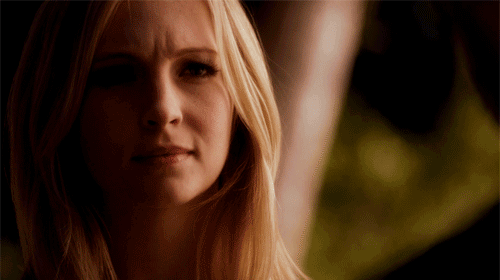 While it seems like these two vampires probably won't ever find their happy ending together, there's no denying that they have the kind of chemistry that catches you off guard and clings to you for life. The phenomenon known as Klaroline is proof of that. For the short time that Klaus and Caroline interacted on The Vampire Diaries, there was an instantaneous rapport between Joseph Morgan and Candice King that resonated with fans and ultimately grew into something else entirely. Sometimes all it takes is an organic connection, a lingering look, a small touch to convey meaning in a way words can't. That's chemistry.
16. Donna & Harvey (Suits)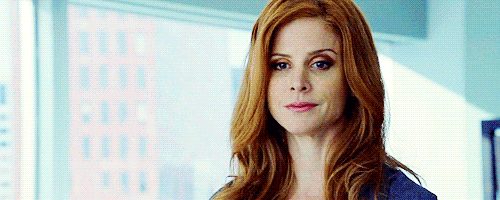 There's office romance and then there's the relationship between Harvey and Donna, played perfectly by the always-suave-except-when-it-comes-to-his-secretary/love-of-his-life  Harvey (Gabriel Macht) and the I'd-do-anything-for-Harvey-and-I-do-mean-anything Donna (Sarah Rafferty). Would Darvey be such a thing if these two ooze sexual tension every time they're in the same room together? Probably not. But it's not just that – it's that we truly believe that they'd go to the ends of the world for each other – and even though they've yet to confess their love, we see it plainly on their faces. This show was supposed to be about Harvey and Mike – and it sorta is – except when Donna's in the room. That's what chemistry does.
17. Jasper & Eleanor (The Royals)
Sometimes it's hard to put into words the natural chemistry between two characters. It's the kind of chemistry that takes you off guard but holds onto you like a death grip. Alexandra Park and Tom Austen have the kind of connection that's undeniable. There's so much emotion and so many unspoken words communicated with a single look. They've brought to life a difficult romance that has brought us, the viewers, so much pain. And yet we're willing to endure that just two watch these two dazzle us.
What couples do you think have insane chemistry?