We've had a lot of television to watch over this year, and isn't that always the case? This, of course, leads to the same problem, over and over: There are so many shows getting hype that others aren't getting the credit they're due.
So, here's a list of some of the best shows 2018 has offered that don't get the love they deserve. Because someone has to show them that love. And hey, maybe we'll convince you to join us!
Single Parents
This one is a new comedy that started this Fall, on ABC, and one I don't get how people are sleeping on. Single Parents is one of the funniest shows I have watched since Superstore and Brooklyn 99, and those are two amazing shows. No one recommended it to me, but one day I was on Hulu and started watching. I couldn't stop and now I watch every week. The cast is phenomenal and the writing is particularly witty.
Murphy Brown
I used to watch this show on TVLand when I was a kid, like I'm sure a lot of people did. It was one of my absolute favorites! The revival is just as great and current to today's world, but it often seems like no one is watching it. At least not enough people, because I rarely see it trending. Candice Bergen is back and just as wonderful as ever, and just for that, you should be.
Timeless
Timeless is near and dear to my heart. I have to admit that I might be part of the reason it got canceled because I never watched live. Once all the hype began to save the show, I checked it out on Hulu. I binged seasons one and two in two days, which left me devastated because there was no more. I'm looking forward to the movie, but this show deserves so much more. It's got heart, humor, amazing characters, and a story that should never stop being told. I regret missing out when it first aired, but I will be there when the TV movie premiers.
Manifest
I understand why this show hasn't gotten the fanbase it's worth, or at least, I do intelectually. The premise is so much like Lost that most people are avoiding it, but Manifest is its own show – and it's a truly excellent one. The characters have really good and relatable stories to tell, while the overall mystery adds as a continuous pull to keep watching.
Superstore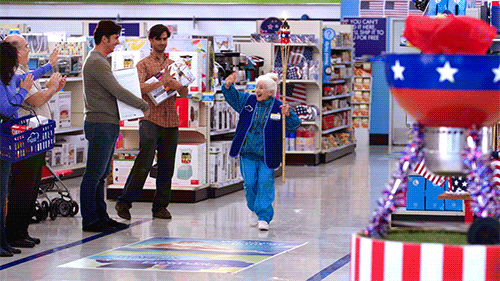 I started watching Superstore a few weeks ago and caught up within a week. A WEEK! I can't believe I've been missing out on this hilarious show. It's equal in quality with Brooklyn 99, but without the fan following, which doesn't make any sense. This one gets better with every season!
Lucifer
OkAY, I have to admit that I am guilty of thinking these shows weren't good enough until it was too late. Luckily Lucifer was saved, because once I jumped in, I was hooked. 2018 has taught me to be more open-minded about shows … or more crazy. I watch a lot of them, so adding new ones is time-consuming. But, I am so glad I took a chance on Lucifer because I love it.
Chicago Med
I feel like this one is the unloved child of the 'One Chicago' nights, when it's actually the best of the shows. Each character is so well written. Med brought me into the Dick Wolf Chicago shows because of Oliver Platt. I'm now loyal to the entire Chicago themed night.
Agree? Disagree? Share with is in the comments below!