There's shipping …and then there are these couples. The ones we look towards when we need inspiration, when we need role models ….or maybe when we need to believe that everything is going to be okay. Love is real. And sometimes it's heartbreaking, and hard, but if we stick with it, it can also be wonderful.
Life-changing.
A shoulder to cry on. A partner to tell your secrets. A hand to hold yours when you need support. Someone to share inappropriate jokes with. Someone to dance with you at weddings.
That is why, this year, we're counting down those couples. Not just the good ones – not just the ones that gave us feels, but the ones that made us believe that love was all those good things. The ones that set the standard.
Starting with…
Randall/Beth, This is Us
Sure, we were meant to fall in love with Jack and Rebecca (and we sort of did), but the most functional couple of This is Us is, without a doubt, Randall and Beth. Because they're equals. Partners. And not just in the I'm with you in good and bad times way, though yes, there's also that, but in the I will fight with you. I will go against the world (and your mother) for you. I will take the good, the bad, the confusing and I'll be here with you. Because that's what love is. That's what couples do.
Stefan/Caroline (Steroline), The Vampire Diaries
If you would've told us 8 years ago that Caroline Forbes would really get her June wedding with Stefan Salvatore, we would've laughed you out of the room. We thought that it wasn't the "romance" being sold to us and that they were such opposites that it would never work. But here we are, right on track, and almost to the finish line. It's taken us this long to realize The Vampire Diaries has been selling me Steroline from the start.
The number #1 reason why they worked throughout all these years, and why they continue to set a standard for ships in 2016, is because they support each other. Through thick and thin, ripper and turning off their humanity, these two have had each other's back. They've supported each other through breakups, arguments, transitions, deaths, and destruction. Miraculously they've become stronger and survived because they did it together. Whatever comes next, as The Vampire Diaries wraps up, I know they'll be ok because they'll be at each other's side.
Darryl/White Josh, Crazy Ex-Girlfriend
The fun thing about Daryl and White Josh is that it started as Darryl having a cute, innocent crush on Josh. We've all had those crushes, the one's we're sure aren't going anywhere, right? Except Josh was into Darryl, and now they're this adorable and domestic couple that is pretty much like any of the others, except they're not, because just by being their adorable and dorky selves they're proving a point. They're sending a message. And it's one we wholeheartedly support.
Plus, isn't it just great when you think you need to change to be with the person you want and then it turns out that person likes you just as you are? Goals.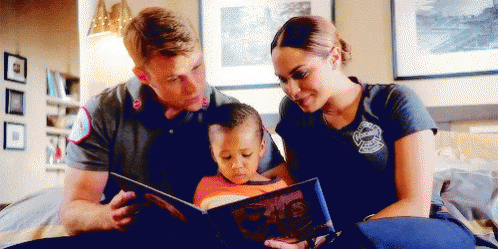 Dawson/Casey (Dawsey), Chicago Fire
While it's been far from an easy go for Dawsey, there's no denying that Dawson and Casey have grown all the stronger for their struggles. In fact, they've made a family out of it. Perhaps one of Dawsey's stronger attributes is their imperfections and how they've shaped the people they've become. In order to grow a relationship you have to endure the struggles. And if it's meant to be, you'll emerge on the other side together. That's what Dawsey has accomplished. We've seen their love story unfold over five seasons. We've seen them try and succeed to make it work through all the obstacles. We've seen them fail and then succeed when it comes to adding a child to their family. And we finally saw them make their love official when they tied the knot. Dawsey is one of those couples that just brings a smile to your face. That love – that pure love – is so infectious and so heartwarming that sometimes it's easy to forget it's fictional.
Rick/Michone (Richonne), The Walking Dead
Holding down a relationship isn't an easy feat. Holding down a relationship in the zombie apocalypse, with limited food supplies, a raging psychopath with a fixation for his bat, and with an uncertainty if you'll live to see the next hour, is almost impossible. Rick and Michonne are the impossible.
This season of The Walking Dead we've watched them pull at the bonds that have kept them together and mourn the dead, without losing sight of what they have, who they have, or falling apart. They're not a cliche. They're a real family who understands that they deal with things in different ways but who must ultimately come together to make decisions and defeat the evil around them. (Looking at you Negan.) Sure they fumble here and there, taking Saviors hostage for example, but they always come out on top and never forget they're a family.
Waverly/Nicole (Wayhaught), Wynonna Earp
Wayhaught is one of those ships that flips the bird at clichés. They're not here to be your trope-filled-gays on TV. Waverly and Nicole are an exploration of two people who happen to click and fall in love in the backdrop of some crazy supernatural stuff. Two people who look at the world in different ways, but want to explore and conquer it at each other's side. Two people who know that this relationship is exciting, new, scary, beautiful, and want to get lost in it anyway.
They're what it means to fall in love and become better because of it. Nicole gives Waverly that little push to try new things and love herself for who she truly is. And Waverly gives Nicole a firm ground to land on when her world is spiraling and she needs hope among the crazy supernatural. Waverly and Nicole have found a home within in each other and no supernatural goo or force is going to stop them now.
Lucifer/Chloe (Deckerstar), Lucifer
Lucifer Morningstar is the former ruler of hell, but while in LA he's partner to Chloe Decker and the shipper in us couldn't be more thrilled. Between the fantastic writing of everything from witty banter to heart melting "I am crying on the floors" scenes it's no wonder they grabbed a place in our OTP heart. And though they might not be a couple yet – there's no denying that with their total dedication to each other, their trust and their steadfastness in the face of any obstacles thrown their way, Deckerstar certainly set the standard.
Lindsay/Halstead (Linstead), Chicago PD
There's nothing like the feeling of rich possibility when it comes to your favorite ships. When it comes ships that make you melt with a single look and swoon with the spoken word, Linstead is one ship that sets the standard. Halstead and Lindsay are partners in every sense of the word. Not only are they partners with the Intelligence Unit of the Chicago PD, but they're partners in their personal lives in a way that is so equally balanced and so organic that there's no question when it comes to that innate bond. While it's taken a few seasons for Linstead to get to the point they're at, it's been so incredibly satisfying to watch their journey. One of the more exciting aspects of their relationship is that they're still relatively in the beginning of their relationship. They've said those three words and they're living together and yet there's still so much of their story yet to be told. It makes their relationship all the more compelling. Not to mention we can't help but grin like teenagers every time they exchange a single look. But it's that deep love and trusting foundation that continues to make them couple goals.
Jake/Amy, Brooklyn 99
Jake Peralta and Amy Santiago are the perfect example of opposites attract.  Amy is strict and a rule-follower while Jake is sloppy and a bit of a mess. However, they are also one of the best, more mature couples on television. Always having each other's back, no matter what the situation, these two's love for each other is stronger than ever after Jake's return from witness protection. Yes, we said witness protection. But not even that could stop them! Their journey from partners to unrequited feelings to full-fledged couple only solidified in 2016, and they continued to prove that it's not about being similar; it's about learning to love the differences.
Blip/Evelyn (Bliplyn), Pitch
Yes, I like Bawson as much as the next person, but the real couple goals on Pitch (till the very end, at least, and I've got faith – these two have shown me I can have faith) are Blip and Evelyn.
Why? Because they're honest, and because they communicate, and because they don't sweet-talk each other, something that tends to happen a lot in TV land. Real people have real issues and so do Evelyn and Blip, and they face those together. They talk about how they want to face them, together. And yes, they also joke around, have each other's backs and have honest to God chemistry that could set a room on fire, there's also that.
Castle/Beckett (Caskett), Castle
This almost ended badly – and then it didn't, and though the almost left a sour taste in fans mouths (like me), fact is, for years and years, Castle and Beckett were …goals. Legit goals. Partners in every sense of the word, facing life, crime, conspiracies, their own demons and whatever life threw at them as a unit. And no, we haven't forgotten the mess and the almost-but-not-quite catastrophic ending, but if we close our eyes, we still want to remember the good times; we want to celebrate the ways in which these two showed other couples that it was possible to tell a love story and still be relevant.
Bones/Booth, Bones
Talk about telling a love story and still being relevant. Unlike Caskett, there's no bad aftertaste in our mouth when we think of Bones and Booth, there's just a deep sense of satisfaction that we've gotten to see their journey, not just towards coupledom, no, but towards the family they both always dreamed of.
But the reason the set the standard is not just because of longevity – but because they're still as committed, still as loving, still as passionate, still as different but willing to compromise as they were on the first day. And yet, they've also grown. Together. As a couple, as a family unit, as two people who love each other and who want to face life together. May all couples get to be like these two.
Donna/Harvey (Darvey), Suits
For a couple that's not a couple, Harvey and Donna sure have gone a long way toward proving what they mean to each other during the run of Suits. Quick run-through, in case you've never watched– Harvey would do anything for Donna, sacrifice anything for her. Anything. And so would Donna. And this is not one of those, you say anything, but you mean as long as it doesn't affect them personally deals, no. This is an everything that comes from the fact that they're each other's persons. And maybe now they're finally at a point in their relationship where they can see where that leads them, romantically.
Luke/Lorelai, Gilmore Girls: A Year In The Life
The only way out of this for Luke and Lorelai is in a body bad, at this point. And as bad as that sounds, we couldn't be happier. It's been a long time coming. And yet, the new iteration of Luke and Lorelai, marriage issue aside (and hey, that's fixed!) was pretty damn functional to begin with. They were quirky and domestic and grumpy and their very own selves, together. And hey – it worked! It always did. And now it's official. Luke and Lorelai together forever. Now if only Rory could learn from them.
Fitz/Jemma (Fitzsimmons), Agents of S.H.I.E.L.D
2016 saw a change to the relationship of our two favorite SHIELD scientists. After years of almost confessing their feelings for each other, FitzSimmons finally became a couple. And we say finally because well, dying, drowning, getting transported to an alien planet, a lot got in the way of these two.  But here they are, together, and rooting for them is as easy as breathing. They are, after all, partners. In every aspect of their lives. Isn't that the dream?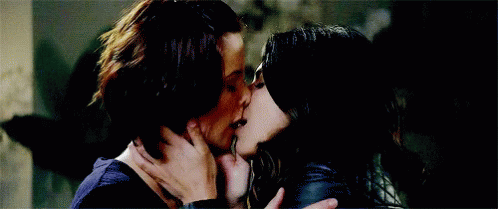 Alex/Maggie (Sanvers), Supergirl
For a new couple, Maggie and Alex are already setting the standard, in a way many DCTV couples (and couples in general) wish they could. They, after all, make each other brave. They push each other to be the best versions of themselves, to figure out what the other really wants and go after it. Not just in their professional life, but in their personal one. And that was before they were even together! Imagine all the ways these two can be goals as a full-fledged couple. We can't wait.
Barry/Iris (WestAllen), The Flash
While we might harbor some not-so-happy feelings towards Barry right now, there's no denying that our hearts are full of love for Westallen. Barry and Iris are couple goals: best friends that grew into a deep romantic love that transcends multiple Earths and timelines. There are so many different facets to Barry and Iris' relationship. It's sweet and tender but it can also be intense and intimate. They have a deep trust in one another that transcends all facets of their lives, be it their personal lives or their professional lives. When you think of Barry Allen you think of Iris West. And when you think of Iris West you think of Barry Allen. But perhaps the most beautiful thing is that there's still so much more of their story to be told.
Mulder/Scully (MSR), The X-Files
Before the words OTP were even coined, there were Mulder and Scully. And they might have started the Revival apart romantically, but Mulder and Scully are never truly apart. They've been through too much, their lives are two entwined. We talk partners, and exalt what that word means, and it was these two that really gave it the dimension that it has today. It means not just I've got your back for them; it means I'm part of you and you are part of me. And hey, whether they're together romantically or not (We're looking at you Chris Carter), these two are always, always goals.
Jamie/Claire, Outlander
What can we say about these two that hasn't been said before already? They went through hard times this year, yes, but like always, Jamie and Claire got through them together. Loving each other, if possible, more. Trying, at every turn, to understand what the other was going through, even when it was hard. Not sacrificing self-worth for each other or letting anyone take over the relationship either, no. Jamie and Claire are just …equals partners in this crazy thing called life.
And even when they were apart, certain they were never going to see each other again, that was still not the end of their story. Because a love like theirs transcends time and space. What other standard there is?
Stiles/Lydia (Stydia), Teen Wolf
Being a Stydia fan is a study in delayed gratification. We've held out hope for Stiles and Lydia to become worthy of each other and make things official since Season 1 – and this year, in Teen Wolf's sixth and final season, we are finally being rewarded. Even with Stiles currently forgotten by his friends and erased from our reality, Stydia is giving us more feels than most TV couples who are actually together. Lydia has been tireless in the search for Stiles, and her "I think I loved him" pretty much made up for his lack of screentime thus far this season. Meanwhile, Stiles' "Remember that I love you" was all he needed to say to reassure us that he never gave up on her. This ship proves that less is more – though we'll still take whatever we can get once Stiles is reunited with the pack. #Stydia2K17
Kensi/Deeks (Densi), NCIS: Los Angeles
First they were partners, then they were friends, then they had a thing ….then they tried a relationship. But in 2016 Deeks and Kensi really stepped up the OTP game to previously unheard of levels. How? By just being in a relationship. Not hiding, not pushing their feelings away, not letting the shitty things work or life threw at them break them. They had mature, adult conversations. They handled Kensi's injury like it needed to be handled – with a focus on her but with 100% support and love from Deeks, who had his own doubts, of course, but never put his burdens on Kensi when she needed him to light hers.
Real. Mature. Loving. Supportive. Caring. Funny. Goals. 100%
Emma/Hook (Captain Swan), Once Upon A Time
What did this couple get in 2016? Only true love confirmation (though, let's be honest, we've known for a while), moving in together, domesticity and, oh, yes, there was the whole putting their money where their mouth is regarding the going to the end of the world for each other thing. Though, again, this isn't new. Emma and Hook have been one of those OTPs that make us believe that true love can actually work out for a while now.
And, no, they're not perfect. But they bring out the best in each other; they encourage the good things, they never try to dictate what the other is doing/feeling and they love unconditionally. If there's a standard, well, it's pretty clear Emma and Hook helped set it. And if possible, things are looking even better for 2017. Can you say wedding?
Agree? Disagree? Have another couple you think set the standard in 2016 and we missed? Share with us in the comments below!