Greg Berlanti has the Arrowverse. Julie Plec has her Vampire Diaries universe. And Dick Wolf has his One Chicago series, which has been quietly delivering some of television's best hours over the past five years.
Need something to binge watch over this winter hiatus? How about three somethings? Do you like complex characters, strong females, attractive casts, action, heart, and ships that make your heart go boom? Then we've found the perfect franchise for your viewing pleasure.
Dick Wolf has solidified himself as the king of procedural dramas on NBC. Long before his One Chicago franchise, Wolf was the mastermind behind the likes of Law and Order franchise, including Law and Order: SVU, which is currently going strong in its 18th season. Simply put, Wolf is a genius when it comes to these kinds of shows.
But it's Wolf's current crop of shows that has established his dominance in the drama. Chicago Fire, Chicago P.D. and Chicago Med co-exist in the same city with characters frequently crossing over or making brief cameos in a way that makes it feel like one huge show divided into three parts. Hence the name One Chicago. It literally is One Chicago.
As if the sustained success of Chicago Fire, Chicago P.D., and Chicago Med weren't enough, a fourth series is set to premiere in March. Chicago Justice, which will find one of P.D.'s character transferring over, will be set in the Chicago legal system.
Our love for One Chicago knows no bounds. With Fire in its fifth season, P.D. in its fourth, and Med in its second, all three shows continue to get better with each passing episode and season. You can tell that this franchise is going to be on the air for many years to come.
So there's no better time than the present to start binging on Chicago Fire, Chicago P.D., and Chicago Med before all three return in early January. And also before the fourth, Chicago Justice, makes its debut.
Here are 8 reasons why you NEED to be watching these One Chicago shows:
1. The Shared Universe
One of the alluring appeals of this franchise as a whole is the shared universe that these three (soon to be four) shows occupy. Chicago is the perfect setting for this franchise. It has an equal appeal to that of New York City, which is often the setting for these types of shows. When it comes to series in a shared universe, often times you'll see one significant crossover and maybe a couple small ones here and there throughout the course of a season. But One Chicago manages to make this shared universe actually feel like a shared universe. Yes, there are often a few major crossovers each season (that are so epic in how they blend into one another). But most of the time they'll be appearances from other characters and their show setting that feel natural. Whether that's the Firehouse 51 taking a victim to Chicago Med, or Intelligence at District 21 checking in on a victim at Chicago Med, or doctors stopping by District 21, or everyone getting together at Molly's for a drink after shift, these appearances all feel very organic. And that's what makes One Chicago an actual shared universe. All of these shows are shot in Chicago and some quite close to each other. Why not do it?
2. The Stories Will Entice You
Given the settings for each of these three (soon to be four) series, there is so many amazing stories that have been told and so many great ones that have yet to be told. The stories are so enticing, gut-wrenching, and emotional on a consistent basis while also never feeling recycled. They also address real world issues when it relates to each department. Whether it's a cop shooting a young black boy on Chicago P.D. or a firefighter attempting to save a life and being attacked for it or a doctor trying to save a patient and being punished for it. These shows manage to capture these real world issues in a way that is educational and insightful. These stories will capture your attention, leave you on the edge of your seat, make you feel pain, make you feel relief, and so much more.
3. Complex and Diverse Characters
Make no mistake, it's the characters of One Chicago that have made it the success that it is today. A television show — or any story for that matter — is nothing without characters that make you feel and that you give a damn about. The characters on Chicago Fire, Chicago P.D., and Chicago Med are all so unique, diverse, and complex that gives them each a special place in your heart. These aren't shows where you have just one favorite character because they're the one that's written so well. All of these characters are written in a way that you like them all for a certain reason. More than that, you actually care about them. Each of these characters has a unique backstory that has shaped them into the person they are today. And we get to see pieces of that backstory as it continues to mold our perception and understanding of these characters that we already know so well. There's always something new to love about them.
4. The Ships Will Make You Feel ALL the Feels
We're proud fangirls and shippers (and we're not afraid to shout it from the rooftops!) So we know good couples when we see them. And make no mistake, One Chicago has ships that will make you feel ALL the feels. Good, bad, gut wrenching, emotional, heart eyes. You name it. Whether it's (Jay) Halstead and Lindsay on Chicago P.D., Casey and Dawson on Chicago Fire, or (Will) Halstead and Manning on Chicago Med. All. The. Feels. The relationships on these shows are written so well. There's a nice pacing within the relationship, but there's also nothing stopping these writers from allowing these characters to be together and work through their problems when the time arises. Something that is so beyond frustrating on television nowadays is how terrified some writers are of putting their main couple(s) together too soon. I mean, there is such a thing as "too soon." But a couple of seasons is no such thing. One Chicago has managed to capture the longing, the sexual tension, the build-up while also allowing the characters to be in a relationship without contrived drama. It's so refreshing to see. And the network actually actively promotes these ships. How would've thought?! Some writers and networks could really learn from One Chicago.
5. The Casts Are Seriously Attractive
Not to get shallow on you, but the casts of Chicago Fire, Chicago P.D., and Chicago Med are some of the most attractive casts on television. And it's not just your typical Pretty Boy or Pretty Girl attractive. There are older characters that are smoldering. There's something for everyone! I mean, who ever associated  firefighters, police, and doctors with being attractive? A novel concept, I know. Not only do these series have outstanding stories and characters, but there is also plenty of eye candy to enjoy along the way. On Chicago Fire you have Kelley Severide, Matt Casey, and Gabriela Dawson. On Chicago P.D. you have Jay Halstead, Erin Lindsay, Antonio Dawson. On Chicago Med you have Connor Rhodes, Natalie Manning, and Will Halstead. And so. Much. More. Seriously, good luck focusing on the show sometimes.
6. It's a Procedural That Doesn't Feel Like a Procedural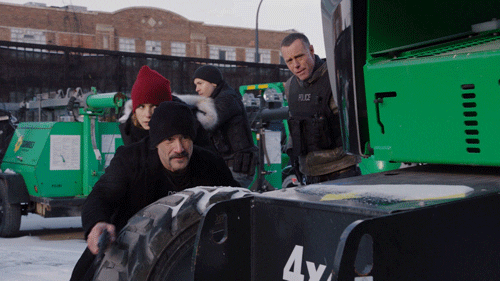 When it comes down to it each of Wolf's One Chicago shows is a procedural drama that follows a main storyline(s) each week. There's a case. They work to solve it. They eventually solve it. The end. But despite being a franchise of procedural dramas, One Chicago doesn't actually feel like one. There are overlapping storylines with the characters that are so very easily related to cases or that carry over that make this procedural world not feel confined to one. One Chicago is not bogged down by its genre. It uses it as a starting off point and delivers emotional and impressive hours of television that have hooked audiences. There's just no way that these shows — given the setting of them — can't be procedural dramas. If they're not then they lose their purpose. But One Chicago has managed to maintain its procedural element while also managing to feel like one big cohesive storyline week in and week out.
7. Strong, Kickass Ladies
If you're all about strong female characters then One Chicago is the perfect fit for you. With television it's really hard to come by female characters that are not only strong but well-written on a consistent basis. We've seen shows that have strong female characters but don't utilize them properly. One Chicago has some pretty badass ladies who are allowed to grow through their own individual storylines. Sure, they have love interests (seriously, these ships are to die for). But they are so much more than someone's girlfriend. And even better, these shows actually acknowledge that! But the portrayal of women on these shows is also so very true to the world that we live in. It addresses certain prejudices against women, how difficult it is for them in typically male-driven fields. But it only serves to motivate these amazingly badass ladies as they continue to slay week after week.
8. There's Room for More!
Something that makes this shared universe so amazing is how each of the three (soon to be four) series each focus on an element of this massive city. You have the firefighters putting our fires and rescuing people on Chicago Fire. You have the police protecting the innocent and punishing the guilty on Chicago P.D. You have the doctors and nurses saving lives on Chicago Med. And soon you'll have lawyers prosecuting the guilty and defending the innocent on Chicago Justice. This franchise could literally expand forever as it continues to cover other massive mediums in the city of Chicago. You could have Chicago Edu, which would cover the Chicago school system. You could have Chicago Sports, which would cover the massive sports teams in the city. If Wolf wanted to he could literally spin off a new series every season. There's so much possibility with this universe.