February is the shortest month of the year, but with at least one long weekend you can't go without a new book to read. This February is full of plenty poignant titles that relect themes of love, friendship, and being yourself.
Take a look at these books, coming soon to a bookstore near you.
---
1. The Young Widower's Handbook by Tom McAllister 
Hunter Cady is an underachiever. He has spent roughly half of his twenty-nine years accomplishing very little, which makes him about fifteen in terms of life experience. He seems himself as lucky when it comes to his wife, beautiful and confident Kait.
In Hunter's world, meeting Kait was the best thing that ever happened to him.
Until she dies quite suddenly. After he death, Hunter is crushed, grief stricken, and dealing with life the only way he knows how–by running away.
To the dismay of her family, Hunter takes Kait's ashes and heads west, because they had always meant to travel.
Soon he finds himself, and Kait in encounters with characters just as awkward as he is. They meet an overzealous Renaissance Faire worker, a sympathetic troop of bachelorettes, a Chicago couple and their pet parrot, and a much older man still searching for his wife who walked out him years ago.
As their journey continues we get a glimpse into Hunter and Kait's beautiful, flawed, very real marriage, and the strength their relationship gives Hunter, even when he's contemplating a future without it.
Release Date: February 7, 2017
---
2. The Good Daughter by Alexandra Burt
Mystery fans will love this new novel from Alexandra Burt that begs to ask the question: "What if you were the worst crime your mother ever committed?"
The Good Daughter tells the story of Dahlia Waller. Her childhood memories are a mix of stuffy cars, seedy motels, and rootless existence traveling the country with her eccentric mother.
Now grown, Dahlia is trying to distance herself from that eccentric life, but a series of questions are stopping her from moving forward, and in order for Dahlia to understand the past, she has to go back.
Dahlia travels back to the stifling town of Aurora, Texas and to the past of a woman on the brink of madness. Then she discovers three grave-like mounds on a neighboring farm, and her mother's world of secrets, making her wonder if not all questions are meant to be answered.
Release Date: 7 February 2017
---
3. Abandon Me by Melissa Febos
Years ago, Melissa Febos published her critically acclaimed novel Whip Smart, in which she laid bare her experiences as a dominatrix while she attended The New School in New York City. She turned her memoir into a lyrical study of power, desire, and fulfillment.
Her second memoir, Abandon Me, captures the intense bond of love and need that humans have for one another. Through family, lovers, and herself, Febos unspools a history of her two fathers, lineage, and addiction.
Febos tentatively reconnects with her birth father, who left her with an inheritance for addition and some Native American blood. Febos tentatively reconnects with her father and sees how both her biological lineage and that of the sea captain who raised her, have shaped her life.
Through this tale is the hypnotic story of an all-consuming, long-distance love affair with a woman, marked with periods of worship and withdrawal.
This fiercely vulnerable memoir provides an investigation of art, love, and identity through erotic prose.
Release Date: February 28, 2017
---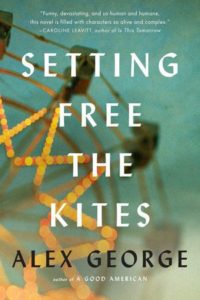 4. Setting Free the Kites by Alex George
Robert Carter leads a perfectly normal, and predictable life in his coastal Maine hometown, but in 1976, he meets Nathan Tilly, who changes everything. Nathan is confident and fearless, and he has an obsession with kites and flying.
Nathan and Robert's relationship are forged in the crucible of two family tragedies, and as the boys come to terms with their losses, they take jobs at the local rundown amusement park. It is here that Nathan's boundless capacity for optimism threatens to overwhelm them both, and they learn some harsh truths about family, desire, and revenge.
Release Date: February 21, 2017
---
5. A Tragic Kind of Wonderful by Eric Lindstrom 
Bipolar disorder makes Mel Hannigan's life unpredictable. At sixteen, she is balancing her growing feelings in a new relationship with her instinct to keep everyone at arm's length.
When a former friend confront's Mel with the truth about the way their relationship ended, buried secrets threaten to come out and upend her shaky equilibrium.
As the walls begin to dissolve in Mel's compartmentalized world, she fears the worst: that her friends will abandon her if they learn the truth about what she's been hiding.
A Tragic Kind of Wonderful examines the fear that keeps us from exposing our true selves and the courage it takes to be loved for who we really are.
Release Date: February 7, 2017
---
6. Swimming Lessons by Claire Fuller 
Ingrid Colman is writing letters to her husband Gil regarding the truth of their marriage and hiding them in the thousands of books he's collected over the years. When Ingrid writes her final letter, she disappears from their home on Dorset beach, leaving behind a beautiful, dilapidated house by the sea, her husband, and her two daughters Flora and Nan.
Twelve years later, Gil thinks he sees Ingrid from a bookshop window, but he is getting older and thinks the unlikely sighting can he chalked up to senility. Flora has never believed that her mother drowned, and so she returns home to care for her father and discover what happened to Ingrid.
What Flora doesn't realize is that the answers to all her questions are hidden in the books around her. This scandalous tale holds the Coleman family up to the light, exposing the mysterious truths of a passionate and troubled marriage.
Release Date: February 7, 2017
---
7. The Refugees by Viet Thanh Nguyen
This book couldn't come out at a more appropriate time. Viet Thanh Nguyen's The Sympathizer was one of the most highly praised books of 2015. In 2016, the book also won several awards including the Pulitzer Prize for Fiction, the Center for Fiction Debut Novel Prize, and the Edgar Award for Best First Novel.
Nyuyen's next book, The Refugees is a collection of stories that he composed over 20 years, focusing on themes of immigration, identity, love and family.  Throughout these stories, Nguyen gives a voice to those who lead lives between two worlds: their adopted homeland and their country of birth.
His characters include a young Vietnamese boy who suffers from culture shock when he comes to live with two gay men in San Francisco, a woman whose husband is suffering from dementia, a young girl living in Ho Chi Minh City whose older half-sister comes back from America having accomplished everything she never will.
Overall, The Refugees is a captivating collection about the dreams and hardships of immigration with beautifully written and sharply observed prose.
Release Date: February 7, 2017
---
8. Optimists Die First by Susin Nielsen
Petula de Wilde is sixteen and anything but wild. She used to be a crafting fiend with a former life, but that all changed after a family tragedy. Now Petula sees danger in ordinary things: a germy handshake, crossing the street, a bug bite. She knows: life is out to get you.
The worst part of new-Petula's week is a mandatory art therapy class with a small group of friends and fellow misfits. 
Then Jacob appears in her therapy group. He seems normal and confident, but he has a prosthetic arm. The two team up together on a hilarious project,inspiring each other to get over their fears, and as the two grow closer, the hidden truth behind why he's in the group could derail them.
That is…until Petula takes a huge risk.
Release Date: February 21, 2017
---
9. The Impossible Fortress by Jason Rekulak
In Jason Rakulak's debut novel, he presents a heartwarming romance and a moving coming of age story.
Billy Marvin has always loved computers. Then he met Mary Zelinsky.
In 1987, Billy Marvin tries to steal a copy of Playboy that contains scandalous photos of Vanna White–yes, the Vanna White from Wheel of Fortune–with his friends Alf and Clark.
Their heist resembles a video game. There's a locked building, intrepid police, rusty fire escapes, leaps across rooftops, electronic alarm systems, and a hyperactive Shih Tzu named after Arnold Schwarzenegger.  As attempt after attempt fails they finally settle on the grand heist. They're going to steal the security code to Zelinsky's convenience store by seducing the owner's daughter Mary Zelinsky.
Billy's mission is to befriend her and get the information they need to complete their quest, but Mary isn't your average teenage girl.
Mary is a computer loving, expert coder, and already miles ahead of Billy. On top of that, she has a wry sense of humor and a hidden, big heart. Billy finds himself faced with a choice: deceive the girl who may be his first love, or break a promise to his best friends.
Release Date: February 7, 2017
---
10. Traveling with Ghosts by Shannon Leone Fowler
In this memoir, a marine biologist shares the solo journey she took through a war-ravaged Eastern Europe, Israel, and beyond, to find piece after her fiance's death.
In the summer of 2002, Fowler was a twenty-eight-year-old marine biologist, backpacking in Thailand with her fiance and love of her life, Sean. Shannon and Sean planned to return to Sean's native Australian after an excursion in Koh Pha Ngan. Their plans were halted when a box jellyfish, the most venomous animal in the world, wrapped itself around Sean's leg. The jellyfish stung and killed him in a matter of minutes with Shannon watching helplessly.
After rejecting the Thai authorities attempts to label his death a "drunk drowning" she ferried his body home to his family in Australia. A family to which she no long belonged.
Fowler was shattered and untethered, and her life on pause indefinitely as she traveled the world to find healing. Travel was the cornerstone of her relationship with Sean and she hoped that would help him process his death. On her journey, Shannon found that Sean is everywhere even though he isn't with here. She visits the site of Auschwitz, war-torn Israel, shelled out Bosnia, a poverty-centric Romania, and Barcelona, the place where she first met Sean years before.
Ultimately, Shannon must confront the ocean. The object of her life's work and the love of her life, who took the second great love of her life away from her.
Release Date: February 21, 2017
---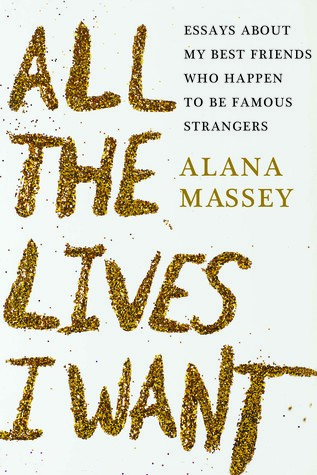 11. All the Lives I Want: Essays About My Best Friends Who Happen to Be Famous Strangers by Alanna Massey
How can you not be taken in by this title? Alanna Massey's All the Live I Want: Essay About My Best Friends Who Happen to Be Famous Strangers is a collection of essays examining the intersection between the personal and pop culture through the lives of pivotal female celebrities.
With figures from Sylvia Plath to Britney Spears, Massey provides a cultural critique of the women who reflect our greatest aspirations and our darkest fears. In addition to being a critique of pop culture, it is also an exploration of mental illness, the sex industry, and the dangers of loving too hard.
Above all, All the Lives I Want is celebration that attempt so redefine a generation, including: Scarlett Johansson to Amber Rose, Lil' Kim, Anjelica Huston, Lana Del Rey, Anna Nicole Smith
Release Date: February 7, 2017
---
12. I See You by Clare Mackintosh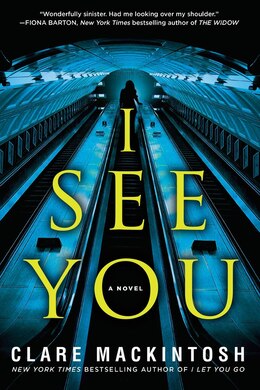 I read Clare Mackintosh's first book, I Let You Go, before it came out last May, and I was enthralled in a fast-paced, beautifully mastered thriller. Now her second book I See You is being released in the states, and I am eagerly awaiting the release.
Zoe Walker's life is one of routine. Every morning she takes the same route to the train station, waits in a certain spot on the platform, and finds her favorite spot in the car, never suspecting that someone is watching her.
One day, while looking through a local paper, Zoe spots a classified ad with her own face staring back at her. The photo is listed with a phone number and a website called FindTheOne.com.
Then, other women begin appearing in the ads, and Zoe soon realizes that they've become the victims of increasingly violent crimes–including murder. With the help of a detective, Zoe uncovers the twisted purpose of the ads, and her paranoia turns to full-blown panic as she realizes someone close to her has set her up to be the next target.
Now, the man smiling at her from across the train could be more than just a friendly stranger. He could have chosen here and he could be waiting to make his next move.
Release Date: February 21, 2017
---
Those are the twelve books we're most looking forward to this month. What do you plan on reading? Do you think you'll check out any of the books listed here? Let us know in the comments below.