As fans of television we're gifted with week after week of new episodes — minus those dreaded summer and winter hiatuses that make us want to pelt networks with garbage. It's something that we don't get with movies, which requires sometimes two-three years of waiting for the next two-hour installment.
But as fans of television we also know that there are episodes that are our go-to episodes; the ones that we watch during those dreaded hiatuses that remind us why we love these shows so much. And the year 2015 was a great year for sensational episodes.
Here are our 14 favorite episodes from 2015:
1. "AKA 1,000 Cuts" (Jessica Jones)

This was arguably one of the darkest episodes of the season, in a show where almost everything was dark. The lawyer that Jessica works with, Jeri Hogarth, helps Kilgrave escape from Jessica's prison in hope that he will help her control her ex-wife Wendy into giving her a divorce so she can marry her new lover. The premise behind it seems rather trivial but the way it plays out is anything but as Kilgrave gets to chatting with Wendy and they decide that they've both been wronged by woman so Kilgrave tells Wendy to give Jeri 'death by 1000 cuts' and we physically get to see as Wendy repeated cuts Jeri with a knife while counting, until Jeri's girlfriend interrupts and kills Wendy. Each cut felt real, like it was effecting the audience, and it needs an amazing director to choreograph this scene so excellently that it truly hits home with the viewers.  – Caryn

2. "Certain Agony of the Battlefield" (Orphan Black)

This show, Orphan Black has made me cry so many freaking times! As a mother of a daughter with a single mother and child dynamic in our past, I know firsthand how hard it is to trust and rely on others especially when it comes to your child. The way Sarah must do this on a regular basis while building up her clone family, heading it up and shouldering the responsibility of being the tough one makes my heart ache. She survives and fights for these women who look just like her. However, in "Certain Agony of the Battlefield" — she finally allows her other sisters to help, fight alongside her in this wild conspiracy-filled life; and in the process, she loses one of her greatest assets that she has fought fiercely with but then relied on and finally learned to love wholeheartedly just as he was ripped away in a sacrificial death no one could've predicted when we first met Paul. One of the best things about this show's writing is how the all expectations get thrown out the window for the sake of tightening the plot and making the characters go beyond even the second or third development into legendary growth. So much so, that saying goodbye to anyone on this show equates to tearing off skin with the bandaid. In "Certain Agony of the Battlefield" there's nothing sacred and the tears rolled without me being able to stop them. It was this episode, that I realized my emotions were not my own when it comes to Orphan Black. Those damn writers had somehow hacked my brain and heart and now I'm so scared about season four!
– Beth
3. "Cut Man" (Daredevil)

It's very difficult to chose a favorite episode of Daredevil, as they all seem to flow together and each episode has a considerable meaning to the rest of the season so I chose my favorite scene which is the hallway fight scene in episode 2. Episode 2 is important for various reasons – we meet Rosario Dawson's Claire Temple for the first time, we learn more about Matt's father Jack and has an important run in with the Russians. In the hallway scene, Matt fights off about nine gang members in order to save a little boy, bearing in mind that Matt is blind but fighting with ninja-like skill, he almost dances across the hallway as he knocks out opponent after opponent, this is probably one of the best fight scenes ever seen on television. The choreography of this was so excellently done and for that especially it deserves to praised. – Caryn


4. "Dark Waters" (Arrow)

Arrow has really hit its stride in its fourth season, and some of its best stuff was on display in its midseason finale where emotions ran almost as high as fans' blood alcohol levels. This show has proven more often than not that it's at its best when it focuses on the characters and their relationships. It allows for some truly great emotional moments like the ones in "Dark Waters." We got a nice focus on Oliver and Felicity, who have been the season's emotional center as we saw them nearly lose each other and then take the next step in their relationship when Oliver proposed to Felicity near episode's end. But this is Arrow, and nothing stays happy for long. Enter the ending that we're still talking about. That cliffhanger. We knew it was coming, and still it hurt like hell. Of course we know Felicity isn't dead, but it doesn't matter. The emotional damage has been done. Dear lord I'll never be able to listen to "The Little Drummer Boy" without sobbing again. Thanks for that, Arrow. – Alyssa

5. "Swan Song" (Once Upon A Time)
Was there ever more pain-filled episode in the history of television? (Wait, don't answer that). There has surely never been one in Once Upon A Time. First, there was the reveal. Emma's endgame was merely this: Save Hook. And, then, in this episode, there was the fallout. He didn't want to be saved. He'd begged her not to do it. But she loved him too much, and in the end, he loved her too much to be this man. And, even more importantly, thanks to her, he saw the man he wanted to be much more clearly. And that's why he could sacrifice everything. – Lizzie
6. "Savior" (The Originals)
We'd like to say a big WHAT THE FUCK to this mid-season finale. Look, every week, The Originals leaves you with all the feels and sitting on the edge of your seat wondering if you did something wrong, if you need to send the writers a basket apologizing. You'll be a better fan. You'll watch and TIVO. You will do what ever. The end of this particular episode just left you in tears, pissed off, and wondering if that just fucking happened. And if it did happen – you want answers. ANSWERS. Like this better be setting up for Steroline and if it's not… someone needs to apologize to us. – Erin
7. "Heaven Sent" (Doctor Who)

I would have to say the best episode this year was "Heaven Sent" the second to last episode of Doctor Who. Not only was the cinematography incredible the story was gripping. It truly showed just how incredible Peter Capaldi is as the Doctor. Not only this but I don't think anybody else on this planet other than Steven Moffat could come up with such a creative, puzzle of a story as this one. It made me fall in love with the show all over again and it was the cherry on top of an incredible season. – Madeline
8. "What Did We Do?" (How to Get Away With Murder)

How to Get Away With Murder is one of those shows where there's rarely an episode that you don't find enticing, but in the season two midseason finale with all of the hype leading up to the reveal of who shot Annalise, it more than delivered. The thing with HTGAWM is that you already know the ending. Sort of. We all knew after the premiere that Annalise would be shot and critically injured, but who did it was a question that loomed over the episode but didn't overtake all of the other storylines that led to the fated moment. Viola Davis was sensational in her portrayal of the emotionally unhinged and unstable Annalise Keating who was finally pushed to her breaking point. This outstanding cast truly shone in this midseason finale that left us shocked and craving to learn what happens next. – Alyssa
9. "AKA WWJD?" (Jessica Jones)

I wouldn't say I was late to the Jessica Jones party, but I certainly had friends who finished the season well before I did and were singing its praises for all to hear. I liked the show from the beginning, but it was "AKA WWJD?" that really hooked me and made me understand the hype. Putting Kilgrave and Jessica in the same place — Jessica's childhood home, creepily recreated down to the last detail — changed the game. Their interactions revealed more about his real motivation, whether he had the potential to be "good," and exactly what Jessica was up against — all while keeping the dangers of Kilgrave's power scarily apparent. From this point on, I binge-watched to the finish. – Chloe
10. "Cold As Ice" (The Vampire Diaries)

Hate to say it – but we're so into TVD without Nina Dobrev. Want to hate it – but dear lord, this shit got good. Now the heretics are a bunch of crazy and Julian needs to be put back into the Phoenix stone with a quickness, but we'd like to talk about how can you leave it with both Stefan and Damon daggered. Did not see that coming. BUT – we would like to head to Mystic Falls and kick the crap out of Julian. This season has us on the edge… but we're loving every second. – Erin
11. "Just My Imagination" (Supernatural)

Leave it to Supernatural to cover a topic like imaginary friends. This episode was revealing, insightful and hilarious. Sam's imaginary friend, Sully, opened up a new world of the supernatural whose sole focus is to take care of children. We got a glimpse into Sam's life when his dad and brother were off hunting. It was always thought that he went to school and hid in his hotel room, a lonely boy with no one by his side. But it wasn't like that at all! He had a companion the entire time who brightened his days and helped him grow up. RIP Sparkle the Unicorn & Nicky the Mermaid. – Lyra

12. "Chapter Twenty-Eight" (Jane the Virgin)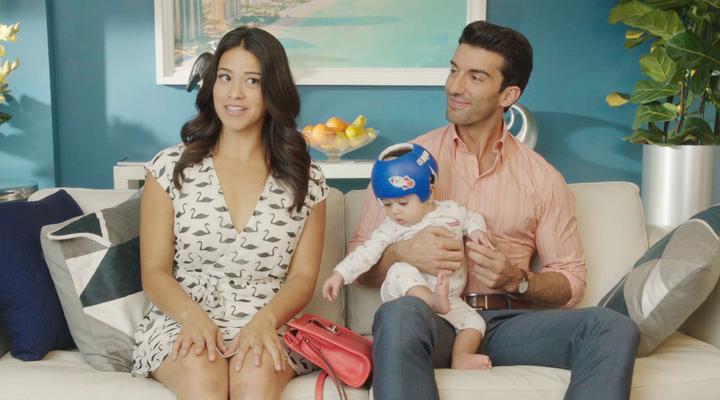 In most shows, a time jump is used to restart the engine; just to give it the proper steam so it won't fall flat. Jane the Virgin's "Chapter Twenty-Eight" managed to time jump four times in a single episode, encapsulating five months of Jane's life as she faces motherhood, grad school and a love life. It worked perfectly. The writers used this to portray how fast life moves, especially with a newborn who needs a helmet to reshape his head. We got the chance to watch motherhood in all of its glory and disadvantages (I didn't realize how HARD it was to breastfreed!), and watched as Jane's dedication to a class when it seems like her professor hates her. It's also true to life – it moves as fast as you can blink, so make the most of it. — Iris
13. "Cape Town" (iZombie)

When watching this episode, "Cape Town", Liv's got the best lines and Ravi's giddily high on superhero watch. The parallels though between these dead superheroes and their vigilante justice are a whack in the face when you realize the reality is Liv's actually just that. A hack superhero who just happens to already be dead. As that realization sinks in, blindsided in the knowledge that Liv's existence is not an eternally after ever deal; the setbacks Ravi makes with the rats leaves everything on a sour, dark note that does not bode well for any of our favorite characters on iZombie when the show returns. For the first time, in "Cape Town", iZombie feels like the harrowingly, dark comic show it really is. Liv's adorably, upbeat life is anything but and we've forgotten that everybody dies. Science triumphs even though every question begins with "What If's"… or more appropriate… "Despite all my rage, I am still just a rat in the cage." Guess, none of us escape. At least that's what iZombie just made us all aware of in "Cape Town."
– Beth
14. "Internal Affairs" (NCIS: LA)

This is one of those episodes that's been six years in the making. For Deeks, because his past has remained in the shadows for so long. For Callen and Sam, because they've never really treated him like a part of the team. And, for Kensi, because she went from not trusting this man, to putting her life in his hands, to loving him, and now, to accepting him, warts and all, to fighting for him. So, yes, maybe a little jail time wasn't so bad, in this particular case. – Lizzie
What were some of your favorite television episodes from 2015? Did any of them make our list?