Oh, where do we begin with the Firefly Gift Guide?
Firefly is a fandom for a show that lasted one season and a movie, but despite its short life on television, it's endured.
You'll still find fans who affectionately call themselves Browncoats, who want to head into the black with Malcolm Reynolds with his ragtag crew–a crew that consisted of a pilot, a mechanic, a preacher, an old war buddy, a doctor, and a girl who was a little out of her head.
If you have a devout Browncoat in your life who keeps the series spirit alive, they'll appreciate one of these tokens this holiday season.
Take a look at this list of Firefly-inspired products, curated from independent artists and see if you can find a gift perfect for your favorite Browncoat this holiday season.
If you're looking to give yourself a gift, log onto Netflix and stream the entire series. Seriously, there are only thirteen episodes (tear!) and you can do it in a weekend. Then perhaps you'll end up buying one of these awesome gifts yourself.
---
1. "I Aim to Misbehave" Ceramic Travel Mug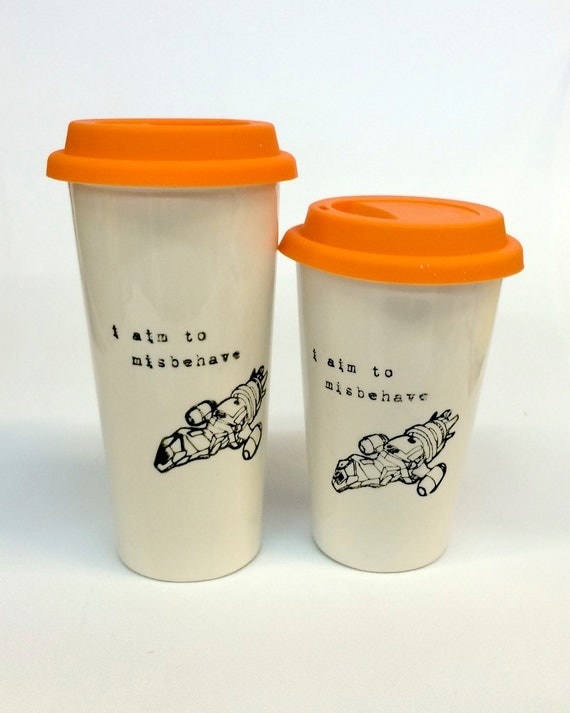 One way to make sure you have plenty of energy for your "thrilling heroics" is to make sure you load up on caffeine.
Load up on coffee and set out on your adventures with this travel mug. Depicting a line drawing of Serenity, and what was essentially the crew's motto it's the perfect gift for a Browncoat on the go.
PRICE: $25
---
2. "I'm a Leaf on the Wind" Spoon Necklace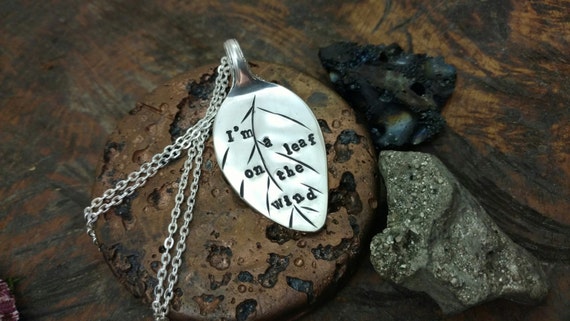 The adorable Hoban Washbourne, who piloted Serenity, once said: "I'm a leaf on the wind, watch me soar." That's what this spoon necklace embodies. This piece is made from an upcycled silver-plated spoon with each letter hand-stamped.
The little imperfections and patina that come on each piece add to their charm and fit with the theme of Firefly perfectly.
Plus, this quote is just inspirational on its own!
PRICE: $18
---
3. "We've Done The Impossible" Button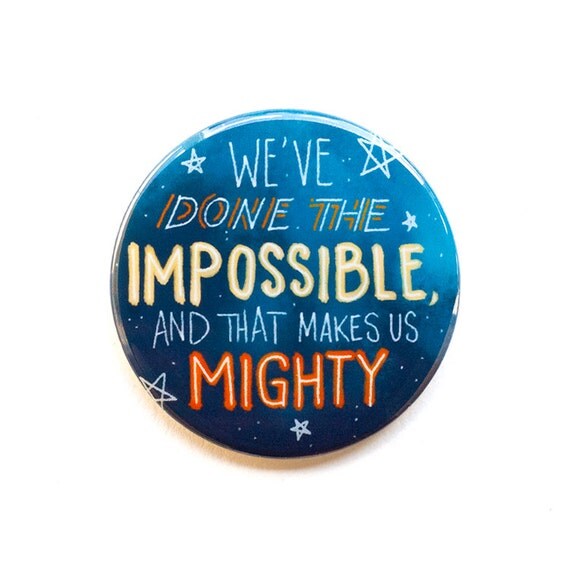 One thing that Firefly has a lot of, is great quotes. There are lots of really inspirational and notable quotes said by each and every member of the cast. This button depicts one of them with beautiful typography.
The price is right too, perfect for a Secret Santa or a stocking stuffer for a dear friend.
PRICE: $2.75
---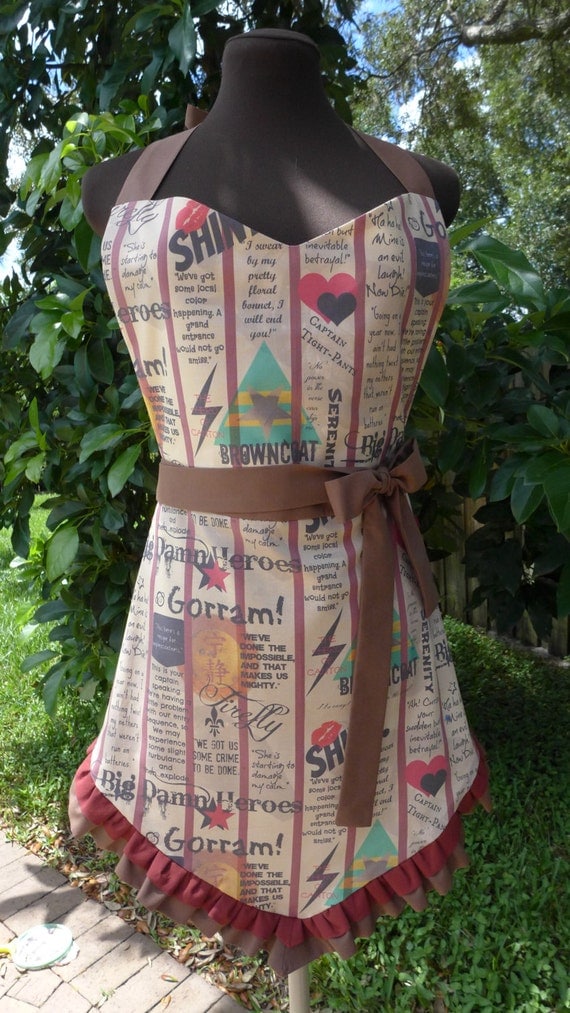 For the aspiring chef and Browncoat on your list, a beautifully tailored apron is the perfect gift. With exquisite details, it is fashionable and yet geeky and is sure to delight the recipient with both your thoughtfulness and the artist's craftsmanship.
PRICE: $52
---
5. "I Swear By My Pretty Floral Bonnet" Wooden Sign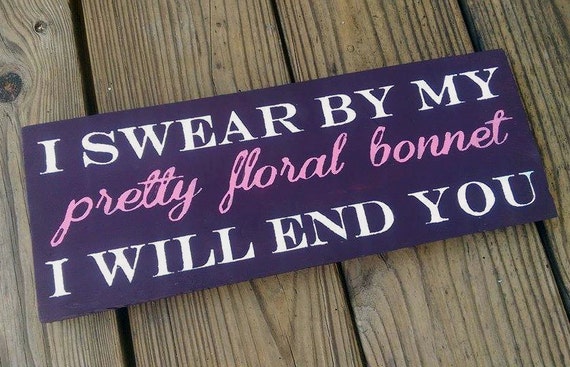 Firefly always injected humor is injected into situations. This quote comes from one such situation. For the plucky hero or heroine in your life, this wooden sign is a great reminder that looks can be deceiving.
(Seriously, don't judge us by our pretty floral bonnets people!)
PRICE: 14.95
---
6. "When You Can't Run" T-Shirt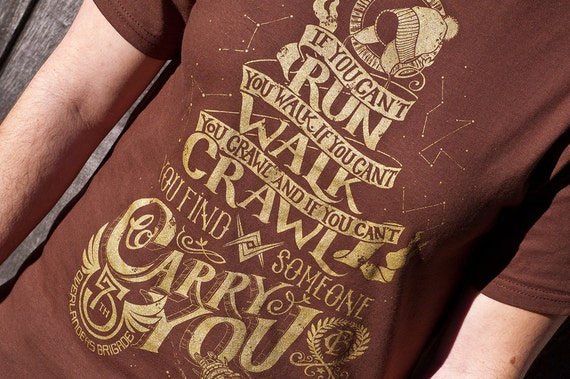 This t-shirt with a typographical design is the perfect gift for a Browncoat. Captain Malcolm Reynold's said this to one of the men in his company during the war, and it became his friend's affirmation. Since then it's been one of the enduring quotes of the series.
PRICE: $20
---
7.  "Curse Your Sudden But Inevitable Betrayal" Car Sticker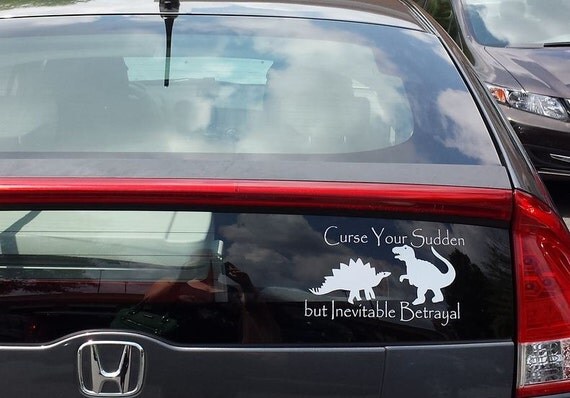 The scene in "Serenity," where Wash is sitting in the pilot seat, playing with toy dinosaurs, is one of my favorites ever.
Imagine putting this sticker on your car's rear window and leaving it in your wake.  It's the perfect stocking stuffer for the Browncoat on your list and since it's available in a variety of colors, you can pick the one that best fits your car (or the car of the recipient).
PRICE: $6.95
---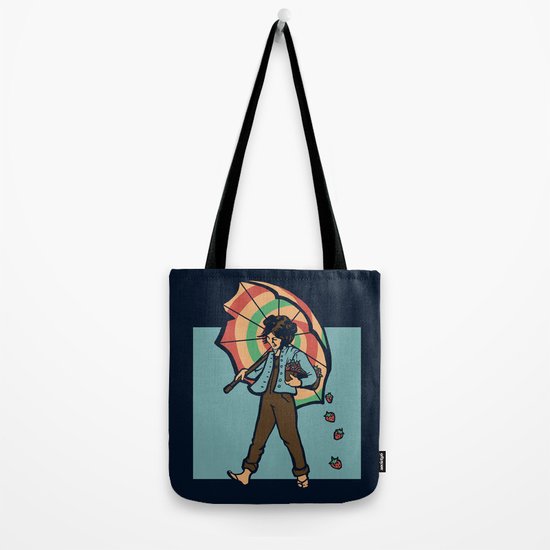 Another beautiful design from artist Karen Hallion, this tote shows Kaylee with her parasol, walking with one of her favorite foods, strawberries.
This design is beautiful and the bag is available in three different sizes, so you can choose the one that fits your recipient the best.
PRICE: $18 for a Small Tote (13″ x 13″)
---
9. Jayne Hat Inspired Yarn Bowl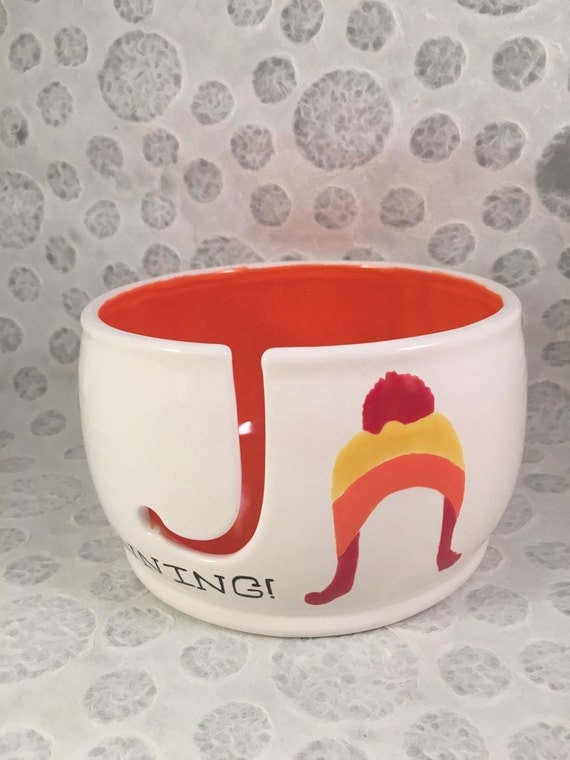 You have to love a man who wears a hat that his mom made him. Jayne's hat is as iconic a symbol of the Firefly series as the Browncoat. This yarn bowl is perfect for someone who knits and may have made their own Jayne hat.
PRICE: $40
---
10. "No Power in the Verse…" Embroidery Hoop Art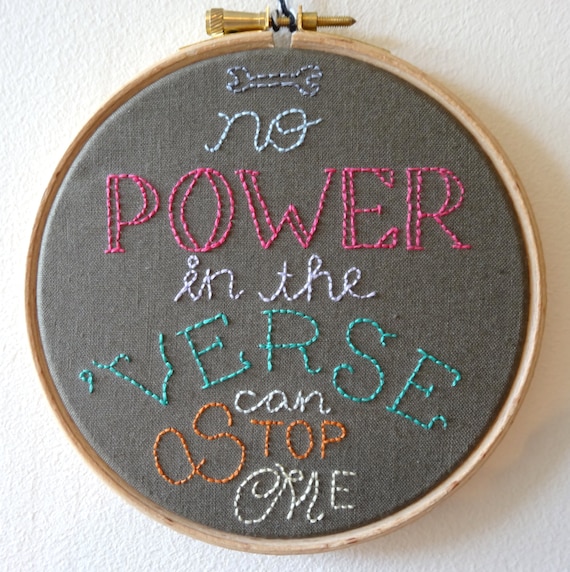 River and Kaylee's friendship an endearing part of the series. The scene where they are chasing each other through the ship and fighting over an apple is one of my favorites. At the end, a victorious Kaylee stands up with an apple and says: "No power in the verse can stop me."
This embroidery hoop is a colorful and artful way to depict this affirmation. The colors are perfectly reminiscent of Kaylee's wardrobe and the tiny wrench on top is the perfect finishing touch.
PRICE: $18.33
---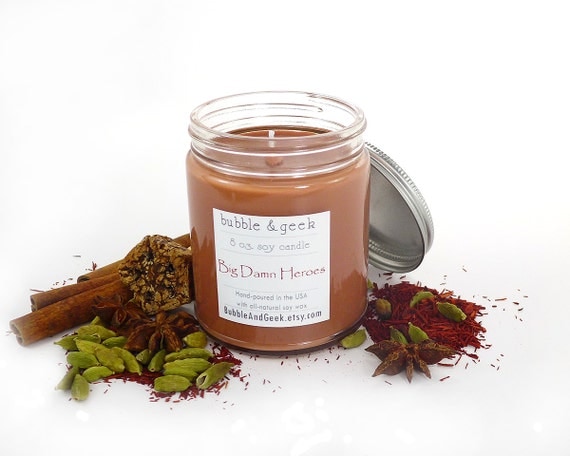 When I picture the inside of Serenity, I see ceramic parts and I imagine a smell of engine fuel mixed with leather and maybe some cologne from whatever backwater world the ship happens to stop at.
This candle smells nothing like that!
Bubble and Geek has created a candle that embraces our favorite rag tag team of heroes with the scent of teakwood, smuggled spices (cardamom and clove), and leather.  The perfect ambiance to set up for your evening if your fellow browncoats.
PRICE: $16
---
12. Shephard Book Minimalist Art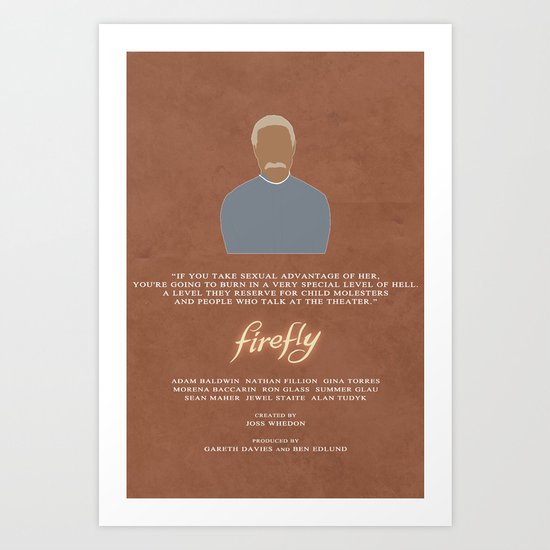 One of the things that was so frustrating about the way Firefly ended, was the fact that we never got an answer to who the enigmatic Shepherd book was. He was this character that no one could make sense of and came out of nowhere with some of these great quotes.
MacGuffin Designs created a series of portraits featuring a quote from the character and a minimalist portrait. Pictured here is the portrait of Shepherd Book with one of his quotes about "a special hell."
The print is available in several sizes, starting with a mini (7″ x 10″) to x-large (28″ x 40″) You can even get the print framed and have it arrive ready to hang.
PRICE: Starting at $15 for an unframed mini print
---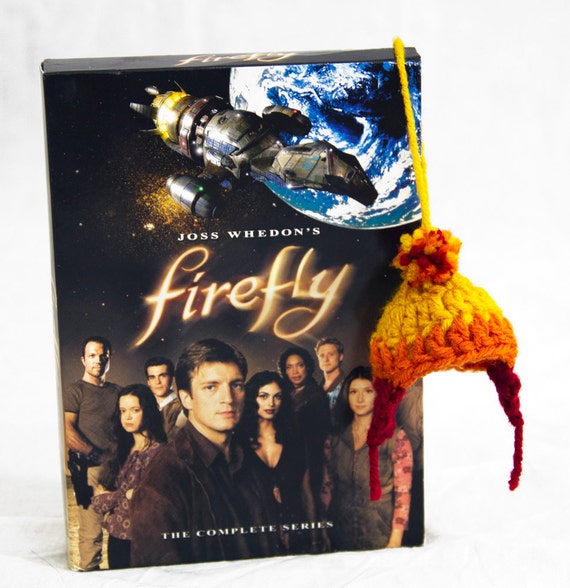 Add a miniature version of the Jayne hat to your Christmas tree this year. Knit just like the original this is an ornament that is sure to bring up fandom memories every time you take it out to trim the tree.
PRICE: $5
---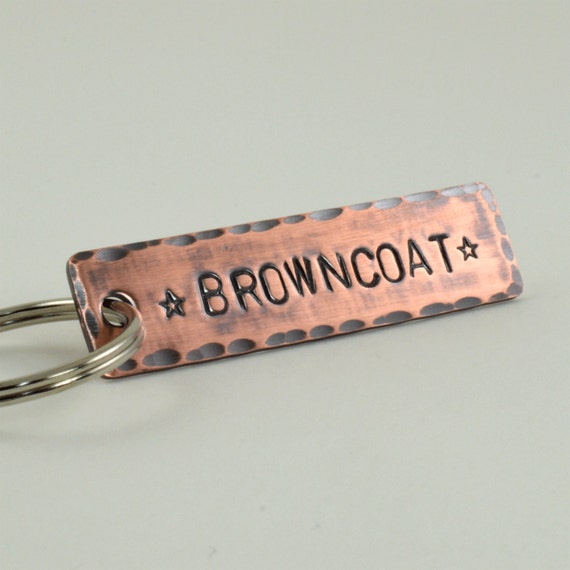 Sometimes the simplest gifts are the best. A hand-stamped keychain declaring your friend's Browncoat status will do just the trick. Then they can get into their own version of Serenity and go on some awesome adventures.
PRICE: $12.99
---
15. River Tam and the Fireflies Print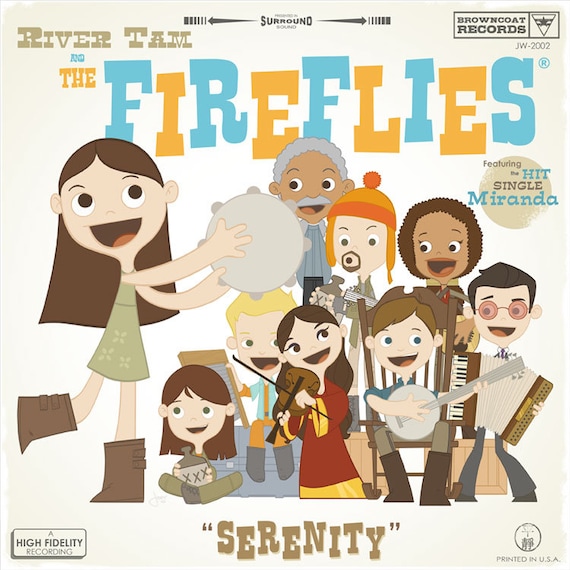 I first saw this fake album cover as a t-shirt on TeeFury, but you can also buy it as a print. Plus, isn't River Tam and the Fireflies just good band name. Their first hit song would be the feminist anthem "I Can Kill You With My Brain."
PRICE: $20
---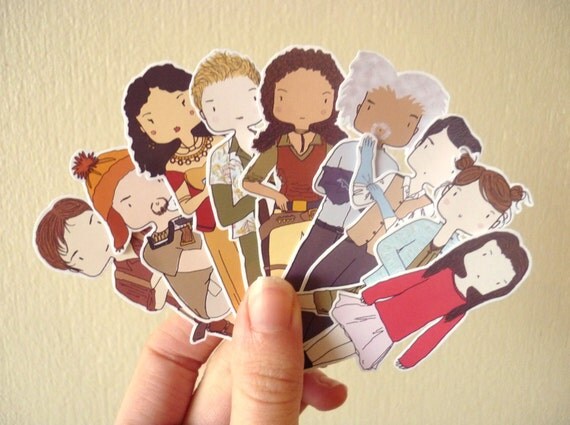 Some people just love stickers and this pack featuring each member of Serenity's crew, is the perfect gift for a Browncoat and sticker lover. These stickers are hand cut from glossy stock and feature firm adhesive.
PRICE: $3.93
---
What do you think of these amazing gift ideas for your favorite Browncoats? Will one of these end up on your list of holiday gifts to give or receive?
Let us know in the comments below and be sure to stay tuned for more geeky holiday gift guides.