Sherlock Holmes fans come in many forms. There are the fans of Sherlock the BBC Series starring Benedict Cumberbatch and Martin Freeman, and there are fans of the classic detective novels by Sir Arthur Conan Doyle. There is some overlap with elements of the series, but we've compiled a list of gifts that will please the ultimate Sherlock fan in your life.
This list includes both references to the classic books and to the BBC series, but regardless of which series you're a fan of you'll love these unique gifts created by independent artists.
This list includes everything from jewelery to wall art, and even candles and ornaments. Take a look around and see what elements of 221B Baker Street might end up under your tree this holiday season.
1. Eliminated the Impossible Bar Necklace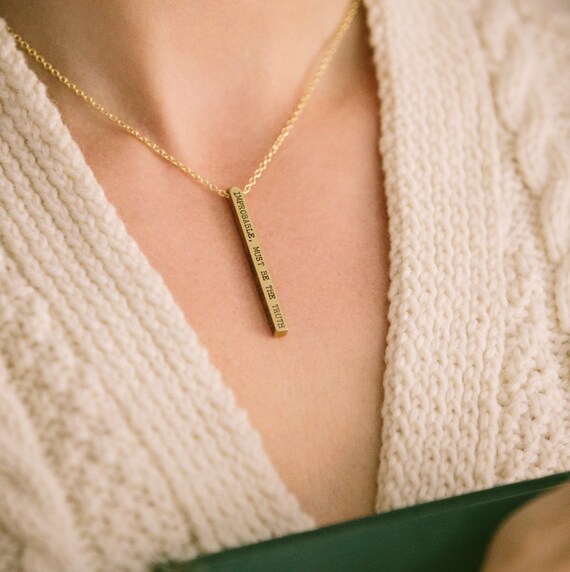 One of the quotes that everyone knows from Sherlock is: "When you've eliminated everything possible, whatever remains, however improbable, must be the truth." This bar necklace displays the quote elegantly in a style that is versitile and very in vogue.
The necklace is made to order, made from brass, and comes on an 18″ gold chain. It arrived wrapped in tissue paper, gift boxed, and tied with a bow for easy gift giving!
Not quite what you were looking for? Take a look at JezebelCharms shop to find more Sherlock inspired jewelry.
PRICE: $32
---
2. Sherlock's Study Candle from Frostbeard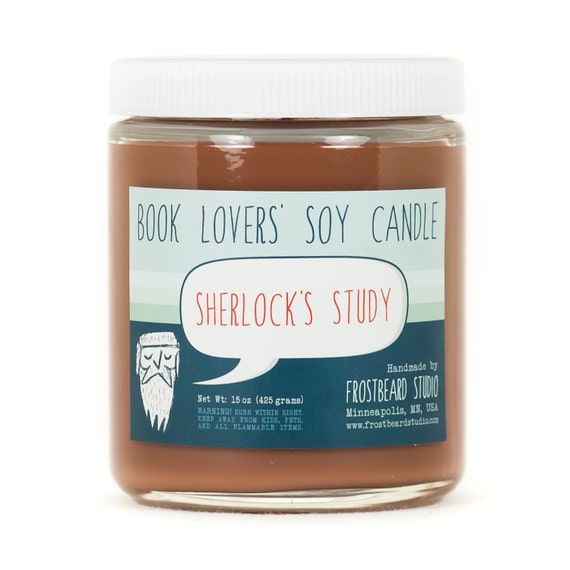 Frostbeard Studio has a lot of geeky candles to choose from, but Sherlock's Study is perfect for fans of the BBC show. This clean-burning soy candle has notes of pipe tobacco, cherry wood, and fresh rain.
Burning this candle will immerse you in the rich scents of 221B Baker Street. Add soft violin music on a rainy grey day and you will start to feel like the great detective himself.
PRICE:
$18
---
3. Sherlock Holmes Planner Set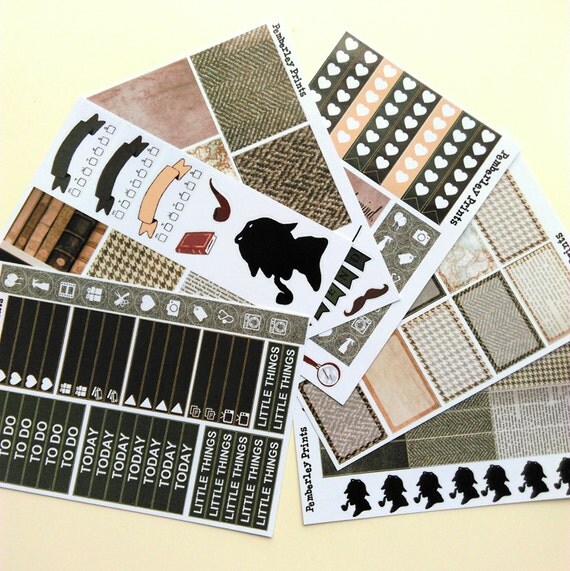 If you know someone who is absolutely wild about their planner, you may want to consider these stickers. The set includes six pages of stickers and fit any planner perfectly.
PRICE: $6.37
---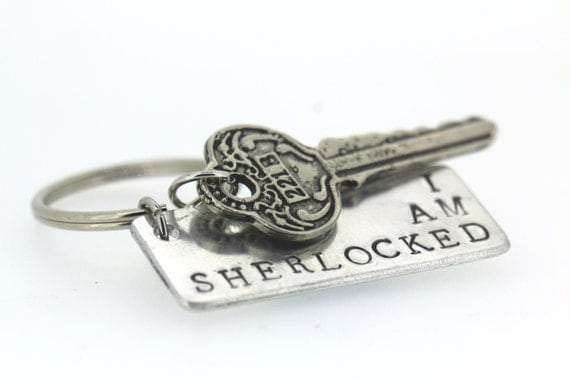 What is a better place to display your fandom of choice than on your keyring? This handstamped keychain comes stamped with "I am Sherlocked" and a key with "221 B" on it. It's the perfect adornment to a fans car or house key and the handmade nature of this keychain means that there won't be another exactly like it.
PRICE: $11
---
5. Sherlock and Watson Enamel Pin Set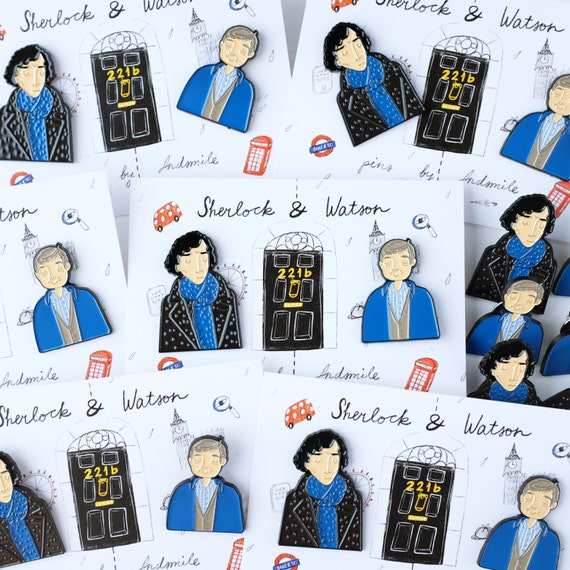 For the enamel pin collector in your life, these pins are the perfect stocking stuffer. They're made from high quality black metal and are based on the artist's original fan drawings. They will look cute adorning a bag  or the lapels of their favorite coat or jacket.
PRICE: $17.85
---
For fans of Sir Arthur Conan Doyle's books, you can surprise them with this lithograph from Litographs. Litographs is a company that takes text from over two hundred titles and then works with artists to create works of art inspired by the story.
This lithograph features Sherlock Holmes and can be printed in several different colors. They are printed in Boston, Massachusetts on archival, vinyl-infused paper that is tear-resistant and long-lasting. Depending on which size you choose, the number of words used in the work of art vary as well, with as many as 163,542 appearing on the 36″ by 54″ poster.
If you want to get the Sherlock fan on your list something a little more practical you can check out the t-shirt, tote-bag, and even scarf versions here.
PRICE: From $19 for a matted 12 x 16 print
---
7.  221B Baker Street Door Journal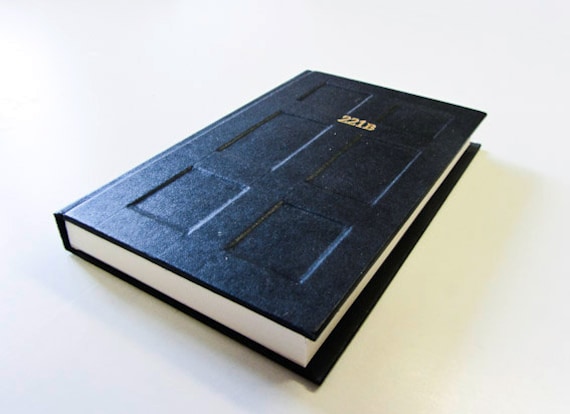 For the aspiring writer and Sherlock fan, you might want to consider this subtle and yet fandom-inspired journal.
Inspired by the door to 221B Baker Street in the series, this journal is sure to delight any fan as they record their thoughts on the latest episode they rewatched for the hundreth time, or thought about the unbearably long wait for more new Sherlock!
PRICE: $15.28
---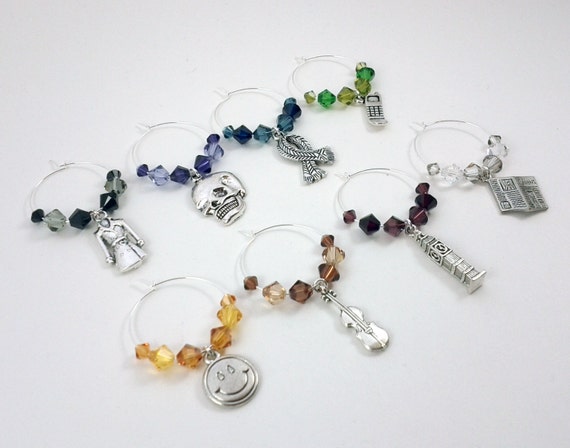 For the Sherlock fan who loves a good glass of wine now and again, you may find success in gifting these wine glass charms. Not only do they serve a practical purpose, but the recipient will think of you, and Sherlock, everytime they use them.
These wine glass charms arrive ready for gift giving in a beautiful black pinstriped jewelry box. Mistress Jennie will even include a personalized note if you are shipping directly to the intended recipient.
PRICE: $22.00
---
9. Sherlock Holmes Magnetic Bookmark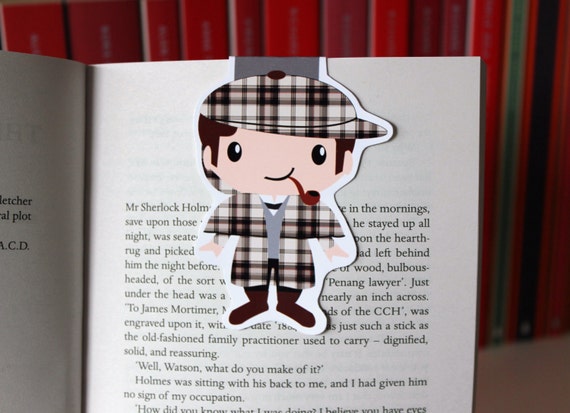 Check out this adorable stocking stuffer perfect for a secret santa gift, craft swap extra, or just as a companion to give your favorite Sherlock fan. (Perhaps with one of their favorite books?) This magnetic bookmark is designed and made by a fellow book lover, and lets be honest, this drawing of Sherlock is pretty cute.
PRICE: $2.30
---
10.  Sherlock and The Woman Book Page Cufflinks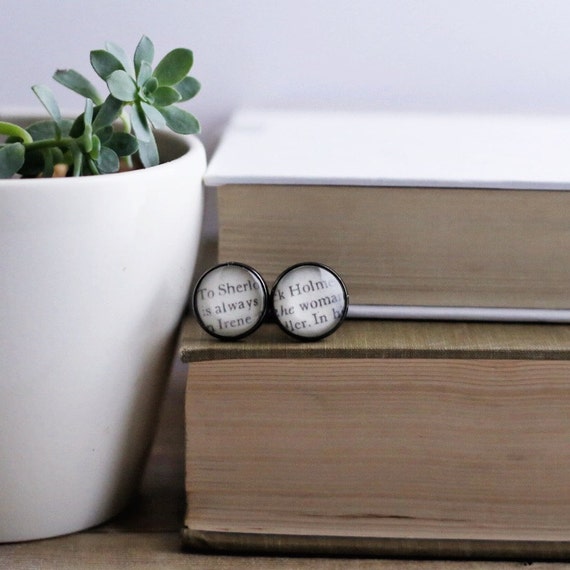 For the snappy dresser who loves Sherlock, these book pages cufflinks will be the perfect finishing touch to their suit. With pages taken from from a book and the entire quote reads: "To Sherlock Holmes she is always the woman."
These cufflinks come in a gunmetal color and make for a thoughtful gift for a groom or just for the special guy in your life.
PRICE: $30
---
11. Sherlock Holmes Folk Art Doll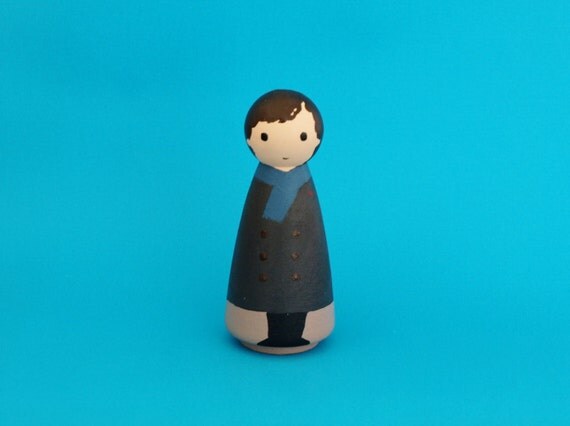 For some fun fan art, you may want to consider geting a handmade figurine such as this one here. This handpainted figurine features Sherlock Holmes in a modern folk art style. He measures 3.5″ and he is the perfect companion for any Sherlock fan.
PRICE: $40
---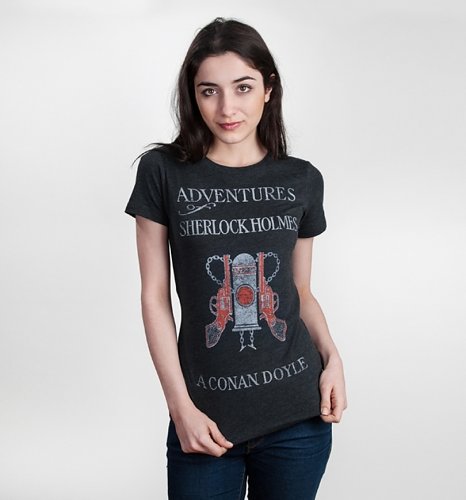 I subtle nod to our favorite high-functioning sociopath, this t-shirt from Out of Print features the artwork from the 1892 first-edition cover.
What's even better is that the purchase of this shirt donates a book to a library in need.  So not only are you giving an amazing gift, but you are also supporting a wonderful cause.
Need this shirt for a male fan? Check out the male/unisex version and the international version.
PRICE: $28
---
13. Sherlock Apron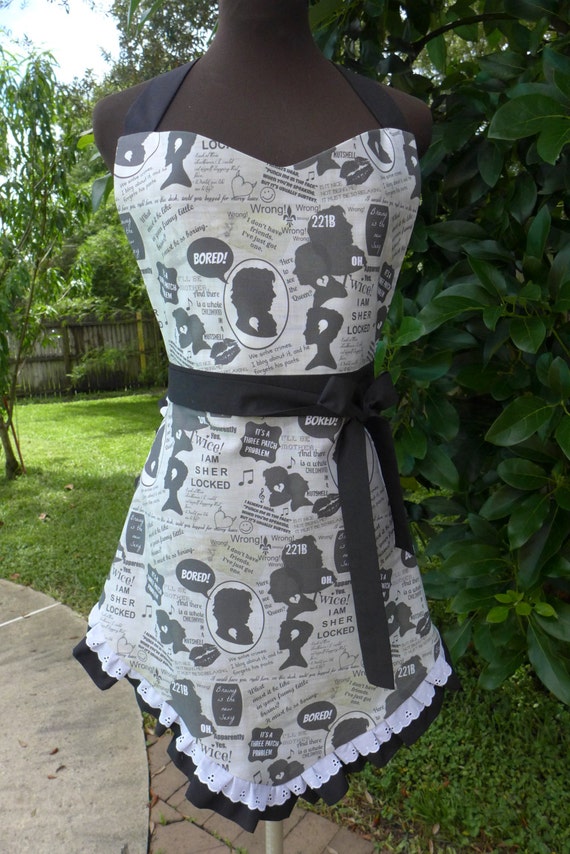 If you favorite Sherlock fan can rival the iron chef then they will appreciate this beautifully crafted apron. This full apron features a Sherlock-inspired fabric that is full of quotes and silhouettes.
The apron has an extra-long tie so that you can secure it in front with a bow tie and a double-ruffle makes it fun. The fabric is also machine washable on the gentle cycle.
PRICE: $52
---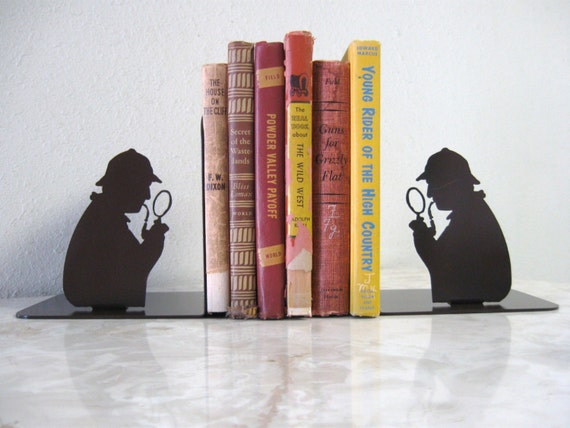 One thing is for sure. TV fans have a lot of DVDs. The same is true of book lovers. (Notice you never find just one book in a library!) Whether you need something to help your books stand up or your collection of Sherlock DVDs these heavy metal bookends will do the trick. Plus they're thematic to boot.
PRICE: $44.50
---
15. 221B Baker Street Wooden Door Ornament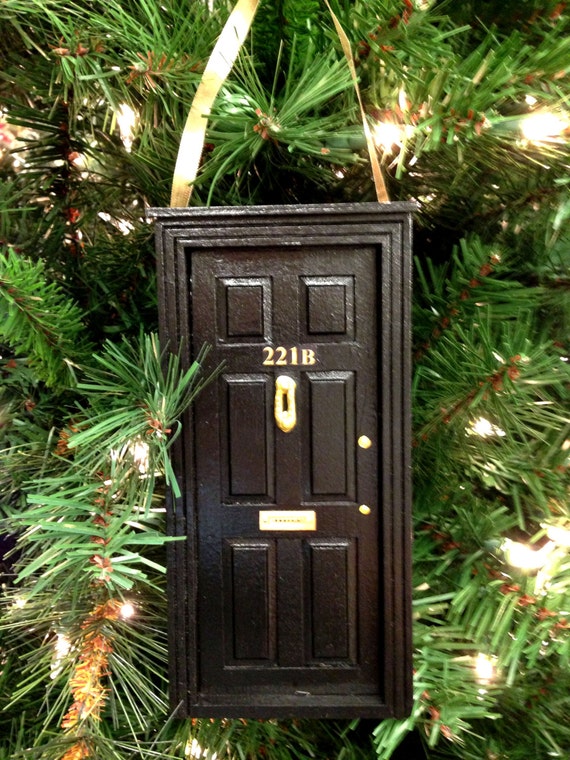 Who doesn't love an ornament from their favorite fandom? This wooden ornament depicts the door of 221B Baker Street. It hangs from a gold ribbon and has the date painted on the back so that the recepient will always remember the year they recieved it. An added touch is the door knocker, which is scultped from clay.
The best part around this ornament is that you can hang it on a tree, or display it in your home so that you can keep a little 221B Baker Street in your home all year around.
PRICE: $40.00
---
16. Keep Calm and Go to Your Mind Place Wall Decor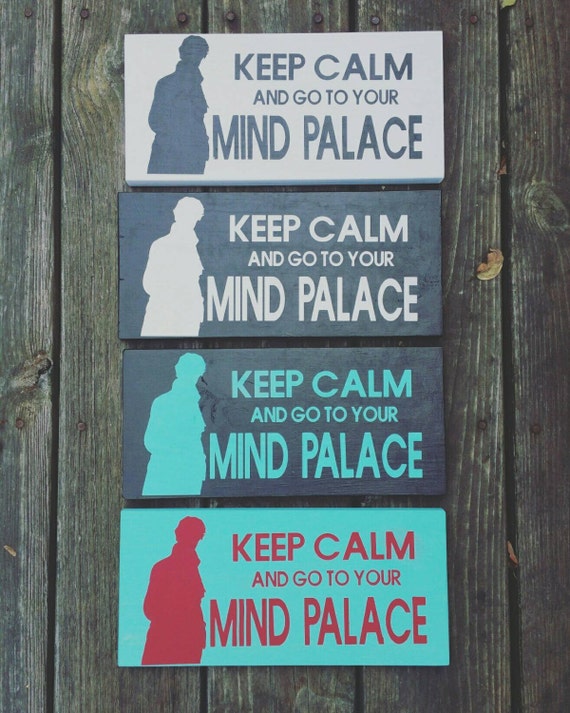 Sometimes you just need a reminder to take a step back and think about what's important. Or to remember to just go to that place that you have all to yourself.
Perfect for a shelf or wall hanging, this piece of art features a quote from the series and Sherlock Holmes' silhouette. Although the original wall hanging is painted black and white, you measures 5″ by 11.5″, custom sizes and colors are available.
PRICE: $22.00
---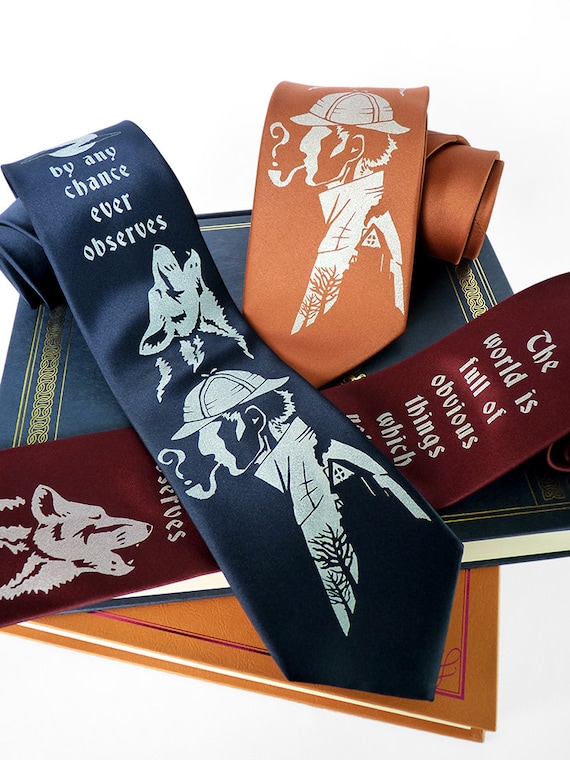 The perfect gift for a Sherlock fan who dresses up everyday for work, or your favorite English teacher or college professor.  This necktie features an original illustration with a perspicacious quote from The Hound of Baskervilles. 
The illustration is silk-screened by hand using silver ink onto a microfiber satin necktie. The result is a necktie that is very smooth with a lovely luster.
It is available in four colors and uses eco-friendly water-based inks in the printing process.
PRICE: $24.00
---
That concludes our Sherlock gift guide. Did you find something for your favorite Sherlock fan in your life? Let us know in the comments below.
And be sure to stick around for more Geeky Gift Guides coming out this month.