As a self-proclaimed book nerd, I can tell you that book lovers really love their books! And it isn't just the books themselves it's book themed things too. Here is a list of book themed gifts that your favorite bibliophile will love to get for their holiday this year.
Of course, really nothing beats going to an independent bookstore and getting a gift certificate. That is kind of the cream of the crop right there.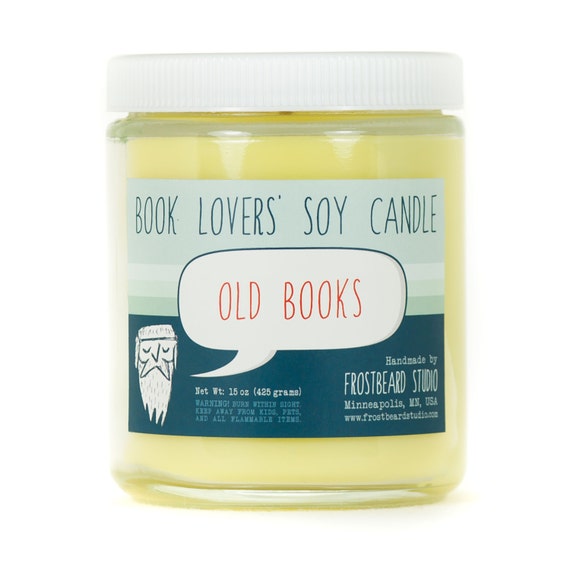 One thing book lovers love is the scent of a physical book! This is one of the reasons that your kindle hasn't replaced your brick and mortor bookstore. The "Old Books" soy candle from Frostbeard Studio captures the scent that bibliophiles love through notes of paper, dust, vanilla and a hint of fresh grass.
Want a different bookish fragrance? They also have "Bookstore" which contains notes of driftwood, mahogany, and coffee with a hint of leather, "Reading at the Cafe" which contains notes of coffee and chocolate pastry, and "New Paperback"  which smells of fresh ink, paper, and sawdust.
There is also "Book Cellar", which smells like dirt, basement, and vanilla bean, and "Oxford Library" with scents of oakmoss, sandalwood, leather, and amber.
And, these are just the scents that relate to books as objects. You can also find a scent inspired by the recipients favorite book or you can get them a tea light sample pack of bookish scents.
PRICE: $18
---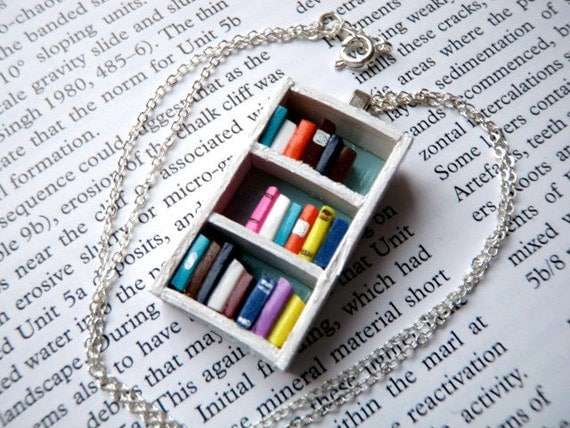 It is a truth generally awknowledged that book lovers will accumulate books at a rapid rate, but if buying another bookshelf seems odd, you might want to give this beautiful handcrafted necklace a try.
This bookshelf is made from wood and polymer clay and is made to order anad very lightweight. Due to their unique handmade nature, the colors and the configuration of some of the book may differ.
Is this not the right color scheme for your intended recipient? Check out Coryographies Etsy shop and find the perfect book shelf necklace. A couple of my favorites are the Harry Potter bookshelf, the Pride and Prejudice bookshelf, and the Spot of Tea bookshelf.
PRICE: $37.12
---
3. The Recipient's Ideal Bookshelf
Every reader has those books and characters that stay with them throughout their reading life, and what better way to remember those book than with a custom painting.
Ideal Bookshelf is a project that was started by Jane Mount in 2008 when she started painting the books that changed people's lives. She has since turned it into a business.
For a personalized gift you can get a custom painting of your own books or you can select books Jane has already painted which she will arrange into a custom print for you. Or if you want you can choose one of several themed prints from cooking to kids books to books published in certain years.
Like the idea of a personal gift but not sure what the intended recipient would choose? Give them a gift certificate to let them shop at Ideal Bookshelf.
Still not sure art is the best thing? She also has a book compilation of all her paintings, a series of enamel pins, and a few mugs.
PRICE: From $80 (for a custom book painting)
---
4. Alice in Wonderland Leather "Book" Bag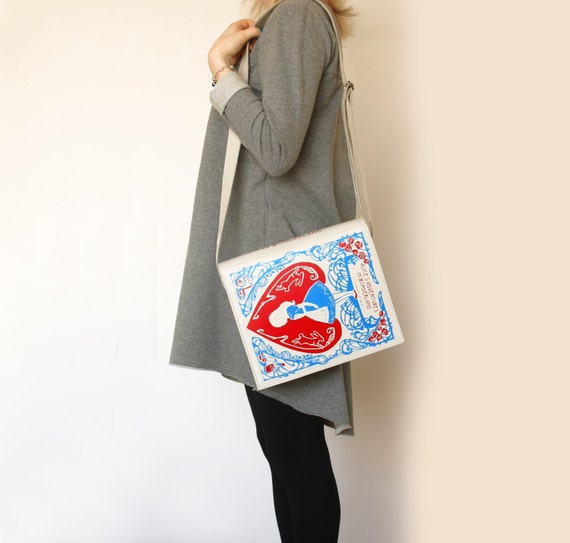 Give your favorite book lover a classy bag to carry around. Krukrustudio makes beautifully bookish themed bags for your favorite book lover. With a mix of contemporary and classic titles to choose from, you can be sure to find a gift that will make your favorite book lover happy
Pictured here is their Alice in Wonderland Leather "Book Bag" comes in four sizes, is fully lined, and made of genuine leather. You'll love the two inner pockets and snap closure.
Don't want a leather book bag? Check out the felt versions here.
PRICE: Starting at $170.00 for a 9″ by 6″ bag
---
5. I Like Big Books and I Cannot Lie Mug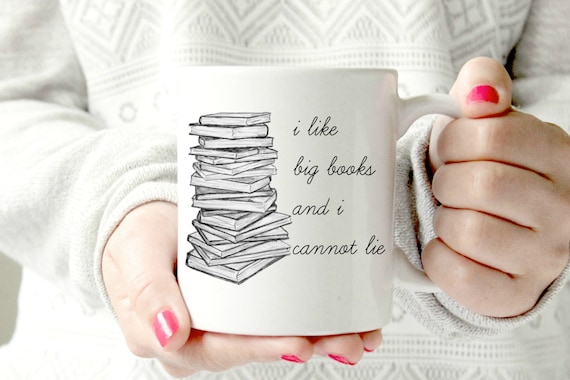 There is nothing like curling up with your favorite book for an evening, and the bigger the book, the better the evening will be. This mug proclaims that the drinker likes big books, and honestly, what reader doesn't. Especially one that is beautifully written with lyrical prose, and several dynamic character arcs.
PRICE: $14.00
---
6. The Book Was Better Enamel Pin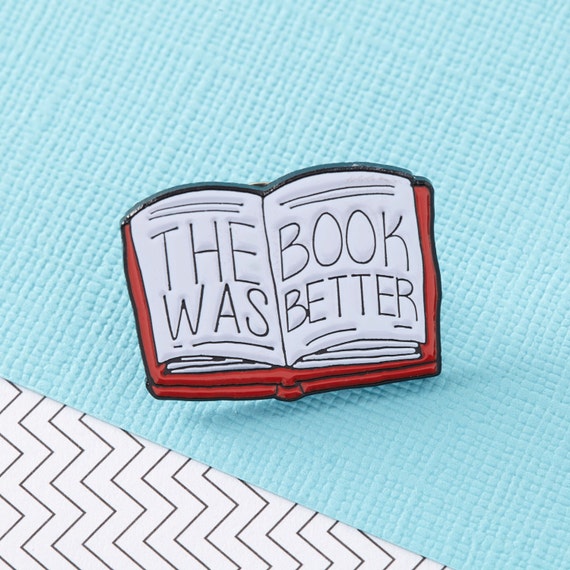 There is no question a book nerd dislikes more than "What did you like more? The book or the movie?" Now you can help them make their opinion clear as day with this soft enamel pin.
Proudly proclaiming "The Book Was Better" this pin ensures there will be no more confusion and your friend may avoid a lot of awkward conversations.
PRICE: $7.69
---
7. Fabric Library Card Ornaments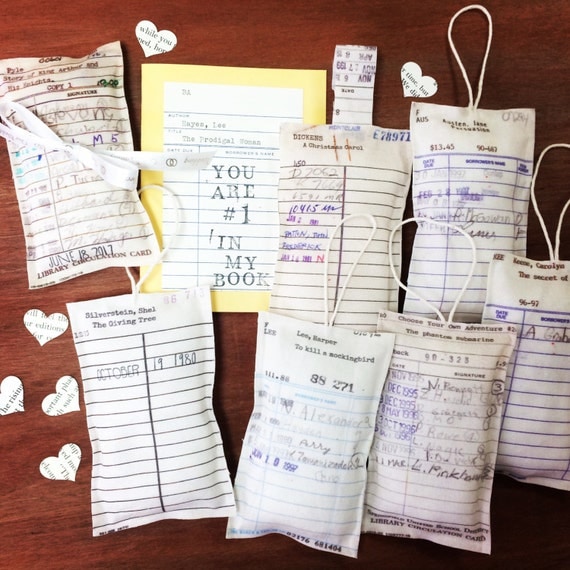 This is a gift, not just for book nerds but also library nerds. Does anyone remember when you checked out a book and the librarian handstamped your card? I do. It was awesome and looked like so much fun.
Now you can put some fo the nostalgia on your Christmas tree with these fabric library card ornaments. You can choose the title of the book, and to make it even more special, you can include a custom date stamp.
Now isn't that a nice personalized gift for your favorite bookworm?
PRICE: Starting at $12.50
---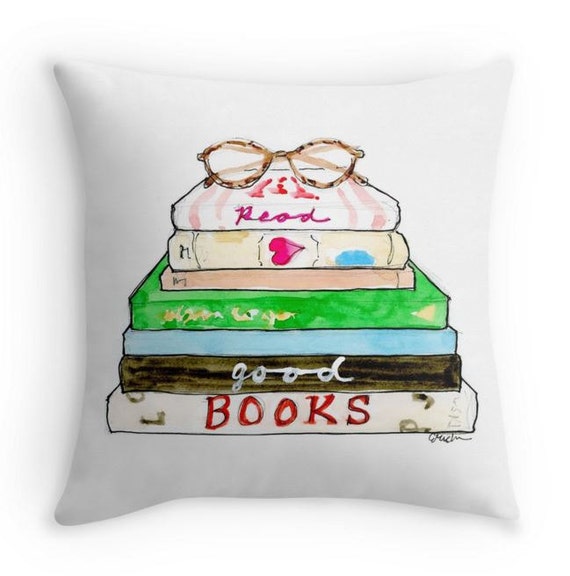 Every reader has their favorite spot to read, and every spot can use a thoughtful throw pillow. This throw pillow that says "Read Good Books" is the perfect little reminder that reading should be an enjoyable activity and that the reader in question should enjoy their books.
PRICE: $32.00 for the Case Only/$42 for the Case with the Insert
---
9. Banned Books Lightweight Scarf
Out of Print is a bookish company that I can get behind one hundred percent. They have created a series of shirts, totes, pouches, and notebooks all based on old book covers and each purchase helps them fund literacy programs and fund book donations to communities in need.
Recently the introduced a line of lightweight scarves which are beautiful, stylish, and still let you show off your bookishness while supporting literacy programs. This scarf is part of their banned books design. We love the large, flowy design, that this scarf achieves, it is both in style, and gives a little something back.
PRICE: $32.00
---
10. The Libary of Fragrance Perfume in Paperback
There is nothing more intoxicating then the smell of an old bookstore. The Library of Fragrance came up with a sultry mix of scents that mimic the volatile organic compounds that are released by aging paper and give old books their distince, pleasantly musty scent.
This cologne celebrates the love of book with a scent of sweet milky vanilla, woody tomnes, and just a touch of musk and dust. In short, a smell that reminds you of your favorite second hand bookshop.
PRICE: $37.75
---
11. I Have Always Imagined Paradise to Be a Kind of Library Tote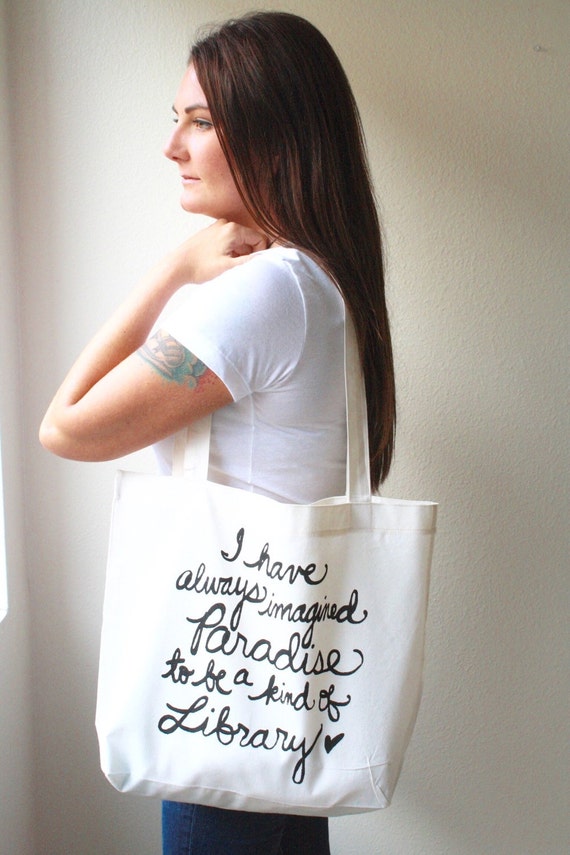 Take home your groceries in this wonderful silkscreen tote bag. Declaring a bibliophile's ideal version of paradise, this is the perfect gift to give your favorite bookworm.
PRICE: $18
---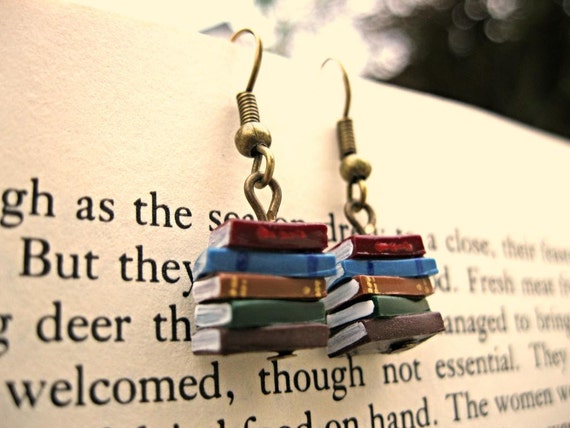 Another beautiful item from Coryographies are the book stack necklaces. They come in a variety of styles, but the earrings pictured here feature tiny books made from polymer clay and are handpainted to resemble a stack of books.
Think these look big and clunky? The earrings weigh less than five grams totally, so they are definitely a wearable design and perfect for the author, writer, or reader in your life.
PRICE: $20.51
---
Know someone who loves to read? Maybe your significant other? They'll get a kick out of Sarah Utter's "Reading Is Sexy" T-Shirt. This black tri-blend version is just like slipping on your favorite vintage tee. Constructed in a blend of 50% Polyester,  25% Cotton, and 25% Rayon and was made in a sweatshop free facility in Los Angeles, California.
Want this shirt in a different color? Sarah Utter also offers a green version, a yellow version. Looking for a smaller gift but love this drawing? Check out Sarah Utter's page on BuyOlympia to find bumper stickers, buttons, and even a tote bag.
PRICE: $20.00
---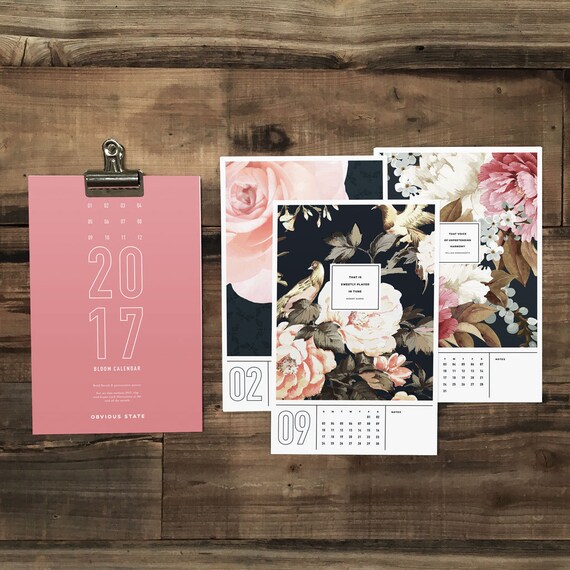 Combining bold florals with beautiful and provacative quotes from romantic poets, ObviousState on Etsy, has come up with a gorgeous giftable calendar for your favorite literature buff.
Printed in the USA and on archival matte paper, this large calendar measures 8.5 by 13 inches. These fourteen pages come bound with an extra-large bulldog clip for binding and hanging.
Quotes from Baille, Byron, Keats, Shelley, and Wordsworth greet you everymonth alongside a beautiful. floral pattern, and you don't need to say goodbye to the quote when the month is through.  Cutting off the dates leaves you with a beautiful notecard or print suitable for framing.
Check out ObviousState's Etsy Shop for more tote bags, mugs, and bookmarks that make great stocking stuffers.
PRICE: $24.00
---
15. Pride and Prejudice Ornament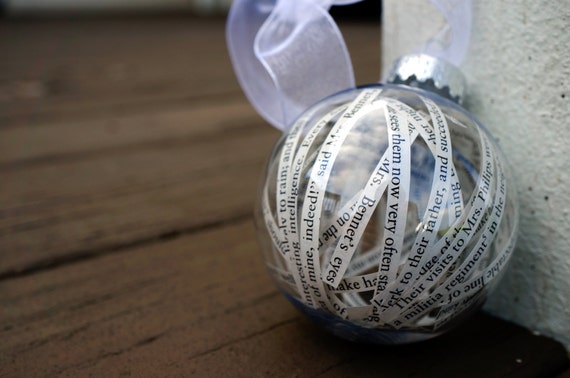 Seeing an ornament like this tears me in two. On one hand, I think "Oh my god, a book was destroyed! Sacriledge!" On the other, "Oh but a passage from the best romance novel of all time is going to hang on my tree."
But ultimately, it does comfort me knowing that the book this ornament was made from was previously loved and has been recycled to become a beautiful Christmas ornament.
You can choose from straight paper or folded paper inserts so that you can read the lines more clearly. That's always appreciated.
PRICE: $9.00
---
16. Bronte Sister's Magnetic Bookmarks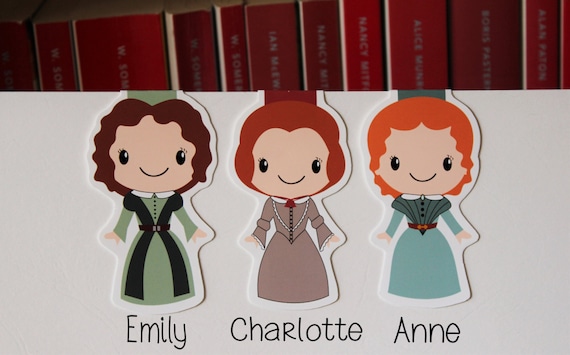 I love BeyondthePages19's bookmarks. She captures characters from television shows and literature so well. It was so hard to pick out a set of bookmarks to feature here.
Ultimately I went with this depiction of The Bronte sisters, because who doesn't love Jane Eyre, Wuthering Heights, or The Tenant of Wildfell Hall? (And if you don't know the last one, look it up, it's one of Anne's works.)
These bookmarks are magnetic and printed front and back so that you can feel like these authors are hanging out with you while you read.
PRICE: $5.73 for a Set of 3
---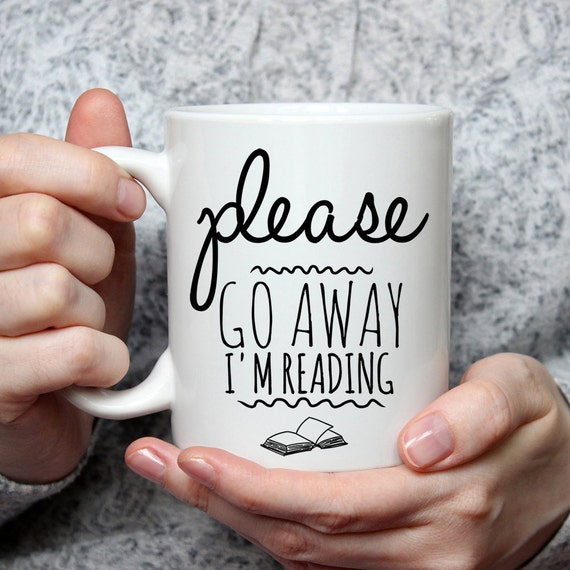 Some people just don't get it. When you see someone with a book that is not the time to insert yourself into their world, that's the time to leave them alone and let the story unfolding in front of them.
This mug might help. With the unabashed print that declares "go away I'm reading" on both sides, your bibliophile friends will have no problem getting their message across. Plus, it's microwave and dishwasher safe. Bonus!
PRICE: $14.95 for an 11 oz mug
---
18. So Many Books, So Little Time Cuff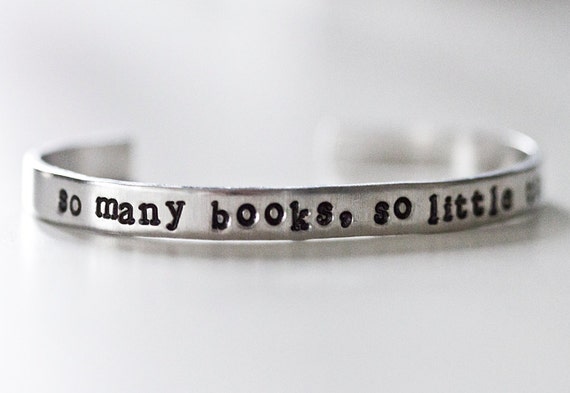 This cuff makes a statement every bibliophile has felt in their lifetime. There are just so many good books out there and not enough time to read them all. Available in brass, aluminum, and copper this bracelet makes for a perfect gift for your favorite bibliophile trying to juggle it all.
PRICE: Starting at $13.00
---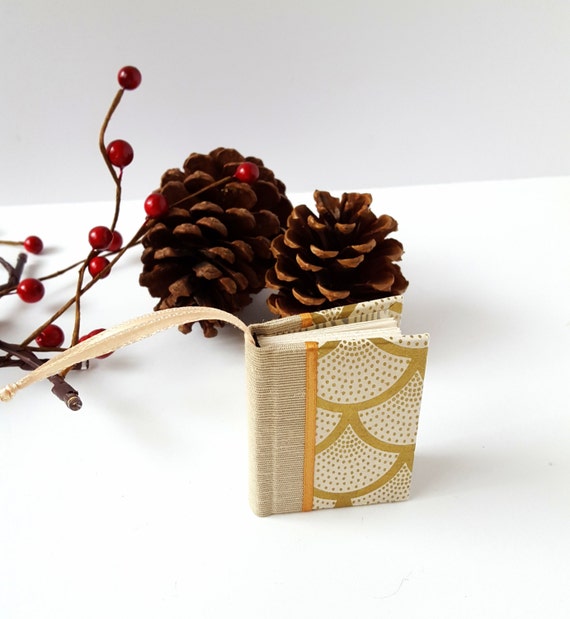 Let the bookish themed holiday ornaments continue. PaperChocolatePress has a beautiful selection of mini book ornaments. You can even choose your own page edging for a bit of a personal touch.
And, if you have any other needs: personalized recipe book, a beautiful journal, or a guest book, they make those as well.
PRICE: Starting at $10.00
---
20. "Cinder" Art Print from Litographs
I am a sucker for a creative art print and Litographs never fails to disappoint. Printed in Boston, MA, they offer a wide variety of products including art prints, t-shirt, totebags, and scarves. They all use the original text from the book and display it in an artful way that is pleasing to look at, and fully unique.
The team at Litographs has worked hard to support independent artists and grow their library to include a wide variety of titles. Here is Marisa Meyer's Cinder, designed with the text from the book in mind.
You can even select your favorite color to ensure that the print matches your decor.
PRICE: $19.00 for a 12 x 18 print
---
Love these bookish gift ideas? Let us know in the comments and tell us what you maypick up for the book lover in your life!
And be sure to stay tuned for more Geeky Gift Guides coming in the next week.