The holidays are upon us. Now if you are the Doctor, and you have a Tardis, you can take all the time you need to do your shopping. Most of us are slaves to the ever moving clock. So as the clock inches towards the holiday season we've compiled the Fangirlish Geeky Gift Guide.
We've curated geeky gifts from popular fandoms and will be releasing these lists over the next few weeks. All of the items featured here are created by independent artists and small businesses, where purchasing an item means so much more than a gift.
So shop small this holiday, make the Doctor proud, and take a look at these geeky gifts that will be perfect for any fan on your list.
---
1.  
"Bigger on the Inside" Tote Bag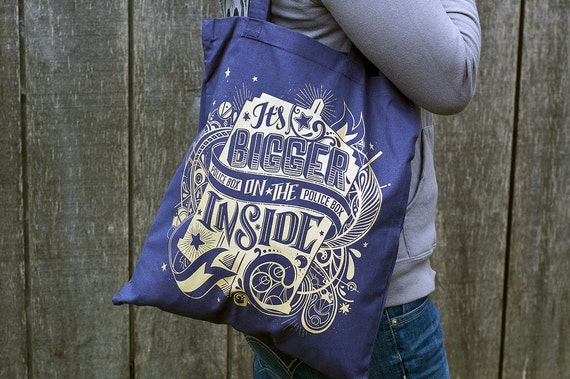 Oh how easy life would be if we could all walk around with a Tardis, but since Earth doesn't have a tardis farm, give the Whovian in your life a tote bag that is so roomy it seems bigger on the inside.
This artful tote features a signature phrase from the series in Tardis blue and a complimentary cream color. It's perfect for showing off your favorite fandom without sacrificing style.
PRICE: $14
---
2. Doctor Who Inspired Magnetic Bookmarks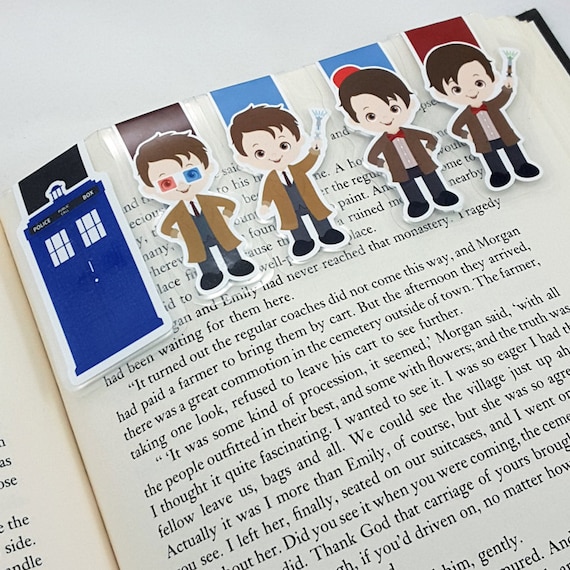 We've all seen the way the Doctor flys the Tardis. As River Song pointed out, he doesn't engage the stablizers, so god help you if you are trying to read during one of his landings. That's where magnetic bookmarks come in handy.
These magnetic bookmarks feature the Tardis, and incarnations 10 and 11 of the Doctor. You can buy them individually or as a whole set seen here.
PRICE: $18/Set of 5
---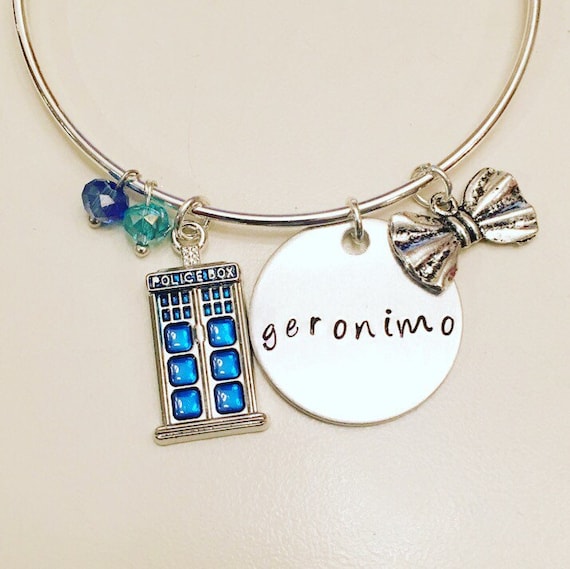 Everyone has their own favorite version of the Doctor. If the Whovian in your life loves the Eleventh Doctor then this charm bracelet is perfect for them.
Featuring the Eleventh Doctor's catchphrase, the eternal Tardis, and his bow tie, this bracelet is sure to delight any Eleven fan on your list.
It's also available in kid and adult sizes so you can find the size that fits your giftee's wrist perfectly.
PRICE: $17.95
---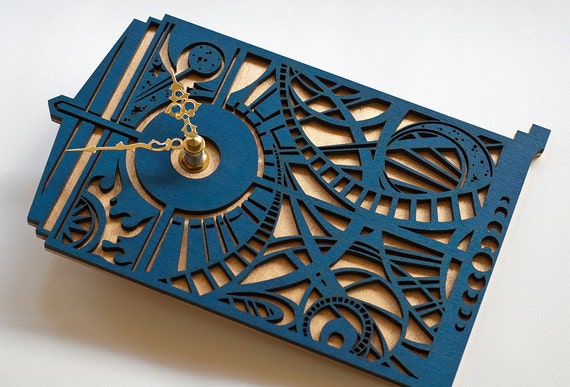 Did the geek in your life recently get an apartment or suddenly find that all of their clocks were broken? (Be careful, and remember "The Girl in the Fireplace.") Then a woodcut Tardis clock is the perfect gift for them.
Made from a laser cut piece of birch that has been painted the series signature blue, this piece will not only be semi-iconic but also artsy in your giftee's space.
PRICE: $46
---
5. "I Stole a Time Lord and Ran Away" Keychain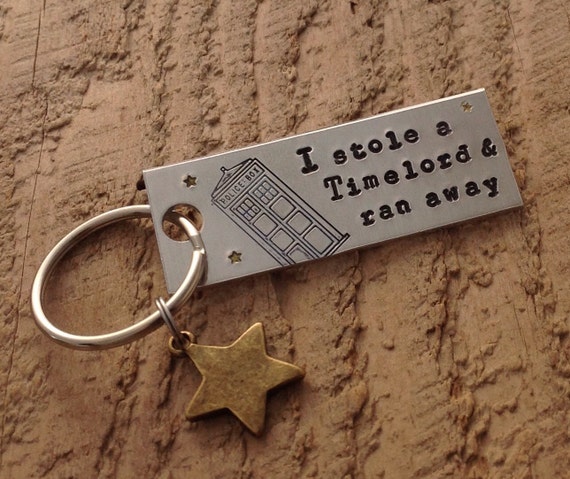 The perfect stocking stuffer for your favorite Whovian is a hand-stamped keychain. One of the best things about Doctor Who is the fact that it's all about adventure and this is just one of the quotes that fits that sentiment so perfectly.
PRICE: $11.50
---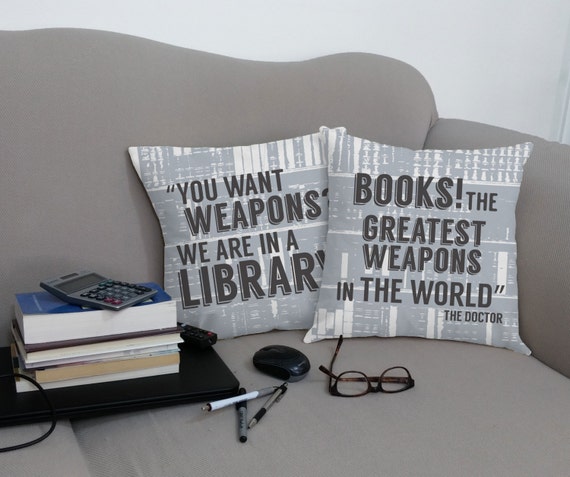 The doctor has always been fond of books, especially biographies. For the bibliophile and Whovian in your life, this set of throw pillows is the perfect gift.
PRICE: $55.99/Two Pillow Covers and Inserts
---
7. "Wibbly Wobbly Timey Wimey" Candle
Give the Whovian in your life a handcrafted soy candle this holiday season. Frostbeard Studios is known for their fandom and bookish inspired scents, but this candle is perfect for fans of the Madman with a Box.
With notes of Juniper, Driftwood, and Black Currant Tea, it is guaranteed to smell great as well. Just take a look at the thirteen reviews this scent has received.
PRICE: $18
---
8.  Dalek and Tardis Spoon Rest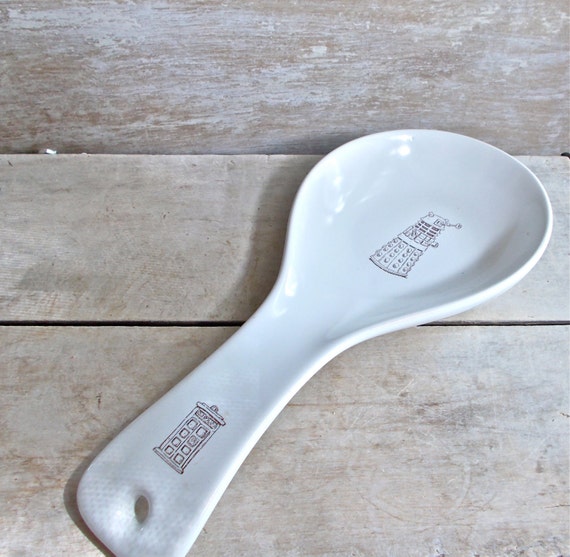 It's nice to have a little touch of fandom in your home. That's why we love this spoon rest that depicts a Dalek and a Tardis, it's understated and yet for the Whovian fan on your list, it will be a happy reminder of their favorite fandom while they are pursuing their passion of cooking
PRICE: $12
---
9. Adipose Bow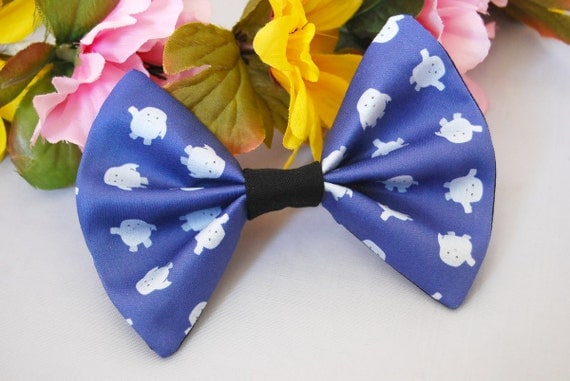 The adipose were perhaps one of the more adorable "villians" that we've ever seen on Doctor Who. These balls of human fat would literally walk away. It seems appropriate that this cute bow depicting these little guys make it onto our holiday list.
PRICE: $3
---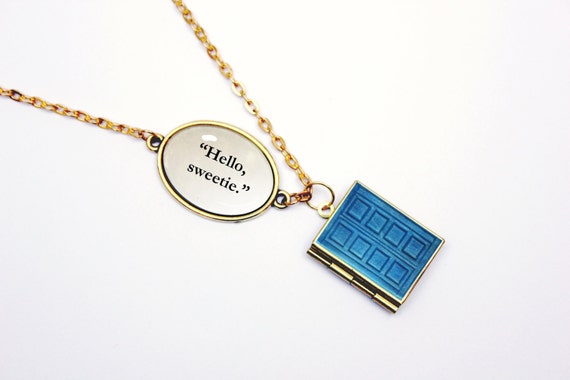 Some people love River Song, some people don't, but regardless of your feelings for her, let's agree on one thing: her diary rocks!
This necklace has a locket version of the diary where River Song records her encounters with the Doctor. Add a photo and you can be sure that your loved ones will always be close to your heart, whether you are time traveling or not.
PRICE: $17.02
---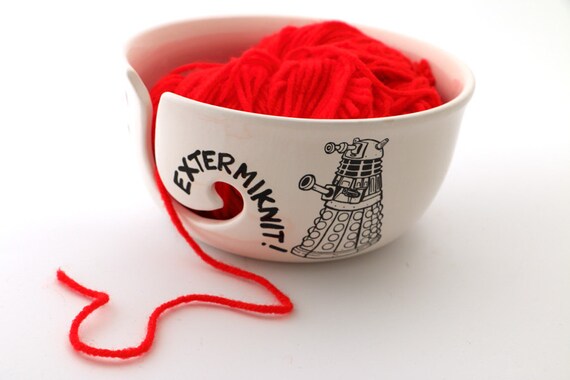 For the Whovian in your life who also knits, show them you support both their passions with this ceramic yarn bowl. Not only is this yarn bowl geeky, but it will also keep the yarn from rolling off of their lap and onto the floor. It's a real struggle. Just ask the knitter in your life.
PRICE: $32
---
12. Come Along Carl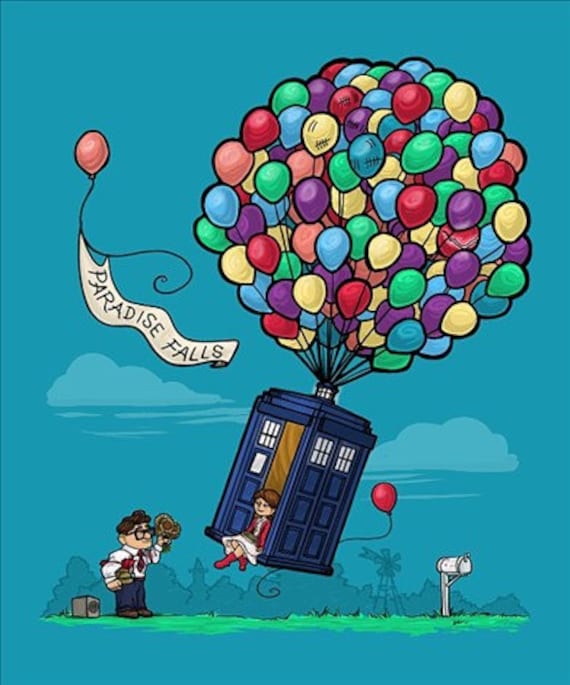 These prints make an amazing gift for someone who a fan of both Disney and Doctor Who.
Karen Hallion is an artist who has created a beautiful series of digital art that marries our favorite time traveling doctor with Disney princesses and superheroes. Her brilliant mashups can be purchased as prints, cards, magnets and t-shirts through her Society6 and Etsy shops.
So whether the recipient likes Merida's feisty charm or desperately wishes for Steve Rogers and Peggy Carter to have one last dance together, her artwork is sure to bring a smile to their face.
PRICE: $32/Medium Print (11″ x 14″)
---
Doctor Who has a long history and it's a history that any long time fan would appreciate. For the fan who is all about nostalgia consider a print like this one which depicts each incarnation of the Doctor throughout time.
You can even get it framed so that it is a no-stress gift that is easy to hang.
PRICE: $15/Mini Print (8″x9″ Unframed)
---
14. The Fourth Doctor Polymer Clay Christmas Ornament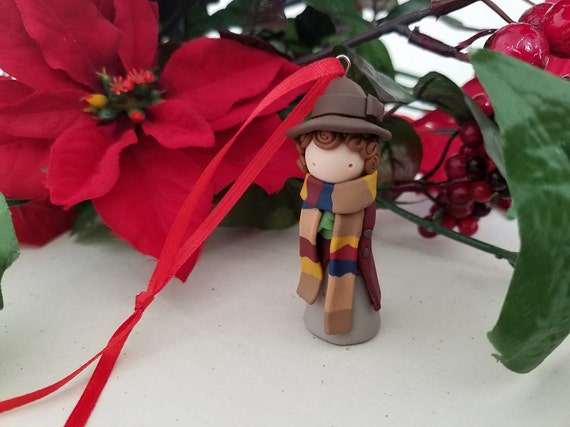 The Doctor wants to come over for Christmas dinner. This detailed polymer clay ornament means he can have eyes over all of the festivities this season as he hangs from your tree.
PRICE: $17
---
15. Custom Gallifreyan Hoop Art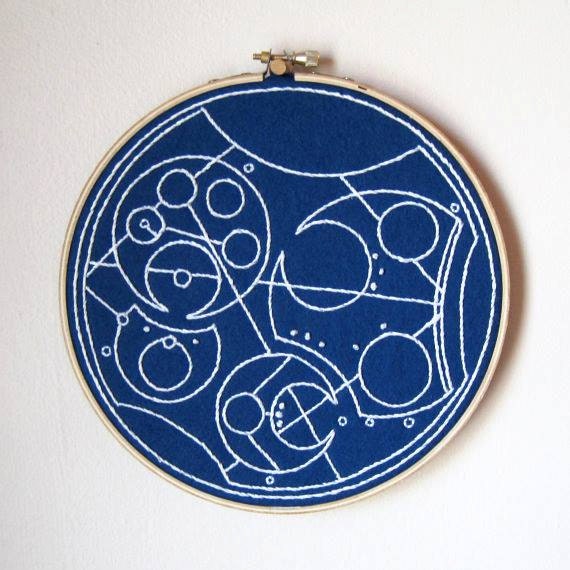 A message in the Doctor's untranslatable native language is the perfect gift for a good friend. Communicate your secret code with this Customizable Gallifreyan Hoop Art. The recipient can hang it on the wall, think of you, and no one will ever know the message except for a select few.
PRICE: $20 for a 4″ Hoop
---
16. Doctor Who Tie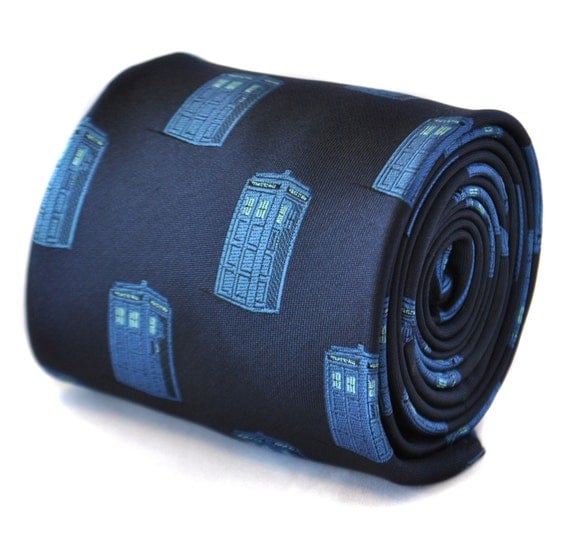 For the Whovian gentleman in your life this subtle and yet delightfully geeky navy blue tie with blue police boxes will be a reminder of both fandom and the person who gave it to them.
PRICE: $17.01
---
17. "We're All Stories in the End" Mug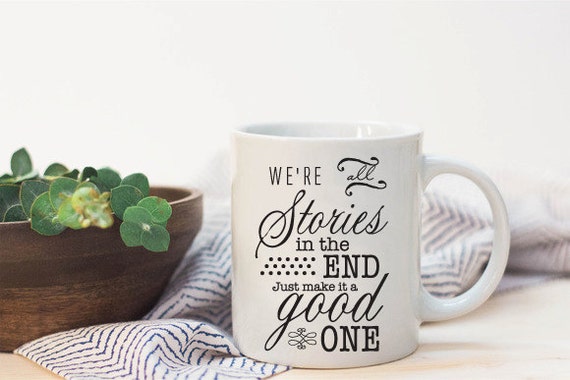 Doctor Who has had some great quotes over the years. Whether it's the somber but funny "Planet of the Pudding Brains" or the affirming and hopeful "Everybody Lives," many of the quotes stay with Whovians for seasons to come.
This little pearl of wisdom from the tenth doctor will make the coffee or tea drinker smile whenever she pours her favorite morning beverage into this mug.
PRICE: $15 for an 11 oz Mug
---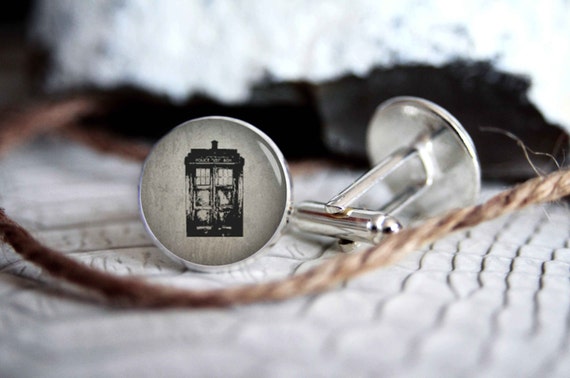 Wear your fandom on your cuff with these Tardis cufflinks. The subtle black and white palette means that you can have a subtle hint of fandom with you, even when you're dressed for a more formal occasion.
PRICE: $12
---
19. Time Travel Passport Holder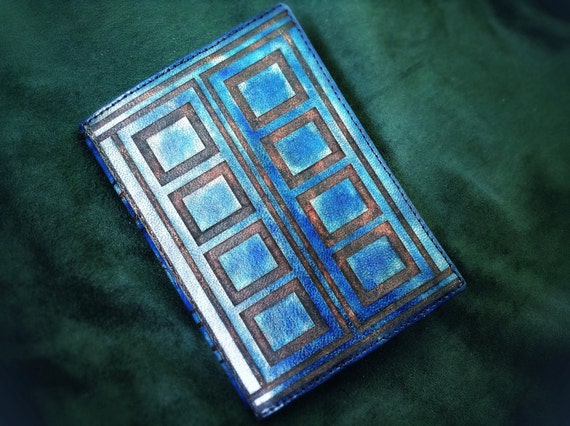 Give the traveler in your life a special gift with this customized passport holder. Not only does this passport holder look like River Song's diary, but the leather can be hand engraved to hold either the recipient's name or their favorite Doctor Who quote.
PRICE: $32.48 with a Custom Name or Initial
---
20. Cybermen and Dalek Lightbox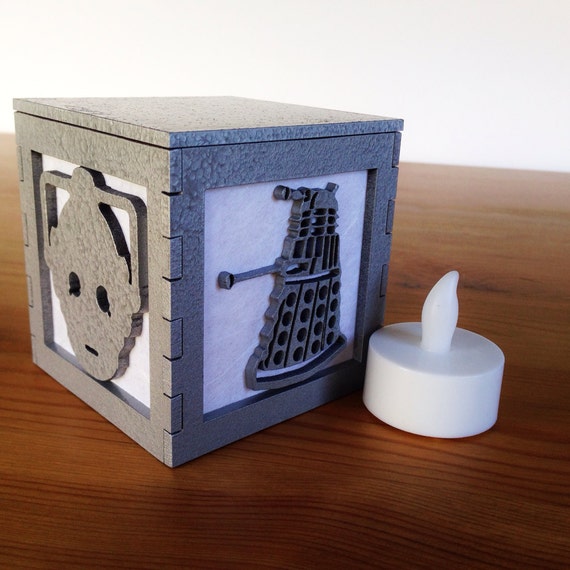 Two of the Doctor's most worthy adversaries are depicted on this beautifully constructed lightbox. Not only does this lightbox look fantastic, but it is the perfect gift for a college student who may like candles but can't burn them in their dorm room.
PRICE: $20
---
21. Tardis Scarf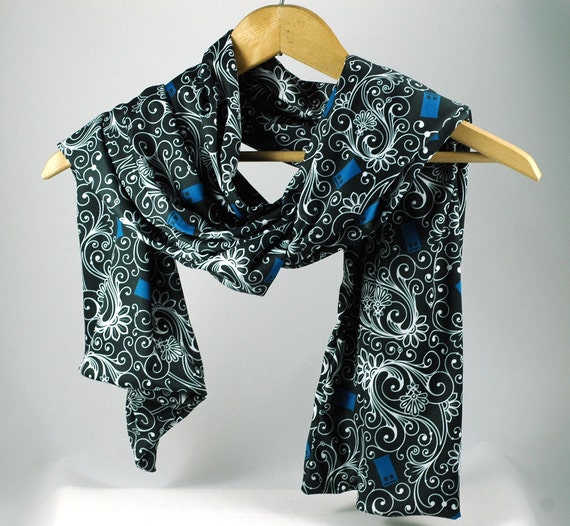 The Whovian on your shopping list will be warm and fashionable in this jersey knit scarf. Featuring the Tardis in a beautiful floral print, this scarf is subtle and wearable and will be a constant reminder of the recipient's favorite fandom.
PRICE: $37.35
---
Did you find the perfect gift for the Whovian on your list? Thinking about making a purchase from an independent artist on the list?
Let us know in the comments below and stayed tuned for more Geeky Gift Guides from Fangirlish.