Star Trek is a fandom that is still growing strong since the 1960s. So it makes sense that we would curate a list of beautiful gift options for your favorite trekkie.
Whether you're a fan of the Original Series or one of the many incarnations since, we've cultivated twenty-one gift ideas from around the internet that will appeal to the trek fan in your life.
Take a look and see if you can find a gift that's perfect for your favorite trekkie.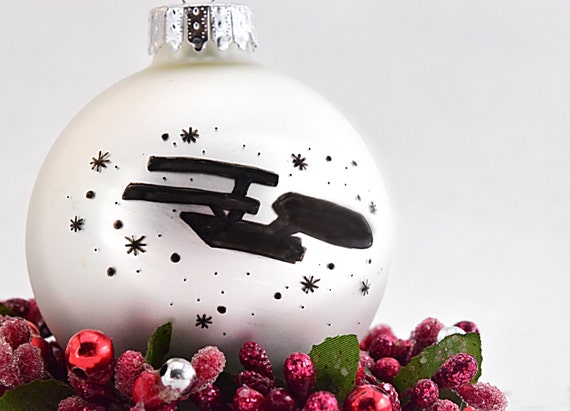 Let's start off the Star Trek gift guide with a beauitiful ornament of the starship Enterprise. This classic and simple design shows the silhouette of the original starship that started it all and on the other side, it says "Trek the Halls."
You can get the ornament personalized with the name and year on request at checkout.
PRICE: $16.00 and up
---
2. Doomed Redshirts Crossstitch Artwork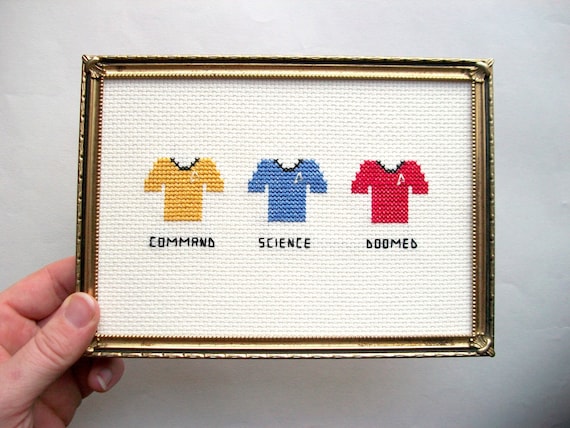 In the early seasons and incarnations of Star Trek one thing was always certain, if you went on an away mission with any of the main characters, you were doomed. What is probably even more terrifying is that every ship seemed to have a stash of "expendable ensigns" that they would just send down to the surface of different planets.
This crossstitched work of art is a nice parody to that classical trope in the Star Trek Universe and is a nice honor to the poor ensigns who lost their lives.
The artwork measures 5 x 7 inches and within the U.S. comes framed with no glass. It's the perfect ready to hang artwork for your favorite trekkie.
PRICE: $49.99
---
3. "Make it So" Handstamped Keychain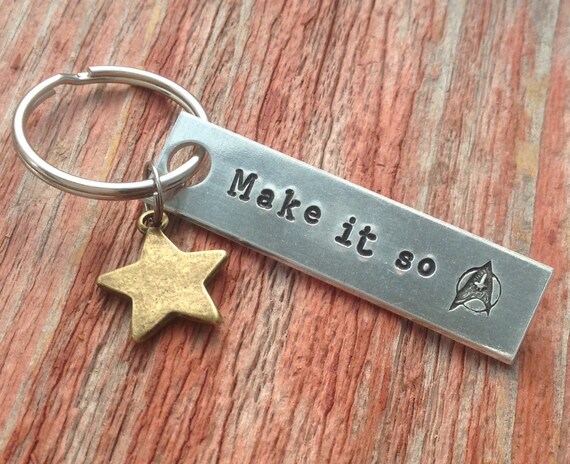 Sir Patrick Stewart as Captain Picard in Star Trek: The Next Generation gave us the amazing catchphrase "Make it so!" Now you can carry around this little bit of pop culture on your keyring.
This keychain is handstamped measures half and inch by two inches, and is made of aluminum with a brass colored star to accent it.
PRICE: $11.50
---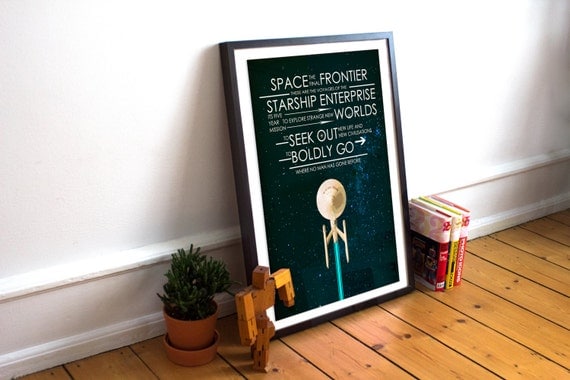 Have a trekkie in your life who has a bit of wall space? Do they need the perfect geeky print? They'll love this Captain's Oath print. Printed on thick semi-gloss photo paper, this beautiful print focuses on one of the cornerstone quotes of the series.
PRICE: $19.37 for an 11×14 print
---
5. Star Trek Top Knot Headband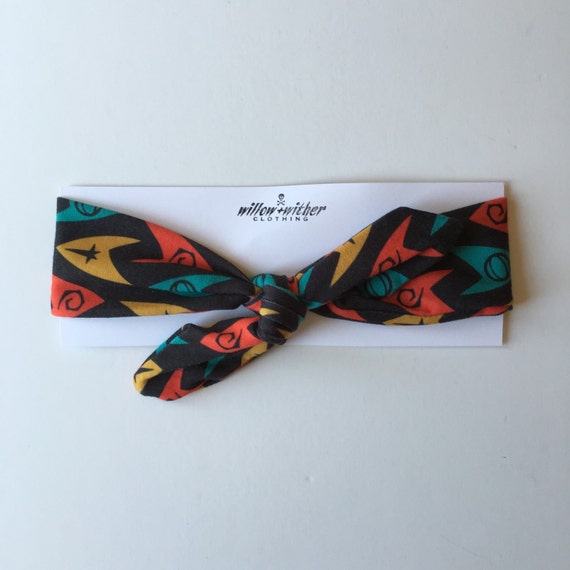 The perfect stocking stuffer for a trekkie, this headband is both practical and personal. It comes in a variety of sizes so you can even cover any trekkies-in-training on your list.
PRICE: $10
---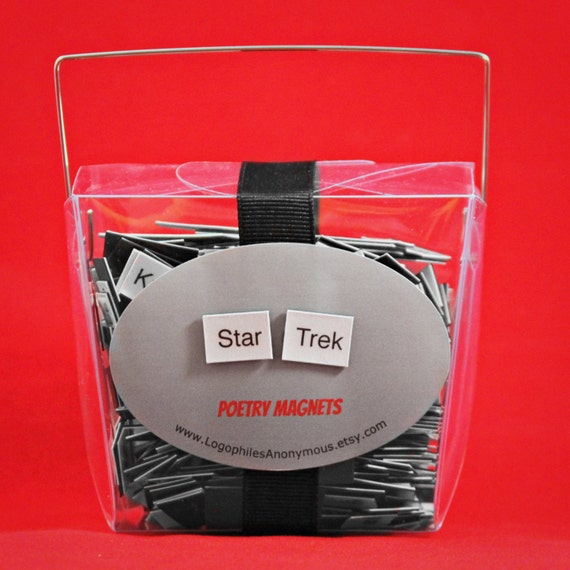 For the aspiring poet and Star Trek fan in your life, gift them this magnetic poetry set. With over 500 pieces this set you can create your own Star Trek inspired poetry for your refrigerator whenever the mood strikes you.
PRICE: $15
---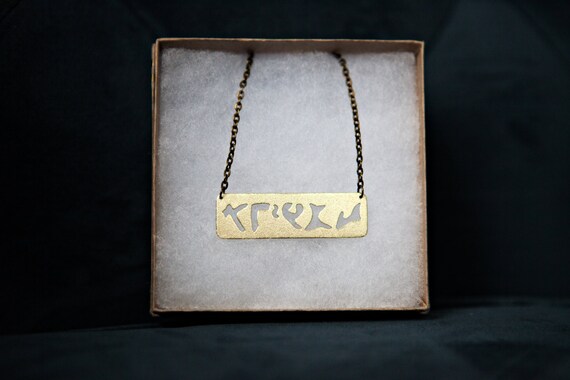 This geeky bar necklace is perfect for the feminist trekkie in your life. It displays the word "feminist" or "be'ist" in the written Klingon language. It's available in brass or sterling silver so that you can pick a metal finish that will suit the wearer's preference and comes on an 18″ chain.
Worried that the recipient won't know what this necklace says? A translation card comes with each shipment, explaining what the neckalce reads.
PRICE: $68 for the brass pendant
---
8. Star Trek Enterprise Carry-All Pouch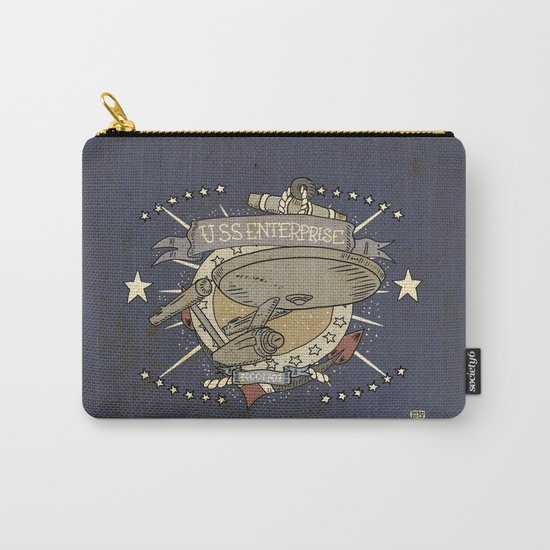 A practical gift for your favorite trek fan, this Enterprise pouch is perfect for carrying make-up, or any other essentials that you may need during a day.
The pouch cna be printed in three different sizes or purchased as a set so you can get the size that's just right for you.
PRICE: $14 for a 6″ by 5″ Pouch
---
9. Starfleet Inspired Bookmark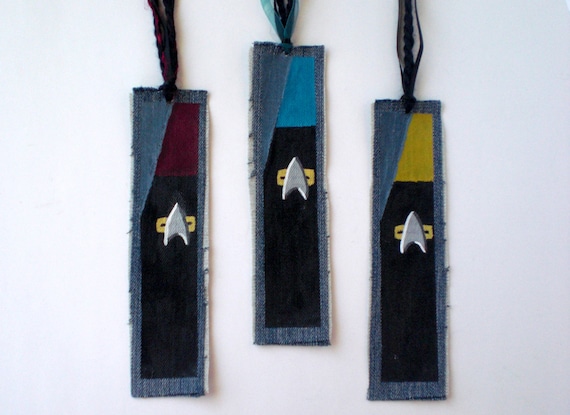 Let your favorite Starfleet officers hang out with you while you travel through distant worlds with the power of books. (Because, we haven't invented holographic techology like the holodecks yet!)
These bookmarks are handpainted on recycled denim and feature the uniform designs from Star Trek: Voyager. Given the nature of the recycled denim over time the edges will fray a little, giving these bookmarks a worn vintage look.
PRICE: $15/each
---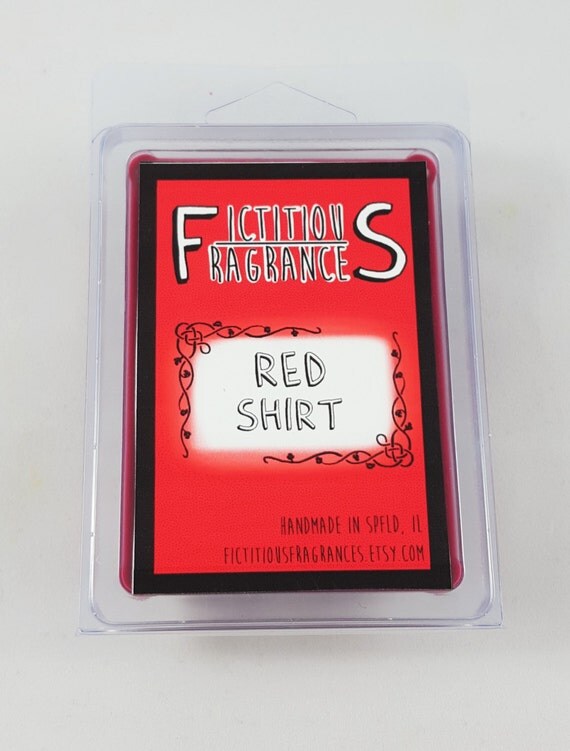 Those poor redshirts! Sure they got to traverse the galaxy with an amazing group of explorers, but they also died…a lot! This Star Trek inspired "Red Shirt" fragrance from FicticiousFragrances lets you have the Red Shirt experience without having to die.
With notes of honey and leather this unisex scent is great for all trek lovers. Try their scented wax melts or the perfume.
PRICE: $5
---
11. There's Coffee in That Nebula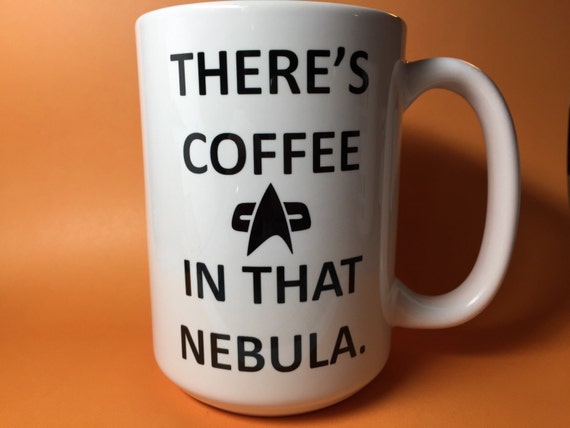 Each Captain seems to have their own little quirk. For Captain Janaeway that was her love of coffee! This mug is the perfect gift for a Janeway fan and coffee lover.
Using one of her many coffee related lines: "There's Coffee in that Nebula" you can relax at the breakfast table with "the finest organic substance" man has ever devised in a dishwasher safe ceramic mug.
This ceramic cup is dishwasher safe and the perfect gift for your favorite trekkie.
PRICE: $14.50
---
12. Resistance is Futile Art Print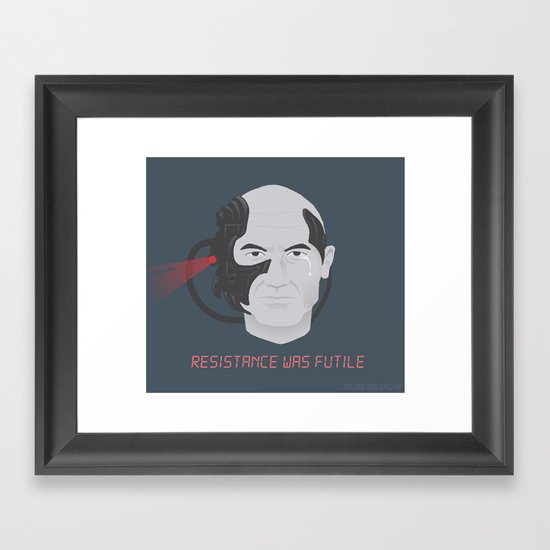 Remember when Jean-Luc Picard was assimilatied and became Locutus? Is that one of your favorite Star Trek: The Next Generation episodes? Then you, or the trekkie you are shopping for, will love this framed piece of art depicted the assimilated Captain Picard.
PRICE: $33 for a 10 by 12 inch framed print
---
13. Star Trek Voyager Handpainted Wine Glass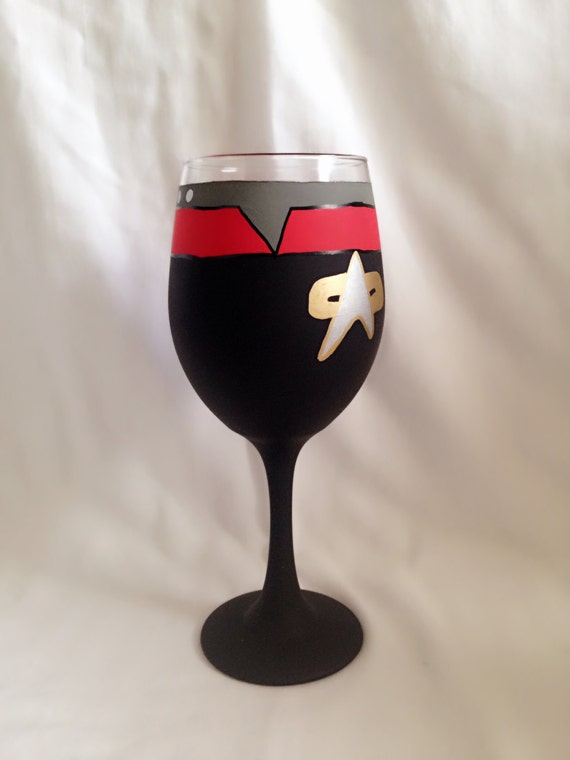 Kick back with a glass of wine and watch your favorite Star Trek series on Netflix after the holiday festivities are over. You can even make your night in themed with the help of this handpainted wine glass in homage to your favorite character.
Pictured here is the Voyager wine glass, but you can also get uniform designs from other Star Trek series.
PRICE: $20
---
14. "I'm a Doctor Not A…" Necklace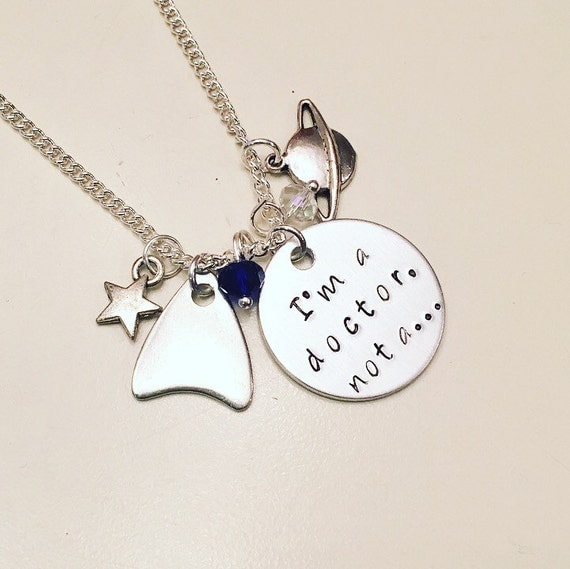 Doctor McCoy's signature saying was one that I think we can all relate to. This necklace captures the quote along with a medical-blue crystal, a trekkie insignia, and star and planet charms. The necklace is handstamped on aluminum and made to oder.
PRICE: $19.95
---
15. Starfleet Doctors Throw Pillow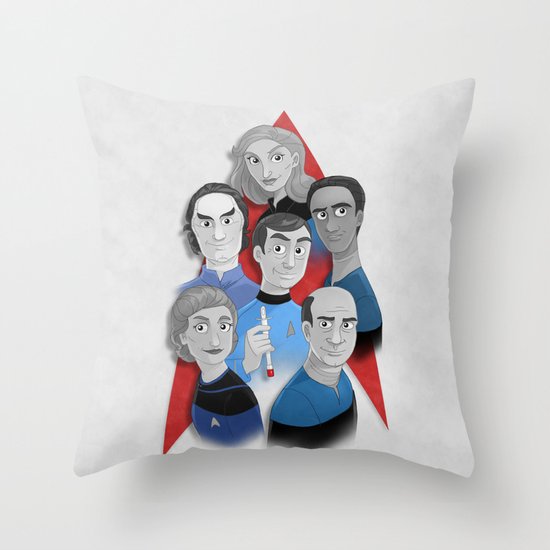 Starfleet has some great doctors on board their ships and this throw pillow honors all of them. This stylistic portrait of all the doctors will delight any fans of the Starfleet medical staff.
PRICE: $18 for a 16 x 16 inch pillow
---
16. Resistance is Futile Lip Gloss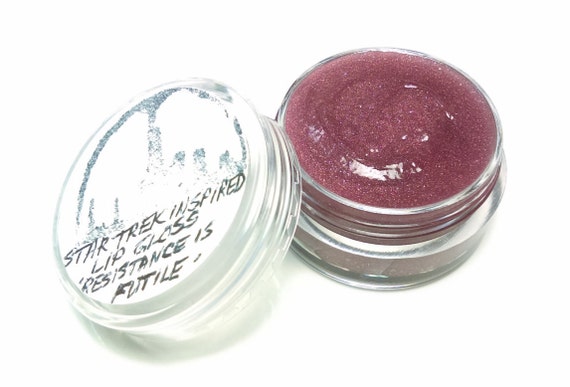 Inspired by Seven of Nine, this lip gloss is the perfect stocking stuffer for your favorite trekkie. The "Resistance is Futile" lip gloss is a shimmery berry-mauve with a glossy finish reminiscent of Seven of Nine's wardrobe on Voyager.
PRICE: $2.75
---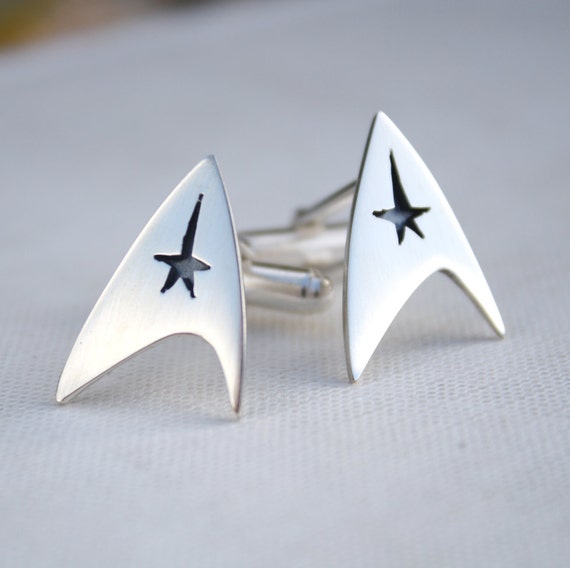 Have a trek fan who just loves to dress to impress? Give him a subtle and elegant way to show off his trekkie status with these cuff links. These sterling silver cufflinks are made entirely from scratch and measure 2 centimeters tall.
PRICE: $97
---
18. Star Trek 3-Piece Ornament Set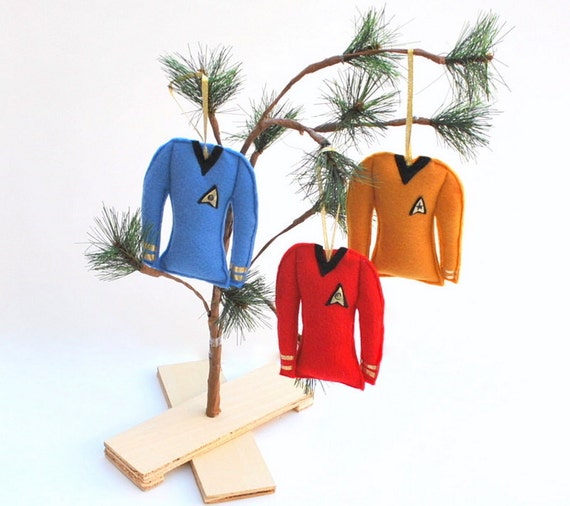 Put a little bit of Star Trek on your Christmas tree with these recycled felt ornaments. This set of three includes science, command, and engineering tunics, each measuring 4 by 5 inches with a four inch ribbon to hang them on.
PRICE: $45/Set of 3
---
19. Starfleet Insignia Infinity Scarf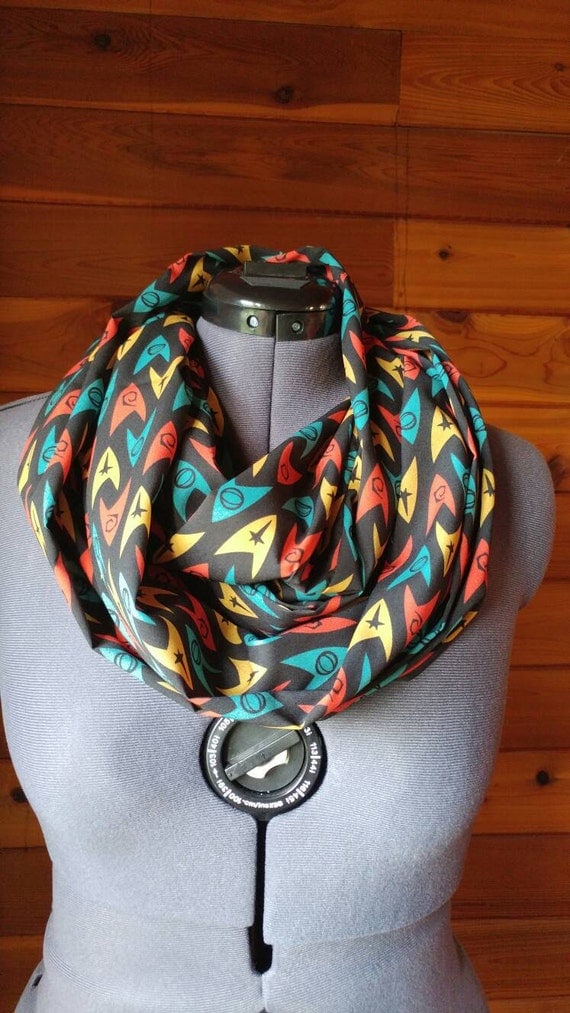 Stay cozy this winter with this crepe de chine scarf filled with vibrant Star Trek insignias.   Measuring 12″ wide and 66″ in circumference, this infinity scarf will rest comfortably around your neck and serve as a beautiful accessory for the trekkie in your life.
PRICE: $45
---
20. Star Trek: The Next Generation Wine Glass Charms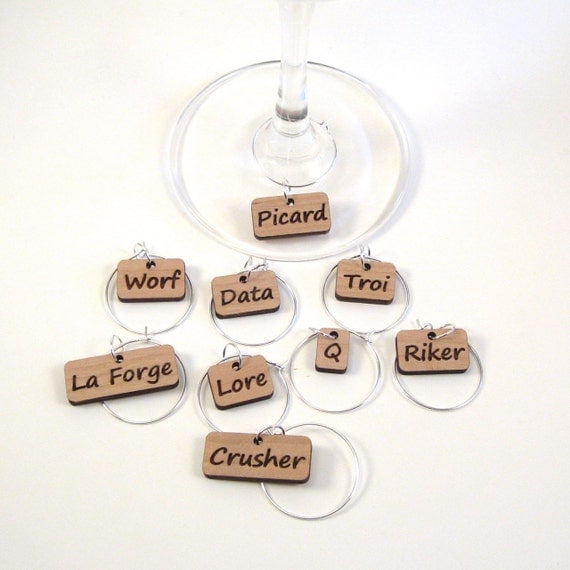 Geeky wine charms make a great gift!  With the help of these charms you will never mix up anyone's wine glasses at parties. These charms are laser engraved on reclaimed Oregon alder wood and display the names of seven of the crewmembers in Star Trek: The Next Generation.
PRICE: $12
---
21. Tea. Earl Grey. Hot. Bangle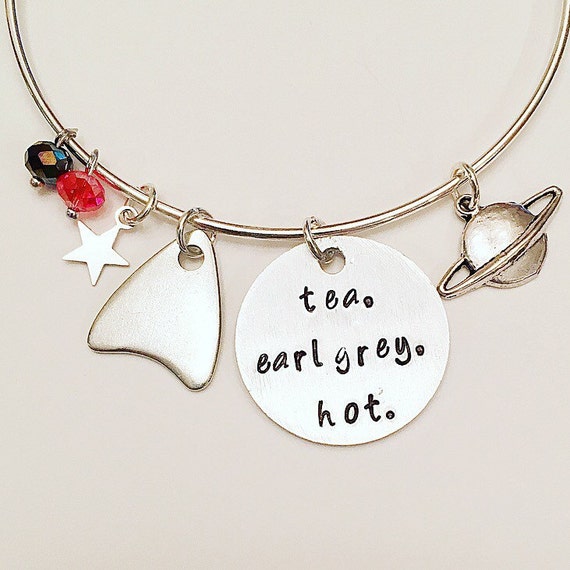 If you don't share in Janeway's coffee addiction, perhaps you'll prefer Picard's love of tea, earl grey, hot. This bangle is the perfect way to show off your favorite trekkie's geeky pride in a subdued way.
Adorned with a Star Trek insignia, star and planet charms, you can be sure that this bracelet will be a hit with its recipient.
PRICE: $17.95
---
22. RockLove Jewelry
Science? Engineering? Command? What part of the Star Fleet crew are you? RockLove Jewelry has amazing necklaces and earrings that will allow any trekkie to celebrate 50 years of Star Trek.
From Rings to Keychains to Necklaces and more RockLove is the place for all the high quality Star Trek jewelry.
---
Planning on buying a gift for one of your favorite trekkies? Did this list help you? Let us know in the comments below, and be sure to check out more Geeky Gift Guides!