And now our Geeky Gift Guides are making a stop in Stars Hollow! We've put together a a Gilmore Girls Gift Guide to help your favorite fan close out 2016 with a bang.
This year is the best time to give the honary Gilmore in your life a present they will always remember. Why? Well, Lauren Graham came out with a book last month and the four-part revivival Gilmore Girls: A Year in the Life dropped on Netflix the day after Thanksgiving.
So cheer them up with one of these amazing Gilmore Girls inspired gifts.
1. Talking as Fast as I Can by Lauren Graham
Ah, it just feels right to start our Gilmore Girls Gift Guide off with a book of essays written by Lauren Graham, who plays Lorelai Gilmore. In this book Graham details her life in Hollywood and her experiences working on the Gilmore Girls set, as well as Parenthood.
In short, it's the perfect way to make them smile just a little bit this holiday season. (You know, short of Amy Sherman-Palladino announcing another revival in the works.)
This book came out at the very end of November and it should go without saying, that is the Gilmore Girls fan on your list loves to read, and hasn't picked this up yet, they should have a copy.
Come on, do you really think Rory would wait on this? Pick up a copy.
PRICE: $28.00
---
2. Lorelai and Rory Magnetic Bookmark Set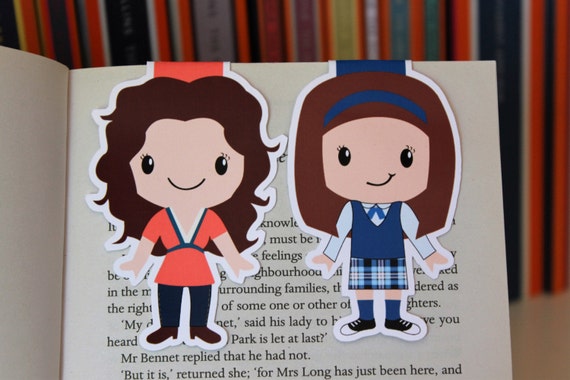 Gilmore Girls is about a mother and a daughter, but it is also about their shared coffee obsession and the daughter's love of books. So it only makes sense that at least one set of bookmarks ends up on this list.
We can't resist these character bookmarks from BeyondthePages19. Not only will they embody the characters well, but they are also magnetic, so they're the perfect companion for a avid reader and Gilmore Girls fan.
Would you prefer a different character combo? Don't worry, the shop has several including Lorelai and Luke and Jess and Rory. She even has an entire set including Emily, Richard, Sookie, and Michel.
Now, if you want even more points, I highly suggest picking up one of the many titles mentioned on Gilmore Girls (seriously, there is a Rory Gilmore Reading Challenge) and then gifting one of these things sets to go with it. Why? Because, for a bookworm you can't do get them a better gift than a book and a bookmark.
PRICE: $3.82
---
3. "People Are Particularly Stupid Today" Pillow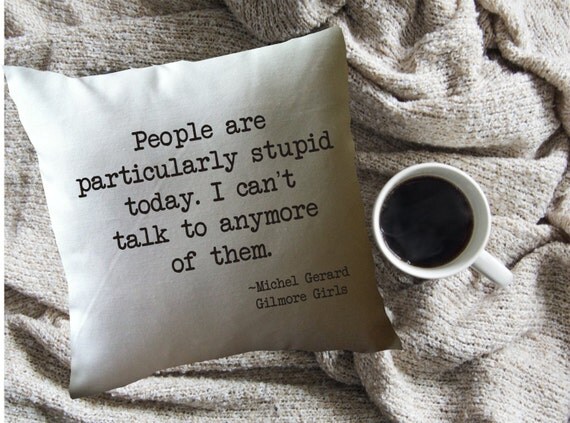 Lorelai's French coworker Michel is hysterical. He says some of the darndest things, but we were all thinking the same thing, so we don't really take offense to them.
This pillow case features a quote from the pilot, where he sitting at the front desk and letting the phone ring, but it's perfect for a reading nook or your favorite hideway in your home.
This pillow case fits a 14×14 or 16×16 pillow form and can be purchase in white or natural cotton or white microchenille.
Not in the mood for some Michel snark? MinnieandMaud's Etsy shop has 9 other Gilmore Girls inspired designs to pick from! Another ofmy personal favorites is "If You're Going to Throw Your Life Away He Better Have a Motorcycle."
PRICE: Staring at $21.99
---
4. Luke's Diner Vintage Retro-Style Poster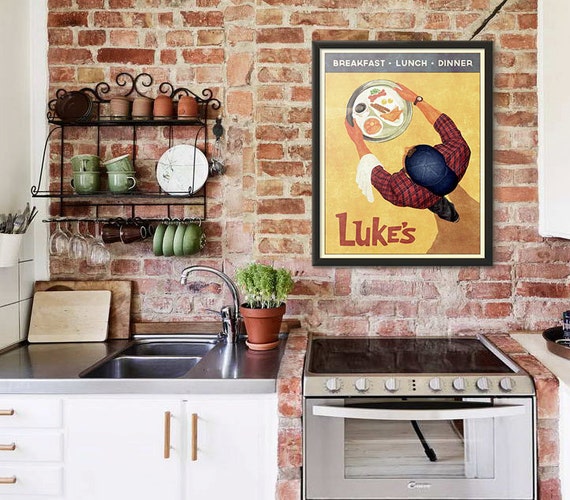 Luke's Diner is an establishment in Lorelai and Rory's lives. The gruff, backwards baseball cap owner converted an old hardware store into a diner and has things exactly how he wants it.
While Luke Danes seems to resist change, we think he may actually liked this poster above, since it embodies the Stars Hallow establishment so well.
WindowShopGal also has 6 other designs in her shop, including several Stars Hollow travel posters. Check out the winter poster for a seasonal gift.
PRICE: Starts at $17.50
---
5. Chilton Crest Enamel Pin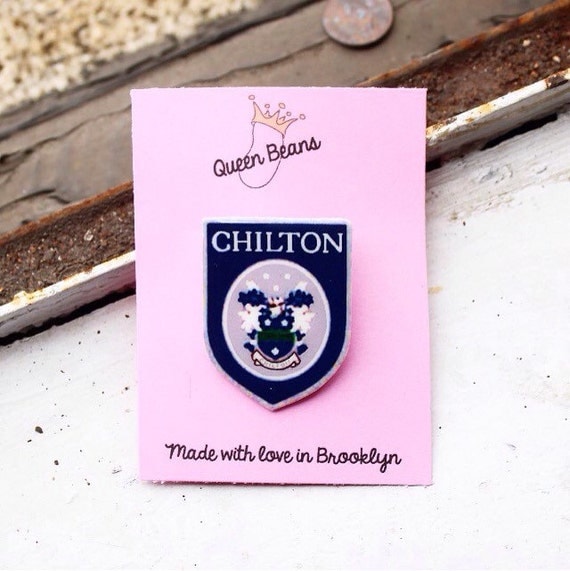 The perfect stocking stuffer for a Gilmore Girls fan. This enamel pin bears the Chilton School crest from the prestigious private school that Rory attends for the first three seasons of the show.
PRICE: $12
---
6. "We're Almost There and Nowhere Near It…" Tote Bag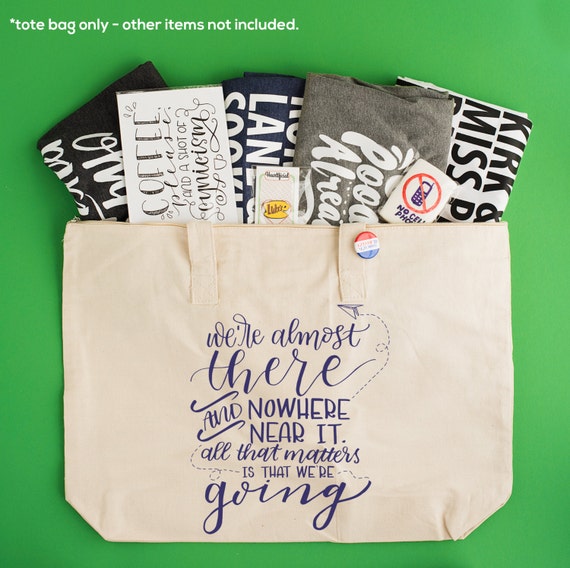 Gilmore Girls is great for quotes and this is one of them. This large totebag is perfect for a weekend getaway and it's a great reminder of life's constant journey.
You can also check of the Gilmore Girls section at Urban Tee Farm to find the perfect t-shirt for your favorite Gilmore Girls fan.
PRICE: $16
---
7. Luke's Diner and "I Smell Snow" Ornament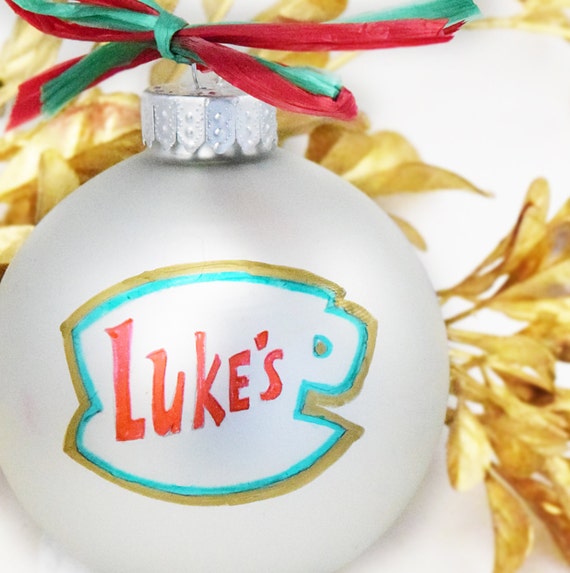 It seems like a very Stars Hollow thing to have on your tree, an ornament that bears the logo of a Stars Hollow institution, that is handmade to boot. (Although I am sure Luke Danes wouldn't sell ornaments at his diner even if you begged him).
That doesn't stop us from including this beautiful handpainted ornament on our Gilmore Girls Gift Guide. On one side, there is the iconic mug from Luke's Diner. The other side bears Lorelai's quirky "I Smell Snow" proclaimation with snowflakes.
You can even get this ornament personalized with a first name and "Christmas 2016" written next to the mug.
PRICE: Starts at $16.95
---
8.  "F*ck This I'm Moving to Stars Hollow" Mug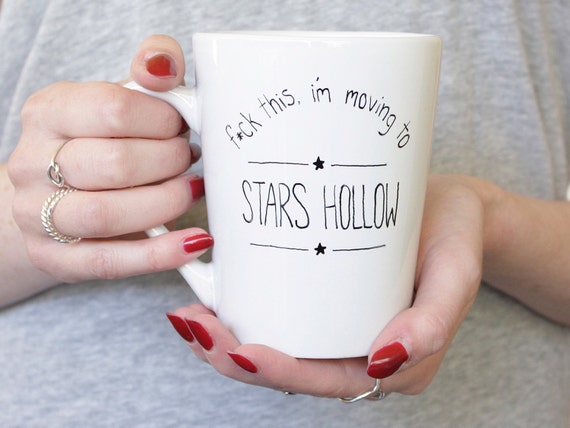 Stars Hollow is a charming little town and it is safe to say that almost every Gilmore Girls fan has wished that they could move there at least once since the series began. Of course sometimes life just gets so stressful you actually wish it was a real place so that you could move there.
That's where this mug comes in handy. Not only does it have a bit of flippant snark for when life gets you down, but since it's a mug it also plays into Lorelai and Rory's love of coffee.
Even better, you can customize the mug so that its a color that the recipient will love as well.
PRICE: $15
---
9. "A Thousand Yellow Daisies" Shirt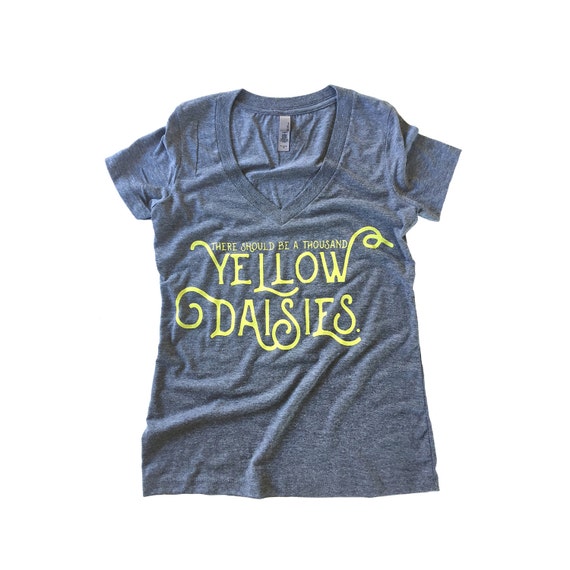 Lorelai is quirky. Gilmore Girls fans get that, but sometimes her talk starts to wax poetic. Early in the series Lorelai schools one of the men she's dating in what a proposal should be and this lovely quote was the result.
However you feel towards the couple that is reflected in this quote, I think we can agree that the proposal was pretty magical and this shirt with its simple typography captures the moment well.
PRICE: $28
---
10. "She Drinks More Coffee Than a Gilmore" Keychain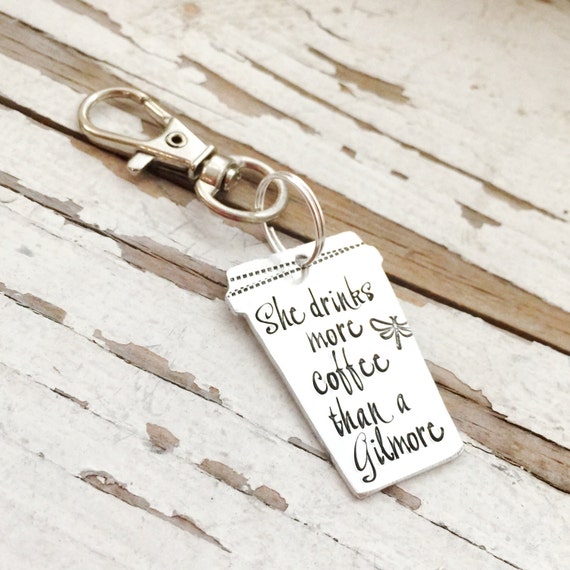 This lightweight handstamped keychain is the perfect small token for a friend who loves coffee and can rival Lorelai Gilmore in a coffee drinking competition. The to-go cup shape with a dragonfly adornment is a beautiful addition to your favorite Gilmore Girls fan's keychain.
PRICE: $16
---
11. Gilmore Girls: The Unofficial Coloring Book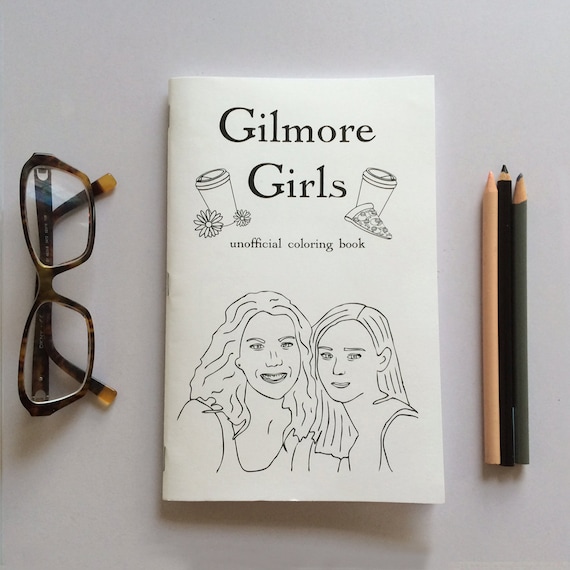 All we Gilmore Girls fans want for Christmas is…another Gilmore Girls revival. Oh, and coloring book. A Gilmore Girls coloring book would rock.
This 18-page unofficial coloring book is a great stocking stuffer. It measures 8.5″ tall by 5.5″ wide, and the illustrations include characters, scenes, and quotes.
PRICE: $6.50
---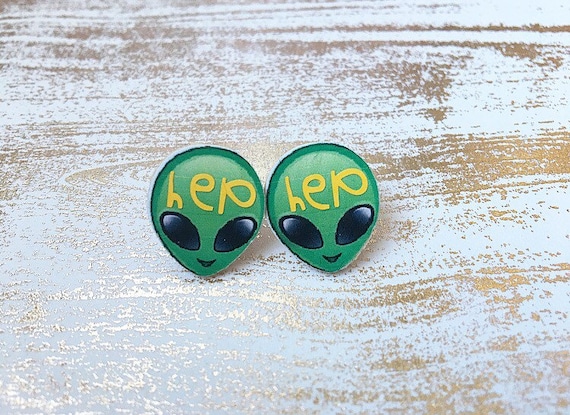 Rory's Stars Hollow best friend, Lane was a force to be wreckoned with. She always marched to the beat of her own drum and that included learning how to play the drums and forming the band Hep Alien.
What was even more amazing was the time that Mrs. Kim jumped in and planned a tour for the band!
These Hep Alien stud earrings are the perfect way to remember Lane and her rock band. Not sure if Mrs. Kim would approve of the merch, but we can keep a secret can't we?
PRICE: $10
---
13. Lorelai's Winter Wonderland Candle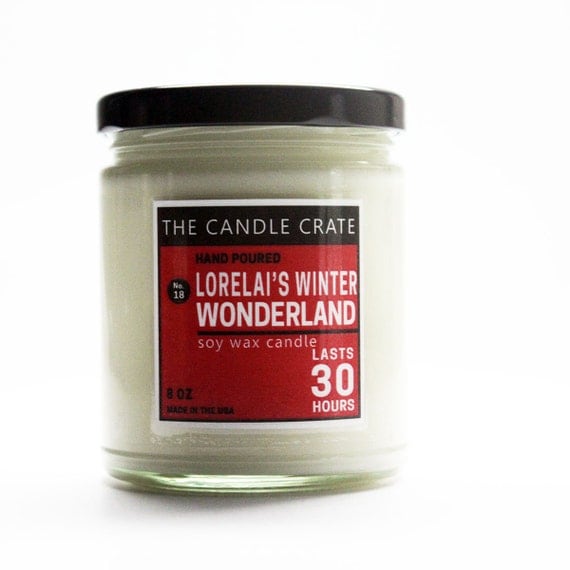 Lorelai loves winter. It's no surprise, she can smell the snow. Of course, a candle that combines peppermint, chocolate, and vanilla is the perfect embodiment of Lorelai's Winter Wonderland.
These candles are handmade and eco-friendly. You can even check out her other scents like Luke's Diner, Logan's Loft, Taylor's Soda Shoppe, and Miss Patty's Dance Studio.
PRICE: $12
---
14. Gilmore Girls Best Friends Mug Set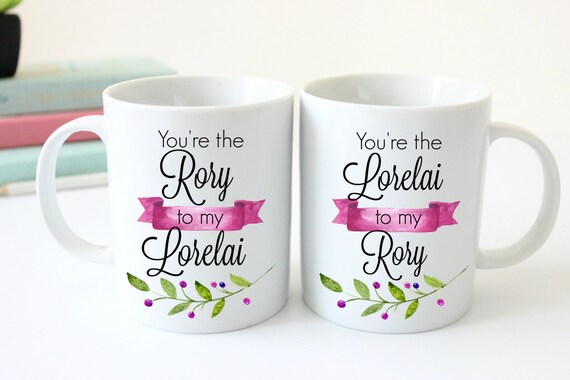 Lorelai and Rory are mother and daughter and best friends. They're a relationship goal in a way. So if you are lucky enough to be the Rory to a Lorelai or a Lorelai to a Rory, then you might want to consider this set of mugs.
Yes, you read that right, this a best friends necklace for caffeine lovers and Gilmore Girls fans!
PRICE: $28
---
15. Stainless Steel "In Omnia Paratus" Cham Bangle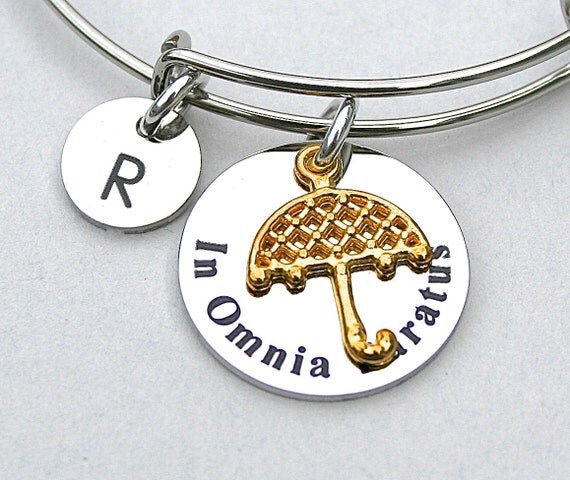 The Life and Death Brigade at Yale pulled off some outlandish stuff in Gilmore Girls seven seasons.
One of the first times we saw this secret society, Rory was researching a scoop for The Yale Daily News. When Logan brought Rory to the event she found that the stunt they were performancing involved jumping from a height in formalwear with an umbrella.
So we had to feature something with their motto in our Gilmore Girls gift guide of course. This bangle is made of stainless steal, features their motto (which translates to "Ready for Anything") and a gold filigree umbrella. Add your own personal touch by selecting the appropriate initial.
PRICE: $19.99
---
16. 2017 Calendar Inspired by Gilmore Girls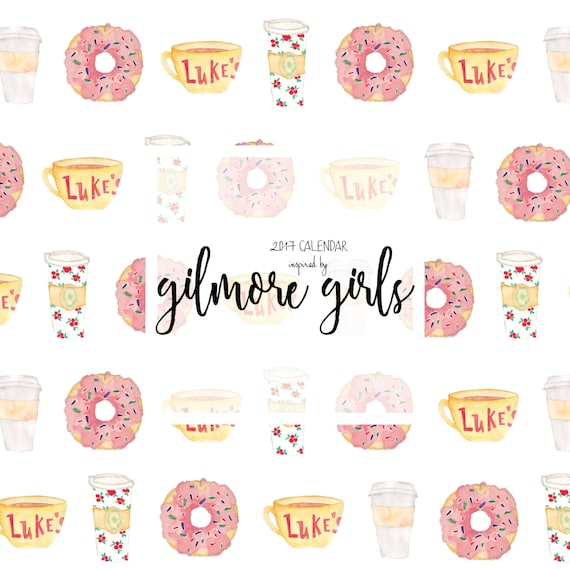 You aren't prepared for 2017 without a calendar. Australian artist Ellen Walsh has illustrated a calendar for 2017 featuring watercolor pictures and quotes that are just as bright and inspiring as Lorelai and Rory themselves.
The calendar is designed to hang on a wall and features beautiful designs that will make you think of Stars Hollow all throughout 2017.
PRICE: $21.37
---
17. Gilmore Girls Large Zippered Pouch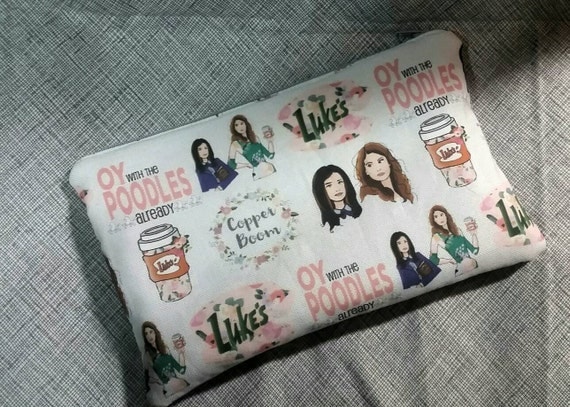 Carry your cosmetics in this amazing, interfaced pouch in a fabric inspired by this lovely mother/daughter duo.
This 6″ by 9″ pouch is perfect for holding cosmetics or any trinkets you may carry in your purse. The popular quotes "Copper Boom" and "Oy with the Poodles Already" make this a must-have bag for fans of the spunky ladies of Stars Hollow.
PRICE: $11.00
---
18. Lorelai Gilmore is my Spirit Animal Enamel Pin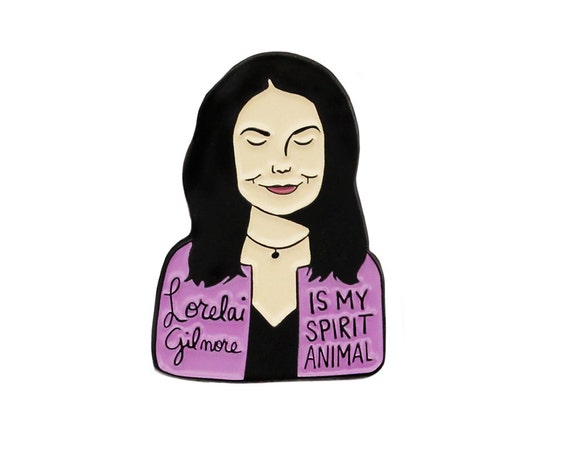 There are many enamel pins out there, but none can preclaim your love for one of the Gilmore Girls than this enamel pin that declares Lorelai Gilmore to be your spirit animal.  This 1.25″ tall enamel pin is a great gift for your favorite Gilmore Girls fan.
Feel like you're more of a Rory Gilmore? There's a pin featuring Rory too.
PRICE: $13.00
---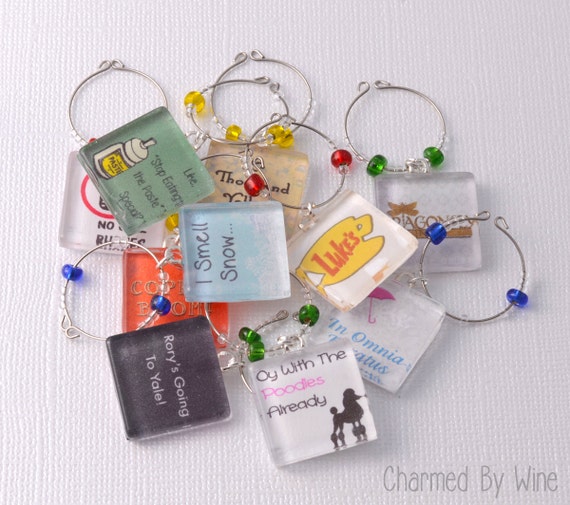 What is a Gilmore Girls themed watch party without an appropriate set of wine charms?  This set of ten glass wine charms are handcrafted to represent many of the show's most popular moments.
You can get a full set with all ten or you can order fewer and select only the charms you like. Each charm is made to fit around a standar wine glass and is designed with durable wire that means no claps and no beads that fall off.
PRICE: $40.00 for a set of 10
---
20. "Oy with the Poodles Already" Embroidery Hoop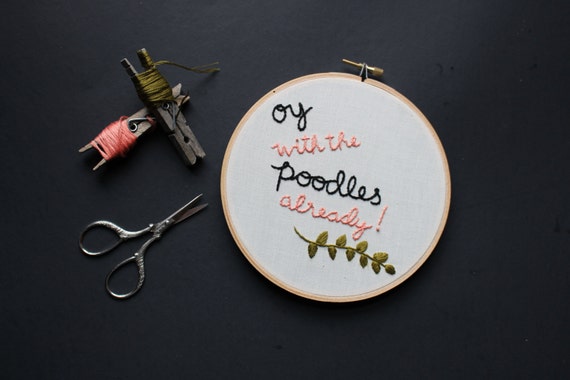 One of the moments I always think of in Gilmore Girls is when Rory and Lorelai are waiting for Friday Night Dinner to start, and they are sitting there casually discussing words that are funny and make them smile. The conversation ends with this new catchphrase: "Oy with the poodles already!"
Any Gilmore Girls fan is sure to get the reference and love the care and craftsmanship that went into creating this beautiful embroidery hoop. This is a one-of-a-kind work of art handstitched on organic cotton and framed in a bamboo embroidery hoop. It is suitable to be hung on a wall or displayed on a shelf.
When ordered this hoop will arrive sweetly wrapped and ready to give as a gift.
Not a fan of poodles? Check out her Copper Boom hoop art.
PRICE: $31.50
---
21. "What She Tackles and Conquers" Wall Art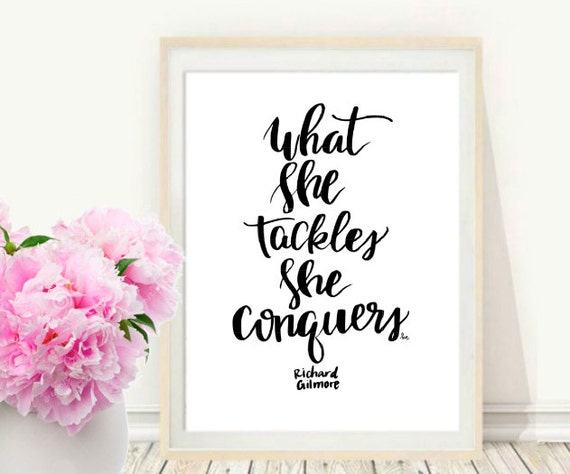 The passing of Edward Hermann hit fans of Gilmore Girls hard in the last year. This beautiful and brilliant quote by his character, Richard Gilmore is the perfect way to honor him.
This 8 x 10 print comes unframed and shipped in a plastic sleeve, but it's delightfully simple composition and color scheme means it will fit any decor or color palette and you can be sure that you'll enjoy the inspirational saying for years to come.
PRICE: $8.00
---
22. Life's Short, Talk Fast T-Shirt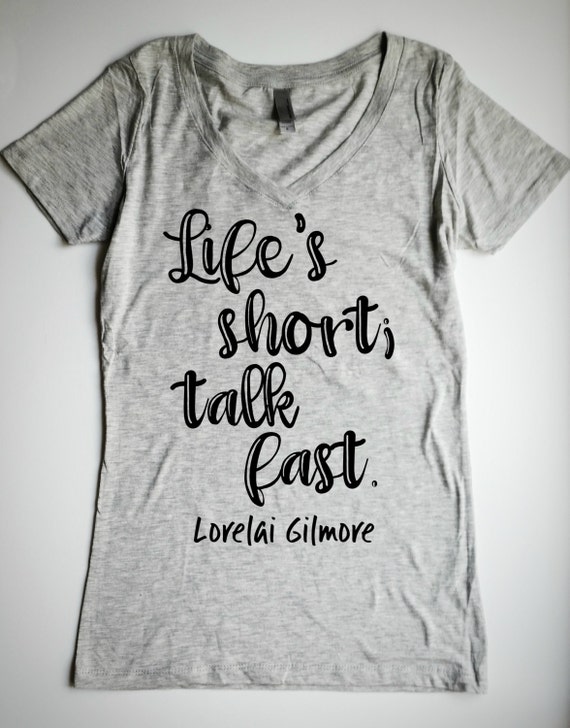 One thing people will unamiously agree on when they talk about Gilmore Girls is the pacing of the dialogue. Your favorite fast-talking Gilmore Girls fan will get a kick out of this shirt.
The shirt is composed of 60% cotton and 40% polyester and the black writing is a professional heat vinyl transfer. The shirt runs fairly true to size with sizes small through extra-large available. If you want a stylish slightly oversized look, the shop recommends sizing up.
PRICE: $26.00
---
23. Fall in Stars Hollow Wall Art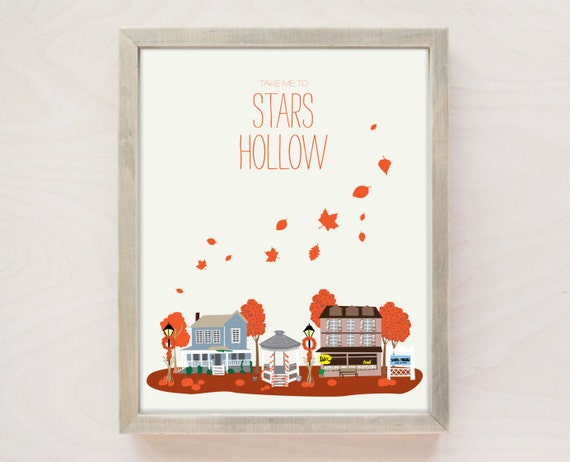 The charming little town of Stars Hollow that hosts all those annual fairs and traditions is where Lorelai and Rory's lives are centered. Some of those traditions seem so charming and unique (remember the Festival of Living Art?) that I would even consider moving there.
This beautiful poster reads almost like a tourist add for Stars Hollow in the fall season. The print features Lorelai's house, Luke's Diner, and of course the gazebo in the center of town. It measures 11 x 14 inches and is the perfect site to snuggle up to on a cold fall or winter day.
A frame is not included but with the simple fall tones, it can match any frame you can pick up at your local art supply store.
Prefer Stars Hollow in winter? Check out the winter poster.
PRICE: $21.95 for a 11 x 14 print.
---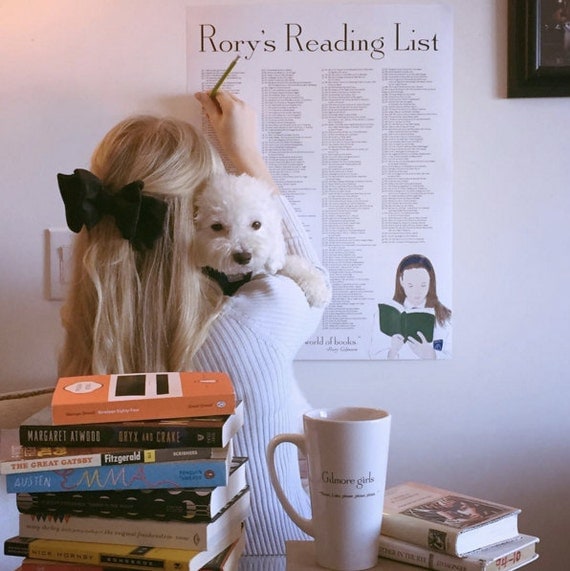 For the ambitious fan who wants to read maore next year, they may like this large print out of all the books that Rory Gilmore has read on the show. This 18 by 24 inch poster comes with accompanying checkboxes to keep your reading list organized.
The list also comes adorned with the original watercolored image of Rory Gilmore and the artist's favorite reading-related quote from the show.
PRICE: $19.32
---
25. Luke's Alder Wood Earrings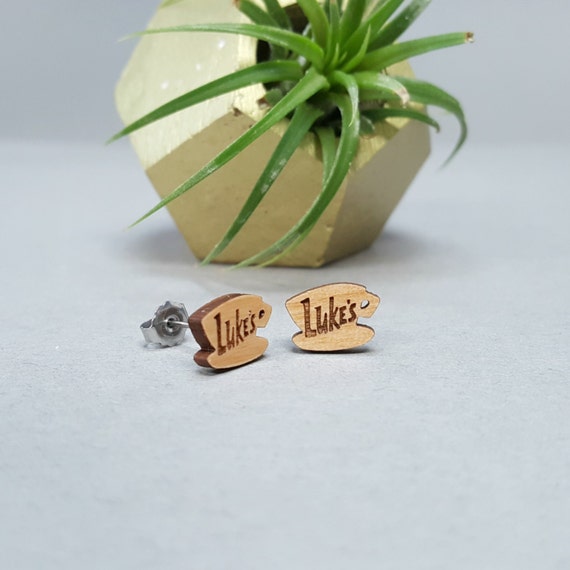 The iconic Luke's Diner coffee mug can now be worn as an earring. Made from laser engraved alder wood with a titanium post, these earrings are the perfect gift for a fan with pierced ears.
PRICE: $12.00
---
26. Gilmore Girls Planner Stickers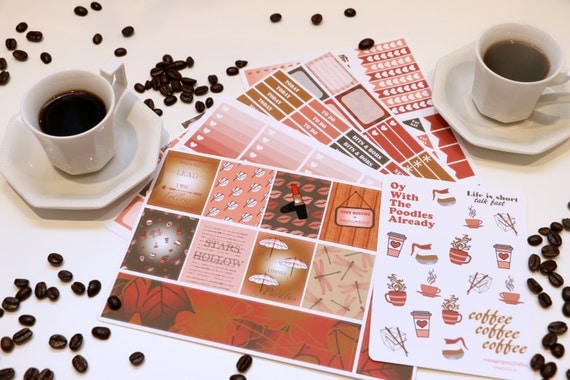 If one of your resolutions is to be more organized then you may want to have these fabulous planner stickers fall into your cart, by accident (or on purpose). These Gilmore Girls themed planner stickers are the perfect fit for your Erin Condon planner.
The colors and designs in these six pages of stickers are exclusive to this particular store, so if you like the designs you should order yourself a set.
PRICE: $15.63
---
There you have it! Twenty-six gifts perfect for a resident or wannabe resident of Stars Hollow. Taylor would be so proud!
Let us know what you think of our Gilmore Girls Gift Guide? Did you find the perfect gift to give yourself or a Gilmore Girls obsessed fan? Let us know in the comments below.
And be sure to stay tuned for more Geeky Gift Guides in the coming weeks.