Looking for the perfect gift for the Harry Potter fan in your life? We have your back with our Harry Potter Gift Guide. This guide inclues a little something for everyone, whether your favorite Potterhead is a photographer, knitter, loves to journal, or just loves to adorn their Christmas tree with geeky items.
Face it, the way to your favorite Potterhead's heart is with one of these amazing gits.  2016 was a big year for fans of the Boy Who Lived, J.K. Rowling's massive universe continued with Fantastic Beasts and Where to Find Them, the play and script for Harry Potter and the Cursed Child was released, and Alan Rickman passed away in January.
In short, it's been a wild year for fans of this large and expansive universe so give your favorite Harry Potter fan something to remember it by.
1. Harry Potter Charm Bracelet with Customizable Bangle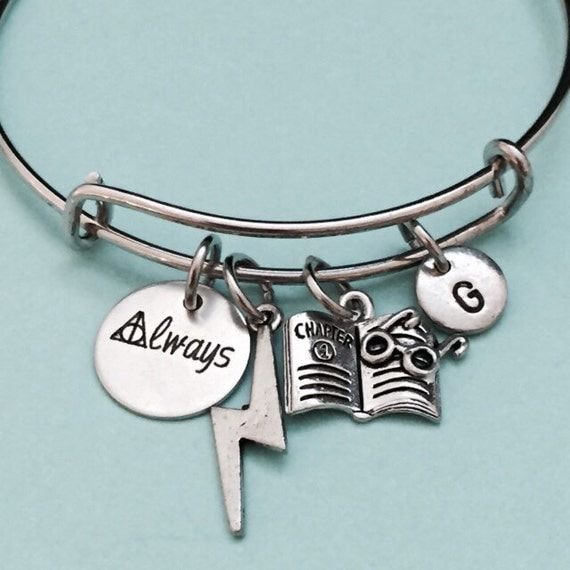 This charm bracelet features some of the most iconic symbols of the series. Add a personalized initial and your favorite Potterhead will have a gift that is truly unique to them.
---
2. Hogwarts House Scarf Camera Strap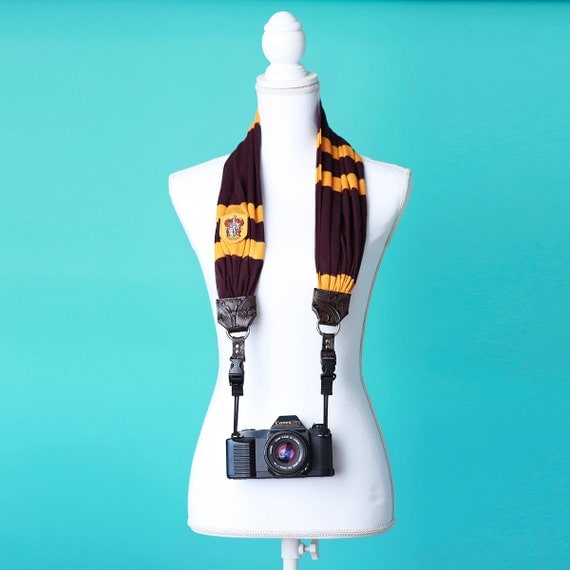 For the Potterhead who loves photography this Hogwarts house scarf camera strap is the perfect present. Select their Hogwarts House and they will have a constant reminder of the person who gave them this comfy and yet geeky camera strap.
---
3. Chamber of Secrets Quote Pillow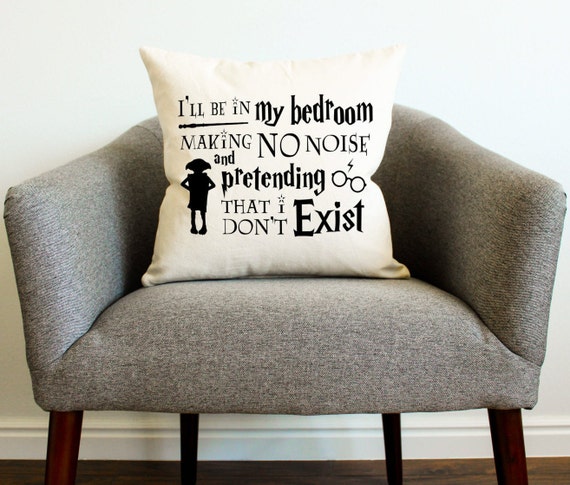 Try to tell us that you didn't smile at least a little when Harry said this to his uncle during Chamber of Secrets! This pillow is the perfect, and perhaps a little ironic, gift for a Harry Potter fan.
---
4. Polyjuice Potion and "I Solemnly Swear" Wine Glass Set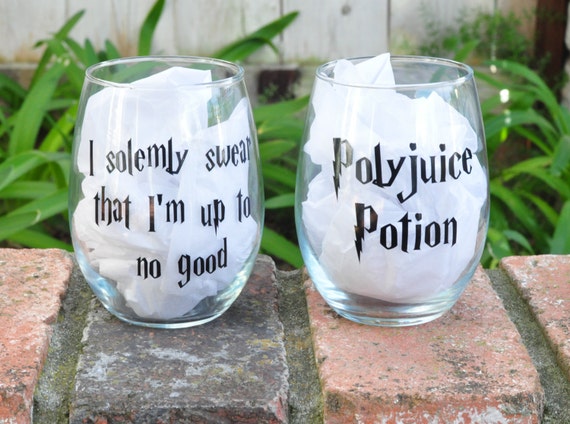 For fans of a certain age, the Muggle World has its own version of magic potions. This set of glasses is the perfect gift for a grown up Harry Potter fan.
---
5. Golden Trio Magnetic Bookmarks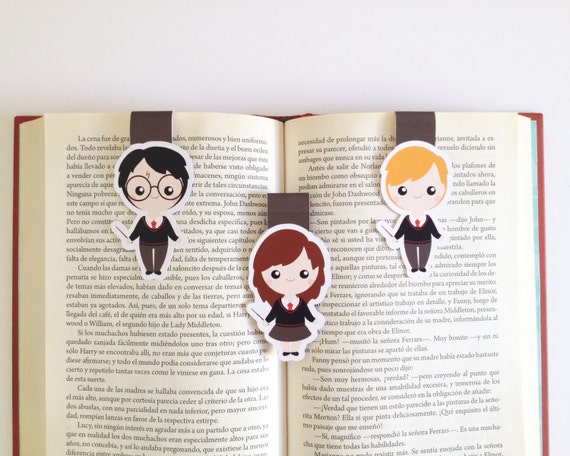 Planning to travel with a good book in the next year? Have a Potterhead in your life that constantly loses bookmarks? Then this trio of magnetic bookmarks is the perfect stocking stuffer for them.
---
6. Hogwarts House Morse Code Bracelet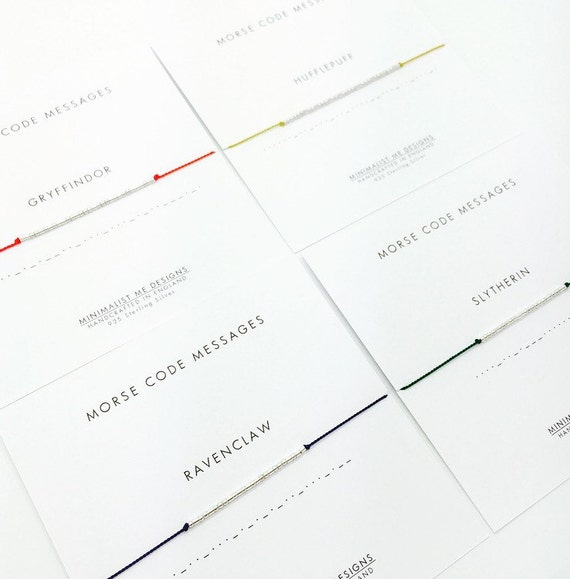 Do you have someone in your life who loves Harry Potter but prefers a more subdued style of clothing and jewelry? Then they will appreciate one of these morse code bracelets.
Choose a Hogwarts house and have the name translated into dots and dashes with sterling silver or gold-filled beeds and silk thread.
---
7. Still Waiting for My Owl Ceramic Yarn Bowl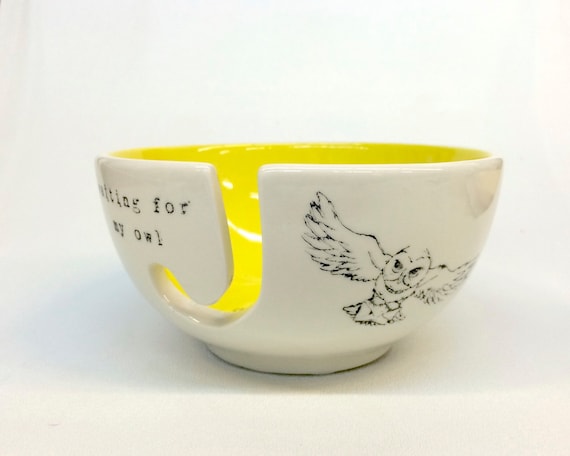 Potterheads are eternally waiting for their Hogwarts letters. That's why we love the sentiment on this yarn bowl. Knitting is a craft of patience and if your favorite Potterhead is also a knitter this bowl will mean so much more.
---
8. Mischief Managed Cuff Links
Cuff links add a bit of subtle elegance to any occasion and can really offer you a chance to put a personal touch on a suit. These cuff links provide a tasteful touch to your favorite Potterhead's formal wear.
---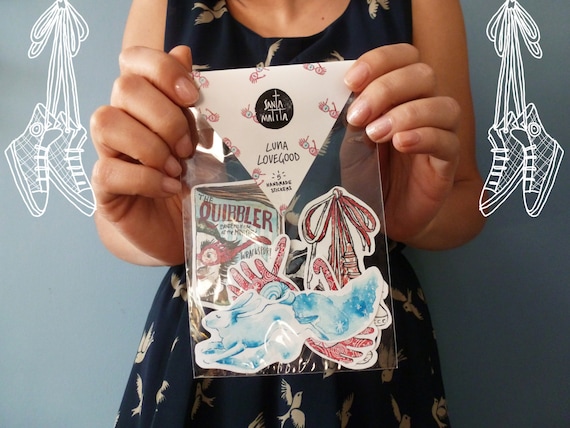 Stickers can brighten up anyone's day. For someone who collects stickers and loves Harry Potter, they may love a sticker pack as the ultimate stocking stuffer. The pack featured here is based on Luna Lovegood. The designed are based on original watercolor drawings that
The pack featured here is based on Luna Lovegood. The designed are based on original watercolor drawings that are processed in Photoshop and printed on high-quality sticker paper.
You can also pick up a Dark Magic, Hogwarts, or Wizard Treats. If you really can't decide you can even build your own.
---
10. Divination Class Soy Candle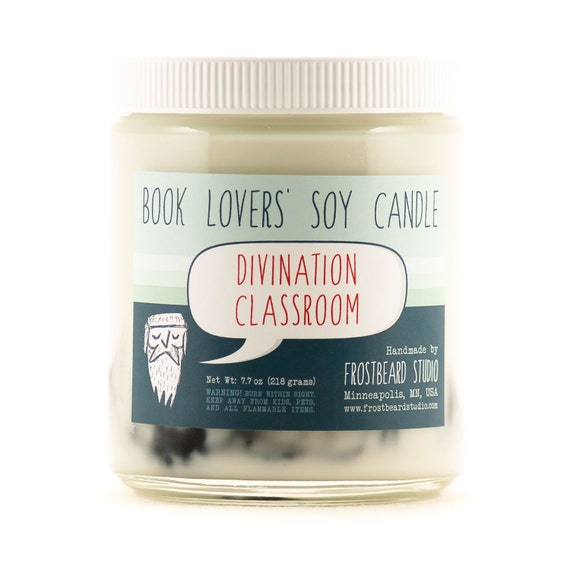 The adorkable Professor Trelawney worked tirelessly to teach her students the art of Divination.  Now, you can turn your space into your own personal divination classroom. The Divination Class Soy Candle has notes of dragon's blood, bergamot, frankincense, and myrrh.
---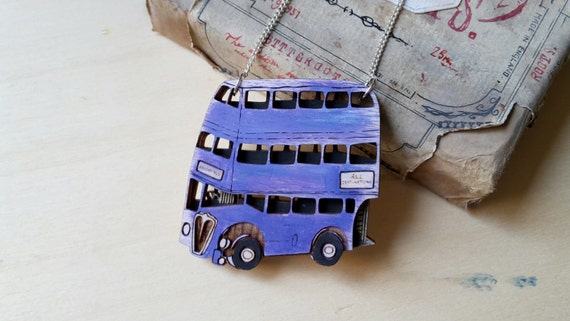 The knight bus is an amazing phenomenon. This triple-decker bus helps out the stranded witch or wizard and does so with a bit of comedy.
If the Knight Bus is your favorite mode of transport. Take a look at this beautiful necklace made from hand-painted laser cut plywood.
---
12. Harry Potter Leather Book Bag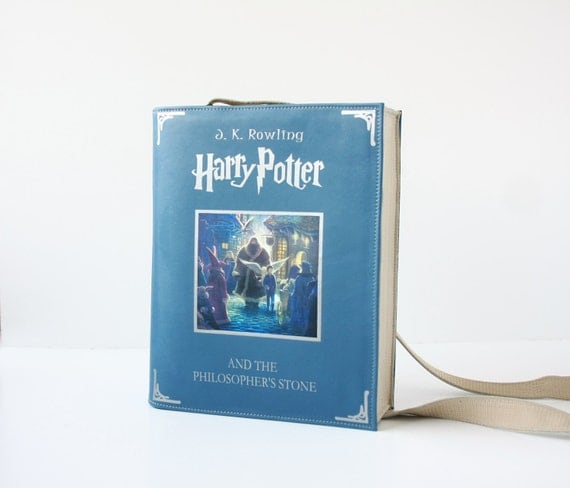 For a truly unique gift, this beautiful book-shaped purse is sure to fit the bill. Hand-crafted to look like your favorite novel, this Harry Potter bag is sure to be a delight to your favorite Potterhead, and perhaps their most cherished possession.
---
13. Dirigible Plum Earrings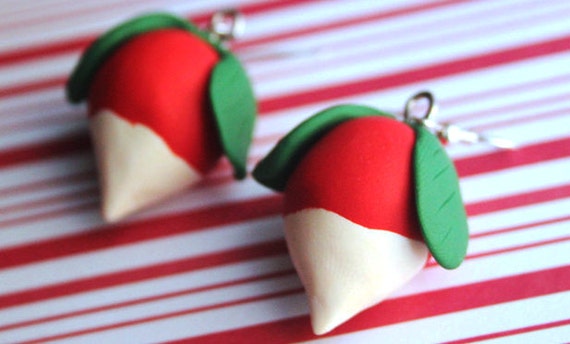 Luna Lovegood's radish earrings are perhaps one of the defining wardrobe items of the character. So if you have someone who loves Luna, wants to cosplay Luna, or just has a quirky fashion sense like Luna, they'll love these dirigible plum earrings made from polymer clay.
Beautifully crafted and made to order, these earrings are sure to delight the Luna Lovegood fan in your life.
PRICE: $20
---
14. Sorting Hat Embroidery Hoop Art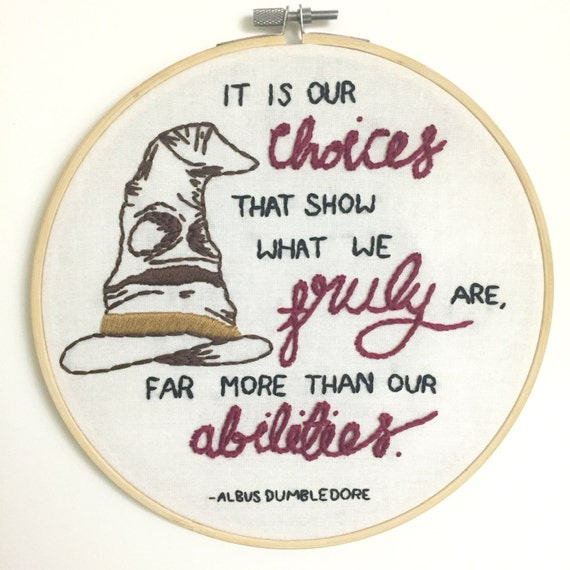 Oh, The Sorting Hat! What can we say about The Sorting Hat? It is every Harry Potter fan's dream to get sorted into a Hogwarts house. To have this hat sing it's song before it's placed upon your head and be sorted into the house you truly belong.
It's a little creepy because this omniscient hat can apparently see into your head, but we're not going there right now.
This 8″ embroidery hoop features both the magical hat and an Albus Dumbledore quote, which points out something important: the hat takes your choice into account. Something any Harry Potter fan can appreciate.
PRICE: $48
---
15. Potion Bottle Christmas Tree Ornaments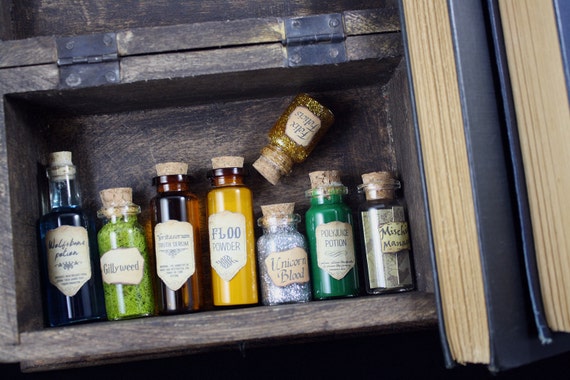 Oh, what we wouldn't give to have our own potion master's cabinet! Now your favorite Potterhead can decorate the tree with one of the many potions listed in the series. The handcrafted bottles that are made to order.
Choose your favorite potion bottle and ribbon color and give your favorite Harry Potter fan a gift they will remember for seasons to come.
PRICE: $15 per ornament.
---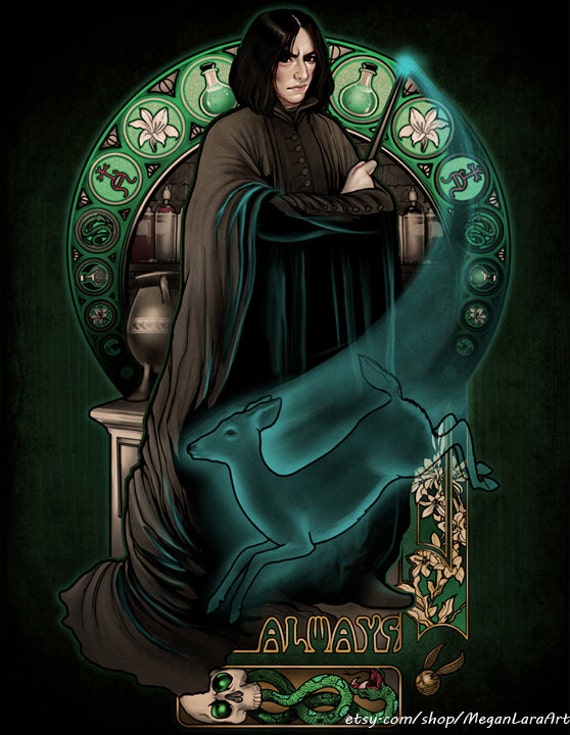 It's impossible to think of Severus Snape without getting a little teary–okay a lot–teary-eyed! This is one of our favorite pieces of fan art depicting the Half-Blood Prince. Meghan Lara is a talented artist who has also done Luna and Hermione artworks in a similar style.
Megan Lara is a talented artist who has also done artwork depicting Luna and Hermione along with other heroes and heroines from your favorite fandoms.  This print arrives rolled up in a shipping tube. When you unwrap it, you will find the cover is vivid and beautiful with Megan Lara's signature on the back.
PRICE: $19.95
---
17.  When In Doubt Go to the Library Locket Necklace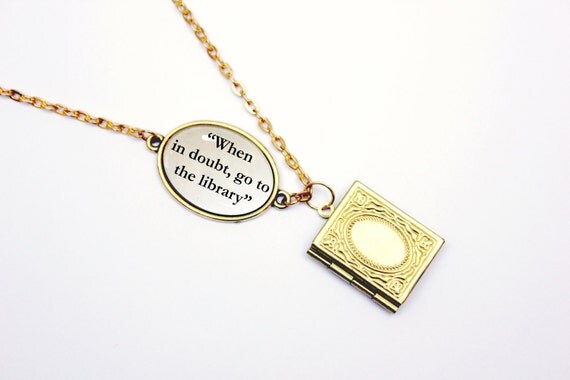 Hermione Granger is a hero to bookworms everywhere because she was a fan of always doing your research first. Smart girl.
This locket perfectly depicts Hermione's motto. A simple locket with the quote charm on a 27″ chain this will be a constant reminder of your favorite bookworm's go-to motto.
The best thing about this gift is the personalized library card this necklace comes on. You can personalize your library card so that it holds any date you wish. Your friend's birthday? The date you saw the first Harry Potter movie together? Christmas of this year?
PRICE: $12.99
---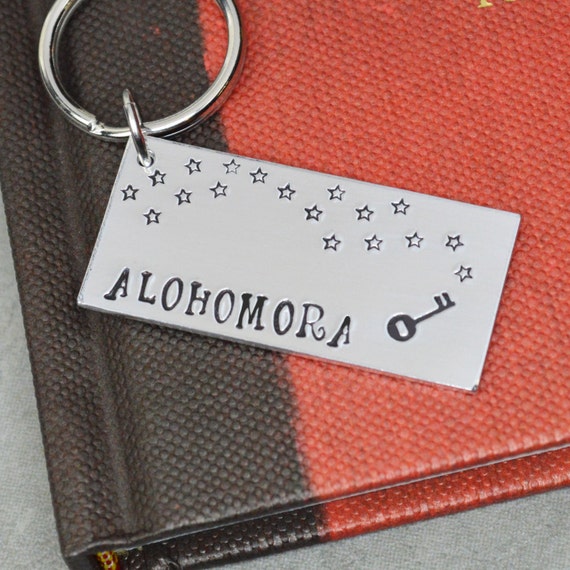 Let's talk about a gift that is so meta that anyone with an ironic sense of humor will appreciate it. This keychain features the unlocking charm that students use on locks.
Not only is this gift Harry Potter themed, but it will also include the muggle equivalent of the unlocking charm.
PRICE: $12
---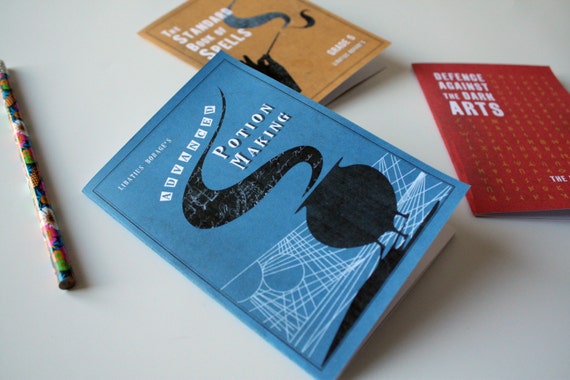 Jot down all the notes you need to pass your O.W.L.s in these beautifully crafted notebooks that feature covers for Advanced Potion Making, The Standard Book of Spells, and Defense Against the Dark Arts.
These notebooks come in two sizes and can be filled with blank, lined, or graph paper for a truly personalized experience.
PRICE: $11.46 for three 4×6 Notebooks.
---
20. Triwizard Tournament Scarf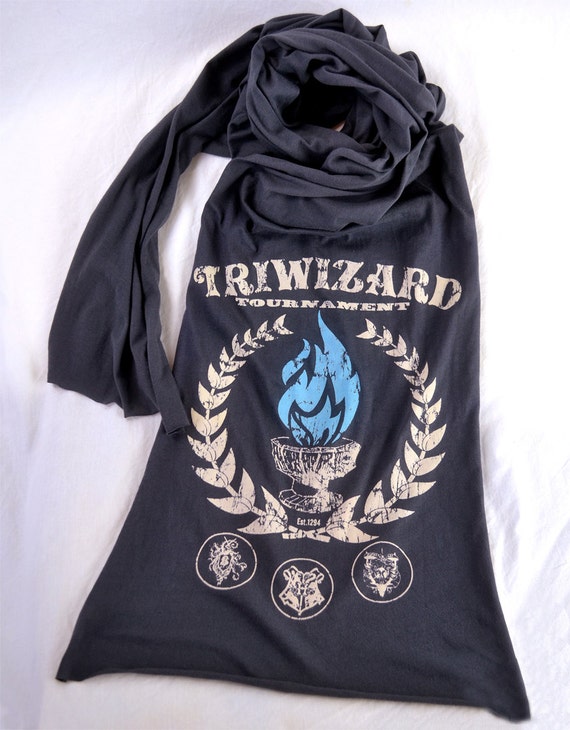 Everyone has their favorite Harry Potter book. If the giftee is a fan of Goblet of Fire then they may love this Triwizard Tournament scarf. Depicting the goblet and the three school crests.
PRICE: $24
---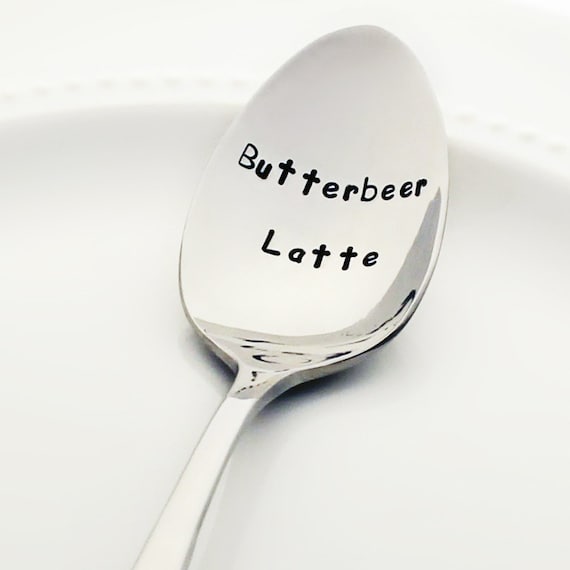 Enjoy a hot beverage with this Butterbeer Latte Spoon.
PRICE: $16
---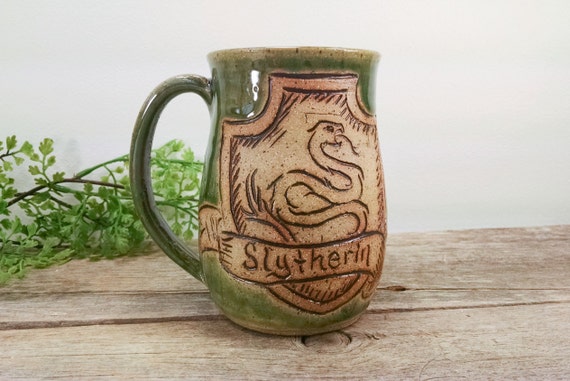 Take a look at this hand thrown Slytherin mug. This is a fully functional food safe mug that started as a lump of clay. Each mug is hand thrown, pulled, and carves so you are giving a gift that is truly unique. Take a look at their shop for other Harry Potter inspired designs.
PRICE: $32
---
23. Hufflepuff Inspired Lantern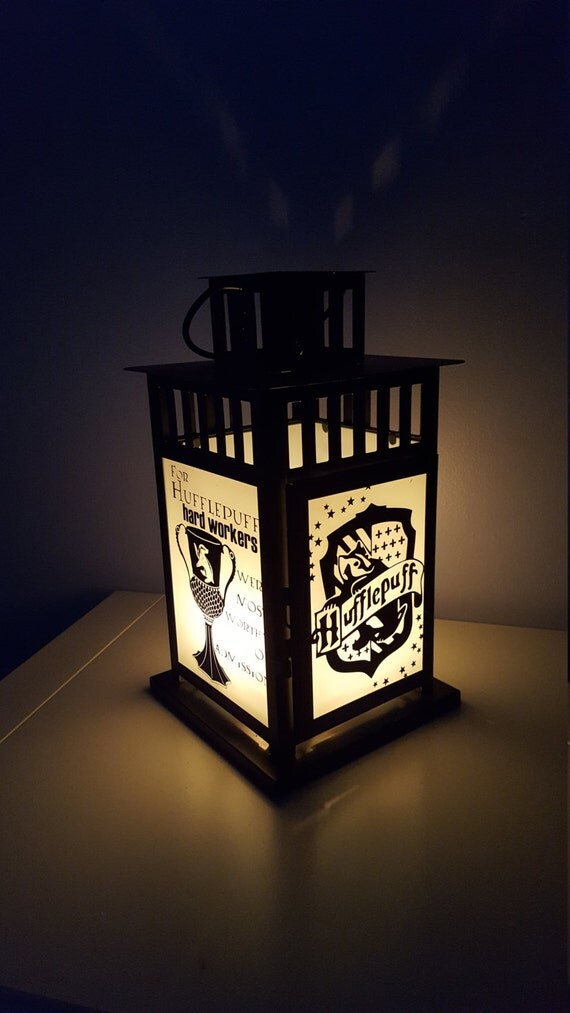 Say Lumos with a handmade lamp that features your favorite Hogwarts house. Pictured here is the Hufflepuff lantern featuring The Hogwarts Crest, Hufflepuff House Crest, Helga Hufflepuff's Cup, and part of the Sorting Hat's poem.
These lanterns are available in clear and frosted glass and are primed for indoor use or short-term outdoor use.
PRICE: $35
---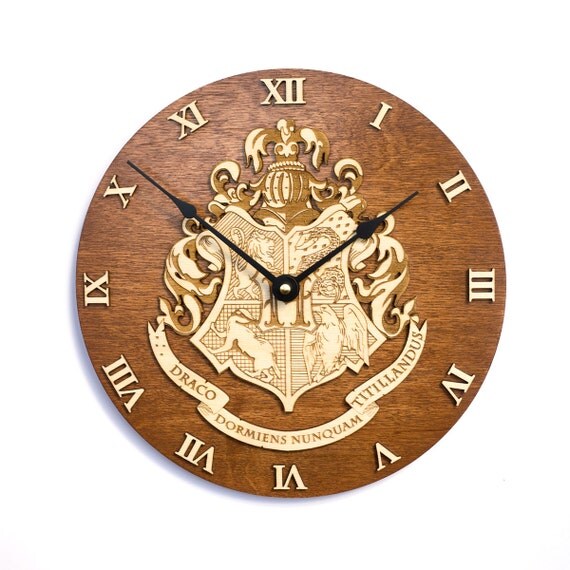 What better way to add a bit of fandom into your living space than with a clock. This Hogwarts Crest Clock depicts all four Hogwarts houses and looks great in any decor.
PRICE: $35
---
25. Harry Potter Book Title Pullover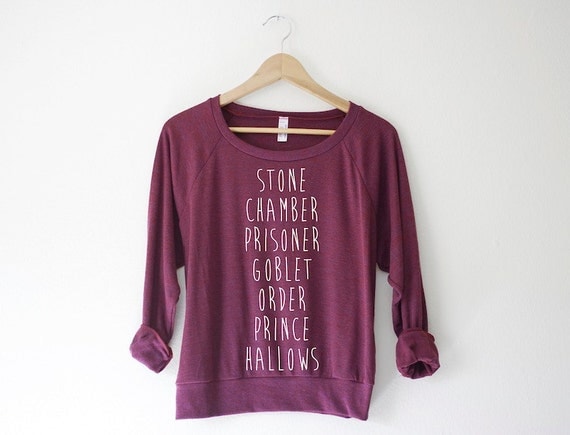 Take a look at this chic pullover. Not only isit the Gryffindor house color, but it has elements of the Harry Potter titles in an attractive font that your gift recipient will love for years to come.
It will also give a new meaning to the phrase: curling up with a good book!
PRICE: $45
---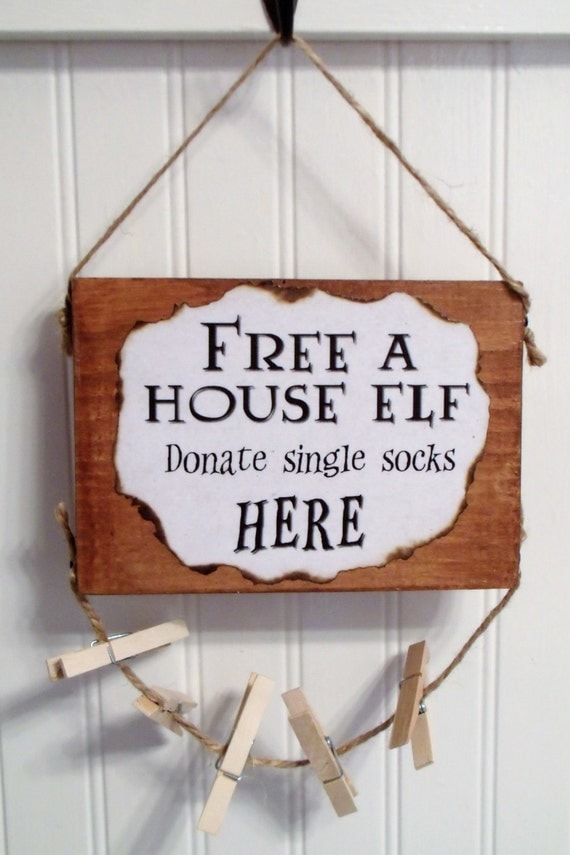 This is a design that I have admired for a long time. Not only is it perfect for a Harry Potter fan, but this wooden sign also serves a practical purpose. If there is one thing that any Harry Potter fan hates more than a single sock, it's an enslaved house elf.
Now they can hang their socks on the clothespins under this sign and have the "house elves" claim the socks as they see fit.
PRICE: $9
---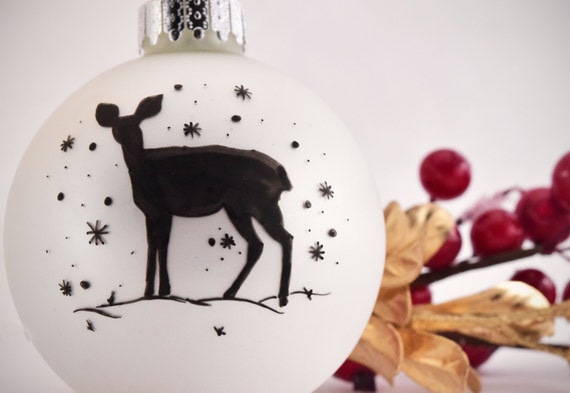 No Harry Potter Gift Guide would be complete without an ornament, and this one seems like the perfect fit.
Let's be honest, 2016 started out rough when Alan Rickman passed away. Fans of Snape were saddened by the news and mourned him for days (and perhaps still are).
What better way to honor his memory than with this handpainted ornament. On one side, you have the doe, the other side reads "Always" with the Deathly Hallows symbol. You can even get the ornament personalized with the recipient's name.
PRICE: Starting at $18
---
Did you find the perfect gift for the Harry Potter fan in your life? Let us know in the comments below!
And be sure to take a look at our other Geeky Gift Guides and be on the lookout for more fandoms coming out in the next couple weeks.