After hitting major milestones in her career with her debut album The First Time, Kelsea Ballerini is back and is better than ever with her sophomore album Unapologetically. It's a bright, bold, and awe inspiring album that will forever hold the test of time for its bravery. The First Time was the perfect introduction for the country starlet, who, yes, has similarities to Taylor Swift but is slowly coming into her own. Unapologetically is an album that proves this to be true.
The album kicks off with the darkest song Ballerini has ever penned but it's sheer ability to relate to anyone who's ever been heartbroken gives "Graveyard" the credit it deserves for the perfect track opener. Not to mention, the song holds some of the best lyrics on the album. "So you can find another hopeless, broken girl in a little black dress," she sings in the chorus with raw emotion. But don't let "Graveyard" fool you because what comes after is lighter, fuller, and inspiring.
https://www.youtube.com/watch?v=YYvDRTv8CCk
"Miss Me More" follows "Graveyard" with a sassy but independent feel. Ballerini doesn't miss her ex but she misses herself and she's taking her independence back. "Get Over Yourself" is a track that sounds like something that would come from The First Time but is more grown up. Her fast paced rap like verses blend in nicely with the rest of the song. It's light and sassy all at once, which is what we love about the country songstress.
"Roses" is a track highlight and was an instant fan favorite. In fact, the song isn't that new to most fans. She's played the song live at every show, and offered up a sneak peek of the track on a Snapchat story earlier this. Taylor Swift similarities are weaved throughout but that's never a bad thing. Being inspired by a career woman like Swift is an honor, and we know Ballerini is willing to accept that role.
Unapologetically kicks off with heartbreak and gently moves into life lessons. "Machine Heart," and "In Between" are the most relatable and inspiring tracks on the album. They allow us to feel, scream, dance and be honest with ourselves. We have hearts who fee pain, joy, and we aren't controlled by a machine. If there is anything Ballerini has taught us the most on the album is that being vulnerable is a brave thing and it's fearless to share stories of heartbreak and life lessons and finding love. It's fearless to be unapologetically you.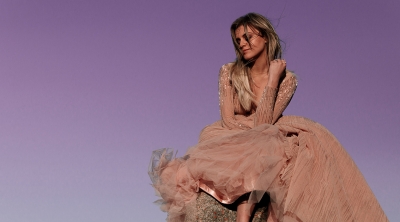 Those lessons taught in the middle of the album leave room for finding that love toward the end. "End Of The World" is unforgettable, and "I Hate Love Songs' adds witty humor with perfect charm. "The sky kept falling, but we danced in it / I was done with love, but second chance did it / You cleared the smoke and picked up the wreckage / Got to go through hell to get to heaven," Ballerini sings in "End Of The World," letting the listener know that while going through heartbreak feels like the end, there's always a new beginning and one you get there, it feels like freedom.
Unapologetically ends on a high note. The title track "Unapologetically" and "Legends" fill the album with good stability but the highlight is the soulful track "Music". The song is different for the singer but it showcases her growth as an artist. The soulful hooks and infectious melodies will get stuck in your head for days, and it will make you believe that, yes, love really does feel like music.
Overall, Unapologetically is an album for everyone who has a heart. It covers everything from heartbreak, pain, life and finding love. It's hard to make a sophomore album that stands next to a successful debut like The First Time but Ballerini outdid herself. She's going to break records with this one while being unapologetically herself.