The Fosters FORTY episode was the funniest this whole season!! There were so many hilarious moments that happen, even before Lena's big 4-0 disco-themed birthday party. But of course, being true Fosters fashion, they can't have a party without hints of drama somewhere in between.
Lena and her parents: Lena's parents come over for Lena's big party!! Everyone seems to notice Jude's voice is deeper and a foot taller. Lena's Mama Dana (the lovely and flawless Lorraine Toussaint returns!) enters the house being hostile towards Stewart. They find out about Brandon's living situation, wondering why in the world would the mamas agree to let their oldest son live with his older girlfriend and small child.
But time stops when Dana hints that she thinks Stewart is having an affair. But actually, he's trying to set up a retirement fund for her. Lena feels in a bind because she doesn't know whether she should tell her mother, or let it be a surprise.
However, secrets come up to bite them when Stewart is confronted and forced to tell the truth: tax issues!! They owe the IRS some money. Lena and Stef could have helped but with 5 kids, adoption fees, house repairs, etc etc they couldn't afford to help.
With the affair issue out of the way, it looks like Dana and Stewart have a huge issue to fix. Maybe they could move in with Stef and Lena temporarily?
Brandon and Cortney: As for Brandon and his girl, it's just one thing after another. Without his parents' constant help, Brandon turns to searching the school putting up posters for piano lessons for money. He gets an offer from a classmate to take a test for him for $1000. But of course, he ends up taking the test for money.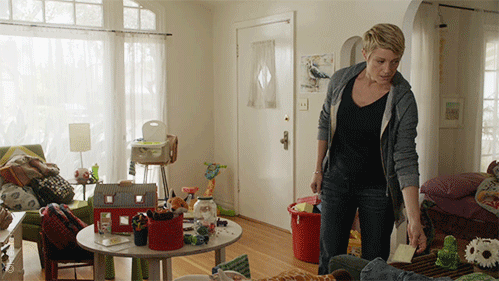 As for Lena's party, Brandon doesn't think Cort would be welcome at the party, but Stef should invite her over anyway. Stef eventually swallows her pride finally and invites Cortney to the bday party. But while she's there, she snoops and finds a $5000 check, insinuating that Brandon gave Cortney a loan for her divorce from Eddie.
Even during the birthday party, Dana reads Cortney about using Brandon's money to pay for her divorce from Kyle. Dana had no right, but Stef shouldn't have been snooping in the first place. Brandon confronts Stef about the check, and immaturely says "It's my money!" while Stef cooly says, "It was." Can we get you some hot tea for that epic read, girl?! Brandon can't keep blaming his parents for his dumb mistakes. How long will it be until he gives up and comes home?
Callie, AJ and Aaron: Now that Brandon and Callie are siblings, you'd think there wouldn't be anymore love triangles involving Callie. Wrong! False! Not correct! Callie is not kinda stuck in between AJ and motorcycle-law student-dude Aaron. Callie and Aaron talk about Callie's BOYFRIEND AJ and whether he really exists; believe me, he exists!! They go in to see her former foster brother Kyle in jail; they talked about the alibi witness Patrick Maloy who saw the murder.
Aaron and Callie meet Patrick about Kyle's case; he remembers the Clippers game but doesn't remember Kyle being there, or the fight, or the murder. Suspicious. Callie thinks that Aaron is only doing this because he wants to get closer to him, which isn't not true, but he actually wants to help.
During the birthday party, Aaron comes in with case papers for Kyle. It turns out that Kyle's lawyer did speak to Patrick; they did see the Clippers game together. Time stops again when AJ meets Aaron at last. And Aaron makes a snide comment of "So you do exist.", not knowing that AJ has no idea of Callie's little escapade two episodes ago. By the end of the party, AJ look a little uptight about the whole thing. I wonder how he will be when, or if, he knows the truth behind Aaron and Callie. I don't think he'll be too mad, but then again, he still doesn't know about Idyllwild…
Mariana, Emma and Jesus: The STEM club Regional robotics competition needs a trio of driver, strategist and shooters, and Emma and Mari offer firsthand, along with a new girl. Mari, Jenna and her team are getting along great, combining girl power with science. At the robot competition, Mari and the girls face the boys and they won with their terribly easy lifting of the cube. (with Jesus' help) but they didn't win? How? They can't win using the same decisions and tactics; they gotta be creative. And somehow, the teacher agrees to overthrow the vote, making the girls win. The boys complain with a "Way to play the girl card" jab, but nothing can stop the girls from winning!
As for Emma and Jesus, their friends-with-benefits arrangement may be coming to an end. Only because Emma offered to tutor him for the SATs. But with Jesus feeling embarrassed after Emma turned him down while working on their robot. Mariana sees this and offers Jesus to join the robotics team. Personally, I think Jesus and Emma are wasting their time anyway, but that's just me.
Jude and Noah: Stef needs help editing a video for Lena's birthday, so she recruits Jude. Jude calls Noah and together they edit the video. Their budding friendship is too cute, but Taylor sees that Connor is in San Diego. Apparently he has a new boyfriend, his Facebook account is back up, and Jude is lurking Connor's account for new pics.
Being petty, Jude sets a new relationship status on Facebook about him and Noah. Noah takes offense to that and confronts Jude. In fact, he hates social media because a lot of people are against a preacher's son who's openly gay. If Jude really wanted to start a relationship war with Connor, at least he could have asked Noah out. That makes Jude back up and actually ask Noah out. Cutes!!
The episode ends with Dana and Stewart wondering how in the hell they are going to make their financial situation work. Will AJ keep calm about Aaron for Callie? How will Jude and Noah's date go? How long will Brandon go until he realizes he needs to come home? So many questions, and we're not even halfway through the season!!
Minor Family Details:
Why was Monte at the party? Lena is too nice sometimes.
It's too funny that all these kids don't know who Greg Brady or Debbie Harry was!!
Mariana has a huge mouth. Ana told her that she loved Mike and she blabbed it out to Mike. No chill, Mari! But it's adorable that Ana and Mike are in love now.
What Couple names are appropriate for Jude and Noah?
STRIPPERS at a birthday party!! HA CALLIE COVERING AJ'S EYES!!! THAT'S HILARIOUS!!
What did you think of this week's episode? Leave your thoughts below.
Also, see the promo for next week's episode ""Justify":
 Getting bad news from all sides, Lena is pushed to the limit on an all-new episode of "The Fosters," airing Monday, August 1st, on Freeform. Lena is shocked by the news that her dad has been hiding something that directly puts them all in jeopardy. Additionally, she uncovers a major secret that Brandon has been keeping. Mariana continues to be pressured by Nick and must deal with direct opposition from the male members on her STEAM team. Meanwhile, Jesus grows resentful of Emma's behavior, and Jude discovers Noah has a medical marijuana card.
Gifs by: thefostersseries
Freeform's The Fosters airs Mondays at 8/7c.