When the Denver Broncos and New England Patriots face off in the AFC Championship game this Sunday, quarterbacks Peyton Manning and Tom Brady would like you to believe that this game isn't about them so much as it is about the Broncos and Patriots. And they'll tell you as much every time they're asked about it this week leading up to championship weekend.
They're right. But they're also wrong. This has everything to do with Brady vs. Manning.
Brady and Manning will face off for the 17th time this Sunday in the AFC title game with a trip to the Super Bowl on the line. Throughout the years, these two future Hall of Fame quarterbacks have had some pretty incredible games in what's become one of the NFL's greatest player vs. player rivalries. It's transcended time and teams, but it's always remained the same. Brady vs. Manning. Two of the best to ever play the game showing us what it means to be great.
While there are plenty of great Brady vs. Manning games, here are our five best:
5. Manning's First Win Against Brady (2005)

For the longest time the rap against Peyton Manning was that he couldn't beat Tom Brady, which is ridiculous because he's not playing Brady so much as he's playing the Patriots defense. But nevertheless it seemed like a steep hurdle that Manning could never quite overcome. 0-6 up til that November night. It wasn't so much that Brady had a bad game — he tossed three touchdowns and zero interceptions — as it was that Manning finally pulled off that clutch performance where he took command and proved to be too much for Brady and the Patriots. And in Brady's house no less. It was finally a monkey that Manning could get off his back. Beating the Patriots wasn't an unattainable goal for the Manning-led Colts. Now it was reality.
4. Patriots Rally From Down 24-0 to Defeat Broncos (2013)
There's a reason why you never worry when Tom Brady is your quarterback. No matter what the deficit, no matter how steep the obstacle seems, when Brady is under center anything is possible. And that includes overcoming a 24-0 deficit to rally to victory over an impressive Denver Broncos team. In 2013, the Broncos were virtually unstoppable. Manning, at AGE, was playing his best football yet, and the Broncos defense was playing lights out. But there's a reason why this Brady vs. Manning rivalry is a memorable one. It's because despite the circumstances you're always guaranteed one hell of a game when two of the NFL's best to ever play the game are under center. Following a dismal first half plagued with turnovers and a three-score deficit, the Patriots came out firing in the second half to force overtime. While overtime became a punting fest, it was ultimately a special teams mistake that gave the Patriots the ball on the Broncos' 13-yard line allowing Stephen Gostkowski to boot the game-winning field goal with just under two minutes left in overtime.
3. Patriots' Goal Line Stand (2003)

On a night when both Tom Brady and Peyton Manning couldn't be stopped it was the Patriots defense that made a stand to secure victory in the early days of the Brady-Manning rivalry. In a game where Brady and Manning shined, the defining moment came in the waning seconds of the fourth quarter. With a 38-31 lead and the Colts threatening to tie on 4th and goal, Willie McGinest played hero stopping Edgerin James one yard shy of the endzone to secure victory for the Patriots. But what makes this game one our favorite Brady/Manning games is the stellar performances by each. This wasn't a game where one outshone the other. This was a game where both were at the top of their game getting into an all-out shootout in what was one hell of a game. And this was just the early years of the rivalry.
2. The Battle of Unbeatens (2007)

In Week 9 of the 2007 regular season, the 7-0 Colts and 8-0 Patriots met in what was touted as one of the season's most hyped games. Both the Colts and Patriots seemed poised to run the table at a perfect season, but only one of them would emerge with the possibility to do so. For the most part, both Brady and Manning struggled for most of this game. After a bit of a boring affair, Manning jump started the Colts with a 70-plus screen pass to Joseph Addai that resulted in a touchdown at the end of the half. Manning ran one in during the third quarter to give the Colts a 20-10 lead. Trailing with 9 minutes to go, Brady led New England to two fourth-quarter touchdowns en route to an 18-0 season before losing to the New York Giants in Super Bowl XLII.
1. AFC Championship Game (2006)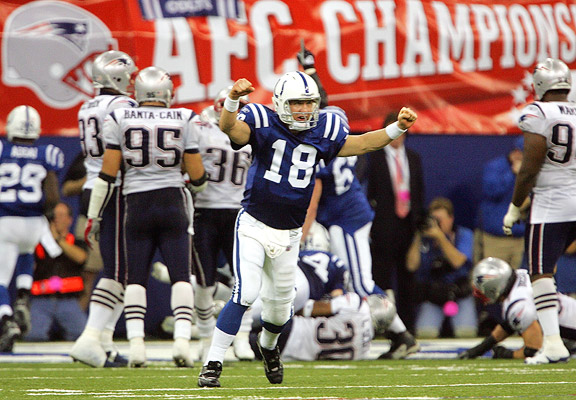 There was perhaps no game more important to Peyton Manning's legacy than the 2006 AFC Championship game against the Patriots. But it didn't start out the way he'd have liked. But then again if it hadn't then it wouldn't be No. 1 on our list now would it. Manning's shaky first half culminated in a pick six in the waning moments of the second quarter that gave the Patriots a 21-3 halftime lead and left fans wondering if Manning could mount a comeback and prove that he deserves to be in consideration for the NFL's best quarterback to ever play the game. Simply put, he did. Manning led the Colts to the largest comeback in conference championship history with an inspired second half performance that culminated in a game-winning touchdown drive in the final minutes, as well as a defensive stop by the Colts. It was Manning's defining moment as he led the Colts to a Super Bowl XLI victory over the Chicago Bears. Just like this game was, this year was just Peyton Manning's year.
What awaits us in the final chapter of Brady vs. Manning? We'll have to see Sunday at 3:05pm and wonder if perhaps we're watching another defining Brady vs. Manning game in the making.