Before we jump into this week's The 100 let's take a look back at last week's moments, hash out out a couple details, and answer some questions still rattling about in our minds. 'Watch the Thrones' centered on the fight for power in Polis amongst all those sneaky clans. And let's not forget Bellamy letting his anguish and feelings of failure wash over him. But don't be disheartened, The 100 fans. Bellamy's turn to the Pike side is only temporary. He'll wake up just in time to jump into the fray of things. (I hope.)
Helping out this week is Caralynn from TVFanatic and our very own Lauren. Let's talk about it!
1. Bellamy has sided against his people, his sister, and has joined Pike and the Farm Station crazies. Why do you think he has chosen this path of violence?
Lyra
He's chosen the path of violence because he's hurt and vulnerable. Pike zeroed in on him like a beacon. He saw the pain that lived in him inside of Bellamy. He has a cause and he needs as many supporters as possible. That support is Bellamy, the inside man with the stunning smile and broken heart. Bellamy has seen first hand what trusting his instincts and Grounders have done. He won't make the same mistake again. So he's siding against his people for his people because his ways of solving things have heeded horrible results. He's desperate for something that can work. Even if it means betraying his sister he's going to try something new.
Lauren
Every decision he is making is out of anger and guilt. He blames himself for all the lives lost in the explosion at Mount Weather, including Gina's. Bellamy is vulnerable right now and Pike is taking advantage of that for his own agenda. Here's hoping Bellamy doesn't do anything too rash that he can't come back from, but things aren't looking too promising.
Caralynn
Pike completely manipulated Bellamy during his darkest hour, preying upon his grief and stress after the deaths at Mount Weather. It was pretty apparent that he was doing that as soon as he said that the massacre was Bellamy's (and his own) fault. He made them complicit in that way. It was textbook manipulation. I also honestly think that the stress of what The 100 have been dealing with for months, ever since they reached the ground, is starting to creep up on him. I think we're seeing a version of PTSD in him that is different from Jasper's, but equally powerful. This is not excusing his (obviously very, very wrong) actions, but it does contextualize it and make it make sense.
2. Clarke fought to keep Lexa alive in this episode. After clearly showing how angry she was towards Lexa, why did she try to save her? Has she forgiven the Commander?
Lyra
I don't think she's forgiven her. Now understanding her…well that's another thing. Clarke started off with this very narrow perception of sacrifice. I don't think she knew the lengths that people were willing to go, that she was willing to go, to save people dear to your heart. When she landed on Earth she started on a journey that tested how far she would go. In many ways she's come to learn that change and sacrifice is within all and hurts like hell. Now that she's in Polis she has a clearer picture of what Lexa was losing if she chose to side with Clarke at Mt. Weather. It was a suck-tastic thing to do but what other choice did Lexa have? What other choice did Clarke have? And the more time Clarke spends with her I think she sees how broken this world is that choices like this have to be made.
The producers/writers just have to keep in mind that slow and steady, and visible actions are the only way we'll forgive/get over what Lexa did.
Lauren
Keeping Lexa alive and as Commander is what's best for Clarke and her people, as she is the only one willing to honor the truce. It's clear Clarke and Lexa have a connection and I'm sure that played a part in her decision. Regardless, Arkadia's survival relies heavily on their allegiance to Lexa.
Caralynn
There's no way that Clarke keeping Lexa alive was "all business." She was super desperate to save her throughout "Watch the Thrones," and the looks she was throwing at the actual fight said it all. She was horrified when she thought Lexa would die and palpably relieved when she survived. Her reasoning is definitely a mix of politics (Lexa alive and as the Commander is the best way to assure safety for the Sky People) and her personal feelings towards Lexa. I think that all of Lexa's explanations about her actions at Mount Weather (whether I personally buy into them or not– I don't, really) did actually get through to Clarke and make Clarke understand that the two are more alike than Clarke would care to admit.
3. Lexa killed the Ice Queen and placed Roan into power. Why did she do that?
Lyra
It's a power play. She kept Roan safe and didn't lift his banishment because she knew that the moment would come where she would need him. Was it rude of her to deny Roan what she promised? Yes. Would she do it again? Yes. Lexa is a leader. It's what she was raised to do as someone with black blood. She'll make the hard decisions no matter what she has to do or how many people she has to crush.
Lauren
Roan seems to be more concerned with returning home and less concerned with removing Lexa from power. After being exiled by his mother, I'm sure Lexa was counting on Roan to be relieved with her decision. I'm hoping these two can make a strong alliance that will be mutually beneficial.
Caralynn
Roan is less of an obvious threat than Nia was. Nia was threatening Lexa's power in the here and now. Roan at least showed signs that he might be willing to negotiate with Lexa/remain at peace with her. Of course, if Lexa totally discounts him as a threat she's kidding herself; I'm sure she's not, though. She will probably keep a wary eye on him.
4. Rigorous TV watching has taught me that the people who have the greatest hope for change/or reach a place of enlightenment in the middle of a bad situation…are going to die. Lincoln has reached this place. What do you think are his chances at surviving the war between the Grounders and the people of Arcadia?
Lyra
Oh Lincoln is sooooo dying. Set aside the fact that he has a new show in the words, American Gods by Neil Gaiman, he's reached a point where he knows who he is. He's always been lost, forever caught in between two cultures. The time has come where he wants to be part of something bigger that allows him to be both a Grounder and Skaikru. The problem is that the people around him aren't ready for this idea. They're scared and on the brink of war. There will come a moment where all seems lost and both sides are going to be at each other's throats. At that moment Lincoln will prove how wrong their fight is. How useless and pointless. That's when he'll die. It's a shame that he will change so much only after his death.
Lauren
Lincoln deserves better. Lincoln will ALWAYS deserve better. I need him to find his rightful place and to survive whatever catastrophic event Pike has planned. Protect Lincoln at all costs!
Caralynn
The first part of this question read my mind. Lincoln is going to die so hard and we're all going to be distraught about it (those of us with hearts, that is). He is stuck between a rock and a hard place, and the rock is slowly crushing him. Something big and violent and nasty is going to happen and Lincoln will be caught in the middle. He'll probably die senselessly during an act of war (though I really hope for a heroic death instead– but this is The 100, so they probably won't give us that).
5. We haven't seen Jaha for a couple episodes. What do you think he's up to and what role will he play in the upcoming war?
Lyra
Jaha is definitely mucking things up behind the scenes. With his new BFF A.L.I.E. he's setting off on a mission to save the world from itself. He's probably watching behind a tree, cackling, and talking to A.L.I.E. about how these are the people meant for more. In a weird way I feel like it's going to end up being some Matrix style twist where the human bodies are used for fuel or something of the like. A.L.I.E. seems like the creeper to do so. Jaha also likes to play games, teach others lessons (*cough* Murphy *cough*). Even if he has a way to help the people of Earth and end the upcoming war he won't. They've got to learn some stupid lesson that only lives inside his twisted psyche.
Lauren
Jaha wants to find peace and happiness. I don't think there's such a thing as peace and happiness on the ground, so I think he will be spending his time in a virtual reality when shit hits the fan.
Caralynn
Jaha and A.L.I.E. are definitely setting things up for some kind of "main event." As stressful as the Sky People brewing civil war and the tensions with the Grounders are, the City of Light/A.L.I.E. storyline is clearly the bigger threat. If we're understanding what A.L.I.E. is up to correctly, her intention is to wipe out all of humanity. I'm about 95% sure that the A.L.I.E. plot is going to result in all of the humans, Grounder and Sky Person alike, being forced together to prevent mass extinction. Another mass extinction.
6. Kane stepped aside and gave Pike the command of his people as Chancellor because he's an honorable man. If you were Kane and saw that Pike had won the election, what would you do? What would your reaction be? Use a gif to answer this question.
Lyra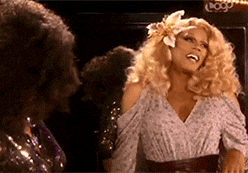 Lauren
Caralynn
The 100 airs Thursdays @ 9/8c on The CW.