Zoo takes a familiar concept, a man's best friend, and turns it on its head. These aren't the animals you raised, nurtured, or gazed upon through glass panes. These are creatures who are done playing second fiddle to a species who continues to suppress and destroy their home without regard.
With Zoo set to premiere June 28, 2016 at 9/8c, we sat down with creator James Patterson and James Wolk, who plays Jackson Oz, to talk about the series second season.
It's important to start off with Patterson's view on the second season. "Everybody's better this year. The whole spirit of the show, the pacing, it's better."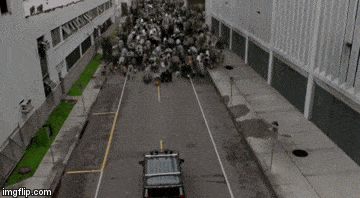 Season one ended with Jackson, Mitch, Abraham, and Chloe trying to escape the city, only to be stopped by a horde of animals that included lions, elephants, and giraffes.
"It picks right up where season one left off," Wolk explains, "which is the gang facing this sort of wall of animals charging the car. I think it'll be really satisfying in that way because that cliffhanger that season one had, just went to black screen on."
From there on, the stakes will continue to rise throughout the season. No longer will it be the animal of the week, even though Patterson is excited for the polar bear coming. Expect romance, relationships being tested, and new mysteries arising. "All bets are off. Expect the unexpected."
They're living in the apocalyptic aftermath of the world they once knew. To Wolk, "figuring out how to live in this world, it's one of the exciting elements of season two." And we're not just going to be seeing how Jackson, Abraham, Mitch and Chloe are dealing with things on the run.
"In this season, it's interesting for me (Wolk) and I'm in the show, so I think it'll be interesting for the viewers. You get snapshots of how the world is dealing with this. You get to see little towns. You get to see different parts of the world and how are they dealing with this animal apocalypse."
New season also means new characters.
First up is Alyssa Diaz who plays "Dariela." Diaz, whose work includes Army Wives and The Vampire Diaries, has a military background before joining our team of survivors. She'll be encountering a surprising development in regards to the animal mutation taking over the world.
Another addition for season two is Josh Salatin, whose work includes Show Me A Hero. He'll be playing Logan, a man who the team isn't quite sure they should trust. Initially they don't understand his motives and if the secrets he holds are dangerous, especially to Jamie.
Last of the additions is Allison Shaw, played by Joanne Kelly. She might be familiar to many as Myka Bering from Warehouse 13. Allison will be related to one of the characters and help steer where they go next when they find out why she's there.
Being on during the summer, you'd think that it would put them in a precarious situation when it comes to bringing in viewers and ratings. Summer shows used to be the extra content that you forgot about when the fall season rolled around. Zoo breaks that mold and proves that networks who take gambles with higher concepts, can come out on top.
"It's fun to be on something that's original. It's finding viewership, a great audience, and it's really distinguishing itself. I think summers a great place to do that."
Patterson follows Wolk's comment with, "A lot of things that people think are risky, I don't think are risky." (Says the man who's made Wolk think twice when he spots a bird swooping down.)
Getting a second season also means that Zoo's cast and writers get a chance to look absolutely everything over and work out the kinks. First season it was go, go, go, with no time for changing characters or storylines as much as they wanted to. Now they can sift through the narrative, storylines, and motivations of their characters to pick out what they liked and what they didn't, or what they'd like to see.
It's a chance to give our characters more highs and lows.
Abraham and Jackson's relationship will be tested, and we'll actually get to see it. Jamie will be battling who she can trust, as she's trying to get back to her friends. And Jackson and Chloe will take steps to explore what they have between them.
At the end of the day, Patterson and Wolk, see season two of Zoo as a chance at breathing new life into a show they love, and stepping away from the animal of the week, cookie cutter formula of the previous season.
Zoo season two premieres tonight at 9/8c on CBS.