Fall is here! And, along with pumpkin spice and sweaters, we also get Fall TV. And that means some old favorites, some shows we just caught up with, and, as always, some new shows that have us itching to see more. Because, this season to fall in love …with TV.
So, here are the new shows we're most excited to see, in no particular order.
Pitch. Premiere Date: September 22nd, at 9/8c on FOX.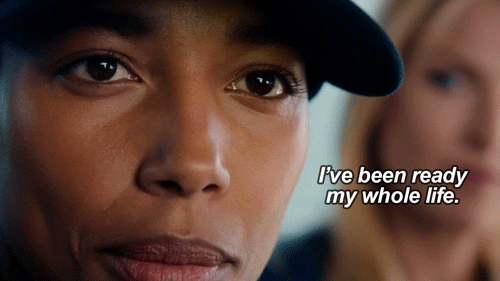 We love sports here at Fangirlish, and we believe in equality. So, really, what's not to love about the story of Ginny Baker, the first woman to break the gender barrier in baseball? About the only thing that's sad is that this is fiction – not reality. But who knows, this might be the case of TV showing sports the way forward.
Either way the concept is compelling, the show doesn't seem afraid to send a message, the actors are great, and this show looks like it has staying power. Sign us up!
Frequency. Premiere Date: October 5th at 9/8c on the CW.
Not strictly time-travel, Frequency still presents an element of past vs future that should entice those looking for sci-fi fun. If, however, you're looking for feels – family feels, in particular, this is the show for you. There wasn't a dry eye in the house when we got the chance to see the Pilot during SDCC Preview Night.
Father/Daughter relationships don't get more complicated and beautiful than this. I've already got my Kleenex and my chocolate ready. Make me cry, Frequency! Make me cry.
Timeless. Premiere Date: October 3rd at 10/9c on NBC.
More time-travel, you say? Well, if it's this kind of time-travel, we'll take it. Because this has rules. This has consequences. And, more importantly, it has compelling characters, interesting dynamics and even a touch of humor. Also, it's visually stunning, which, granted, should not be the only reason to watch a show, but it's a good reason to give a show a chance.
Bring on the history, Timeless! And if – or when you screw up things – make it mean something. That's all we ask.
Designated Survivor. Premiere Date: September 21st at 10/9c on ABC.
Kiefer Sutherland is reason enough for some people, but if that's not enough, tune in because of the great scrip. Tune in because political shows with a heart are a dime a dozen. Tune in because this isn't just about that, it's about a family trying to adjust to the biggest change there could ever be.
And tune in for the mystery and suspense too. This is not 24, no, but there's enough there to satisfy those fans. And the politics junkies. And the drama lovers. Really, this show has something for everyone.
Luke Cage. Premiere Date: Available on Netflix on September 30th.
Not technically a fall show, we couldn't leave Luke Cage out of the list anyway because …well, because. It's good. Like, really, really good. Trust us. And it's not just because Mike Colter brings a steadfastness and amazing vulnerability into the role of an unbreakable man, but because the story is interesting, the cast is on point and – oh yes – this is one big universe.
And we're already invested.
We want more. We need more. And hey, after we're done binging this, we're probably going to start counting the days till Iron Fist. That's just how it works.
This is US. Premiere Date: September 20th at 10/9c on NBC.
The Fall season is ready to bury us in feels, that's pretty much the conclusion. And This is US is going to deliver all kind of feels, from all kind of people. That's the advantages of an ensemble cast – you don't' have to relate to each and every story. You can find what speaks to you.
And possibly weep. Yeah, probably. Most definitively. Because life is big and small and complicated and easy, and happy and sad. Life is everything. And that's what this show is all about.
Agree? Disagree? Have any other new show you're dying to see? Share with us in the comments.