Welcome to another Sunday of talking about the shows that made us laugh, cry, go awww and, of course, look around and wonder what in the world was happening. If it made us feel things, whether they were good, or bad, then this is where we talk about it. This is where you tell us if you agree. This is where we let it all out.
So, without further ado, here are these week's picks:
Badass Female Character of the Week
Source: Tumblr
Dana: Betty from Riverdale really killed it for me. I loved seeing all of the girls join forces to take down boys who were taking advantage and sexualizing girls. Betty went "full dark no stars" and I can't wait to see her go there again. When Betty out that wig on her badass flag was flying and I was living for it.
Charles: Felicity Smoak on Arrow. On the team's trip to Russia, we got to see Felicity at her hacking best. Also she went undercover as a Bratva underworld queen and got to see her intimidate a russian thug into some information. This new direction they are taking Felicity looks very promising.
Nora: I also have to go with Betty from Riverdale this week. Chapter 3 was one of my favorite episodes so far, partly because of the performance Lili Reinhart gives us as Betty. I loved seeing her take the boys down and going "bad" this week. What really seals the deal for me though is when she hears rumours going around about Polly. Just Reinhart's face in that moment is exceptional. With this only being episode 3, I can't wait to see where Betty goes from here. Hopeful kicking ass and taking names.
April: On the other side of the Janus coin, my pick this week is Riverdale's Veronica. She went on a really great date with a super hot guy, only to be slutshamed and used as his plaything for a misogynistic point system. Instead of wallowing, she fought to do something about it. Veronica, who makes the rules instead of following them and breaks them when necessary, stormed into the guys' locker room without a single moment of hesitation to confront her slutshamer – not just any boy, but Riverdale High's golden boy. That takes some serious guts.
Lexi: Annalise Keating on How to Get Away With Murder was amazing. She knew that if she wanted to get out of jail, she'd have to do it herself. She picked a fight with one of her cellmates and took quite a brutal beating. After this, the judge agreed to let her out on bail, thinking that the other inmates were targeting her.
OTP of the Week
Source: Tumblr
Dana: Jack and Rebecca from This Is Us have become my everything. In this week's episode we got to them get married and then they read their vows to each other after so many years of being married. It just melted my heart!
Lizzie: Manstead, on Chicago Med. I mean, I know nothing really happened, but come on …he noticed she had a new stethoscope! Who notices that? Oh, wait ….I know. A man who's madly in love, that's why! Don't tell me the ship is dead. The ship is more alive than it's ever been. Which probably means angst is coming or something. But bring it.
Nora: Alright, it was the smallest moment, but Jay Halstead and Erin Lindsay really hit me with the OTP feels this week. At the end of this week's episode, Erin leaves an interrogation room and tells Jay she'll meet him at home. Ellie asks Jay if that's his girlfriend and the little smile Jay gives Ellie is so ridiculously cute I can't deal with it! Linstead will always have my heart! Also, Jack and Rebecca from This Is Us. The two of them sitting on the bathroom floor reading their vows to each other also had me on the floor. My OTP's just really killed me this week!
April: Obviously Jack, Rebecca and their wedding vows in This Is Us, but since they would own this category every week, I've got to go with Kevin and Sophie instead. First, Kev meets her in their booth and says the most amazing speech to get the previous customers to change booths. Then, after Sophie gets upset and pissed at him for reminding her where they left off 12 years ago (dammit, Kev, why did you have to go and cheat on her!) he still fights like hell to get her back. Every single scene they had, especially when he informed her in the subway station that he still knows exactly what she was wearing the day they met in fourth grade, was just so beautiful and I'm falling more and more in love with them in every scene. Kev better have a really magical surprise up his sleeves that will make up for how much he hurt her, because I need them fixed, pronto.
Lexi: WestAllen was absolutely perfect on this week's episode of The Flash. Barry rushing to Iris's side after she was touched by the "untouchable" meta made a teary-eyed moment. Barry then becomes super protective and makes sure everyone knows that whenever it comes to Iris being in trouble, he needs to be the one who gets called. The episode ended with another feels-worthy scene of Barry and Iris on the couch together in their apartment.
Moment that made you collapse into a puddle of FEELS
Source: Tumblr
Charles: Michael's death then the time-jump on Jane the Virgin. I know there was a ton of hints that Michael was not going to be with us forever but I was still in shock over what happened. I am Team Michael and this is going to sting for a long time. My heart, much like Jane's, is broken.
Lyra: Dean Winchester forgetting his name on Supernatural. What started off as a funny idea quickly spiralled when the lead character couldn't even remember his name. Jensen Ackles made us feel like we were watching someone being torn up from the inside out, before he turned to the viewer as if to say, "Do you know my name?" YES WE DO! You're Dean Winchester!
Nora: Laurel going to Wes' apartment and looking at all of Wes' stuff and Mama showing up for Annalise on How to Get Away with Murder this week. Karla Souza constantly hits me right in the feels and this week wasn't any different. When she breaks through the police tape and goes into Wes' apartment, it's so heartbreaking. Basically everything Laurel did was so sad. On top of that, Annalise begging her Mom to leave after she is denied bail again was heartbreaking. Also when Annalise lies to her Mama and says all the charges have been dropped. How to Get Away with Murder is just heartbreak after heartbreak right now.
Caryn: Every damn scene with Cicely Tyson in How to Get Away With Murder, when she's suffering from dementia and explaining how she burned down the house with the uncle that molested Annalise inside. When she was begging Annalise to let her go to prison instead, when Annalise spins the tale that she had been let out of prison. Cicely Tyson and Viola Davis together is a team made in heaven, and my eyes well up whenever they are on screen together.
April: Rebecca telling Ben on This Is Us that her husband is "a freaking superhero" who is constantly encouraging her and is a terrific father, and of course Jack and Rebecca reading their wedding vows.
Superhero of the Week
Source: Tumblr
Lizzie: Wyatt Logan, on Timeless. Did you all see him MacGyver his way out of that cell? Not to mention that, even though they'd covered his face for the ride, Wyatt knew exactly where he was, so he could not just escape, but actually make it back to his team/family. Plus there was that motivational speech! AND A STAR WARS REFERENCE. Wyatt Logan is basically the perfect man, and if it weren't because I ship him with Lucy hardcore, I'd want him for myself.
Dana: Octavia from The 100, because she took care of the ambassador who was going to ruin everything Clarke had worked for. She subtly saved the day and didn't need credit for it. She stealthily took care of the issue and won the episode for me.
Nora: Superhero of the week for me is Felicity Smoak on Arrow. I'm so glad to see her out of the Arrow Bunker and finally helping Team Arrow in the field. This is where she belongs. Seeing Felicity take matters in her own hands and go visit a "contact" in Russia with Curtis and Rory backing her up was simply badass. In the beginning of this season, I was really upset when Felicity wasn't being utilized so I'm glad to see her being more than just a face behind a computer screen. With her darknet storyline taking shape, I can't wait to see Emily Bett Rickards take on this new side of Felicity. Hopefully it will lead to more superhero moments!
April: Ethel Muggs of Riverdale for having the courage to come forward and speak about what the boys on the football team did to her. If it wasn't for Ethel, nothing would've been resolved and the boys wouldn't have been punished like they were.
Quote of the Week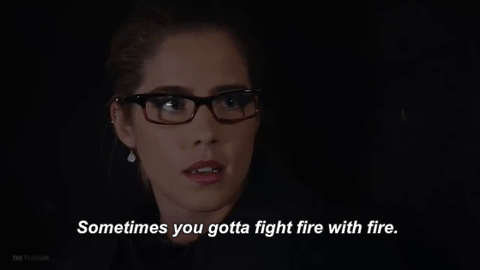 Lizzie: Wyatt: "I am meant to protect the two of you. I see that now, and I will.
Lucy: You realize you sound like a crazy person?
Wyatt: I sound like you.
Lucy: Exactly."  Wyatt and Lucy – Timeless
Lyra: "Not gonna apologize for loving that fish. Not to you, not to anyone." – Dean Winchester, Supernatural
Charles : "Sometimes you have to fight fire with fire." – Felicity Smoak, Arrow
Caryn: "Hashtag Justice For Ethel" – Cheryl Blossom, Riverdale
Nora: "You walking into my fourth grade class, Sophie. That's the best thing that ever happened to me in my entire life." -Kevin Pearson, This Is Us
Terri: "You probably produced the sound of a thousand Beyonce's" – Curtis, Arrow
April: "You can decide your future. You can choose the life that you want." – Lucy Preston, Timeless
WTF Moment of the Week
Source: Tumblr
Dana: When Barb from Stranger Things escaped the Upside Down and ended up in Riverdale. It definitely had me do a double take. #JusticeforEthel #JusticeforBarb
Lyra: Dean Winchester riding Larry the Bull. Look…I'm trying not to sound like I'm complaining about the babe known as Dean Winchester riding something. We're eternally grateful. But seriously, who pitched that idea and was Jensen ready and willing from the start? I bet the Supernatural writers have an impossible bucket list of ideas that they go through each season in the hopes of having a gif for EVERY situation possible.
Charles: Rip Hunter snapping Sara's neck on Legends of Tomorrow. Even though Sara was saved by Gideon's quick healing (don't ask), it was stunning to see how ruthless Rip had become. I know it's due to the brainwashing the Legion of Doom gave him but still I didn't think it would go to that level.
Caryn: David and Syd swapping places in Legion. The entire pilot of the new X-Men series, read like a crazy trip (but in a good way) as it pushed boundaries of what we know about television, superhero television and linear storylines as a whole. And in that entire crazy episode, the moment that made me 'WTF' the most, was David and Syd's lethal kiss which caused them to change bodies and for her to lose control while in his.
Terri: Kai showing up the end of The Vampire Diaries. He hasn't been around for a while, and with Nina Dobrev confirmed to return for the series finale, I think we can all guess where this is likely to lead us. Still, it was surprising to see him show up in the final seconds of the episode.
April: Betty completely losing it on Chuck Clayton and thinking he was Jason on Riverdale. It makes me wonder if she ever had the chance to have a similar situation with Jason after what he did to her sister Polly, and whether or not she took it if she did.
Agree? Disagree? Have another moment you think we missed? Share with us in the comments below!