Welcome to another Sunday of talking about the shows that made us laugh, cry, go awww and, of course, look around and wonder what in the world was happening. If it made us feel things, whether they were good, or bad, then this is where we talk about it. This is where you tell us if you agree. This is where we let it all out.
So, without further ado, here are these week's picks:
Bad-ass Female Character of the Week
Danielle: Harriet Tubman's entire episode on Underground. Instead of having a regular episode for the show, this week centered around Harriet Tubman explaining her epic story to freedom. There were so many good, powerful, outstanding moments in this one episode. Harriet was in a room full of white, black people and she commanded all of them by herself. And there were moments of vulnerability; we knew Harriet as this powerhouse of a person, but those moments of vulnerability made me feel related to her. That last part of her looking into the camera and basically scoffing "Make America Great Again" took me back! Like even though this show is set in a different time, it still felt real, right into 2017.
April: Betty Cooper of Riverdale is experiencing continuous hell. Her family is splitting apart, her pregnant sister isn't home, her dad is a total ass and on top of all that, there's a darkness in her that she can't understand, and it scares her. But, despite all of this, she puts on a brave face. She cheers on her best friends and throws a birthday party for her boyfriend because she wants his day to be special. She even calls and drops by his dad's house to invite him. Unfortunately, the one person who knows what happened the night she went all dark no stars – besides V, and she'd never tell – is back, and he tells all. But, even through the nail marks on her hands where she curled her fingers a little too hard, and even after everyone knows what she did to Chuck, she continues to put on a smile, support her friends and try to put her family back together, and that is why Betty Cooper is a badass.
Lizzie: The women of Designated Survivor, all of them, win the week for me. From the newcomers in the senate, to Chief of Staff Emily Rhodes, without forgetting Speaker of the House Kimble Hookstraten and First Lady Alex Kirkman, they all proved that Tom Kirkman might be the President, yes, but the country can't run without the ladies.
OTP of the Week
Lizzie: Densi, on NCISLA is once again, my OTP of the week. These two have gone through so much this year, and gotten through it not just together, but more in love and more in sync than ever. They show it this episode, with Deeks taking dancing lessons just to be able to share with Kensi something she enjoys and NCISLA pulling a fast one on us with an almost proposal. But, even though we didn't get to see that moment (yet), the way these two are always a team – good times or bad times – earns them OTP of the week – maybe even the season.
Charles: Bughead on Riverdale. Betty and Jughead had their first real fight as a couple on this week's episode and instead of going the route these shows usually do, they had them talk it out. It's nice to see couples on the CW working through troubles and talking them out immediately instead of letting them fester over time. This was one of the first times I really felt that this relationship has real staying power to it.
April: I'm with Charles on this one. I really appreciated that a couple, particularly a CW couple, was allowed to fight and make up without outside interference or miscommunication. FP telling his son to go talk to his girl was beautiful, as was Jug punching out Chuck to defend his girl. And although Jug really didn't want a party, Betty just wanted her boyfriend to have a special day. He's the damaged, loner outsider from the wrong side of the tracks; she's the perfect cheerleader, and they're so Jackie and Hyde, it's not even funny. Hopefully these two will end differently than the 70's damaged, loner outsider and his perfect cheerleader girlfriend.
Moment that made you collapse into a puddle of FEELS
Danielle: When Bay and Daphne went to see the comet at the end of Switched at Birth's series finale. They literally sat head to head to see the stars, but the bigger picture was the image. The image was reminiscent of the famous poster of the first season!! It made me tear up a little, and how much I'll miss this show now that it's all over.
Lyra: Supernatural's Sam and Dean Winchester carving their initials on a table in the Men of Letters bunker gave me all the feels. For too long they've been on the road with no home besides the Impala. They carved their initials into her because they loved her and felt safe within her walls. Carving their initials in the bunker is Sam and Dean laying their claim and finally declaring that this is their home as well. They've grown, laid down roots, and feel safe within the bunker despite all the crazy stuff that's gone on inside of her, knowingly or unknowingly.
Alyssa: Every scene with the Halstead brothers and their father on Chicago Med. Sometimes the feels were angry, sometimes they were sad, sometimes they were satisfying. But this week's episode brought all of the feels and focused on my favorite family dynamic in this shared universe. We got to see this dysfunction that Jay had talked about. We got to see Will make progress with his father. And it was still not nearly enough. (Your move, Chicago P.D.)
April: The entire scene between Riverdale's Juggie and Betty at Pop's. Betty is terrified about what's going on with her, and was scared to share it with her boyfriend after Alice warned her not to tell Jug everything. Instead of running from her, though, he kissed her hurt hands, and then stroked her shoulder while he held her. I'm in so deep for these two.
Lizzie: What Alyssa said. Can I just get much more Papa Halstead? Preferably soon?
Superhero of the Week
Danielle: When Elizabeth stopped the two white guys arguing during Harriet Tubman's monologue in Underground. That small argument was so pointless and stupid, but it was so clever for Elizabeth to shut them down. She showed that this wasn't about "us", it was about Harriet and her story.
Lizzie: I watched One Day At A Time this week, and though the series came out a while ago, I'm going to still pick Elena Alvarez as my superhero, not only for being brave enough to put the real Elena out there, but for being true to herself, always, even if that meant she was the odd one out in her family.
Quote of the Week
Danielle: "Everyone, stop. We're all here to hear Harriet speak. So let her speak." – Elizabeth, Underground
"He, God, will provide but you gotta do your part. You gotta find what it means for you to be a soldier. Beat back those that are trying to kill everything good and right in the world and call making it great again. We can't afford to be just citizens in a time of war. That would be surrender. That would be giving up our future and our souls. Ain't nobody get to sit this one out, you hear me?" – Harriet Tubman, Underground
Lizzie: "This isn't about luck. It shouldn't be good luck that keeps people safe in a movie theater or a mall or a school. This is about doing what's right and I just hope 51 senators can feel the same way." – Alex Kirkman, Designated Survivor.
Lyra: "Look at us, all working together to solve mysteries. We should get a van and a dog." – Ravi, iZombie
Alyssa: "You can't hack a baby." -Dr. Reese, Chicago Med
Nora: "No, no, no, no. If they want to eat brain mash, let them eat brain mash. But, in this house, we eat whole brains and we solve murders." -Liv Moore, iZombie
Charles: "For ten minutes today, Chuck didn't hate me. I forgot what that felt like." – Jimmy, Better Call Saul
April: "The road to hell is paved with good intentions." "Why is everything so doom and gloom with you, Jug? Why can't it just be normal for once?" "I'm not normal. I'm not wired to be normal." – Juggie and Betty, Riverdale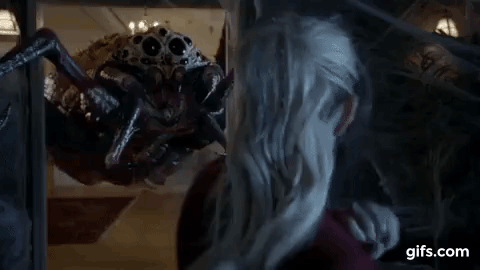 WTF Moment of the Week
Lizzie: Gideon's chosen way of death for Emma, aka giant Spider, on Once Upon A Time. Because really, a spider? Like Ron Weasley would say – why can't it ever be follow the butterflies?
Lyra: Fitz kissing Madame Hydra aka AIDA on Agents of Shield. This will continue to be my WTF Moment of the Week until they break out of this cursed world and stop showing them making out. AIDA bemoaned about wanting to break free from the chains someone placed on her, but has no problem doing that to someone else. I guess the fact that she was created by a flawed and selfish human makes her inherently flawed as well.
Alyssa: A patient on Chicago Med, who came to the hospital wanting to be chemically castrated because he felt this dangerous attraction to blonde women, cut off his penis in the bathroom with a scalpel. It was definitely a WTF x 100 moment. I'm still cringing.
Charles : Fitz shooting Agnes on Agents of SHIELD. It was stunning to see and it still has me shook for days after. I knew Fitz was dark in this framework world but killing a woman in cold-blood is something I didn't expect. This moment is going to stay with Fitz a long time after this.
April: Riverdale's wannabe June Cleaver is a former Serpent????
Agree? Disagree? Have another moment you think we missed? Share with us in the comments below!