Welcome to another Sunday of talking about the shows that made us laugh, cry, go awww and, of course, look around and wonder what in the world was happening. If it made us feel things, whether they were good, or bad, then this is where we talk about it. This is where you tell us if you agree. This is where we let it all out.
So, without further ado, here are these week's picks:
Badass Female Character of the Week
Lyra: Kara Danvers from Supergirl. Not only did she have an epic fight with her cousin Superman, she also battled Rhea, saved the day, and saw her love leave for his own safety. She's grown so much this season and I'm proud of the journey she's had so far. She's a great example that you can fight for the seemingly unattainable, triumph at new things (like love), and survive the little (or big) bumps in the road. Whatever comes next she'll survive it!
Charles: Clarke Griffin from The 100. Through these last 4 seasons , I have lost count of how many times Clarke has saved her friends. In the season 4 finale, she once again saved their butts and her reward? Getting stuck on earth for over 6 years! Even though it's been hard for her, do I think she would do it again to save her friends? IN A HEARTBEAT.
Lacey: Kara Danvers from Supergirl.  It has been an absolute joy watching Kara grow this season.  Not only has she become more sure of herself as Supergirl, but she has grown into a strong and more independent woman.  She stands her ground and fights with everything she has.  Watching her take on Rhea this week was so badass! (obviously)  She was ready to sacrifice herself for the sake of her city but still had the confidence that she could defeat Rhea.  She fought with everything she had and still stayed true to who she was.  I know the decision to push the button was an impossible one but she found the strength she needed to do what was best for the greater good, despite it tearing her heart out.  She has always been and continues to been one of the strongest, both physically and emotionally, female characters on TV today.
Nora: I'm with Lyra on this one. Kara Danvers on Supergirl is my badass character of the week! From the moment the episode started she was a total badass. From fighting Superman (and winning) to fighting Rhea, to having to say goodbye to Mon-El, she was so strong, both physically and mentally. This episode only proved that I would follow Kara Danvers into battle in a heartbeat.
April: Verity and Jocelyn, both of Jamestown. Verity has dealt with a drunk father all her life, and now is dealing with a drunk husband. She tries to get him to stop drinking for at least a month, and is beside him ashe fights the withdrawal. Still, when he breaks his dry spell only two days later and drunkenly comes onto her, she knees him in his special place and tells him she'll be a good wife, but he has to be a good husband.
Similarly, Jocelyn has the same fire as Verity, but keeps it much more concealed. She has the most important man in town wrapped around her finger, and wields such power that the town assholes want to take her down. They thought they succeeded this time, but Jocelyn was wittier and completely tricked them.
OTP of the Week
Lyra: Karamel from Supergirl. These two are my OTP of the week because they trusted each other, had the other's back even as the city was falling apart around them, and made a tough decision for the greater good. This relationship is what good OTP's are made of and I can't wait for Supergirl to return and show us the path they have to go down to get back to each other. It's going to be epic.
Charles: Laura and Shadow on American Gods. I know this sounds like a weird one to choose considering she does cheat on him in the episode but I really do feel like they are one true pairing. They show true love for one another and even in death Laura still cares for Shadow Moon. I'm not saying they are perfect but if any two souls were made for one another it's Laura and her "puppy".
Lacey:  Karamel from Supergirl.  No surprise here!  Karamel will always be one of my all time favorite ships!  They are literally what love stories are made of and this week's finale further proved it!  The chemistry between Chris and Melissa has been so organic and breathtaking.  Every scene with them is better than the last and just when you think you can't fall any more in love with them, they prove you wrong.  Their story this season has been so wonderful to watch grow into an epic eternal love.  They can truly be vulnerable with each other and they understand what it's like to be a stranger in a new place.  I love that while they love each other, they also stay true to themselves and are their own person.  They make each other happy yet they aren't afraid to call the other on their bullshit.  I feel like this is what makes them stronger and 100% endgame!  Melissa Benoist said it herself at The CW Upfronts this week that Kara has never felt the way she does about Mon-El for anyone.  Their love is something for the ages and I can't wait to see where their story takes them next.
Nora: Oliver and Felicity on Arrow are my OTP of the week! They had one small moment in the finale, but man it melted my heart. Felicity kissed Oliver just in case they never saw each other again. It was so small, but so sweet. These two are just destined to be together and I'll fight whoever tells me otherwise. Olicity will surely have an amazing season 6 and I can't wait for it.
April: The Jamestown newlyweds, Alice and Silas. They were happily married and when the town went mad for treasure, they were just working away on their farm, building the life they want, together.
Moment that made you collapse into a puddle of FEELS
Lyra: Kara telling Mon-El that she wished she would've told him that she loved him sooner on Supergirl. In that moment she realized how much time she could've spent telling him how much she loved him and how happy he'd made her. The way that her voice cracked, how her eyes filled with tears, and Mon-El's reaction to her words turned me into a puddle of tissues and OTP feels. This won't be the end of them and I know it, just hurts the same to see them having to endure this pain until they're back together.
Nora: Everything Oliver Queen did on Arrow this week made me sob. I was so proud of him and everything he did made me cry. However, there were two moments that really made me collapse in a puddle of feels. One was when Oliver saved William. I've never been partial to William, but watching Oliver snap into protective father mode made me sob. He's come SO far since season one and this just showed me that. The second was when Oliver called Moira and told her he's alive and coming home. I BROKE. I was an emotional wreck and there was no coming back from it. Stephen was unbelievable and these moments completely destroyed me. I didn't have a lot of tissues, and I should've.
Charles: When it was revealed that Iris was alive on The Flash gave me a feeling or two. Now it was pretty obvious that Iris was going to somehow be alive but the reveal that her and H.R. had switched places still got emotion out of me. It led me to believe that Barry and Iris were going to be okay and we would get that wedding…..well until the end of the episode when Barry had to go back into the Speed Force. That moment too with his farewell to Iris reduce me to tears.
Lacey:  Karamel's farewell on Supergirl.  I honestly can't even type this without crying.  I have watched the finale multiple times since Monday and I have sobbed, SOBBED, every single time!  The moment they introduced the idea of the back-up plan to rid the earth of Daxamites, I knew it was going to happen and I still wasn't ready.  The look on Kara's face when she realized she had no choice but to use it broke my heart.  All throughout season 1, she struggled with being Supergirl and trying to find love and she had come to the conclusion that she couldn't have both…until she met Mon-El.  She was so close to getting her happily ever after and for her to lose that, shattered my soul!  Their goodbye seemed so real and I felt like I was imposing on a private moment.  Chris Wood and Melissa Benoist are two of the most underrated actors in Hollywood today and that farewell proved it!  Hearing Mon-El tell Kara that no matter where he went, he would always strive to be the man she knew he could be showed just how far he had come this season.  And Kara giving him her mother's necklace, OMG, it was such a beautiful gesture!  This was literally the last piece of her world and her mother that she had and she gave it to him to keep him safe.  This scene was so emotional and breathtaking and while yes, it tore my soul apart, it showed how deeply they loved each other; especially Kara finally expressing her love for Mon-El.  I know this isn't the end for them, but for now, it's going to be a long, excruciating summer.  Now if you'll excuse me, I'm just going to go cry in the corner and rewatch this beautiful scene until season 3 starts.
April: Meredith Rutter of Jamestown revealing to Verity that he missed the deaths of his wife and child because he was completely smashed. He clearly holds a lot of guilt over it, and it doesn't help his alcoholism, at all. Seeing the pain in his eyes when he told Verity, it was easy to feel bad for him. And, since he fell off the wagon only two days later from when he quit drinking cold turkey, the scene is definitely indicative of more pain he's bandaging with alcohol, which will hopefully be explored further.
Superhero of the Week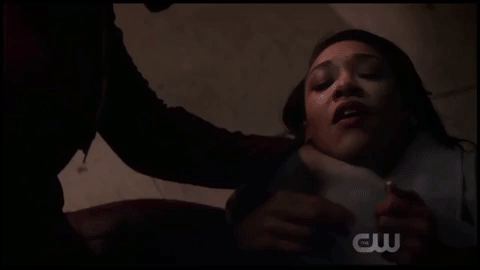 Lyra: H.R. Wells on The Flash. Not all superheroes wear capes. Some carry drumsticks and annoy people with their…eccentricities. He took it upon himself to get out there and save Iris all on his own, something I would never have the courage to do. I completely underestimated him and I'll look back on this season and him differently. That weird man, that made me wish Earth 2 Wells was back, saved so many lives!
Nora: Iris West on The Flash. I'm SO happy after everything that went on this season with Barry struggling to try to save Iris, Iris ended up shooting Savitar and saving Barry. It was the perfect superhero moment Iris needed. She's been such an under-utilized character on The Flash and I'm so happy she's started to hold her own. The Flash needs a strong female character and I want it to be Iris. She's such a superhero and I'm so proud of her!
Charles: Going to go with Oliver Queen here from Arrow. One part in particular for me. At the end of the episode as Adrian has William hostage on a boat and Oliver has an arrow pointed right at Adrian. This is what Adrian wants though. To make his son see him as a killer. Instead though Oliver shoots Chase in the leg and show the kind of hero we all truly believe him to be.
Sarah: Clarke on The 100. This lady has been through literal hell the past four seasons and especially the last she fought long and hard to save her people against a threat they couldn't out strategize or out smart. As hard as the choice might have been she climbed that tower even when she was fully aware she wouldn't have enough time to save herself. In the end she stayed true to herself and put her friends first and gave them the chance to get to space to survive the death wave.
Lacey:  Mon-El from Supergirl.  All season long, Mon-El has struggled with becoming the hero Kara always saw in him.  His character has received so much criticism for being selfish and always running from the fight.  If Monday night's episode doesn't silence the antis, I don't know what will.  He literally was willing to sacrifice everything; his love, his life, his happiness to save the city.  AND HE DID!  When Clark and Kara first brought up Lena's device to rid the Daxamites, did he complain?  Did he try and deter them from using it?  Did he run scared?  No, he immediately told them that if it came down to it, to use it because he wouldn't be the reason National City suffered.  And on the roof when it was evident that the device was the only option, he immediately pushed Kara to use it.  He is the epitome of a superhero!  He may not have a suit (yet) and the city may not know who he is (yet), but he made the ultimate sacrifice for them.  I know it destroyed Kara to use it but I also know that deep down, she was so proud of the man he had become.  As we move into the third season, I really hope that we'll see Mon-El as Valor in his suit being the superhero we all know and love from the comics.
April: Jamestown's sweet Alice Kett-now-Sharrow for managing to talk the governor out of hanging James.
Quote of the Week
Lyra: "I lived my life. Good and bad. Definitely not light as a feather." – Laura Moon, American Gods
Nora: "So instead of marrying the blonde… You marry Ra's al Ghul's daughter?" -Slade Wilson, Arrow
Charles: "You blame yourself for your father's suicide and everything else that has gone wrong since. You need to forgive yourself for your sins." – Slade Wilson, Arrow
"Go get em…..Supergirl." – Cat Grant revealing she knows Kara is Supergirl –, Supergirl
April: "Boys will always want to keep your liaisons secret if their intentions are indecent." – Jocelyn Castelle, Jamestown
Lacey:  "Wherever I go, I'm gonna be better because of you.  You'll be in my heart.  I promise I'm gonna be the man that you thought I could be.  I promise." – Mon-El, Supergirl
WTF Moment of the Week
Lyra: Lian Yu blowing up while Team Arrow was still on it during the season finale of Arrow. When Arrow said it was putting flashbacks and Lian Yu behind them I didn't know it was to this extent! Rationally, I can assume that Felicity and Diggle are alive. They're part of OTA and Arrow would be making a horrible decision by chucking them despite contract. But what about everyone else?! I don't want Thea or Quentin to die! Everyone else…I'm partially hesitant for them to die. It would be a move reminiscent to what Supernatural did when they cleared the board during their season finale. Luckily enough I don't think Arrow would be brave enough to pull that. They'll just tease us the entire premiere to only review that Malcolm saved them all. He never dies!
Nora: My WTF isn't even finale related, which I was certain it was gonna be, but Sophia Bush announcing she's leaving Chicago PD BROKE ME. Erin Lindsay is one of my favorite characters EVER and Sophia Bush is my role model, so I'm heartbroken!!! A giant WTF that I don't think I'll ever be over.
Sarah: My WTF moment this week was when I saw the 6 YEARS time jump on The 100! I'm sorry what?! Not only did they separate Bellamy and Clarke again, you have Clarke living on the Earth with only one other nightblood teen Madi. There better be an explanation why the "bunkers gone silent" (Abby Kane Octavia Indra everyone!) and Bellamy, Raven and the space crew haven't come back to Earth in 2018.
Charles : Everything from the first two episodes of Twin Peaks. I wouldn't know where to begin to describe all the WTF-ness that happens. Should I mention the mysterious Black Box? The Log Lady? Agent Cooper in the Black Lodge? All I know is that my weird , freaky show is back and I could not be happier to say WTF after every episode than I am after watching Twin Peaks.
Danielle: This isn't really TV series related, but that whole Dirty Dancing remake was a WTF moment. From the tacky costume and set designs, to the weird singing and choppy dancing. The worst part was that Johnny and Baby had no chemistry. None. Colt Prattes turned Johnny Castle into a mean, old, dirty bastard who can sorta-sing and sorta-dance. Bless Abigail Breslin, because she did the best with what she was given, but it just wasn't enough. The ending was the worst part of it all!! Who in their right mind thought it would be okay to have Baby have a husband and child, with someone else other than Johnny?! This whole thing was a disgrace to Patrick Swayze's incredible memory as a dancer and actor. I'm sure Jennifer Grey isn't too happy about it either, though I'm not even sure she saw it. Kids, if you want to know the real Dirty Dancing, go watch the original, not this trash of a remake.
Lacey:  The ending scene of Arrow.  Literally, WTF!  I tweeted the night of the episode that Supergirl had lost Mon-El, The Flash had lost Barry, and Arrow lost EVERYONE!  Realistically, yes, I know that everyone is not dead because 95% of the cast was on the island, but still, I was not expecting that to happen.  I'm still in shock!  And can I also say that while yes, I know Adrian/Prometheus was the big bad and this season's main villain, I'm still going to miss that psycho!  LOL He's been the best villain Arrow has had to date!  He bested Oliver and kept him on his toes all season, even til the end.  Next season is going to start with a bang, no pun intended, and I can't wait to see what happens next!
April: Someone killing the Sharrow's newly received cow on Jamestown. What did that poor cow ever do to you?
Agree? Disagree? Have another moment you think we missed? Share with us in the comments below!