Welcome to another Sunday of talking about the shows that made us laugh, cry, go awww and, of course, look around and wonder what in the world was happening. If it made us feel things, whether they were good, or bad, then this is where we talk about it. This is where you tell us if you agree. This is where we let it all out.
So, without further ado, here are these week's picks:
Badass Female Character of the Week
Charles: Laura Moon on American Gods. From her chat with Shadow to kicking Mad Sweeney's ass, Laura has been one of the best parts of American Gods so far. Emily Browning has brought a realness to the character that was very much needed for Laura. Her and Shadow's talk in the hotel room felt so real and true to any couple having martial problems. Sure one half of the pairing is living dead but it doesn't change any part of how true their talk was. Laura Moon is a bright spot on an already exceptional show.
Sarah: Linda Martin on Lucifer. This woman has been the impressive therapist/life guide to as she correctly describes them "the most dysfunctional family in the universe." Between balancing her duties as a therapist and getting drawn into crazy schemes the past season hasn't been a picnic but this week was truly a stand out. Not only did she stand her ground when the literal Goddess of creation threatened and badly wounded her she made it clear to Lucifer she was here on her choice, eyes wide open. She's a brilliant person, and comprehends the kind of potential danger being friends with an Angel/The Devil contains, but she's here to stay through the good, bad and the crispy. God Bless you Linda, I can't wait to see you again next fall.
April: Rosaline Capulet on Still Star-Crossed knows what she wants, in an age when the wishes of women weren't taken into consideration and instead frowned upon. All she longs for is to go into the nunnery after ensuring that her sister marries well (though we find out later that there's more to her wishes than only that.) When the city is attacked and Escalus brings Rosaline to safety, she runs out to try to find her sister. When she is personally attacked, she tries to defend herself, and, though she is rescued by a man, she makes it very clear to him that she is no damsel.
Erin: Hayley on The Originals. Like it's one thing to think that we would want to be in the mind of the ones that we love, but being there… well that's an entirely different story. But we all go to great lengths to save the ones that we love and Hayley was willing to do anything to save the one that she loves. Even though saving him changed everything. But I have to give a secondary award to little Hope Mikaelson, cause she deals with a lot and it doesn't matter to her, even though to me as an adult, I would be scared out of my mind. This mother/daughter combo is the best.
Alyssa: Rachel on The Bachelorette. Rachel got the opportunity to do what every wronged woman or man has dreamed of: Exposing a cheating boyfriend for the lying, cheating scum that he is — and in front of a national television, no doubt. When Demario's ex-girlfriend (or girlfriend, since he never broke up with her) came to Rachel to rat his cheating ass out, it felt like there was justice in the world. While it was beyond painful for Rachel to deal with, she handled it like a boss. Calling him out on how his lies didn't add up. Telling him to get the f**k out. That's a badass if I've ever seen one.
OTP of the Week
Nora: Emison on Pretty Little Liars. Hands down, no questions asked. This was the week I have been waiting seven seasons for. Alison finally has the revelation that she loves Emily. She says I love you to her, they kiss and decide to raise Emily's child together. This has been seven seasons in the making and I was living for it. Emison has finally set sail and I'm excited for the final episodes with these two exploring their relationship.
Charles: Deckerstar from Lucifer. There was a moment where Chloe and Lucifer were talking and part of you is like "yes, they are so in love." Another part of you is like "Have sex already!" But seriously, these two had another moment where Chloe tells Lucifer that she knows the real him and would forgive him and his mistakes no matter what. Later , Lucifer is just about to admit everything to Chloe when he is suddenly knocked out! What a guy got to do to have his OTP be happy and together for once?
Sarah: I'm going to echo Charles and say Deckerstar on Lucifer had me on edge and feelings all the feels this week. Lucifer and Chloe have had their share of ups and downs this season, but I wasn't prepared for this. Chloe calling Lucifer out on not trusting her and making it clear she accepts him flaws and all was nothing short of heart melting (as in yes I was on the floor in a puddle.) Lucifer deciding to share everything with her is the pinnacle moment of YES MY OTP to NO NO NO HOW CAN YOU TAKE HIM AWAY RIGHT WHEN HE'S ABOUT TO TELL HER EVERYTHING?! Suffice it to say I have loved these two and can't wait to see them again in season three.
April: Although Still Star-Crossed has only just begun, it seems apparent that a triangle between Prince Escalus, Rosaline Capulet and Benvolio Montague will be root-worthy on both sides, which is rare for a triangle and very much appreciated. However, while Rosaline/Benvolio had some awesome scenes this week, Escalus and the woman who owns his heart had just a bit more. From Escalus first shutting Rosaline's cruel aunt down by letting her know that Rosaline was very welcome at his party, to rescuing her from the angry mob and begging her to stay with him, to the final scene, and even the balcony scene quite similar to that of R & J's, Rosaline and Escalus were so endearing to watch, and definitely brought the FEELS.
Erin: Rainer and Paige on Famous in Love. I am in love with this show and I think that it's absolutely amazing. But I am also all about the Raige ship. This week, the two battled coming from different worlds and sure – it can be pretty crazy. Especially since these two aren't together. BUT – they are finding their way to each other and I am sorry – I don't like Jake and Paige together. BUT – that dance at the end. Yup, they sucked my ass in.
Alyssa: Deckerstar on Lucifer. These two characters have been bringing the feels all season long, but this episode was one that really delivered that OTP kind of feels. With Chloe calling Lucifer out for not fully trusting her but also accepting that he is who he is, and then Lucifer finally deciding to be truthful with her — about everything — it was one of those moments that makes you smile with pride and cry with feels. My OTP was riding high. Until that ending. Why can't I have nice things?
Lacey:  MiSa, Prison Break.  Michael and Sara finally got the happily ever after that fans have been waiting for since season one.  Of course, it wasn't an easy road for these two.  They literally had to fight their way through death, sociopaths and not one, not two, not even three, but FOUR prison escapes.  (Damn, four.  Prison Break really lives up to its name LOL)  My favorite thing about this ship is that even after all the time that has passed, even after Sara thought she had truly lost Michael and had remarried, their love never died and has remained just as fierce as ever.  When "Poseidon" aka Jacob got away with Mike, Sara was frantic and distraught but Michael was able to pull her back and reassure like he always has.  His "Come back to me.  Come back to me, sweetheart" had me literally squealing!  This ship has been through so much and to see them finally together and happy is the best ending (maybe) to this amazing love story.  I do hope we get a season six and I know that whatever obstacle Michael and Sara face next, they'll take it on the way they have every other thing, TOGETHER.  My MiSa heart is so happy!!
Moment that made you collapse into a puddle of FEELS
Lyra: Hayley being afraid of Elijah on The Originals. Hayley had no illusions about the type of man Elijah was or the kinds of things that the Mikaelsons did for each other. But since she's known him she's had this certain belief that Elijah was the kindest of the siblings, the one with the least darkness inside of him. It was heartbreaking to watch that notion shatter for Hayley when she entered his mind. Elijah has done plenty of horrifying things for family, but nothing compares to the brutality she saw behind the red door or the man that chased after her in the dark and never recognized her. It will take time before she accepts that everything behind the red door was part of him too. Keyword "was". He's no longer that man.
Nora: Similar to my OTP of the week, Alison telling Emily she wants to raise the baby together and become a family on Pretty Little Liars was SO adorable and made me collapse into a puddle of feels. It was a long awaited Emison moment and it was so adorable. My heart can only handle so much Emison and it reached full capacity this week. So many adorable tears from the PLL gang this week.
Charles: Lucifer's farewell to his mother on Lucifer. For most of this season , Charlotte had been nothing but trouble for her son Lucifer. Yet when it came time to vanish her, Lucifer could not kill his mother. Even though they are near the same age, you believed that Tom Ellis and Tricia Helfer were son and mother in this scene. Emotional is a word I don't use often but for this scene I will.
April: There were two scenes that really drowned me in emotions this week. On Still Star-Crossed, Lyshana Lynch delivered a heartbreaking performance as Rosaline tears into Escalus for thinking he knew what she wanted instead of realizing he didn't. But instead of reacquainting herself with the life she had before her parents died, as Escalus believes she wants, Rosaline wants the freedom she has now. "You think that's what I want? What I lost when I was just a girl too young and stupid to see the bars of the cage she'd been raised in." Rosaline knows her own mind, and no one can take that from her, but people are trying to, even with the best intentions, and it's devastating.
Jocelyn Castell of Jamestown confessed her secret to Dr. Priestley, and Naomi Battrick was absolutely stunning in her delivery. The reveal that the murder by Jocelyn's hands was done to a man who took advantage of a naive young girl opened up a new understanding to Jocelyn's manipulations of men.
Erin: I am going to go with Nora on this one. Emison from Pretty Little Liars. I love me some Emison. So when Alison and Emily decided that they wanted to raise the baby together. I stood up and applauded that shit. Those two deserve a happy ending. I love the shit out of those two.
Alyssa: I'm going to agree with Lyra and say Hayley being inside of Elijah's head on The Originals. The entire sequence — Hayley seeing a loving exchange between them to her seeing him at his darkest to that final moment in the hallway to the point where he scared her. It was incredibly emotional to watch Hayley experience all of Elijah — the good, the bad, and the scary.
Lacey:  Whip's Death, Prison Break.  First off, Theodore "T-Bag" Bagwell has officially won my heart!  He has always been one of my favorite characters on this series but I was always leery of him because he was just so dang untrustworthy.  This season of Prison Break saw an entirely different T-Bag.  While he still had that edge that made him, well him, he had a kindness to him, a vulnerability.  This was made even more evident with the realization that he had a son.  Even though we only saw this father/son relationship for two episodes, it was so sweet and what he had always wanted:  a family.  That's why Whip's death had my heart breaking!  Honestly, I thought it was staged at first.  It seemed a little too easy that the standoff went down the way it did.  But when I realized that Whip had in fact died, my heart shattered!  T-Bag was so broken and I think it speaks volumes to his character growth that he didn't go berserk on the FBI agents and down in a blaze of fury; he surrendered.  But he got his revenge on Jacob and I was cheering!  Standing ovation!  But man, can the poor guy catch a break?  Fox River again??
Superhero of the Week
April: She saved the world by thinking only of her mum. Bill Potts of Doctor Who may have invited the Monks in, but she also got rid of them, and she risked her life to do so.  She held onto everything she knew to be true when the Monks were trying to infiltrate the world with brainwashing, and that takes some serious determination, very similar to that of Martha Jones' when she was also saving the world from Fascism.
Erin: Little Hope Mikaelson from The Originals. She did what she needed to do to save her family, and as we know – sometimes heroes don't wear capes. And she's definitely a hero.
Alyssa: Rosaline from Still Star-Crossed. It was empowering to watch her stand up for herself throughout this episode, especially in the moment when she was being told that she has to marry Benvolio (even though I ship them.) She's a character that is quiet but also formidable. You don't want to poke the bear.
Quote of the Week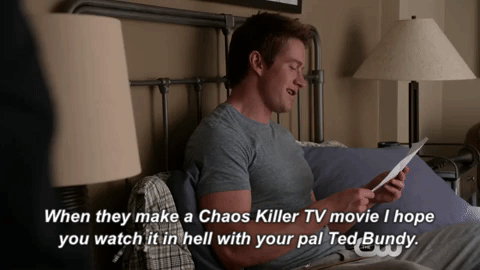 Lyra: "When they make a Chaos Killer TV movie, I hope you watch it in hell with your pal Ted Bundy." – Major Lilywhite, iZombie
Nora: "I wanna do this together. I wanna be a family." -Alison DiLaurentis, Pretty Little Liars
Danielle: "The only thing I'm in danger of is being bored to death." – Hanna, Pretty Little Liars
Charles: "Look if you think I wouldn't forgive you for your mistakes or your flaws, if you don't think that I don't know who you really are by now, you're wrong." – Chloe to Lucifer, Lucifer
April: "Humanity's doomed to never learn from its mistakes." "Well, I guess that's part of our charm." "No, it's really quite annoying." – Doctor and Bill, Doctor Who
Lacey:  Ok, so it's not technically a "fangirl" show, but I was watching MasterChef and I heard this quote and I lost it laughing:  "This country girl is like a flea on the back of a dog, we ain't going nowhere." – Contestant, MasterChef
Erin: "I know that look well. He's fighting for love." – Rebekah, The Originals
Alyssa: "My best friend can be a tough critic!" – Rachel, The Bachelorette on her dog, Copper, hopping along with her one-on-one with Peter.
WTF Moment of the Week
Lyra: Mad Sweeney and Laura Moon fighting in the hotel room on American Gods. I've never seen two people connect so quickly or reel me in so much that I wouldn't mind a whole hour of their banter, fighting, and name calling. They're both assholes who will do what they have to to survive, no matter if you're a woman or a tall tree of a man. Now that they're stuck with each other I'm hoping for more of Bonnie & Clyde r roadtrip, the zombie and leprechaun version.
Nora: Aria, if you're going to do A.D's biding on Pretty Little Liars, at least try to be good at it? Not only was trashing the baby room at Alison's horrible, but you left your earring behind and now Spencer is definitely onto you!!! I'm still upset Aria betrayed the other Liars so easily just to save her own ass. A giant WTF Aria!!
Charles: Wally Brando on Twin Peaks. If you ever wanted to see Michael Cera do a pitch perfect Marlon Brando impersonation, then ep.4 of the new Twin Peaks revival is for you. Love it or Hate it , you won't be able to stop talking about it after watching it.
Sarah: Lucifer Morningstar on Lucifer. I had a serious yelling at my television WTF moment at the end of Lucifer's season finale. Because out of everything I could have imagined Lucifer getting his angel wings back in the middle of the desert was not among those scenarios. Is it fall yet, because God I need answers!
April: Bailey and his guys destroying Verity's and Meredith's tavern in Jamestown when all Verity did was be nice to the guy.
Erin: Once again, I echo Nora. She took the words out of my mouth.
Alyssa: I'm going to have to agree with Sarah, it was definitely that cliffhanger on Lucifer. Just as Lucifer was about to go to Chloe and bear his soul, he was knocked unconscious and woke up God knows where (pun not intended) with his angel wings restored.
Agree? Disagree? Have another moment you think we missed? Share with us in the comments below!