Welcome to another week of talking about the shows that made us laugh, cry, go awww and, of course, look around and wonder what in the world was happening. If it made us feel things, whether they were good, or bad, then this is where we talk about it. This is where you tell us if you agree. This is where we let it all out.
Badass Female Character of the Week
Lyra: Wynonna Earp on Wynonna Earp. She let everyone know, even her sister, that this was her body and she planned to keep her autonomy no matter what. She told that old trope where the female is guilt tripped to tell everyone, to GO TO HELL! Wynonna is going to keep saving this town, protecting its people, and kicking down doors for as long as she pleases no matter what her new circumstances are.
Erin: I never thought that I would like a Katherine Heigl show, but I am actually loving Doubt. The show is really great and entertaining – for a summer show. But what I love about her character is that she's badass because she fights for the people that she believes in. She loves the people that are around her. That makes me adore her. Yes, Sadie on Doubt is badass.
Nora: Madison in the mid-season finale of Fear the Walking Dead. She's really stepped up this entire season and become the leader we expected her to be. This week, when Jeremiah refuses to try to cooperate with Walker, Madison steps in. Also, when she tells Alicia and Nick how she killed her abusive, alcoholic father BEFORE the zombie apocalypse even started, that just solidified her as such a badass female character.
Liz: I'm going with Sutton from The Bold Type because first, she took control of her relationship — telling Richard that she deserves to be the girl he can't stop thinking about and not just some hookup. Then, she goes ahead and decides to go after her dream job instead of settling. It took guts and I'm so proud of her.
OTP of the Week
Lizzie: I'm not even saying this because Still Star-Crossed is the only show I've been regularly watching over the summer, but – dear God, the Rosvolio. Can those two get any more shippable? Or tropey? Not that I'm saying that as a bad thing, no, when the chemistry is this sizzling, tropey becomes, well – fun. You know where it's going, or you think you do, but you find yourself enjoying the ride nonetheless.
Lyra: Wayhaught on Wynonna Earp. Scorching hot scene aside, I love how this couple is treated like a…couple. They go through their ups and downs, and yet continue to work on building a more solid foundation based on love and trust. Their relationship is a great guide for anyone looking to write LGBT love stories or ANY KIND OF LOVE STORIES!
Moment that made you collapse into a puddle of FEELS
Charles: Doc's note saying "I am all in." at the end of Wynonna Earp. It was just one of those emotional, fantastic moment that shows that through the mustache, the hat and other things Doc Holliday is a good man who cares deeply about Wynonna. He might not be perfect but he will try his damnedest to be there for her and the baby.
Lyra: I'm with Charles here on Doc's note on Wynonna Earp. Shipper preferences aside, in 4 words he told Wynonna that he had her back no matter what. It takes two to tango and no matter what he said earlier about not being a family man, he'll do what's right because he's an honorable man who cares for Wynonna and this ragtag family that they've become.
Erin: When Jane walked up to pinstripe and kissed him at the art show. Why did I cry over this? Well, that would be because I didn't expect it. I didn't think that she would be that strong and I wanted to be that strong. I am head over heels for The Bold Type and I love it. I regret nothing.

Liz: It'd have to be during The Bold Type when Jacqueline was speaking at the Scarlet party and used Jane's story about how Scarlet felt like an older sister Jane never had. It was a super touching moment and just the look on Jane's face made me tear up a lot.
Superhero of the Week
Erin: Kat, The Bold Type. She went on the Easter Egg hunts of all hunts. And I am not sure that there is a friend on earth that I would do that for.
Nora: Kat on The Bold Type is my superhero of the week as well! In just the pilot, she proved she's a FORCE. When Adena, a Muslim artist, is detained at an airport back home, Kat does everything in her power to get her back to the U.S. Kat will literally move mountains to help her friends. We saw that in her friendships with Adena, Jane and Sutton this week! Kat is the female superhero we all need in a best friend! For god sake, she helped Jane with her Easter Egg hunt.

Liz: Agreeing with Erin and Nora!! Kat is most def the superhero of the week. She dove right in there and grabbed a Yoni egg from her BFF's vagina. Honestly I need a BFF like Kat in my life.
Quote of the Week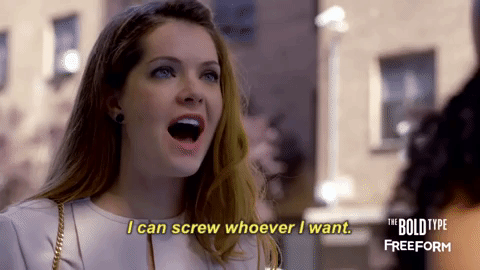 Lyra: "I am all in." Doc, Wynonna Earp
Danielle: "One of these days you're not going to be so lucky, and I'm not going to be able to just take you home because they're going to be taking your body to the morgue," – Stef to Callie, The Fosters
Erin: "First of all, I can screw who ever I want." – Sutton, The Bold Type
Caryn: "This is the worst Easter egg hunt ever" – Kat, The Bold Type
Nora: "I'm peeing. And then I'm going to kick him in the balls." -Krystal, Orphan Black

Liz: "Well then I guess I'll just have to show them a woman defying them." – Kat, The Bold Type
WTF Moment of the Week
Danielle: I don't understand WHAT that pity party between Ana and Gabe from The Fosters was for. I was already starting to like Ana when she got with Mike, he seemed good for her. But why were the writers making both Ana and Gabe seem so ungrateful for their kids? No, they didn't raise them biologically, but at least Mariana and Jesus have enough grace to let them back in. I feel like at this point in the show, for the biological parents to complain about being confused as to how to "raise" their kids makes them seem like they were forcing themselves to get back into the flow. Like they don't really want to be with a new family.
Charles: The Camsten drama on Stitchers. This isn't a WTF in the sense that it was stupid or terribly done. It wasn't but more a WTF for not letting Cameron and Kristen get physical before it happened. I mean come on show, can't they have at least had sex once before this drama about Kristen's mom being taken??
Erin: For me, the last few weeks of Younger have been painful. Why? Because I have been hating Kelsey and I hated that she was so rude to Liza. So my WTF moment has been all about that for weeks. BUT – this week, my WTF was for me – how I could I be blind to the fact that people have moments, they have anger, but people make it through. WTF was I thinking?
Lizzie: What was that thing with Harvey and his therapist, Suits? WHAT WAS THAT THING? Wait, don't explain. I don't even care. You've been jerking me around for years, and I'm finally done with you. Bye Felicia.
Nora: I have to agree with Lizzie on this one! I thought FINALLY we were rounding a corner where Donna and Harvey will get together. But no! Harvey goes and asks out his therapist, whose name I can't even remember. I'm all for a slow burn, but the Darvey one has been too long and I just don't know if I can take it anymore. I give you until the 100th episode or else I might be out.
Agree? Disagree? Have another moment you think we missed? Share with us in the comments below!