Welcome to another Sunday of talking about the shows that made us laugh, cry, go awww and, of course, look around and wonder what in the world was happening. We took a little break last week, cause holiday, so this week, expect even MORE feels. Because, if it made us feel things, whether they were good, or bad, then this is where we talk about it. This is where you tell us if you agree. This is where we let it all out.
So, without further ado, here are our picks:
Badass Female Character of the Week
Raquel: Felicity and Iris. A Jewish woman and a woman of color kicked Nazi asses, confronted them and saved the day, without any fear. In addition, they demanded that they leave their Earth. THAT IS THE TYPE OF STUFF THAT I LIKE. GOOD WORK, GIRLS!
Lariel: Supergirl. She went into this still questioning why she would want to be human, but got a good look at what she *could* be like without that humanity (and without having been brought up by Eliza Danvers – mom needs credit here), and then challenged that "ideal" version of herself. The line, "General, would you care to step outside?" — BEST DC callout I've heard in a while.
Lacey: Jaz, The Brave. Let's be real, there's no one else that could take the title last week! As I said in my review, Jaz didn't think twice about throwing herself into danger in an impossible situation. The entire fall finale showcased why she is such a phenomenal badass member of this special operations team. Still can't believe we have to wait until January to see what happens to her but it'll all be worth it because I have no doubts that she's going to continue killing it and showing every little girl out there that you can truly do and be whatever you want to!
Lizzie: Sara freaking Lance, from Legends of Tomorrow. Sara is a badass every day, but I felt like she really shined in the crossover, not just as the leader of the Legends, but as Sara Lance, and I'm really glad the crossover allowed her a chance to shine.
Lyra: I have to pick one? I refuse. My badasses female characters of the week are Sara Lance and Alex Danvers. It was like watching fanfiction come to life with these two ladies. They were strong, capable, and adaptable as hell no matter what came at them. Also, the chemistry was real between them. Give me this show with Sara as the vigilante or legend saving the world and Alex as her badass partner that she comes home to. (Yes, I know this is a badass character section and not the OTP one. I do what I want!)
OTP of the Week
Raquel: Olicity. For six years we have seen this relationship grow next to Oliver and Felicity. We have lived good and bad times with them. We have cried, we have suffered and we have melted with them. This week's DCTV Megacrossover was dedicated to them. A further evolution of their relationship that has led them to their wedding. They have shown us their deepest fears and that the love they feel for each other has no end. That's why they are my OTP of the week.
Lariel: Ray/Leo. I think there's still some debate over what that should be called; I like ColdRay. Let me be clear: I'm still a CaptainCanary shipper who's heartbroken that we likely won't get more than the little taste we were given in Legends S1 (still my favorite season of Legends). BUT… I adored Ray & Leo together. First Leo single-handedly saves Ray and the Earth-1 heroes from a firing squad. How could you not love that? Then they argue a bit about helping the team right before an absolutely gorgeous kiss. And then those quick pecks Ray gives Leo as they're debating a plan – or lack of plan. And their goodbye kiss… truly, truly lovely. The way they looked at each other… for me, that was as iconic as anything we've seen from Olicity or WestAllen. They trust each other, even to the point where Ray doesn't question Leo's decision to stay on Earth-1 and believes that Leo will come back to him.
It was wonderful to see Wentworth Miller finally be able to play Snart as the pansexual character he'd originally pitched to the writers, and to portray such a loving relationship. It almost reconciles me to the loss of CaptainCanary. I still need them to address that, giving Sara – and the fans – closure, and I hope they will. But if Wentworth was to reconsider and decide to return to the Arrowverse, I would LOVE to see him and Ray on the Waverider and finally give the Legends a believable romance.
Lacey: Karamel, Supergirl. Shocker, I know! Ha-ha My babies while they may be separated right now, are finally back in the same century at least! Last week's episode was so raw and emotional and the acting on both Chris Wood and Melissa Benoist's parts was pure perfection! I felt every crack of Kara's heart. I felt every breath that Mon-El held as he had to keep his emotions and feelings in. I felt it. All of it and THAT is what makes this duo the OTP of my life! Seriously though, the road is just starting for these two and I'm excited (yet nervous) to see what happens next.
Danielle: Beth and Randall on This is Us, aka #Brandall. Their chemistry is usually very good, but on this situation with their foster daughter Deja, they actually worked together to figure out what to do. Where Randall is usually the emotional one, and Beth is the tough one, they knew they had to talk and keep open communication together.
When Randall related life to Pac-Man, and took off his glasses when Beth had called him "rose colored glasses", I died at the geeky cuteness!!
Kayla: Sara and Alex in the DCTV crossover. I call them Agent Canary. I've seen Salex too. Point being is I loved it! I know it's just a crossover thing, but I'd love to see them interact again. Seeing Sara on Supergirl would make me very happy. And now that time travel has been introduced into Earth-38 via Mon-El's return with the Legion, maybe Sara and her team can just pop on by and help Alex, Kara, and the Legion with a mission. Legends/Supergirl crossover, anyone?
Jade: Westallen in the DCTV crossover. I may have issues with how everything went down, but they deserve every moment of happiness they have coming to them in future. I adored their vows to each other. Barry getting misty eyed when seeing the woman he's loved for so long walking down the aisle was perfect. And for one beautiful moment, before all hell broke loose, they were so lost in their love for each other that they might as well have been the only two people in the room. As it should be.
Lizzie: There are two particular ship moments that stand out for me – Barry and Iris's vows, and the Oliver/Felicity reunion. So I'm saying Olicity and Westallen, because even though the way the wedding ended up happening wouldn't have been my first choice, I love both of these couples and I'm glad we get to see them facing the future together.
Moment that made you collapse into a puddle of FEELS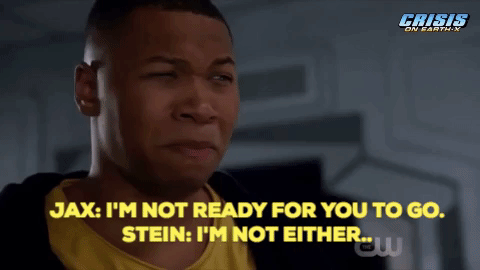 Lizzie: Look, I knew Victor Garber was leaving Legends of Tomorrow, but I never want to see Victor Garber dying on my TV screen ever again. My chest hurts just from thinking about it – and I DIDN'T EVEN LOVE MARTIN STEIN THAT MUCH. I do love Victor, though. So this is heartbreaking.
Raquel: OLICITY WEDDING. Olicity was born from the "unthinkable". As the best things in life was something unexpected, that wasn't planned. Only something clicked on their first scene. There was magic. We start from the bottom. With a broken man who didn't think he deserved something like love and happiness and with a special girl who decided to make him see that he was a good person and deserved life and love. And now, after 6 years waiting, THEY'RE MARRIED.
Lacey: Toby's speech, This Is Us. Last week's episode shed light on something that so many women have suffered through and it hit really close to home with me. The entire episode was hard to watch but so beautiful at the same time. But what got me the most was Toby's speech. When something like this happens, it's almost easy to forget how the father is affected and to hear Toby's words about how much he is hurting and how much he loves Kate was breathtaking. Chris Sullivan's acting was sensational and it truly touched me. This episode will always hold a special place in my heart and as usual, This Is Us shows why it's such a phenomenon! The stories are so real and relatable. It's everything.
Martin Stein's death, DC's Legends of Tomorrow. Of course I knew Victor Garber was leaving the show but deep in my soul, I hoped that they would let him return home to his wife, daughter and new grandson. But I should've known that nothing ever turns out that way. I am still so heartbroken! Watching him die and hearing his last words to Jefferson reminded me so much of Jack Bristow's death from Alias. Saying goodbye to Sydney and telling her how much he loved her and then seeing him do the same with Jefferson?! Like seriously?! It's been 11 years since Jack Bristow died and it still hurts my heart to think about it and seeing Stein die was just as painful. I will miss Mr. Garber deeply as he has always been one of my favorite parts of the DCTV shows. And even though the scene was gut-wrenching, he once again showed us what a phenomenal actor he is!
Lariel: Stein's death. I did love Stein and Jax, more than Firestorm, although I admit I may be even more fond of the fanfic versions I've read and written than of the version they gave us on the show (I still have problems with the way Stein interacted with Mick after learning about Mick's hallucinations last season). We knew Victor Garber was leaving, and that there would be a crossover death connected to Legends. I had hoped that it would not be him, but I knew that was such an outside chance. I purposefully spoiled myself on social media before the broadcast here on the West Coast, because I didn't want to once again endure what I did when they killed Earth-1 Snart in 2016. It *almost* worked; at least this time I went into work the next day. But here I am, still feeling upset over this loss.
Kayla: Gah! So many feels from the DCTV crossover. The little blip of Mon-El at the beginning of the Supergirl episode showing him worrying about Kara. (Aren't you married Mon-El? Seriously, he's spent more time worried about Kara than his own wife – something's fishy.) To the duel weddings of Olicity and WestAllen. It was beautiful. Hearing Melissa Benoist sing is a pure joy. Seeing all the characters interact was amazing. But I think it was the death of Stein that had me in tears. I bawled like a baby. I knew of the death months ago, and I still bawled my eyes out.
Sarah: It may not have lasted longer than a few minutes, but I absolutely bawled my eyes out from sheer feels when Iris walked down the aisle to Kara singing "Running Home to You." Barry is the only one who's heard her sing till now, and this was literally the best request I could have ever dreamed for a few reasons: Melissa Benoist sings like an angel, and I couldn't think of a better song to accompany Iris down the aisle than the song Barry sang to her when he proposed to her. Kudos to whoever came up with this cause whatever my issues with anything else, this was perfect to me.
Jade: I agree with Sarah's comment. Having Benoist sing "Running Home to You" during the ceremony was perfect and beautiful. There were other moments that brought the feelings in the crossover. I really loved the first scene between Kara and Alex, when Alex was all ready to get sloppy sad drunk and then Kara shifted gears. I was so happy to see all the women bonding together in the salon before the wedding. The happiness on Iris and Barry's faces at their wedding was everything. And their vows to each other were perfect. I got huge feels from seeing Snart again, and then my heart totally broke when Stein died. The crossover brought several memorable moments that got me right in my feels.
Superhero of the Week
Raquel: Felicity Smoak and Oliver Queen. Felicity is a hero in all the Earths we have known her. Including Earth X. In that horrible place they caught her because she was trying to help helpless children. Oliver is a wonderful hero. He always fights for the people he loves and never gives up. Of course, he is the leader of the entire legion of superheroes.
Lacey: Kara Zor-El, Supergirl. Once again, Kara proved why she is the epitome of a superhero. She was literally willing to give up her life so save others. She never thinks twice and never runs, even when she has the chance to escape like she did during this week's crossover. She could have easily left and abandoned Iris and Felicity but she came back and she surrendered herself. Even without the power of a yellow sun, even when she was a mere human, she risked everything for everyone. She is true hero and it is such a joy to watch Melissa Benoist kill it each week.
Lariel: Felicity Smoak, for standing up to defend Supergirl. Heroes don't need masks or superpowers. They need the courage and the will to do what's right, and that's exactly what Felicity showed.
Jade: Iris West and Felicity Smoak. They don't have powers, but they teamed up to do what they could to fight Nazis and save Supergirl.
Lizzie: What Jade said. I will take an Iris West/Felicity Smoak (or hey, the wonderful actresses that portray them!) action flick!
Quote of the Week
Raquel: "My biggest fear is losing you." – Felicity Smoak. "I DO" "You're the very best part of me. I'm a better human being just for loving you." – Oliver Queen.
Felicity has confessed to Oliver her greatest fear, which is the same as his. And Oliver has made the most beautiful votes no votes in history. Oliver recognizes that she made him a better person. Without her, he would continue in the dark. Without her, he wouldn't be a hero. And without her, he would be lost.
Lacey: "You have to believe that no matter what century or universe or world I'm living in that I would never forget you. Never." – Mon-El, Supergirl
"I knew I could count on you, Pretty! Did you bring beers?" – Mick Rory, DC's Legends of Tomorrow
Lariel: "Who needs heroes when you have Legends?" – Nate Heywood
Nate is finally becoming bearable this season! I just wish we'd had more of the Legends in the crossover, but I know there wasn't enough time.
Danielle: "I didn't know if you were number 1, number 2 or number 3. You had a nickname I didn't know from a life I had nothing to do with. Who was I to insert myself into your life against your mother's wishes?…who was I?" – William, This is Us
Having William explain his fears of fatherhood to Randall in a flashback brought so many feelings. He's gone, but his spirit is still alive within the show, and in Randall.
Jade: "You're my home, Iris, and that's one thing that will never change." – Barry Allen. "The Flash may be the city's hero, but you, Barry Allen, you're my hero. And I am happy, excited, and honored to be your wife." – Iris West.
These two are perfect together, and as conflicted as I am about the four part crossover and how some things were handled, I am very happy that they are married. They deserve all the happiness together!
WTF Moment of the Week
Lizzie: I don't know if there's anything I can put here other than NAZIS. Because, when you have NAZIS, what else is worse? I have a hard time coming up with an answer there. Frankly, the CW's decision to use Nazis as their bad guys, and not just that, to make THEIR GOOD GUYS, Nazis, was disrespectful, short-sighted and terribly disappointing, especially in the current political climate. There's no need for TV to humanize nazis, and we shouldn't really be giving them any more propaganda, especially propaganda that does very little to stick to facts, and when it does, it does to WITHOUT PROPER CONTENT WARNING. Just a bad look all around.
Raquel: Barry letting Reverse Flash escape. Come on, Barry! Can not you lock him up at least? But let your biggest enemy escape to continue hurting people?. I think Barry skipped lesson 101 of the class "How to be a superhero."
Lariel: What caught me in that escape scene was Thawne's question – what face would he be wearing next time? Yeah, so much for being "done" with evil speedsters. Although I really wouldn't mind finding a way to bring Matt Letscher back as Thawne, perhaps as part of Mallus' goon squad on Legends.
Danielle: Deja's goodbye scene with the Pearson family. I have so many issues and feelings with this whole thing, because the family really grew attached to Deja and just a they were starting to become something more, she gets taken away by her mother. A mother who had spent the last half of the season (maybe a year?) in jail. And then
Deja actually agrees to go with her mama?! WTH. I really hope Deja comes back, but this scene just felt so…wrong.
Kayla: Everything Lizzie said. That is all. I had a feeling this wasn't going to be handled gently, and I was right. The Arrowverse writers don't have the tact to handle a controversial topic such as NAZIS with the grace needed.
Jade: My word, absolutely everything about the Nazis. Everything Lizzie said. Culminating in the fact that Barry let Reverse Flash – who not only is his greatest enemy but also volunteered to join Nazis because they seemed like his kind of people (I guess) AND who was implied at least to be the Josef Mengele of Earth X – go. I mean, I'm not saying he had to straight up murder the guy but prison exists, you know? If Peekaboo deserved to be in the pipeline for being a thief, surely Reverse Flash deserved to be locked up for perpetrating crimes against humanity. What the hell, crossover? What the hell?
Agree? Disagree? Have another moment you think we missed? Share with us in the comments below!