TV is a wonderful thing – it's an escape, it's a refuge, it's a chance to see ourselves, to live out adventures, to love and to dream. That's why we connect to shows and characters so much. That's why we care.
2017 gave us some pretty amazing shows – some are still with us, some not, but we're here to celebrate all, the ones that made us feel, the ones that made a difference. The ones that have stuck to us. So, without further ado, here we go ….
Sweet/Vicious
Why are you gone? Why couldn't you stay with us forever? The story of Jules and Ophelia, the story of this group of people, of this fight, touched us deeply. More than that, it empowered us; it made us feel like we could keep moving forward, like we weren't defined by our past – or by how much we'd been hurt. It made us feel strong. And for that, Sweet/Vicious will always, always hold a special place in our hearts.
Pitch
Ginny Baker was our girl. No, Ginny Baker is our girl. She will remain our girl, even if FOX didn't bring her back, even if everyone else forgets her. Because Ginny Baker showed us that bravery takes on many forms and strength is sometimes both physical and mental, and yet it always takes a different form for different people.
The Bold Type
Shows centered around women, really centered around women, are rarer than they should be. Shows that glorify friendship, that provides us with a healthy, realistic LGBT couple and a group of women that defy stereotypes of cattiness and jealousy to always, always be there for each other? Those seem like a dream come true, and The Bold Type is that dream. We're glad we get to keep on dreaming.
Timeless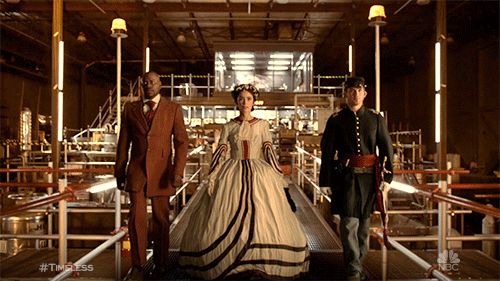 Smart, check. Diverse, check. Informative, check. And yet, despite all the objectively good things we can say about Timeless, the thing that really, truly got us, was not just the chemistry between the three main actors, but the heart they, and everyone else on this cast/crew/writing team puts into making this show not just good, but a true representation of our times. Clockblockers for life!
The Good Place
If you're not watching this show, you're missing out on probably the BEST comedy on TV, and one of the smartest ones in years. But smart comedy sounds boring, doesn't it? You don't want your comedies to be smart, you want them to be …well, funny. The Good Place is that too. Plus, it's endearing, brilliantly acted and it puts a smile on your face, no exceptions.
One Day at a Time
We've said it before, we'll say it again: representation is a beautiful thing, but you know what's even more beautiful? When that representation comes in the form of a smart, perfectly written and acted show that never gets too comfortable in how good it is, always continues to push the envelope and try to get better. Can we get like 10 seasons more of this? This is the kind of show we want (need) in our TV forever.
This is Us
For a show that has everyone crying basically all the time and whose twitter hashtag IS a box of Kleenex, you'd think This is Us was actually about sad things. But it's not, not really. It's about life and love and family, and the ups and downs that come with all of it. You might think it's not for you, but the truth is, this show is for everyone, and everyone will get something out of it.
Wynonna Earp
The supernatural show changed how we look at pregnant actresses on TV by embracing and incorporating the leads real life circumstances into the show without taking away from Wynonna's badass nature. It's also responsible for one of the healthiest & ever-developing LGBT relationships in the form of Wayhaught.
Game of Thrones
What can we say about Game of Thrones that hasn't already been said? The show has had its ups and downs (Season 5, we're looking at you), and there are so many things we wish it did better, but as far as fantasy goes, the show is still the kind of spectacle it's hard to look away from. Plus, we're just invested in the Starks, at this point. We're here for their happy ending. Please tell us SOMEONE gets a happy ending.
Agents of S.H.I.E.L.D
The little show that was born out of our love for Agent Coulson has grown into a powerhouse of unique storytelling. Their connection to the MCU has allowed them to expand on known storylines & create AU's you never even knew you wanted with a diverse cast of funny, badass, and intelligent men and women.
Skam
The sad thing about Skam is that most of us learned about it way too late, and we're now stuck in this weird kind of longing – we miss it, but we never really saw all of it live. Does that mean we don't want more? Hell no. And we're not talking reboots, either. We want these people, these actors. For two, five, ten, twenty more seasons. Till they're old and grey. We'll take it all.
The Handmaid's Tale

We're not going to lie; The Handmaid's Tale is not an easy show to watch. In the world we live in, though, it feels like a necessary one. It's not just brilliantly acted; it's a harrowing tale of how hard it is to be a woman, even if the world we see on the TV is not exactly the one we live in. Our suggestion? Watch it. "Suffer thought it." It's important.
Outlander
Claire and Jamie stole our hearts years ago, and we're still here for their journey, for the family they started and for the fact that, even all these years later, they're still it for each other. Plus, who said adventures are only there for the young? These two are just as sizzling together as they were in Season 1, and we're here for even more of their love!
Lucifer

How does Lucifer continue to surprise us? Maybe it's the tremendous cast, the smart writing or the fact that, despite the titular character being male, this show takes a great deal of care on focusing on strong women, on skewing stereotypes, of foregoing drama for the sake of drama. And hey, it does that while still keeping us at the edge of our seat! Here's to the devil in a suit.
A Series of Unfortunate Events

For such a sorrowful tale, Netflix's adaptation of a Series of Unfortunate Events managed to remind us that life sucks sometimes, yes, but when you've got family, you can get through the bad things, and the other things. Even if the other things are Olaf-shaped. Oh, and let's not even go into how the show trolled us – hard. Kuddos, ASOUE. You had us.
Stranger Things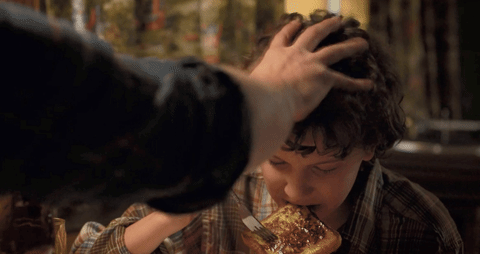 Found families, 80's throwbacks, and some of the most talented young actors come together to deliver one of the best shows on Netflix. It also gave us one of the best Halloween costumes: a pink dress, blonde wig, and a box of waffles. You really can't beat that.
The Good Doctor

If it seems like The Good Doctor brings us to tears every week, it's not because the show is inherently sad, either, or because people die all the time, it's because the show manages to touch us, because Freddie Highmore is nuanced and understated in his performance, and because the representation of autism is both way overdue and totally necessary. You want to feel things? Watch this show. It'll touch your heart.
A special DCTV aside (Supergirl, The Flash, Arrow, Legends of Tomorrow)
We can't say we always loved them – Arrow Season 5 was a travesty, and The Flash Season 3 wasn't really our favorite, but we can't deny that even when we didn't love them, these shows always made us feel things, and we have a hard time quitting them altogether.
What about you? Agree? Disagree? What were your favorite shows of 2017? Share with us in the comments below!