2017 brought us lots of amazing new books, from Angie Thomas' The Hate U Give to Jennifer Mathieu's Moxie to John Green's Turtles All The Way Down. Today, we're looking ahead to the new year, and going through some of our most anticipated 2018 releases.
I tried, okay? I really, really tried to cut this list down to 10 books. And I failed miserably. There are so many great books coming out in 2018 that make us feel like we're going to be blown away.
And that excited everyone at Fangirlish.
I'm excited about a lot of 2018 releases.
---
Batman: Nightwalker by Marie Lu
Available January 2nd.
It's Marie Lu. Writing about teenage batman. What more is there to be said?
This book is going to be awesome.
SYNOPSIS: Before he was Batman, he was Bruce Wayne. A reckless boy willing to break the rules for a girl who may be his worst enemy.
The Nightwalkers are terrorizing Gotham City, and Bruce Wayne is next on their list.
One by one, the city's elites are being executed as their mansions' security systems turn against them, trapping them like prey. Meanwhile, Bruce is turning eighteen and about to inherit his family's fortune, not to mention the keys to Wayne Enterprises and all the tech gadgetry his heart could ever desire. But after a run-in with the police, he's forced to do community service at Arkham Asylum, the infamous prison that holds the city's most brutal criminals.
Madeleine Wallace is a brilliant killer . . . and Bruce's only hope.
In Arkham, Bruce meets Madeleine, a brilliant girl with ties to the Nightwalkers. What is she hiding? And why will she speak only to Bruce? Madeleine is the mystery Bruce must unravel. But is he getting her to divulge her secrets, or is he feeding her the information she needs to bring Gotham City to its knees? Bruce will walk the dark line between trust and betrayal as the Nightwalkers circle closer.
---
The Spring Girls by Anna Todd
Available: January 2nd
Four sisters desperately seeking the blueprints to life—the modern-day retelling of Louisa May Alcott's Little Women like only Anna Todd (After, Imagines) could do. The Spring Girls—Meg, Jo, Beth, and Amy—are a force of nature on the New Orleans military base where they live. As different as they are, with their father on tour in Iraq and their mother hiding something, their fears are very much the same. Struggling to build lives they can be proud of and that will lift them out of their humble station in life, one year will determine all that their futures can become. We're here for it.
SYNOPSIS: Worldwide phenomenon Anna Todd (the After series, Nothing More, Imagines) presents a modern retelling of a beloved classic—Louisa May Alcott's Little Women.
In the remix tradition of the cult favorite movie Clueless and Curtis Sittenfeld's Eligible comes a modern retelling of the beloved story of the March sisters, delivered with Anna Todd's signature style. With plenty of sass, romance, and drama, The Spring Girls is the perfect chance for you to revisit Little Women or discover this cherished story for the first time.
---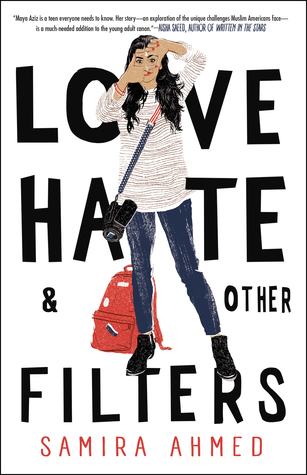 Love, Hate & Other Filters by Samira Ahmed
Available: January 16th
Books with Muslim protagonists are, sadly, all too rare even in the days when conversations surrounding diversity in books and the importance of supporting #OwnVoices are finally reaching mainstream news outlets.
Love, Hate and Other Filters looks like a cute, heartwarming coming of age story that also happens to be incredibly relevant and important in today's society. In other words, just my kind of book. I can't wait to pick it up.
SYNOPSIS: A searing #OwnVoices coming-of-age debut in which an Indian-American Muslim teen confronts Islamophobia and a reality she can neither explain nor escape–perfect for fans of Angie Thomas, Jacqueline Woodson, and Adam Silvera.
American-born seventeen-year-old Maya Aziz is torn between worlds. There's the proper one her parents expect for their good Indian daughter: attending a college close to their suburban Chicago home, and being paired off with an older Muslim boy her mom deems "suitable." And then there is the world of her dreams: going to film school and living in New York City—and maybe (just maybe) pursuing a boy she's known from afar since grade school, a boy who's finally falling into her orbit at school.
There's also the real world, beyond Maya's control. In the aftermath of a horrific crime perpetrated hundreds of miles away, her life is turned upside down. The community she's known since birth becomes unrecognizable; neighbors and classmates alike are consumed with fear, bigotry, and hatred. Ultimately, Maya must find the strength within to determine where she truly belongs.
---
A Land of Permanent Goodbyes by Atia Abawi
January 23rd
If you like tearjerkers, this looks like the book for you. I cannot wait to dive into this heartbreaking and incredibly pertinent story about Syria and about the experience of being a refugee.
SYNOPSIS: Narrated by Destiny, this heartbreaking — and timely — story of refugees escaping from war-torn Syria is masterfully told by a foreign news correspondent who experienced the crisis firsthand.
In a country ripped apart by war, Tareq lives with his big and loving family . . . until the bombs strike. His city is in ruins. His life is destroyed. And those who have survived are left to figure out their uncertain future.
In the wake of destruction, he's threatened by Daesh fighters and witnesses a public beheading. Tareq's
family knows that to continue to stay alive, they must leave. As they travel as refugees from Syria to Turkey to Greece, facing danger at every turn, Tareq must find the resilience and courage to complete his harrowing journey.
But while this is one family's story, it is also the timeless tale of all wars, of all tragedy, and of all strife. When you are a refugee, success is outliving your loss.
Destiny narrates this heartbreaking story of the consequences of war, showing the Syrian conflict as part of a long chain of struggles spanning through time.
An award-winning author and journalist–and a refugee herself–Atia Abawi captures the hope that spurs people forward against all odds and the love that makes that hope grow.
---
The Hazel Wood by Melissa Albert
January 30th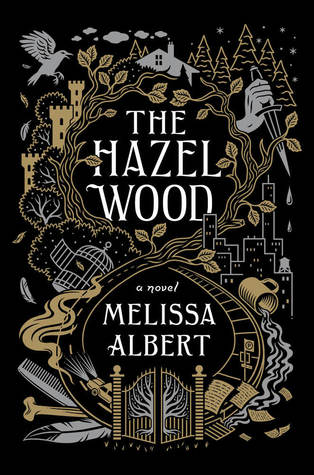 I love fairy tales, and this one promises to be darker than most of the ones we usually read about. Think more Brothers Grimm and less Disney.
The Hazel Wood centres around a young girl named Alice who ventures into the mythical setting of her grandmother's cult-classic books to rescue her mother, teaming up with one of her grandmother's biggest fans along the way.
SYNOPSIS: Seventeen-year-old Alice and her mother have spent most of Alice's life on the road, always a step ahead of the uncanny bad luck biting at their heels. But when Alice's grandmother, the reclusive author of a cult-classic book of pitch-dark fairy tales, dies alone on her estate, the Hazel Wood, Alice learns how bad her luck can really get: her mother is stolen away―by a figure who claims to come from the Hinterland, the cruel supernatural world where her grandmother's stories are set. Alice's only lead is the message her mother left behind: "Stay away from the Hazel Wood."
Alice has long steered clear of her grandmother's cultish fans. But now she has no choice but to ally with classmate Ellery Finch, a Hinterland superfan who may have his own reasons for wanting to help her. To retrieve her mother, Alice must venture first to the Hazel Wood, then into the world where her grandmother's tales began―and where she might find out how her own story went so wrong.
---
The Belles by Dhonielle Clayton
We've already read this book and we're telling you that the moment that it comes out, you need to pick it up and read right away. The world building, the ambiance, well… it's all just fabulous.
Definitely one of the best books we've read for 2018.
SYNOPSIS: Camellia Beauregard is a Belle. In the opulent world of Orléans, Belles are revered, for they control Beauty, and Beauty is a commodity coveted above all else. In Orléans, the people are born gray, they are born damned, and only with the help of a Belle and her talents can they transform and be made beautiful.
But it's not enough for Camellia to be just a Belle. She wants to be the favorite—the Belle chosen by the Queen of Orléans to live in the royal palace, to tend to the royal family and their court, to be recognized as the most talented Belle in the land. But once Camellia and her Belle sisters arrive at court, it becomes clear that being the favorite is not everything she always dreamed it would be. Behind the gilded palace walls live dark secrets, and Camellia soon learns that the very essence of her existence is a lie—that her powers are far greater, and could be more dangerous, than she ever imagined. And when the queen asks Camellia to risk her own life and help the ailing princess by using Belle powers in unintended ways, Camellia now faces an impossible decision.
With the future of Orléans and its people at stake, Camellia must decide—save herself and her sisters and the way of the Belles—or resuscitate the princess, risk her own life, and change the ways of her world forever.
---
The Apocalypse of Elena Mendoza by Shaun David Hutchinson
February 6th
This urban fantasy/sci-fi Young Adult novel looks exciting, charming and delightfully weird. I don't think I could do better at selling you on it than the summary:
Sixteen-year-old Elena Mendoza is the product of a virgin birth.
This can be scientifically explained (it's called parthenogenesis), but what can't be explained is how Elena is able to heal Freddie, the girl she's had a crush on for years, from a gunshot wound in a Starbucks parking lot. Or why the boy who shot Freddie, David Combs, disappeared from the same parking lot minutes later after getting sucked up into the clouds. What also can't be explained are the talking girl on the front of a tampon box, or the reasons that David Combs shot Freddie in the first place.
As more unbelievable things occur, and Elena continues to perform miracles, the only remaining explanation is the least logical of all—that the world is actually coming to an end, and Elena is possibly the only one who can do something about it.
---
One True Way by Shannon Hitchcock
February 27th
This one's a middle grade read, but an essential one nonetheless. One True Way is a heartening story set in the 1970s, and centred around a pair of middle school girls who start to realize that they might be more than just friends.
SYNOPSIS: A heartening story of two girls who discover their friendship is something more. But how, among their backward town, will Sam and Allie face what they know is true about themselves?
Welcome to Daniel Boone Middle School in the 1970s, where teachers and coaches must hide who they are, and girls who like girls are forced to question their own choices. Presented in the voice of a premier storyteller, One True Way sheds exquisite light on what it means to be different, while at the same time being wholly true to oneself. Through the lives and influences of two girls, readers come to see that love is love is love. Set against the backdrop of history and politics that surrounded gay rights in the 1970s South, this novel is a thoughtful, eye-opening, look at tolerance, acceptance, and change, and will widen the hearts of all readers.
---
The Poet X by Elizabeth Acevedo
March 6th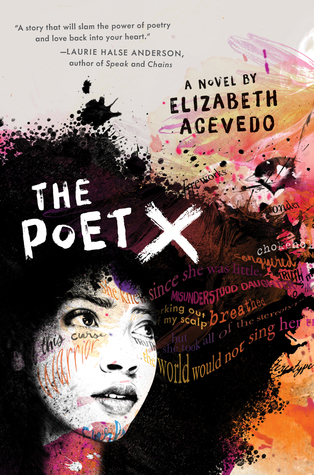 This one is a little different from the other books on this list, because it's told in verse. If you haven't gotten into slam poetry, you need to get on that, right now.
While the format is what immediately intrigued me about this book, the story sounds incredible too. As the Goodreads blurb reads, "A young girl in Harlem discovers slam poetry as a way to understand her mother's religion and her own relationship to the world."
SYNOPSISP: A young girl in Harlem discovers slam poetry as a way to understand her mother's religion and her own relationship to the world. Debut novel of renowned slam poet Elizabeth Acevedo.
Xiomara Batista feels unheard and unable to hide in her Harlem neighborhood. Ever since her body grew into curves, she has learned to let her fists and her fierceness do the talking.
But Xiomara has plenty she wants to say, and she pours all her frustration and passion onto the pages of a leather notebook, reciting the words to herself like prayers—especially after she catches feelings for a boy in her bio class named Aman, who her family can never know about. With Mami's determination to force her daughter to obey the laws of the church, Xiomara understands that her thoughts are best kept to herself.
So when she is invited to join her school's slam poetry club, she doesn't know how she could ever attend without her mami finding out, much less speak her words out loud. But still, she can't stop thinking about performing her poems.
Because in the face of a world that may not want to hear her, Xiomara refuses to be silent.
---
The Unbinding of Mary Reade by Miriam McNamara
March 6th
There's no place for a girl in Mary's world. Not in the home of her mother, desperately drunk and poor. Not in the household of her wealthy granny, where a girl could never be named an heir. And certainly not in the arms of Nat, her childhood love who never knew her for who she was. As a hired sailor aboard a Caribbean merchant ship, Mary's profession—and her safety—depend on her ability to disguise the fact that she's a girl.
Leastways, that's what she thinks is true. But then pirates attack the ship, and right in the middle of the swashbuckling crowd of bloodthirsty pirates, Mary spots something she never could have imagined: a girl pirate. The sight of a girl standing unafraid upon the deck, gun and sword in hand, changes everything. In a split-second decision, Mary turns her gun on her own captain and earns herself a spot among the pirates' crew.
For the first time, Mary has a shot at freedom. But imagining living life as her true self is easier, it seems, than actually doing it. And when Mary finds herself falling for the captain's mistress, she risks everything—her childhood love, her place among the crew, and even her life.
Feminism? Female pirates? A f/f ship? Historical Fanfiction? Yes please.
---
Children of Blood & Bone by Tomi Adeymi
March 6th
We've seen this book everywhere and are jealous of all of our friends who have their hands on this book already. We're big on covers and the cover for this book is beautiful.
The amazing reviews that it is getting make us even more anxious to read it.
SYNOPSIS: Zélie Adebola remembers when the soil of Orïsha hummed with magic. Burners ignited flames, Tiders beckoned waves, and Zelie's Reaper mother summoned forth souls.
But everything changed the night magic disappeared. Under the orders of a ruthless king, maji were targeted and killed, leaving Zélie without a mother and her people without hope.
Now, Zélie has one chance to bring back magic and strike against the monarchy. With the help of a rogue princess, Zélie must outwit and outrun the crown prince, who is hell-bent on eradicating magic for good.
Danger lurks in Orïsha, where snow leoponaires prowl and vengeful spirits wait in the waters. Yet the greatest danger may be Zélie herself as she struggles to control her powers—and her growing feelings for the enemy.
---
Love and Other Words by Christina Lauren
April 3rd
We've always been big fans of Christina Lauren's writing, so it should be no surprise here that we're excited for their next book. This one seems to be a departure from what they normally write. It's their first women's fiction novel.
We're excited to see what comes.
SYNOPSIS: The heart may hide, but it never forgets.
Macy Sorensen is settling into an ambitious if emotionally tepid routine: work hard as a new pediatrics resident, plan her wedding to an older, financially secure man, keep her head down and heart tucked away.
But when she runs into Elliot Petropoulos—the first and only love of her life—the careful bubble she's constructed begins to dissolve. Once upon a time, Elliot was Macy's entire world—growing from her gangly teen friend into the man who coaxed her heart open again after the loss of her mother…only to break it on the very night he declared his love for her.
Told in alternating timelines between Then and Now, teenage Elliot and Macy grow from friends to much more—spending weekends and lazy summers together in a house outside of San Francisco reading books, sharing favorite words, and talking through their growing pains and triumphs. As adults, they have become strangers to one another until their chance reunion. Although their memories are obscured by the agony of what happened that night so many years ago, Elliot will come to understand the truth behind Macy's decade-long silence, and will have to overcome the past and himself to revive her faith in the possibility of an all-consuming love.
---
Leah on the Offbeat by Becky Abertalli
April 24th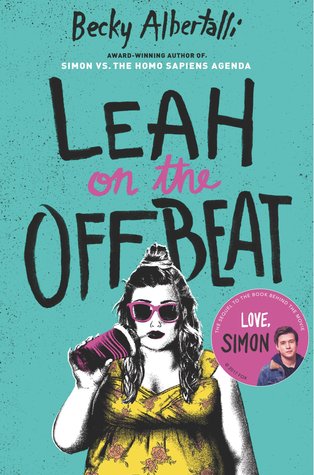 It's going to be a huge year for fans of Becky Abertalli's adorable contemporary romance Simon vs the Homo Sapiens Agenda, and we cannot wait. On March 16th, the novel will finally get a movie adaptation with Love, Simon, and just over a month later on April 24th, fans will get to see what happens to our favourite characters with Leah on the Offbeat, the much-anticipated sequel centering around Simon's best friend Leah during her senior year at high school.
If you somehow missed the hype train for Simon, now is the time to jump on board. It's heartwarming, it's inspiring, and it's one of the cutest romances you'll ever read.
---
Ship It by Britta Lundin
May 1st
It should come as no surprise that a blog called Fangirlish – and one that prides itself in enthusiastically talking about all its favourite ships – would be excited about this 2018 release.
Ship It centres around a young fanfiction writer who ends up meeting the actor playing the very character she loves to write about – only to find out that he's a bit closed-minded about his character's sexuality. By an amazing twist of fate, she ends up joining the cast for their publicity tour and getting the chance to chance the actor's mind… and possibly make her ship canon.
A cute YA contemporary with a f/f main couple that deals with shipping, fan culture, idolizing celebrities and the importance (or unimportance) of canon in shipping? Sign us up.
SYNOPSIS: Claire is a sixteen-year-old fangirl obsessed with the show Demon Heart. Forest is an actor on Demon Heart who dreams of bigger roles. When the two meet at a local Comic-Con panel, it's a dream come true for Claire. Until the Q&A, that is, when Forest laughs off Claire's assertion that his character is gay. Claire is devastated. After all, every last word of her super-popular fanfic revolves around the romance between Forest's character and his male frenemy. She can't believe her hero turned out to be a closed-minded jerk. Forest is mostly confused that anyone would think his character is gay. Because he's not. Definitely not.
Unfortunately for Demon Heart, when the video of the disastrous Q&A goes viral, the producers have a PR nightmare on their hands. In order to help bolster their image within the LGBTQ+ community-as well as with their fans-they hire Claire to join the cast for the rest of their publicity tour. What ensues is a series of colourful Comic-Con clashes between the fans and the show that lead Forest to question his assumptions about sexuality and help Claire come out of her shell. But how far will Claire go to make her ship canon? To what lengths will Forest go to stop her and protect his career? And will Claire ever get the guts to make a move on Tess, the very cute, extremely cool fanartist she keeps running into? 
---
May 1st
Look, if you didn't read The Hate U Give in 2017, I don't know what to say to you. Not only is it an incredibly entertaining read, it's also one of those books that's so important you wish everyone in the world would read it. My fellow white people: this is an essential read. It is essential to understanding the Black Lives Matter movement, race relations in general, and how our words actions can be harmful to other people. Read. This. Book.
Anyways, Angie Thomas hit it out of the park with THUG, and she's back at it again with a story about an aspiring teen rapper in Garden Heights. We can't wait to read it.
---
Girl Made of Stars by Ashley Herring Blake
May 15th
This is a much heavier book than some of the other ones on this list, dealing with rape culture and victim blaming. The main character, Mara, is placed in an impossible situation when she learns that twin brother Owen raped her friend Hannah. She knows her brother would never do something like that, but she also knows her friend would never lie about it.
Girl Made of Stars looks dark, harrowing and incredibly important today. I wouldn't miss it.
SYNOPSIS: "I need Owen to explain this. Because yes, I do know that Owen would never do that, but I also know Hannah would never lie about something like that."
Mara and Owen are about as close as twins can get. So when Mara's friend Hannah accuses Owen of rape, Mara doesn't know what to think. Can the brother she loves really be guilty of such a violent crime? Torn between the family she loves and her own sense of right and wrong, Mara is feeling lost, and it doesn't help that things have been strained with her ex-girlfriend, Charlie.
As Mara, Hannah, and Charlie navigate this new terrain, Mara must face a trauma from her own past and decide where Charlie fits in her future. With sensitivity and openness, this timely novel confronts the difficult questions surrounding consent, victim blaming, and sexual assault.
---
Anger Is A Gift by Mark Oshiro
May 22nd
Centering around the always important topics of police brutality and systemic oppression of black people in america, this #OwnVoices book stars a gay, black teen learning how to stay motivated as an activist despite recent tragedy and increasing tensions at his high school.
Six years ago, Moss Jefferies' father was murdered by an Oakland police officer. Along with losing a parent, the media's vilification of his father and lack of accountability has left Moss with near crippling panic attacks.
Now, in his sophomore year of high school, Moss and his fellow classmates find themselves increasingly treated like criminals their own school. New rules. Random locker searches. Constant intimidation and Oakland Police Department stationed in their halls. Despite their youth, the students decide to organize and push back against the administration.
When tensions hit a fever pitch and tragedy strikes, Moss must face a difficult choice: give in to fear and hate or realize that anger can actually be a gift.
SYNOPSIS: A story of resilience and loss, love and family, Mark Oshiro's Anger is a Gift testifies to the vulnerability and strength of a community living within a system of oppression.
Six years ago, Moss Jefferies' father was murdered by an Oakland police officer. Along with losing a parent, the media's vilification of his father and lack of accountability has left Moss with near crippling panic attacks.
Now, in his sophomore year of high school, Moss and his fellow classmates find themselves increasingly treated like criminals their own school. New rules. Random locker searches. Constant intimidation and Oakland Police Department stationed in their halls. Despite their youth, the students decide to organize and push back against the administration.
When tensions hit a fever pitch and tragedy strikes, Moss must face a difficult choice: give in to fear and hate or realize that anger can actually be a gift.
---
Social Intercourse by Greg Howard
June 5th
Okay, first of all, this book has the best title I've ever seen, so that alone is almost enough to get it a spot on this list. Second of all, this looks hilarious and adorable. Just look at the official summary:
Beck:
The Golden Girls-loving, out-and-proud choir nerd growing up in the "ass-crack of the Bible belt."

Jax:
The Golden Boy, star quarterback with a slick veneer facing uncomfortable truths about himself and his past.

When Beck's emotionally fragile dad starts dating the recently single (and supposedly lesbian) mom of former bully, Jaxon Parker, Beck is not having it. Jax isn't happy about the situation either, holding out hope that his moms will reunite and restore the only stable home he's ever known. Putting aside past differences, the boys plot to derail the budding romance between their parents at their conservative hometown's first-ever Rainbow Prom. Hearts will be broken, new romance will bloom, but nothing will go down the way Beck and Jax have planned.
---
A Reaper At the Gates by Sabaa Tahir
June 12th
There's not much I can say about this book without spoiling it because it's the third in a series, but if you haven't read the first two books in Sabaa Tahir's An Ember in the Ashes series, you're missing out on some of the best YA fantasy out there.
You need this book.
SYNOPSIS: Beyond the Empire and within it, the threat of war looms ever larger.
The Blood Shrike, Helene Aquilla, is assailed on all sides. Emperor Marcus, haunted by his past, grows increasingly unstable, while the Commandant capitalizes on his madness to bolster her own power. As Helene searches for a way to hold back the approaching darkness, her sister's life and the lives of all those in the Empire hang in the balance.
Far to the east, Laia of Serra knows the fate of the world lies not in the machinations of the Martial court, but in stopping the Nightbringer. But while hunting for a way to bring him down, Laia faces unexpected threats from those she hoped would aid her, and is drawn into a battle she never thought she'd have to fight.
And in the land between the living and the dead, Elias Veturius has given up his freedom to serve as Soul Catcher. But in doing so, he has vowed himself to an ancient power that will stop at nothing to ensure Elias's devotion—even at the cost of his humanity.
---
All Your Perfects by Colleen Hoover
She's the master of breaking our hearts and putting them back together. No shock that we're excited for the next Colleen Hoover novel. All Your Perfects seems like it will be too much to bear, which makes us want it even more.
Break our hearts please.
SYNOPSIS: Quinn and Graham's perfect love is threatened by their imperfect marriage. The memories, mistakes, and secrets that they have built up over the years are now tearing them apart. The one thing that could save them might also be the very thing that pushes their marriage beyond the point of repair.
---
August 7th
If you somehow missed out on The Darkest Minds trilogy, now is definitely the time to go read it. You will fall deeply in love with every single one of the characters, and the plot will keep you guessing right up to the end. It's funny, it's emotional, and it's inspiring. Go read it. Need extra motivation? There's a movie in the works!
But in possibly even more exciting news, Alexandra Bracken is revisiting the series in 2018 with a fourth book centering around Zu, the adorable little girl who is now a teenager.
We don't know much about the plot of this book yet, but we know we're excited!
---
Catwoman: Soulstealer by Sarah J. Maas
August 7th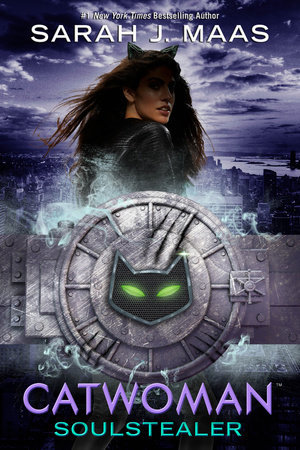 When DC announced that it was releasing a series of YA novels about DC superheroes written by prominent YA authors, one of the first things I thought about was how perfectly matched all the authors were to their superheroes. I don't even know that much about Catwoman, but I know that Sarah J. Maas is the perfect person to write her story, and I cannot wait to read her take on the superhero.
SYNOPSIS: Sizzling with action and suspense, #1 New York Times bestselling author SARAH J. MAAS delivers a coming-of-age Selina Kyle who will steal readers' hearts in a new, highly anticipated YA blockbuster: CATWOMAN!
When the Bat's away, the Cat will play. It's time to see how many lives this cat really has. . .
Two years after escaping Gotham City's slums, Selina Kyle returns as the mysterious and wealthy Holly Vanderhees. She quickly discovers that with Batman off on a vital mission, Batwing is left to hold back the tide of notorious criminals. Gotham City is ripe for the taking.
Meanwhile, Luke Fox wants to prove he has what it takes to help people in his role as Batwing. He targets a new thief on the prowl who seems cleverer than most. She has teamed up with Poison Ivy and Harley Quinn, and together they are wreaking havoc. This Catwoman may be Batwing's undoing.
In this third DC Icons book–following Leigh Bardugo's Wonder Woman: Warbringer and Marie Lu's Batman: Nightwalker–Selina is playing a desperate game of cat and mouse, forming unexpected friendships and entangling herself with Batwing by night and her devilishly handsome neighbor Luke Fox by day. But with a dangerous threat from the past on her tail, will she be able to pull off the heist that's closest to her heart?
---
Heretics Anonymous by Katie Henry
August 7th
Maybe I'm biased toward this one because it's personal to me and to my experiences, but this looks like I fascinating read. I can't wait.
Michael is an atheist. So as he walks through the doors at St. Clare's—a strict Catholic school—sporting a plaid tie, things can't get much worse. His dad has just made the family move again, and Michael needs a friend. When a girl challenges their teacher in class, Michael thinks he might have found one, and a fellow nonbeliever at that. Only this girl, Lucy, is not just Catholic . . . she wants to be a priest.
But Lucy introduces Michael to other St. Clare's outcasts, and he officially joins Heretics Anonymous, where he can be an atheist, Lucy can be an outspoken feminist, Avi can be Jewish and gay, Max can wear whatever he wants, and Eden can practice paganism. After an incident in theology class, Michael encourages the Heretics to go from secret society to rebels intent on exposing the school's hypocrisies. When Michael takes one mission too far—putting the other Heretics at risk—he must decide whether to fight for his own freedom, or rely on faith, whatever that means, in God, his friends, or himself.
---
Broken Things by Lauren Oliver
We're always impressed by the way that Lauren Oliver writes. The way that she builds a world and makes it more than you ever hoped for.
We are looking forward to Broken Things, because it's so different than anything that Oliver has written. At least that's what we're getting from the synopsis.
SYNOPSIS: It's been five years since Mia and Brynn murdered Gemma Marks, their best friend, in the woods.
Increasingly obsessed with a novel called The Way into Lovelorn and by their fan-fiction imagining of its sequel, the girls were drawn by an undertow of fantasy into the magical world they'd created. But eventually, their delusions turned sick, and the Shadow, Lovelorn's central evil, began to haunt them.
Or so the story goes. The only thing is: they didn't do it.
Brynn and Mia have both found different ways to hide from their notoriety, seeking refuge from a world that hates them-a world that will never feel magical, or safe, ever again.
On the anniversary of Gemma's death, a seemingly insignificant discovery resurrects the mystery and pulls Mia and Brynn back together once again. But as past and present, fiction and reality, begin again to intertwine, Brynn and Mia must confront painful truths they tried for so long to bury-and face the long shadow of memory that has, all this time, been waiting.
In this engrossing, twisty novel, New York Times bestselling author Lauren Oliver weaves an unforgettable, mesmerizing tale of exquisite obsession, spoiled innocence, and impossible friendships.
---
What If It's Us by Becky Albertalli and Adam Silvera
October 2nd
Can you think of a better writing duo than Becky Albertalli and Adam Silvera?
These two have written some of the best contemporary gay romances in YA fiction, and based on what little we know about What If It's Us, I'm assuming this one will be just as cute and emotional as any of their books. A must-read for sure.
---
Queen of Air and Darkness by Cassandra Clare
December 4th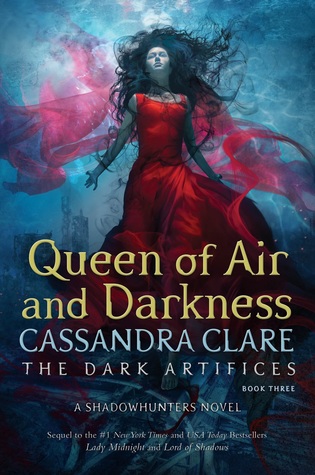 I'm not even going to bother convincing you to read this book.
At this point, when it comes to Cassandra Clare's novels, you're either into it, or you're not. If you don't like the Shadowhunter books, tough luck (though I would recommend you check out one of her other series and give it another shot, because they are fantastic). And if you do like them, odds are this next book is already at the top of your TBR.
You can always count on Cassandra Clare's books being excellent, but she's especially talented at concluding series, and Queen of Air and Darkness, the third and final book in the Dark Artificecs trilogy, promises to be absolutely epic. Exciting (and heartbreaking) things are undoubtedly in store for our favourite characters, and the entire Shadow World is sure to undergo massive changes. This book doesn't come out until December, and I'm already preparing for it emotionally.
Which new releases are you looking forward to in 2018? Let us know in the comments!