Welcome to another Sunday of talking about the shows that made us laugh, cry, go awwwand, of course, look around and wonder what in the world was happening. If it made us feel things, whether they were good, or bad, then this is where we talk about it. This is where you tell us if you agree. This is where we let it all out.
So, without further ado, here are these week's picks:
Badass Female Character of the Week
Lariel: Felicity Smoak, Arrow. Just for running straight into danger to pull Oliver out of it.
Janelle: Lucy Preston on Timeless. While imprisoned, she gives a beautiful speech to Abiah Franklin and the other accused women about being targeted because they are different. It is a reminder of how much Lucy has had to sacrifice and overcome to believe in herself. She also takes a bullet in the arm and is like, ya'll go ahead, I'll be fine. Dang!
Erin: For me, it's Paige on Famous in Love. Why? Because I feel like this week she finally found that she doesn't need a man to fulfill her, what she needs to do is move forward and own her shit. She doesn't let anyones in decision make her change. She owns the past. She strives for her future. That isn't easy.
Lyra: Charlie Bradbury on Supernatural. I forgot how much I love Charlie, my heart stealing queer queen. In this world she was still as sassy, awkward, and brave as the first time I saw her. Even with death right in front of her, ready to angel beam her out of there, she didn't back down. She told them to bite her and stayed even when she had a chance to escape to somewhere better than this hell scape.
OTP of the Week
Lariel: Bruce & Selina on Gotham. Have I said lately just how much I love these two? Jeers to Jim Gordon for his timing in Thursday's episode!
Shelby: Cece and Schmidt on New Girl. The final season of New Girl premiered this week, and I finally got see my favorite couple being the magnificent parents I knew they would be to their wonderful daughter Ruth. Seeing my OTP that happy was a true gift.
Janelle: Peraltiago on Brooklyn Nine-Nine! Jake faced his fear that Amy would leave him for someone who is as smart as her. It was so beautiful and nerdy and perfect.
Erin: Rainer and Paige on Famous in Love. That scene with them together… when they are shooting LOCKED. My heart melted and tears ran down my cheeks.
Moment that made you collapse into a puddle of FEELS
Lizzie: That scene when Lucy gets off the Lifeboat, holding her injured arm, and then Wyatt runs towards her, and she looks at him all excited, but then she looks behind him and yeah, there's his wife, brought back to life, so he looks back and sees Jessica and sorta realizes what he did and then Flynn gets out and looks at Wyatt looking at Lucy so he helps Lucy down while throwing Wyatt a look and then Rufus gets and looks at Wyatt like WTF just happened. That scene. Bravo, Timeless. You slayed me.
Lariel: The death of Rip Hunter on Legends of Tomorrow. He's the one that got it all started, and the chief time traveler of the DC Universe, but somehow they really messed up with his character this season. I've been mourning what could have been. But Marc Guggenheim's subsequent Entertainment Weekly interview makes me hopeful that we will see a better version of Rip in the future.
Janelle: The scene where Captain Holt refuses to take part in the sexist practices of the police commissioner board on Brooklyn 99. His allyship gives me all the feels!
Erin: The scene where Rainer and Paige are filming Locked and he finally breaks and lets the emotions flow on Famous in Love. I have been waiting for the two of them to have a moment, because Paige didn't make the right choice for herself. She made the comfortable choice. And I am holding out for RAIGE.
Lyra: That moment when Lucy got off the Lifeboat on Timeless. Sweet buttery Jesus. The tension was grand and could be cut with a knife! P.S. No one looks at someone the way Wyatt looks at Lucy. Nope, not normal. Especially with the wife you've always wanted to come back, standing right behind you.
Superhero of the Week
Lariel: Tough one this week, but I think I'm giving it to Jennifer Pierce for finally overcoming her fear of her powers in order to save her dad's life. We only have one more episode of Black Lightning this season, and it will be interesting to see where she goes in the future.
Erin: Tough week. But I am going with Felicity Smoak. See, she puts up with a lot of shit, but when she ran after her husband to make sure that he didn't do something stupid… well, I applaud her. That's love.
Lyra: Rosita on The Walking Dead for having to deal with the mullet hot mess that is Eugene. He's a selfish traitor who only looks out for himself and he's lucky Rosita didn't straight up kill him for throwing up on her. *shiver* I'm still grossed out by it.
Quote of the Week
Hillary: (answering a fan question at ClexaCon) Chyler Leigh responded to what scene was her favorite that was shot but never aired with "about three-fourths of the scenes we filmed." The crowd all had different reactions and Leigh followed up with "I speak for myself and as many of you as I can, and that relationship did matter. It still matters. It will always matter."
Lizzie: Rufus [to Lucy]: No, no, don't do that! Rule No. 1: Don't run toward the demonic entity. – Timeless
Lyra: "That was not me, Oliver. The real me is standing right here, and I'm not going anywhere. I'm glue, baby." – Felicity Smoak, Arrow
"Sam, I don't think he's gonna open up and let the choo-choo in." – Castiel, Supernatural
WTF Moment of the Week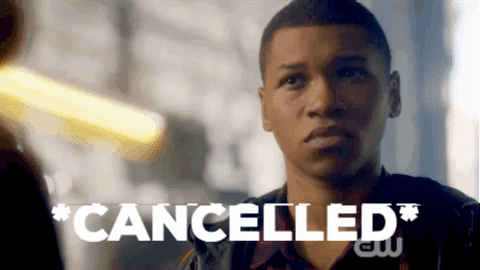 Hillary: Gotta give this one to Franz Drameh who was an actor on DC's Legends of Tomorrow. After such a great weekend at ClexaCon with Caity Lotz, Chyler Leigh and Maisie Richardson-Sellers, coming back to a toxic tweet from him about men not having impulse control and built to spread their seed was truly a WTF moment for A LOT of people. 
Except it really is hard to not cheat though. Males are built to spread their seed. societal conditioning and economic security meant we surpressed those urges but men aren't programmed to nest like women are ??‍♂️ sad but true

— Franz Drameh (@OfficialfranzD) April 11, 2018
Lariel: Following up on what Hillary said – it wasn't Franz' original tweet that bugged me so much. It echoed things I'd heard in my high school anthropology and biology classes waaay back in 1980, and I was more surprised that people were still hearing that than offended by someone saying something pretty stupid. What really bothered me was the way Franz responded to criticism: with profanity and hostility. Contrast that to Caity Lotz' response to fan outcry over something she said at Clexacon, quoting an Autostraddle article that used a term deemed a slur by many in the LGBTQ+ community. Caity thanked people for making her aware the word was a slur. It was a gracious response.
Erin: Same as Hillary.
Lyra: I'm with all these women. Franz Drameh needs to educate himself and stop acting like a spoiled brat living in an alternate reality where "whoopty doo he can't control his own body so of course he's gonna cheat!" False. This thought is a construct of your own personal weakness and inability to keep a relationship or form that bond with someone. I hope you listen, learn, and one day understand why you're words make you sound so out of touch.
Agree? Disagree? Have another moment you think we missed? Share with us in the comments below!