We're a society that wants things instantaneously. Sports included. Sports, especially. We want our team to be good now; we want a championship now; we want our young players to show growth that takes years now. And in those rare cases where some franchises experience that instantaneous breakout, it's a reminder that development isn't linear. Especially when it comes to a franchise quarterback.
Last year, it was Deshaun Watson. This year, it's Patrick Mahomes. But it's the same old story surrounding expectations when it comes to the development of Chicago Bears second-year quarterback Mitch Trubisky.
If I had a dollar for every time I've had to read or listen to fans freaking out about Trubisky or calling him a bust after 14 games of NFL football, I'd be a millionaire. I'd also be incredibly annoyed — more than I am right now. But the fact of the matter is that not only do fans want to see what they're seeing in Mahomes and have seen in Watson — instantaneous success — with Trubisky, but they're unfairly holding it against the relatively inexperienced quarterback.
Let's make it clear that I'm not making excuses for Trubisky. I'm just trying to be fair. And in being fair, it's no secret that Trubisky has underwhelmed in his first two games this season. He's had one good half ultimately marred by one bad half in both contests. He's thinking too much, missing open receivers, and has happy feet inside the pocket. It's consistency that's an issue, among other things, right now. But there's also been glimpses of what this kid can be — given the time and development.
Trubisky is the most inexperienced of the quarterbacks hailing from the 2017 draft class. Since high school, he's had 25 starts (in college and the NFL combined.) That's not an excuse, it's a fact. And when it comes to developing a quarterback, experience is everything.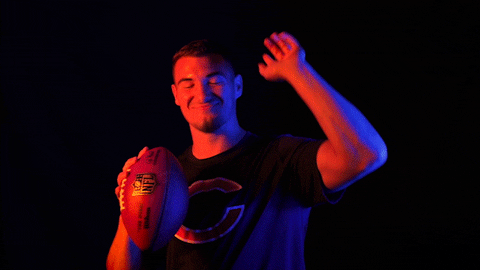 Because ultimately when discussing Trubisky, you need to make it clear what we're discussing. Are we discussing his short term success? Or are we discussing his long-term development? In evaluating him based on his first two games this season, he hasn't been good. But just as you can't say that Mahomes is going to be a great quarterback after two great games, you can't say that Trubisky is going to be a bad quarterback after two bad games this season.
But as a Bears fan myself, I understand this desire to want to believe that Trubisky isn't going to work out. We've been fooled one too many times when believing that a quarterback was going to be the next great Bears quarterback. The Bears haven't had good quarterback play. So it's easy when we see a young quarterback like Trubisky not immediately showing that he can be great to want to believe that he's going to be bad. Sometimes, it's easier that way. That way we don't get our hopes up. That way if, it ultimately doesn't pan out, that it doesn't hurt as much. Well, at least that's what we tell ourselves.
It's also okay to expect a lot out of your No. 2 overall pick. The one thing that a lot of these young quarterbacks have in common is a breakout game — a game where they show that they're going to be a force to be reckoned with down the road. So I feel like Bears' fans complaining about Trubisky just want some reassurance that Trubisky has the potential to be just as, if not better than those guys.
But it's hard not to desire that instantaneously success when you see players like Carson Wentz and Jared Goff or, hell, even Mahomes and Watson, getting off to hot starts. But when evaluating a quarterback's development, you have to be mindful of the situation that they're in.
For Mahomes, he's in his second year in Andy Reid's offense after a season where he sat and learned from the likes of Matt Nagy (now Trubisky's mentor) and Alex Smith. For Watson, he's entering his second year in Houston's offense with some good offensive weapons around him. For Goff, he's in his second year of Sean McVay's offense with some great offensive weapons and a ton of college experience. For Wentz, he's coming off an ACL tear but, again, in his third year in this offense with some steady offensive weapons.
For Trubisky, he came into the worst situation out of him, Watson, and Mahomes. Because, let's be honest, these three are going to be compared and judged side-by-side.) He came to a team with a defensive-minded head coach that believed wins was the only way to save his job; He came to a team that had no weapons in the receiving game; He came to a team that refused to let him go out there and just be a rookie — to make the kind of mistakes that you're seeing now. I count it a win that Trubisky, in that horrible situation he was in, managed to show flashes of brilliance in spite of that situation.
Just as you can't determine that a quarterback is going to be bad after a season, you can't determine that a quarterback is going to be great, either. Teams adjust and acclimate to these quarterbacks and what they put on film.
Look no further than Watson and Jimmy Garoppolo. You can't judge a quarterback's career based on one season. Watson got off to an amazing start in his rookie year, where in 7 games he put up 1,699 passing years, 19 touchdowns, and 8 interceptions for a passer rating of 103.0. Not to mention he was passed Kurt Warner for the most touchdowns thrown by a quarterback in his first seven career starts with 19. Then there's Garoppolo, who everyone had pegged for the Hall of Fame after five games.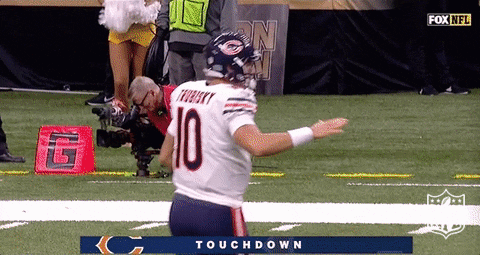 But looking at this season, both Watson and Garoppolo are struggling and not where everyone assumed they'd take off. Why? Because teams have adjusted to them. They have film on them. The test of true quarterback success and development is how they respond and continue to acclimate to what defenses are throwing at them.
Despite their struggles, it's still way too early to determine how their careers will fare. Because, again, quarterback development isn't linear. It's going to time and experience for all of these young quarterbacks to reach their fullest potential, whether that's bust or not.
The thing that's been encouraging about Trubisky thus far, even despite his struggles, has been that he's passed the eye test. He doesn't look lost out there, even when he's feeling invisible pressure that sometimes isn't there. The game doesn't look too big for him, even when he gets happy feet in the pocket. All of the mistakes that I've seen are correctable. And that's why Matt Nagy and Mark Helfrich are here. They're here to mold Trubisky into the quarterback that Ryan Pace and this entire Bears organization believes he can be.
Just because it's taking time doesn't mean that it won't happen. Just because it's taking time doesn't mean it won't be worth it.
Patience is a virtue. Especially when it comes to molding the guy you believe is the future of your franchise.