Welcome to another Sunday of talking about the shows that made us laugh, cry, go awww and, of course, look around and wonder what in the world was happening. If it made us feel things, whether they were good, or bad, then this is where we talk about it. This is where you tell us if you agree. This is where we let it all out.
So, without further ado, here are these week's picks:
Badass Female Character of the Week
Lariel: Nia Nal, Supergirl. Last week she was afraid to pitch a story. This week, she stood up to a bunch of bigots who were ready to pound the crap out of Brainy after his disguise failed. Then she told her truth to James (a conversation that really resonates if you know Nicole Maines' story; check out the book "Becoming Nicole" if you don't) and got him to publish an editorial opposing anti-alien sentiment. Never mind throwing punches or using powers; standing up for what's right and speaking truth is the most badass anyone can be.
Erica: Iris West-Allen, The Flash. I've had a love/hate relationship with this character from the beginning, but that doesn't change the fact that Iris is a badass female. I think when the focus on her is too much, issues come about. Watching Iris interact with Nora, her daughter, has been heartbreaking. Iris wants to be close and Nora, for a reason still unknown, is often a little chilly to her Mom. Iris hasn't let this bring her down, though. She is staying tough and continuing to try, which honestly, shows what a good Mom she must be. Iris is never brought down by anything.
Mimi: Sabrina, The Chilling Adventures of Sabrina. I am going to give her this weeks shout out because she is a 16 year old half witch, half mortal living in the 1960's. Her cousin and best friend are black, her other best friend is a lesbian, probably…. Side note, her cousin is also gay! I was sad because he is oh so cute, and has a british accent. The series takes place in a small town, called Greendale and has this retro feel similar to Riverdale. Although Sabrina is technically a dark witch she always stands up for injustice, she looks out for her friends and she has a solid backbone when it comes to her bully of an aunt Zelda, although I will be damned if Zelda isn't a badass bitch too! #donthateme
OTP of the Week
Lyra: Richonne Family Fun Day is everything that we needed, wanted, and deserved when it comes to this The Walking Dead ship. I'm going to totally ignore the fact that it means Rick is going to die soon because shows only give us THE ACTUAL BEST moments before someone is killed. I'm going to focus on the quiet, fun, and intimate moments they spent being a family. These are the moments that count and stay with you forever. Not the epic fighting off moments with wild and dangerous zombies. It's playing hide and go seek. It's crawling around the floor with your kid. It's teaching your little one an essential skill while laughing and having fun. Those are the moments that count and we got to see them. That's what I'm going to hold onto. We got to see Rick and Michonne happy.
Lariel: DarhkAtom, AKA Nora Darhk and Ray Palmer, Legends of Tomorrow. Even though Nora appeared as nothing more than a unicorn-musk hallucination in 4×01 (if you didn't watch, you need to). You've got to feel for poor Ray Palmer, so unlucky in love. He lost his fiance Anna, he lost Felicity, he lost Kendra… Cupid just won't give this poor guy a break. Then he collides with the Darhk family. What I love about this couple is that the Legends writers actually took time to build the pairingand got you to root for Nora by showing you where she came from, what her life had been like. And they did it midway through the season, building all the way through to the finale, instead of trying to rush things together (cough cough AvaLance).
Erica: Sharpwin, New Amsterdam. I'm putting Helen and Max on here again because this week's episode just about killed me in the ship department. Their chemistry, as always, was on point. But, I noticed some other things between Helen and Max that makes them the obvious OTP, for me. Max noticed Helen had been crying during their first interaction which shows me that he cares for her.
Helen has already shown her care, but this week it was her who needed some love. Helen found out she may not be able to have kids and she shared it with Max, who was perfect in their moment. They hugged at the end and it hit me right in the FEELS! So, let's just get these two together already. Helen wants a baby, Max has a baby, and Georgia can just go away.
Mimi: Amen! Co-sign to all of this. They remind me of Loiusa and Spiro so much, on The Durrell's in Corfu. But that's another show.
Moment That Made You Collapse Into a Puddle of FEELS
Kayla: This week's The Resident when Conrad and Nic step up to give a little boy with Leukemia a birthday he or his family wouldn't forget – especially since the boy died at the end of the episode causing me to bawl my eyeballs out. It was an episode that had me on both ends of the feelings spectrum.
Seeing the smile on that boy's face when Conrad comes in his room with a t-shirt on that reads "police" and Nic with a wheelchair that's decorated like a squad car, flashing lights and all – made me smile and laugh. They gave this boy the police themed birthday party he wanted, but couldn't have because of being in the hospital. They even got Mina, Devon, and Irving to step in and help. It was so epic! The tears I was shedding at the end of the episode had me reaching for the tissues.
Erica: Grace and Olive, Manifest. We got to see the past on this week's episode and it revealed a very different Grace then the one we're used to. She wasn't her strong self, but instead a woman who was ready to give up. Olive, even though she's a child, was exactly what Grace needed when Olive tried to serve her Mother a meal. The scene revealed so much underneath the surface, like how bad things had gotten for Grace, but it was also the turning point for her. I was in tears as I watched this little girl try to care for her Mom with the limited resources available to her.
Naomi: Jefferson apologizing to Jennifer in Black Lightning for the fact that she has powers had my eyes welled with tears. He is so sincerely sorry that he passed the meta gene to her because he sees the pain that it causes Jennifer on a daily basis. She isn't the badass Robin Hood that Anissa has morphed into- she is struggling to find her place in the world already and adding powers to that has only made it ten times harder.
Their father/daughter moments always have my heart, but when she sobbed "You think I'm a monster", I was dead!
Mimi: I'm going to co-sign with Erica. I love Olive, her mom I'm still kinda iffy tho.. but still a solid episode and full of heart.
Moment That Gave You Hope
Lyra: Sara reaching out to Constantine and offering him a spot on the Legends of Tomorrow team. We've only seen one side of John and I think that joining the team would do him good. It would teach him how to work with people, trust, and maybe even one day love. The Legends is a group of throwaways who have found home in each other. I think John could benefit from that and stop being the brooding stereotype he is right now.
Lariel: I can't pinpoint a precise moment. More like a series of moments throughout the Legends of Tomorrow season premiere. Each was a character moment. We watch for the characters, a fact the Legends of Tomorrow writers seemed to have forgotten in Season 3 in favor of goofy situations. Because of that, I tuned in to the Season 4 premiere with equal parts anticipation and dread. If the unicorn was the most important part of the episode, I was going to be done with what had been my favorite show two years ago (YES, during S1-S2. Take THAT, Dominic Purcell!) But by episode's end, the unicorn only served as a plot device to further characterization. If they can keep that up, Legends of Tomorrow will once again be my favorite show.
Lizzie: I'm going to say The Good Place again. This show just keeps doing it, and this week they do it just by allowing their characters to be, and by showing us that even someone like Donkey Doug can do something good for others.
Quote of the Week
Lyra: Rick: "Thank you."
Michonne: "For what?"
Rick: "For everything you've done. For everything you're doing. For you." – Rick to Michonne, The Walking Dead
Erica: Sherloque Wells, The Flash. "Do you hear that? Sounds of these frantic steps, we're being approached. Either by a tall, sensitive, man or frightened, baby, giraffe." Just as Ralph enters the new lounge. BTW, I am 1000% in for new Wells!
Mimi: "Where's Aunt Hilda?" "She annoyed me, so I killed her and buried her in the yard." -Ambrose & Aunt Zelda, Chilling Adventures of Sabrina
Lizzie: Oliver: I need to find his pressure point.
Stanley: WWGAD?
Oliver: What?
Stanley: What would Green Arrow do?
Oliver: Oh, he'd have Overwatch gather information.
Stanley: What's an Overwatch? – Arrow
WTF Moment of the Week
Lyra: Us realizing that Claire was/is a queer woman on Supernatural and how WE'VE BEEN ROBBED OF HAVING WAYWARD SISTERS! You can still fix your mistake, The CW. Give us the badass females, headlining their own supernatural show. We deserve. They deserve it. And we're done waiting!
Mimi: Every episode so far on The Chilling Adventures of Sabrina. That show is bat shit crazy. It's not at all like I thought it would be. It's my WTF moment of the weekend. Bam!
Lizzie: Some weeks reality is even crazier than TV. This was one of those. Can we get out of the Twilight Zone once and for all?
Favorite Halloween Episode of TV (Ever)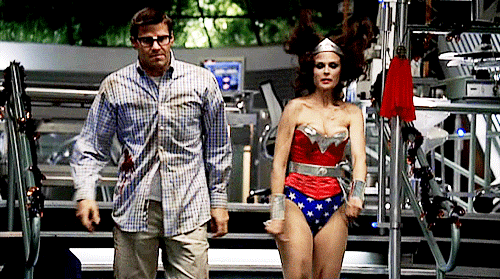 Lizzie: But whyyyyyyyyyy do I have to pick just one? Whyyy? Fine, I'll pick "The Mummy in the Maze," Bones's third season Halloween episode, because it's fun, it's light and it's still very much on par for what the show was like back in the day. Besides, it's not too scary to rewatch!
Lyra: Supernatural's episode "Changing Channels." It was ridiculous, all sorts of fun, and a great introduction to Sam and Dean for people that have never watched an episode of this show. It was also a fun looking challenge for Jensen Ackles and Jared Padalecki, who had to ramp up the ridiculous and do things they've never done before on camera. Honestly, it makes me jealous how much fun they had on this episode. Makes me want to have fun like this!
Kayla: Some of my favorite Halloween episodes of any TV show are the ones The Big Bang Theory has done over the past 12 years. "The Holographic Excitation" from season 6 is the winner of the bunch. It had a Halloween party in Stuart's comic book store,  Howard and Bernadette as Smurfs, a Tardis, and Sheldon as Raggedy C3PO. What more could you ask for? It's downright epic! It has my call for favorite Halloween episode of TV.
Mimi: Buffy, "Fear Itself," season 4. A Haunted frat house,all the gangs here, magic gone awry, Giles handing out candy to no one! Anya in a bunny costume because bunnies scare her. PERFECTION! I miss Buffy and I don't want it to be remade, it was great the way it was. Go re-watch this episode right now! It's on Hulu.
Agree? Disagree? Have any more feels? Share with us in the comments below!
---
Don't miss out on posts like this! SUBSCRIBE to our monthly newsletter HERE!