So we are at the halfway point of the NFL season. I'd like to say things are a lot clearer now but when you have teams you expect to lead the division (Packers) not and then teams you never would have expected to be leading their division are (Redskins) things are very muggy. Now we have the usual teams performing well – Pats, Chiefs and Saints but also surprises like the Bears, Chargers and Bengals.  Now just like every week, the writers of Fangirlish try to figure out who will win this week in the NATIONAL FOOTBALL LEAGUE.
---
Oakland Raiders vs San Francisco 49ers (Thursday Night)
Charles – SF 24, OAK 20 –  I hope Gruden and the Raiders keep on losing.
Alyssa – OAK 24, SF 13 – Well, I guess someone has to win this game.
Lizzie – OAK 17, SF 14 – What Alyssa said.
---
Pittsburgh Steelers vs. Baltimore Ravens
Charles – PIT 31, BALT 20 – The Steelers might be good again. Dammit.
Alyssa – PIT 27, BAL 24 – I'm not too confident with the Ravens right now. Meanwhile, the Steelers are on an upward trend.
Lizzie – BAL 27, PIT 24 –  I ain't picking the Steelers.
---
Chicago Bears vs. Buffalo Bills
Charles -CHI 24, BUF 0 – Is there a way for a team to score negative points? Cause I feel like a Peterman-led Bills team might do that.
Alyssa – CHI 31, BUF 14 – Nathan Peterman is lining up under center for the Bills. I don't doubt the Bears can put up 30 plus points a game. But the question here is: How many points come from the defense courtesy of Peterman?
Lizzie – CHI 35, BUF 10 – This is going to hurt.
---
Tampa Bay Buccaneers vs. Carolina Panthers
Charles – TB 31, CAR 23 – Fitzmagic is good for a week or two so the Bucs win this one while still riding that high.
Alyssa – CAR 27, TB 24 – I'm so very tempted to pick the Bucs in this game with the return of Fitzmagic and the benching of Jameis Winston. But the Panthers are just too good for the Bucs to sneak one here.
Lizzie – TB 30, CAR 27 – I have basically decided to pick against common sense for the foreseeable future, so yeah.
---
Kansas City Chiefs vs. Cleveland Browns
Charles – KC 44, CLE 20 – Chiefs are going to beat this team's ass.
Alyssa – KC 31, CLE 21 – I'd love nothing more than for the Browns — after ridding themselves of Hue Jackson — to go out and beat one of the best teams in the league in Kansas City. But that doesn't mean it's going to happen.
Lizzie – CLE 30, KC 28 –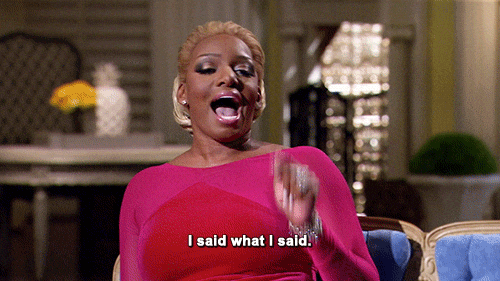 ---
New York Jets vs. Miami Dolphins
Charles – MIA 17 , NYJ 17 – My tie game of the week.
Alyssa – MIA 24, NYJ 23 – You never know what you're going to get with the Dolphins or Jets each week. I'm going with the home team by 1.
Lizzie – MIA 24, NYJ 23 – This IS me picking against my common sense. I know too much about the Dolphins to trust them.
---
Detroit Lions vs. Minnesota Vikings
Charles -MIN 34, DET 31 – Not picking the Lions against a GOOD team.  EVER. At least not till they get a new coach.
Alyssa – MIN 27, DET 27 – I feel obligated to pick at least one tie per week. This is the the game where I need a tie. And I don't think it's too far fetched to see it happening in a division game like this.
Lizzie – MIN 34, DET 28 – Sorry Alyssa, I can't follow your lead on this one. Or my own lead, for that matter. Watch this be the upset.
---
Atlanta Falcons vs. Washington Redskins
Charles – ATL 31, WASH 25 – Matt Ryan was made for these games — Games that seem important but only in the regular season.
Alyssa – WAS 27, ATL 24 – On the surface this might not look like the most intriguing game of the week. But I have a feeling this is going to be a game people will be talking about. And I can't believe I'm this confident in the Redskins right now.
Lizzie – ATL 31, WAS 24 – Believing in the Redskins? No way.
---
Houston Texans vs. Denver Broncos
Charles – HOU 31, DEN 17 – Hope DT has a big game in his Texans debut honestly.
Alyssa – DEN 24, HOU 21 – The Texans have won five straight, but they're due a speed bump. Enter the Broncos defense, which if it does its job might be enough to win this game.
Lizzie –  HOU 28, DEN 21 – I've got two words for you: Case Keenum. Also, we don't even have a choice right now.
---
Los Angeles Chargers vs. Seattle Seahawks
Charles – LAC 24, SEA 20 – I'm not as big a supporter of the Seahawks as others are. See Chargers winning a close one.
Alyssa – SEA 27, LAC 21 – This Seahawks look nothing like the Seahawks team that started the season. In the best way. The Chargers look nothing like have in years' past. I'm going to give this to the home team.
Lizzie – SEA 27, LAC 24 – What's happened to the Chargers lately? Oh yeah, they remembered they are the Chargers.
---
Los Angeles Rams vs. New Orleans Saints
Charles – LAR 44, NO 41 – Points out of the wazoo in this one but I have to go with the better team right now — Rams.
Alyssa – NO 34, LAR 31 – Because the Rams have to lose eventually, right? This might be my favorite game of the week right here.
Lizzie –  NO 35, LAR 31 – I think the Saints can pull this upset off.
---
Green Bay Packers vs. New England Patriots (Sunday Night)
Charles -NE 27, GB 14 – I think Green Bay used up all their energy last sunday and they will be wiped out for this one.
Alyssa – NE 31, GB 27 – Tom Brady or Aaron Rodgers? Pfft, it's Brady every time.
Lizzie – GB 31, NE 27 – I disagree with Alyssa. It's Rodgers every time.
---
Tennessee Titans vs. Dallas Cowboys (Monday Night)
Charles – DAL 13, TEN 7 – As Lizzie would say, why not?
Alyssa – DAL 24, TEN 20 – Again, someone's gotta win this game. I just wish it wasn't the Cowboys.
Lizzie – TEN 24, DAL 20 – Why the hell not?
---
Who are your picks for Week 9?