This year is almost over! 2018 given us very good moments and characters. On this occasion, we wanted to collect the ten male characters who kicked ass this year that slips through our fingers. Ready to look back and review the year through our favorite characters? Here we go!
Oliver Queen ("Arrow")
A hero with capital letters. His path has been full of loss, pain and darkness, but also light. He has grown and has found himself over the years. He found his light, a family, the love of his life and he fights every day and night under a hood to put himself back together. He is capable of sacrificing himself without any doubt for the people he loves, and of protecting them at any price. Sometimes, that leads him to make mistakes … but his intentions are always good. Oliver watches every day for his loved ones and for the city that saw him grow.
Kurt Weller ("Blindspot")
We've been in love with Kurt for a while. His life is dedicated to catching the bad guys and he has had to face the worst tests, especially when it comes to love. But his heart is bigger than all those obstacles. Weller is carried away by what he feels at all times. It's his heart that guides his actions. That heart filled with love and trust for his loved ones and it's that heart that gives him the courage to face whatever comes his way, however painful it may be.
Jamie Fraser ("Outlander")
It's practically impossible to define James Alexander Malcolm Mackenzie Fraser AKA the king of men, in one word. Jaime can be defined in many ways, he is a father, a brother, a husband, a warrior … that's why he has his well-deserved position on this list. He has had to suffer in his own skin the loss of his loved ones, but he has always maintained hope and has never wavered in his principles, in his honor, his courage and his honesty. No matter how many times Jamie falls, he always gets up again and doesn't let himself be defeated by anything. It's very difficult not to lose hope or your principles on a road as full of stones as Jamie's, but he gets it. Long live Scotland, and long life the king!
T'Challa ("Black Panther")
What makes a king a legend? T'Challa answers that question in one of the best films of the year. He faces a complicated political situation and finds his strength with the help of the people who love him the most. In addition, he faces an emotional conflict due to past actions of his father and when he must choose whether to let himself be carried away by revenge, he chooses the noblest and most difficult thing for him. For T'Challa his people and their loved ones always go first.  Wakanda forever!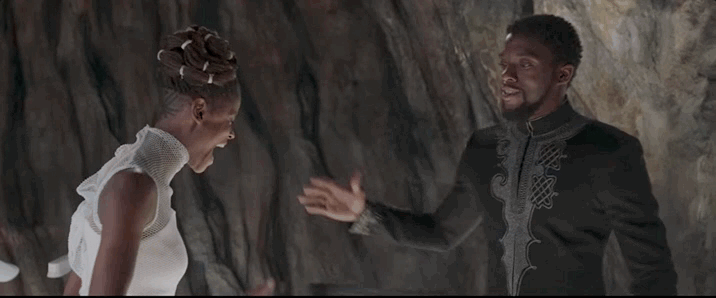 Shaun Murphy ("The Good Doctor")
Shaun has conquered us all. He's learned valuable lessons every day and overcome increasingly difficult challenges. It's an example of overcoming and adapting. Moreover, his character has helped bring to light a problem in our society that remains hidden. People tend to, not only ignore, but also unfortunately, ridicule the unknown. But we can't cover the sun with a finger. People like Shaun exist, and they aren't as different as we think.
Jon Snow ("Game of Thrones")
A warrior in every sense of the word. Jon has gone through a lot throughout his life. In a world at war, Jon has had to choose between what was easy and what was right, and has always chosen the right thing, even if that meant sacrificing himself. He has earned the respect of everyone around him, including that of a very reticent Daenerys. Long live the King of Westeros!
Ambrose Spellman ("Chilling Adventures of Sabrina")
By Satan, this character is gold! He is always willing to help Sabrina and her aunts in all their adventures, even the darkest and most risky. Despite being confined to the Spellman house as punishment, he doesn't hesitate a second to defy the rules of the Church of the Night to save not only his family, but the people who have become his home and all the mortals who live at. Ambrose is brave, adventurous, loyal and pansexual (his love story with another guy gives us life). Thanks to Satan for making us enjoy this wonderful character!
Harvey Specter ("Suits")
A charismatic lawyer, handsome and principled. Can anyone ask for more on this Christmas? Harvey is that person who makes you think "I want to be a lawyer." His fierce principles have made him carve out a brilliant career based on effort, determination and talent. It may seem like the typical carefree pimp, but in reality it's all heart. There is a very clear line in Harvey's morality that he never crosses but he knows perfectly how to strike back when he has to.
Lucifer Morningstar ("Lucifer")
Who does not want to enjoy a night at Lux? Impossible to resist this charismatic "devil" that has made us discover that an angel can be very human. From the beginning punishing the bad guys and kicking ass has been his mission and his heart is getting bigger and bigger as he coexists between humans, so much that he discovers the meaning of home and his true love (any other Dereckstar fan out there?).
Jack Pearson ("This Is Us")
Nobody makes us cry like him. A wonderful father, with all his faults. This character teaches us that, although it may seem otherwise, our parents are not perfect, but can do what they think is best for us and are often able to give everything for their families. For Jack, his children are a priority. He loves them with all his heart. We will never be able to overcome his death.
Bonus: Matt Murdock ("Marvel's Daredevil")
Although the cancellation of this wonderful show has been a blow for everyone (I'll never forgive you, Netflix!), Matt had to be on this list. He saves lives on a daily basis, not only as a vigilante, but also in the light of day, as a lawyer for the most disadvantaged. He has faced infinite challenges, physical and psychological, but he has always veiled in the shade for all the inhabitants of Hell's Kitchen.
Agree? Disagree? Would you add a name to the list? Do not hesitate to share your opinion with us in the comments below! Happy holidays to you all!