Welcome to another Sunday of talking about the shows that made us laugh, cry, go awww and, of course, look around and wonder what in the world was happening. If it made us feel things, whether they were good, or bad, then this is where we talk about it. This is where you tell us if you agree. This is where we let it all out.
So, without further ado, here are these week's picks:
Badass Female Character of the Week
Lyra: Amy Santiago on Brooklyn Nine-Nine. Melissa Fumero gave an honest to God brilliant performance that I'm still thinking about days later. She managed to make me stop, listen, and learn about what had happened to her and how she wanted to change the lives of others. Also that scene with Andy Samberg in the station was magnificent. Amy felt safe, scared, and confident at the same time that she was somewhere and with someone who would listen to her. In turn, I felt safe and like someone was holding my hand while breaking down the realities of being a woman. If you haven't started watching this show, it's about time you started, especially if we're going to quality episodes like this!
Lariel: Caitlin Strucker, The Gifted. This woman went full Mama Bear on everyone threatening her family. But there was so much more to it. In the season finale, we got to see the woman Caitlin used to be, before she knew the X-gene ran in her husband's blood and the blood of her children. We have watched her become a warrior over two seasons.
McKenzie: Maggie from FBI. On this week's episode there was a bomber that was planting bombs around New York City. By the time her and OA had found where he left the last bomb, a gentleman's club, the bomb squad wouldn't get there in time to diffuse it. Being the badass she is, she took the bomb and put it inside the clubs freezer right before it went off. Maggie has had a badass streak going on lately, not worrying about what will happen to her but how she can save lives.
Janelle: Liz Ortecho has backbone for days, but she hasn't let that harden her or make her unaware that she is, "not done being taken care of." Roswell, New Mexico's leading lady is badass because she sets clear boundaries in her romantic life, like not being willing to stay for a boy, and she unafraid of her vulnerabilities. I'm so glad to watch her brand of heroism every week.
Lily: All the ladies on FBI deserve serious recognition this week. Dana was THE BOSS. She profiled the shit out of this week's bomber despite having a young hotshot profiler from Quantico try to undermine her every decision. Kristen is the analyst who figured out where the killer's final victim would be. And Maggie stopped the bomb that the killer planted while her male partner got everyone out of the building. I'm glad this show was already renewed. It's so good. I just wish more people were watching it.
Jasmine: Barbara. In this week's episode of Gotham, she was held at gunpoint by "Jane Doe" who had the power to mimic other people's faces and bodies. "Jane" was mimicking Barbara at the time and Jim as well as the entire GCPD could not determine which was the real one. The real Barbara told Jim "shoot her!" but Jim hesitated so she being the badass she is, decided pregnant or not, she was going to defend herself and chose to fight back so that Jim could take the shot.
OTP of the Week
Gillian: I think Suits should have ended years ago but oh my God! Harvey and Donna FINALLY HOOKED UP. I actually had given up on them because their other relationships have felt healthier and less problematic but still! The thrill of that moment after so much chemistry and build-up and what it means for the final season. Guh.
McKenzie: Will and Frankie from Whiskey Cavalier. The pilot may have just aired and they aren't an official OTP yet but these two are fire together. They have so much chemistry and sexual tension. I also happen to enjoy their banter.
Lizzie: I never thought I'd be agreeing about this, but hell yes to Harvey and Donna FINALLY getting together on Suits. I also think the show should have ended ages ago, and I ALSO think they took way too long to get here, but there's still a part of me that's happy it finally happened.
Janelle: We got the see the glorious hotness of Malex's first-time on Roswell, New Mexico and I am still thinking about it. Their first kiss is in an alien museum as they are standing underneath kitschy UFO decorations. The aftermath of their first-time is horrifying, which makes the beauty and joy of the flashback moment sting all the more in the present.
Mimi: I agree with Gillian and Lizzie. I am shocked about Donna and Harvey on Suits, it did take a long time. Is it bad I still like Scottie? Oh well! Donna and Harvey are OTP.
Lily: Despite the hard road ahead, I'm still rooting for Max and Liz on Roswell, New Mexico. I know his sister killed her sister and he helped cover it up but come on y'all… no one writes songs about the ones that come easy right?
Jasmine: I will shout Liz and Max till the cows come home! I know on this week's Roswell, New Mexico things were so rocky that we all are wondering if these two will end up together but I am keeping my hopes up because I love them both!
Lariel: I am really focused on The Gifted this week, and Reed and Caitlin are my OTP. The endurance of their bond through all the troubles they've faced really resonates with me.
Moment That Made You Collapse Into a Puddle of FEELS
Lizzie: Reed Strucker sacrificing himself to save not just his family, not just mutants, but everyone, from Reeva and the Inner Circle, on the season 2 finale of The Gifted. It felt like such a beautiful full circle moment, especially considering who Reed was when we first met him, and how he's come to realize what his place in this fight was, and what he could do to make the world better.
Gillian: 100% agree with Lizzie about Reed's death on The Gifted. It was absolutely the right call and felt like a good place to end the character. His arc was kind of getting repetitive because he was almost TOO powerful and sacrificing himself for his family was the best way to move forward for the series.
Lariel: A third vote for Reed's death on The Gifted. He had such a powerful redemptive arc from 1×01 to this season's finale.
Mimi: Maggie finds out she is cancer free and I breathed a huge sigh of relief on A Million Little Things. As the were basking in the glow of that moment she told Gary that she loved him.
Lily: Do the Oscars count? Technically they aired this week so they should definitely count. And that's my pick for the week because nothing gave me more feels than Gaga and Bradley Cooper's performance of "Shallow". I FELT THAT.
Jasmine: When Harvey shot "Jane Doe" in Gotham. I know she was doing bad things but she was a broken girl destroyed by Hugo Strange. I mean she wore a mask all the time because she thought she was hideous to look at which she wasn't. Harvey's pain after he shot her was so sad because he knew deep down that he was also to blame for how she turned out.
Moment That Gave You Hope
Lizzie: Every second of Whiskey Cavalier, basically. It made me hopeful that good TV is still to be found, that male characters that go against the toxic masculinity standard can actually lead shows, and that I might have found the next great OTP I will fall in love with.
Janelle: Stephanie Beatriz directed Brooklyn Nine-Nine's #metoo episode and that gives me great hope in the future of TV. As Rosa and Amy learn on the episode, two steps forward and one step back is still a step forward.
Mimi: Catherine and Bailey bonding on Grey's Anatomy, while drinking martini's in the back of a limousine. Bailey serving up realness to Catherine about living with joy and embracing life was a bonus.
Lily: Liz didn't take long to figure out what happened to her sister but the moment everything came together… when she realized that someone she cared about helped cover up the murder of someone else she loved more than anything… that truly broke me. I felt that pain. Despite all of that, I still have hope that Max and Liz will work this out.
Lariel: Gee, here I go again with The Gifted. CLAIRE IS BACK! Of course, we don't know whether the show itself will be back next season.
Quote of the Week
Lyra: "What did we decide about your feelings?" – Susan Samson, Whiskey Cavalier
Lizzie: "I have my feelings, my feelings don't have me." – Will Chase, Whiskey Cavalier
Mimi: "This isn't a love triangle, it's a circle and it just keeps going around and around, and I'm sick of it" -Amelia, Greys Anatomy
Lily: I'm gonna echo Lizzie above because that quote from the Whiskey Cavalier pilot was seriously awesome. And it shall be my new mantra going forward.
Jasmine: "Sometimes remembering a moment in your life can physically hurt you as you relive everything that mattered to you then and realize how far gone it is now." – Marcus, Deadly Class
Lariel: "Perhaps, Edward, we are really meant for each other." – Penguin to Riddler, Gotham (HA! Something that ISN'T The Gifted!)
WTF Moment of the Week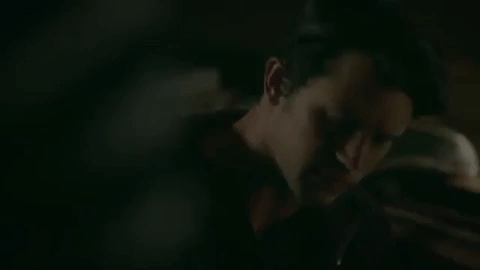 Lizzie: Basically every second of this week's Roswell, New Mexico. Like what the fuck was that? And I don't even mean that in a bad way, I just mean it in a OMG you really went there way.
Mimi: A Million Little Things, Delilah Finally meets Barbra Morgan and she has a hell of story about how she knew John. Apparently Barbara dated Johns roommate at Harvard and best friend. His friend was on the first 9/11 flight and died, meanwhile Barbra learned she was pregnant and while grieving met and married a firefighter who helped her get through it. John always felt like his friends death was his fault because he was supposed to be on that flight too but missed his flight because he was buying a bottle of wine in the airport. AND, the boy "PJ" who Rome befriended at the hospital is Barbra Morgan's son!!!!! I can't believe this is the end of the story?? But it is my WTF moment.
Janelle: I can't believe that we have to fight for another season of One Day At A Time AND Wynonna Earp. WTF. These shows are bastions of empowerment, both because of their content and the badass women showrunners who lead them. And during Women's History Month. How dare the powers that be, how dare they. #FightforWynonna #RenewODAAT
Lily: The truth about Rosa's death on Roswell, New Mexico. I don't think anyone saw that coming. We were all thinking it was going to be some crazy conspiracy and it turned out to be the most obvious answer all along. But I still have so many questions!!!
Jasmine: When Maria killed Yukio and then that poor waiter in Deadly Class. I was like Ok Maria, girl you have really gone further off the deep end!
Lariel: Riddler killing Mr. Penn, Gotham. That made me jump. Lucky thing for Penguin that Riddler is a good shot!
Agree? Disagree? Have any more feels? Share with us in the comments below!
---
Don't miss out on posts like this! SUBSCRIBE to our monthly newsletter HERE!