Welcome to another Sunday of talking about the shows that made us laugh, cry, go awww and, of course, look around and wonder what in the world was happening. If it made us feel things, whether they were good, or bad, then this is where we talk about it. This is where you tell us if you agree. This is where we let it all out.
So, without further ado, here are these week's picks:
Badass Female Character of the Week
Lizzie: I'm gonna give this one to Liz Ortecho on Roswell, New Mexico, for getting over her hangups and helping Isobel because that was the right thing to do, and also, for you know, FIGURING IT OUT, which wasn't exactly easy. She's still not where we want her to be, and she still doesn't have all the answers, but Liz has never given up or just taken what life threw at her, she's always fought back.
Lyra: I'm following in Lizzie's steps with a pick that is also from Roswell, New Mexico. But it's not Liz. It's Isobel. She took the risks and the chances as a means of protecting those around her from the darkness within her. This self awareness and self sacrifice shows me what kind of person Isobel truly is. And from where I'm standing, it's someone absolutely brilliant who things about the whole instead of the one.
Gillian: Tina on For the People. She is honestly the best person on the show anyway but this week, they focused a little more on her and I was impressed. The main plot this week had to do with a man being detained by ICE at the courthouse where he was set to testify as a witness. He brought his young son along but doesn't mention that fact to the agents. Tina notices the young boy, finds out the circumstances, and tries her damnedest to make sure ICE doesn't get a hold of him. It was a moving episode and her determination to keep him safe was admirable.
Naomi: Cicada 2.0 also known as the future Grace Gibbons from The Flash is my pick for badass female of the week. Much more villainous than her uncle ever was, her version of Cicada is much scarier and much better equipped to kick ass- no creepy voice needed.
Jasmine: I'm going with Law and Order: SVU again because Olivia Benson is just so badass!! In this week's episode, a suspect thought he got the drop on her but she proved him wrong and kicked his ass! I was so happy to see her fighting again to take a suspect down because she's been having a tough time keeping her energy up at work. She showed she's made major progress and is ready to get back out there.
OTP of the Week
Lizzie: This is me, on the FieryWhiskey train. Chochooo! Anyone else want to jump in? I especially liked that Frankie and Will had some growing pains this week on Whiskey Cavalier, because it makes no sense that two people so different would just find a middle ground easily and quickly, but I'm glad they're sorta getting to a point where they can appreciate each other, and they're working together, and the rest …well, the rest will come.
Mimi: New Amsterdam, was it for me this week. I have been saying this ALL Freaking season long BUT this week it finally happened and everyone noticed what I BEEN noticing.. Which is Helen and Max have a "vibe" or "chemistry" or a "thing" YOU can see it from a mile away. Helen's boyfriend points it out to her and the clairvoyant points it out to Max. Both Max and Helen acknowledge they have "something" but it is just because they are great doctors together and friends. Haha! Jokes on you two because you are the next Meredith and Derek! I am here for it and I love it and I love them. I said from the jump that Max's wife was boring and they had no chemistry and that the way Max looked at Helen in that limo as he stopped her from leaving was enough to make me realize those two were ENDGAME. Lizzie! You know I'm right! My endgame senses are strong! Can I get an amen from the choir please??
Gillian: Hughes and Ripley on Station 19. I've been feeling them for a while because it has some of my favorite romance tropes: somewhat forbidden relationship, age difference, secret trysts but this week, Hughes thought Ripley was ready to announce their relationship and it was really cute when she decided to tell Montgomery. I still find them so hott even though I feel like the relationship is going to end badly. Just give me more sexytimes!
Jasmine: Liz and Max in Roswell New Mexico. I will always be ride or die for those two! Even though she is still hurt by Max's lies about Rosa's death, she still helped him save his sister because she knew how much it would hurt him if she died.
Moment That Made You Collapse Into a Puddle of FEELS
Mimi: Helen and Max on New Amsterdam were about to have a "talk" and then the city went to a blackout because of the blizzard. They were on the same page, I think and Helen said "We need to talk about us and this thing we have" and Max was like "Okay." Then the hospital shut down, all the lights went out and the damn credits rolled! GAH!!! Now I have to wait until April for it to return. I am in my Feels with them, so hard. It's like Lucy and Wyatt except in reverse because they both like each other but have significant others who are alive. LMAO!
Gillian: We're getting closer and closer to the finale of Star Wars Resistance and they tied into The Force Awakens in such a personal way for the lead character, Kaz. My heart broke in a million pieces. This show has been a roller-coaster of emotions but the teamwork that has been shown the past few episodes has really been incredible. I don't want to say goodbye to any of these characters.
Jasmine: Now that my show Star is back I can add them in! I got really emotional when Star got arrested after getting into a fight (after just delivering her baby) with her ex boyfriend Hunters crazy ass mom! She was just trying to protect her child and fight is her instinct so she wasn't thinking straight. She didn't even leave a mark on that woman but they took her away from her child.
Lyra: Sam Winchester getting sucked into the Pleasantville madness on this week's Supernatural. He fell so easily into it because he's been a leader for the last couple months. And just recently, he lost all those people that he'd saved and led down a path of being a hunter. Sam feels great loss and a kind of pain I don't think I'll ever be able to fully understand. And seeing him work through it in this episode broke my heart.
Moment That Gave You Hope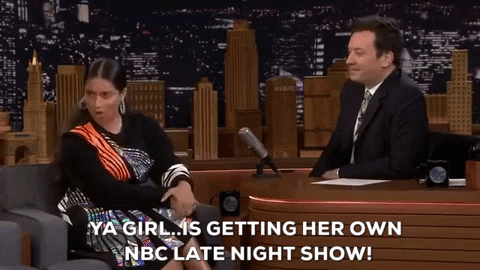 Gillian: The announcement that Lilly Singh is getting her own late night talk show! Late night on broadcast TV has been a white boys' club for far too long and I really love that NBC is taking a chance on not just a woman, but an Indian woman (who is also bisexual)! This is another huge moment in representation and I am here for it.
Mimi: Helen and Max on New Amsterdam. I will write about them for this entire post and I give zero Fucks because I love them and they gave me hope this week. A clairvoyant who they were treating for a heart condition read Max's tarot cards and told him his future and that he had a great love who was not his wife! Then she read the business to Helen and told her it would never work out with her and Max and Helen looked dumbfounded and told her "Yeah she knows because Max is married and she has a boyfriend" The clairvoyant was like hmmmm! Then the clairvoyant was like, well I thought I was going to die today but that didn't happen, so if I'm wrong about that, maybe I'm wrong about you two too! Then Helen and Max stared at each other and a volcano erupted in Peru.
Lizzie: I'm just going to say that I watched Captain Marvel this week, twice, and I feel so much more hopeful, not for the world, but for the person I can be and the changes I can make in this world. And that's big.
Naomi: Dr. Shaun Murphy from The Good Doctor ended the season and his love slump by getting over his roomate Leah and asking his former pathology colleague Dr. Lever on a date- she said yes!!!! Dr. Murphy deserves this so much. I am so hopeful that he gets to enjoy some happiness, even if it's just for a while.
Jasmine: On New Amsterdam when Dr. Iggy literally talked a kid down from the ledge.
Lyra: Amy and Holt being goobers together on Brooklyn Nine-Nine. Amy has earned this right, this privilege, to be at the side of Captain Holt. She's put in the hours, learned from her mistakes, and kept pushing forward as a means of growing as a woman, a detective, and as a friend in this found family. Watching Amy and Holt laughing and being fangirls is what we deserve and what we've all been waiting for!
Quote of the Week
Lyra: "If you say because we're a family, I'm going to let this thing explode." "We are a family." – Frankie and Will, Whiskey Cavalier
Mimi: "Max: My wife and I have been through a lot this year, but we're good now, so, I'm not going to lose her.
Mrs. Gallagher: I'm not talking about your wife. You and your wife are fine. There's someone else. Someone you care for deeply. And you are going to lose her."
– New Amsterdam, Helen and Max
Gillian: "What if these classic musical theater songs that I've loved for so many years and kind of based my life on are…bad?" Rebecca Bunch, Crazy Ex-Girlfriend
WTF Moment of the Week
Mimi: Everything Riverdale. That entire show is Batshit crazy right now. Pick a scene any scene and you will be like WTF? Heathers, the Musical! Cheryl Blossom! "What is your damage?"
Lyra: I'm with Mimi on this one. I don't even watch Riverdale anymore but I caught some Choni scenes and everything changed. I'm interested. I want to know all the crazy shit if it leads to this romance between Cheryl Blossom and Toni ?
Gillian: Well, Dynasty returned with a bit of a bang. The biggest WTF moment for me was finding out that George was real and why he was tormenting poor Stephen. The whole episode I didn't believe George existed because they definitely shot him in an interesting way but that reveal?! Oh, the Carrington drama will never cease!
Jasmine: On New Amsterdam, when the power went out all over the city, especially the hospital! I was like "Oh come on, the Doctors just saved so many people in a blizzard!" what the fuck????????
Lizzie: The fuck, Netflix? You don't get to cancel One Day At A Time and THEN try to gaslight us into thinking it as our fault. That's not how it works.
Agree? Disagree? Have any more feels? Share with us in the comments below!
---
Don't miss out on posts like this! SUBSCRIBE to our monthly newsletter HERE!