Welcome to another Sunday of talking about the shows that made us laugh, cry, go awww and, of course, look around and wonder what in the world was happening. If it made us feel things, whether they were good, or bad, then this is where we talk about it. This is where you tell us if you agree. This is where we let it all out.
So, without further ado, here are these week's picks:
Badass Female Character of the Week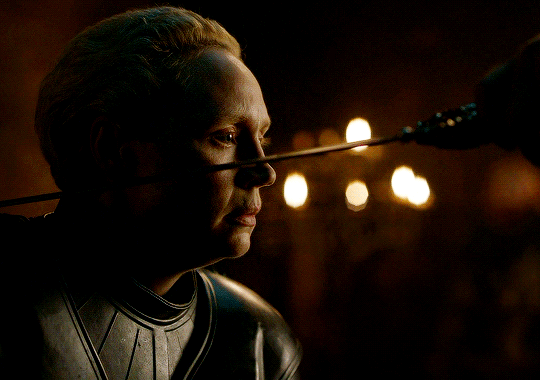 Ashley: Brienne of Tarth on Game of Thrones is the badass female character every week as far as I'm concerned, but this week it was so affirming and validating to finally see practically EVERYONE on the show acknowledge Brienne for her integrity, courage, and honor.
Janelle: I definitely have to agree with Ashley! Ser Brienne of Tarth filled the entire Game of Thrones fandom with pride and warmth when she smiled upon being knighted by Ser Jaime. Brienne is a complete badass whether she's on the battlefield, by the fire or (fingers crossed for this scene in the final season) in the bedroom.
Lizzie: I don't think the answer could be anyone OTHER than Brienne of Tarth, a Knight of the Seven Kingdoms, AT LAST on Game of Thrones. We always knew, and I'm glad everyone else on the show can now see what fans have known for ages.
Michelle: Frankie on Whiskey Cavalier has really proven how dangerous she can really be. When Will is kidnapped, Frankie really steps up. Her quick thinking and killer instinct is so insane! Woman crush, everyday!
Naomi: Iris West-Allen of The Flash is my badass this week! She had her first epic fight with Barry and mostly kept cool. She decided to go get her daughter no matter what the cost. What's time travel when you got a kid to bring home?
Jasmine: Barbara Kean on the series finale of Gotham. She never backs down from a fight and just goes in and gets shit done. She always fights to protect those she cares about and when she fought J and Ecco to protect her daughter she did it without hesitation.
Lily: There were so many badass moments for the ladies this week. From Barbara Kean on Gotham turning into a legit business woman who protects her family to Iris West-Allen going to the future on The Flash to get her daughter back. But I have to say that Brienne of Tarth has to win top billing this week. She finally got what she always wanted (to become a knight) and I know we we're all super proud.
McKenzie: Brienne of Tarth. She is finally a Knight like she should have always been. Move aside gender rules. This badass is here to stay and she takes names.
OTP of the Week
Lizzie: I'm going to go with Arya/Gendry on Game of Thrones, who got a moment that was also many years in the making, a moment for themselves, and it might be goodbye, for all we know, but they got that moment, and that means something.
Lyra: Sara and Ava from Legends of Tomorrow set the bar high when it comes to OTP's. They faced their fears head on and by each others side, ultimately coming out stronger for it. They're the little queer ship that could on a show that is just so damn crazy that it works. And I'm glad that Legends of Tomorrow continues to give #Avalance the love, heart, and patience it deserves and that we deserve.
Naomi: West-Allen from The Flash! It's only been 84 years since I could put them on this list. After the fight they had, I wasn't sure how they'd make it back to one another. They exchanged some verbal low blows, but it was all stuff that needed to be said. Once they realized that they had both been driven by their emotions about Nora and were leaving the other behind, they made up. Apologies, a pact, warm looks and a sweet make-up kiss sealed the deal. The best heart eyes in the business are back in full effect!
Ashley: Jaime/Brienne had the most feels and the most romantic interactions on this week's episode of Game of Thrones. From Brienne's defense of Jaime's honor and declaration of her trust in him, to Jaime wandering off mid-conversation with Tyrion to stare longingly at Brienne. Jaime declaring that he would be honored to serve under Brienne's command. Jaime acting like a nervous teenage boy when he stands up suddenly to greet her as she enters the room, to one of the most romantic gestures he could possibly do for Brienne–bestowing on her a knighthood. Jaime/Brienne shippers got the most romantic interactions they have ever had in the entire show. Their love can no longer be denied! These two idiots in love better 'fess up soon or I'm going to spontaneously combust.
Jasmine: Lee and Jim Gordon on Gotham. They went through so many ups and downs through every season and they always managed to find their way back to each other. For the finale, we went 10 years into the future and they were still going strong.
Gillian: Agree with Ashley! Somehow the knighting scene was hotter to me than Arya and Gendry's scene. If we get nothing else from Jaime and Brienne this season, this was worth it for me. They both make each other better and what more could you want?
Lily: Genrdry and Arya finally kissed and got it on! I've been shipping them since season 2. They've been my Game of Thrones otp since then! And honestly, that moment was so worth the wait! The way he whispered her name right before she kissed him…. SWOON!!!!
McKenzie: Arya and Gendry as stated above by Lizzie and Lilly. The groundwork for a potential relationship was set up in season 2. This week Arya took what she wanted and acted on it. It was everything I have always wanted and didn't think I would get.
Moment That Made You Collapse Into a Puddle of FEELS
Lyra: Mad Sweeney trying to take control back of his own damn life to only be killed by Shadow Moon on American Gods gave me all the feels! He has been shoved, pushed, and abandoned by the man that helped him rise up after his fall as a god king. Laura, and all the hurt bubbling inside, gave him the strength to stand up for himself and call out Wednesday for the bullshit that this all was. I'm livid that he got stabbed by another man that Wednesday is using so carelessly, aka Shadow Moon, but I'm glad Sweeney final fuck you was taking his spear. Now he has no choice but to work on saving Mad Sweeney's life. Oh how the tables have turned!
Michelle: In Game of Thrones, the whole episode was a puddle of FEELS. But two moments specifically stand out. First, Sansa's reunion with Theon. With all that they have endured and survived, this reunion was amazing. There were no words needed, because the emotional value and importance of this scene was amazing. Second, when Jaime made Brienne a Knight of the Seven Kingdoms. There is so much character growth for both Brienne and Jaime, that this scene really stood out. It's hope on the eve of destruction, and I cried so many tears.
Ashley: I hope it's not a cop-out to say, "THE ENTIRE EPISODE", but it's true. This week's episode of Game of Thrones is the best character driven episode of the entire series and the ultimate slow burn ship is behind the wheel. Brienne and Jaime shared the most beautiful interactions this week, but the knighting ceremony takes the cake. Their looks, the subtle physical cues and gestures (look at them both nervously finger the hilts of their swords, their body language), I just can't with these two. Though I feel confident of their survival, I am awaiting Sunday's episode with fear and trembling. I don't enjoy seeing my ultimate OTP in peril, but I am thirsty for more JB scenes. CONFESS YOUR LOVE, YOU IDIOTS.
Lizzie: Basically, what Ashley said.
Jasmine: The final moment in Gotham when Jim and Harvey looked up into the sky and saw Batman standing on top of one of the buildings. That moment really got to me because I've been a fan of Batman since I was a kid and I truly love how well the origin story for the entire series has been done. It was a great ending.
Gillian: I won't spoil it but pretty much all of Avengers: Endgame. I felt the same way I did when I saw The Avengers for the first time. It was like magic. It hit every sweet spot for me. I'm going to miss this group so much.
Lily: Episode 2 of Game of Thrones was a total love letter to the cast and fans. That entire hour of television was such a puddle of feels! You just know it was the calm before the storm that's coming…
McKenzie: I am definitely on Game of Thrones page this week. As Lizzie, Ashley, and Lily has stated this episode was everything.
Quote of the Week
Jasmine: "Honey, I'm still amazing." – Barbara Kean, Gotham
Michelle: "In the name of the warrior, I charge you to be brave. In the name of the Father, I charge you to be just. In the name of the Mother, I charge you to defend the innocent. Arise, Brienne of Tarth, a knight of the Seven Kingdoms." – Jaime Lannister, Game of Thrones
Ashley: Since Michelle already nabbed the knighthood charge from this week's episode of Game of Thrones, I'll snag this one.
"You don't know me well Your Grace, but I know Ser Jaime. He is a man of honor. I was his captor once. But when we were both taken prisoner and the men holding us tried to force themselves on me, Ser Jaime defended me. And lost his hand because of it. Without him, my lady, you would not be alive. He armed me, armored me, and sent me to find you and bring you home, because he'd sworn an oath to your mother." – Brienne, Game of Thrones
Lily: Arise, Brienne of Tarth, a knight of the Seven Kingdoms." – Jaime Lannister, Game of Thrones
Lyra: "Guys, we have a major problem here! No garlic bread!" – Hitchcock, Brooklyn Nine-Nine
WTF Moment of the Week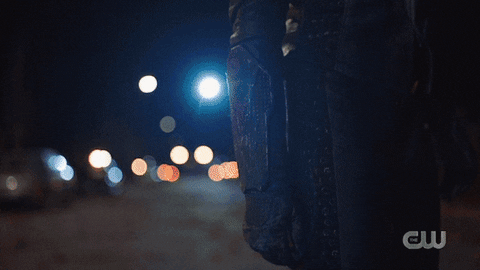 Naomi: Nora continuing to obsess over her dad when her mother is the one who risked everything to come and get her on The Flash. And why would she willingly access the Negative Speed Force knowing that her dad just put her back in her own time for lying about having a relationship with Thawne? Yes.This is the best way to get on Barry's good side Nora. (HUGE eye roll)
Ashley: Jon and Daenerys' conversation in the crypts where he reveals his parentage to her was shocking on Game of Thrones. 1). I can and can't believe Jon was foolish enough to reveal this information before the battle, and 2). Daenerys praised Jon to Sansa, extolling his honesty and integrity, but in this scene she immediately accuses him of being dishonest. I call BS on Daenerys, the Mother of Titles and the Mother of Entitlement. Her entire claim relies upon her father, but now she knows Jon's got the better claim. I'm afraid we might get the foreshadowed Dance of the Dragons. Otherwise, what is the narrative function of the little girl with the scarred face as a Shireen call back? In season 5, Shireen's conversation with Ser Davos about what made the original Dance so terrible–they were family, they shouldn't have to choose a side, and the choosing was what made it so cruel. I'm afraid a continuation of this WTF scene might be the big WTF moment of the next episode.
Lizzie: Every second of the last 15+ minutes of Avengers: Endgame. EVERY. SECOND.
Lyra: Second, third, and fourth what Lizzie said. Did not expect what I got and I'm still a ball of…FEELINGS!
Gillian: The finale of Roswell was so crazy! I figured out who Noah meant by "her" and was like, WHAT DOES THAT MEAN? Coupled with the fact that we hadn't officially been notified about a season 2 when it aired, I was freaking out! The show has been better than I expected and I'm glad we'll get more answers with another season but it was a lot of WTF for me.
Lily: As much as I loved this final season of Gotham because it really was incredible, that "series finale" felt more like a backdoor Pilot for a Batman spin off. The episode before where Bruce left the city felt like the true series finale. And I have real mixed feelings about the fact that we never actually saw Bruce and only caught a glimpse of Batman in the final second of the episode.
Agree? Disagree? Have any more feels? Share with us in the comments below!
---
Don't miss out on posts like this! SUBSCRIBE to our monthly newsletter HERE!