Dear Felicity,
I know it might seem silly that I'm sitting here crying over a fictional character, but when someone impacts your life the way you've impacted mine — be it fictional or real person — it matters. And quite frankly, I don't give a damn.
I honestly don't know how to put into words how I'm feeling right now. How to encompass the importance of your existence and what it's meant for me and countless others. But I'll try, even through the endless stream of tears.
You don't know me, but I know you. I've had the pleasure of getting to know you over the past seven years, and it's been one of the highlights of my entertainment life. I feel like a proud mama watching how much you've grown and just how much you've changed the lives of so many people in such a profound way.
Your intelligence, strength and determination were single handedly some of the greatest things I had the privilege to behold on television. In a world where superheroes are defined by costumes and masks, you — Felicity Smoak — walked right into Oliver Queen's life — and ours — and rewrote the entire fracking game.
You reminded me that a superhero doesn't always look like the superheroes in comic books. They look like you. They look like me.
You've been an inspiration to so many people throughout the years as you've taught them — and all superhero dramas — that heroes, true heroes, look like you. They're not just the ones in the cool costumes. They're the ones that stand tall against all odds; they're the ones that inspire people when all hope seems lost; and they're the ones that remind us that we all have a hero within ourselves.
Not to mention, you brought to life one of television's best ships: Olicity, the little ship that sailed and weathered every storm these writers threw your way. You came out stronger each and every obstacle, even when the writing was so terrible that it seemed to destroy everything in its path. Except Olicity.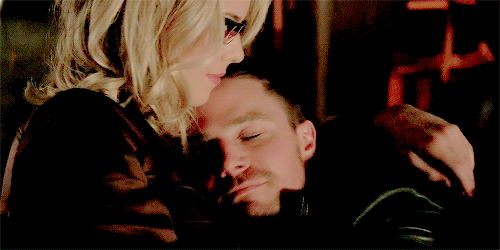 If it weren't for you, I wouldn't have watched Arrow. Which means I wouldn't have started writing for Fangirlish and crafting my love for entertainment writing and bringing me so many amazing opportunities to show that love. Which also means I wouldn't have met the wonderful people in my life that I'm lucky to call my friends. Which also means that my life wouldn't be what it is without your existence.
It feels a little surreal sitting here right now writing this letter knowing that you took your bow on Arrow. I hope it's not goodbye forever, because I don't know if I could stand the thought. You're the single most important character that's graced my life to this point. I've learned so much from you along the way, the good and the bad. And it was a reminder that this world needs people like you in it. 
I honestly don't know how Arrow is going to manage to go on without you. I don't know how Oliver is going to manage to go on without you, even off-screen. You're the rock of this entire operation. Arrow isn't Arrow without Felicity Megan Smoak.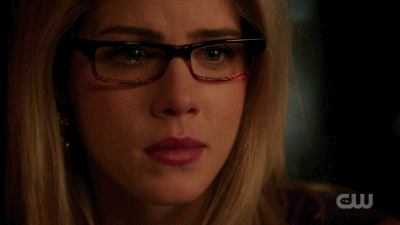 Even when I couldn't stand Arrow in the later seasons, I always had you. You were the light shining through the darkness guiding the show home.
But even if this is goodbye, I believe that, like you told Mia and William, that those that impact your life live on forever inside of you. Their impact can never be taken from you. Loss isn't easy, but it's something that we must all go through. Even fictional loss.
Those you love are never really gone. They're a part of you forever.
But like you said, there comes a time when you have to move forward with the next chapter of your life. It might be hard, but it won't break you. Not when you're made of steel. Like you.
You reminded us that it's not about what your physical prowess or what you wear, it's about who you are inside that defines you as a hero. And I'll be damned if you aren't the best of them all.
When people ask me who my favorite superhero is, sure I'll tell them about Wonder Woman and Captain Marvel. And I'll tell them about Green Arrow and Iron Man. But the first person I'll tell them about is Felicity Smoak, the IT girl that grew into the badass hero that saved the freaking world and inspired a new-wave of superheroes.
I mean, what else can I say besides, Thank You.
Thank you.
Thank you.
I'll carry you with me forever.
Also…
Love Always,
Alyssa