YouTube Vegan Channels that bash other people for the way they eat is so 2016! This year we are all about positivity and inclusivity. You might not be vegan yourself but I'm willing to bet all of us are trying to incorporate healthier foods into our diets.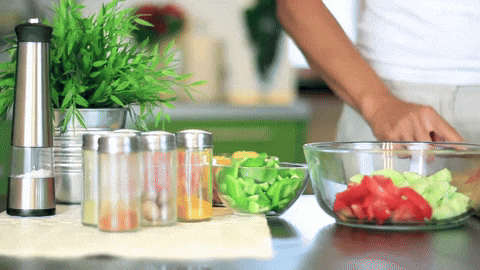 Summer is the perfect time to learn new things and discover new points of view. That's why I bring to you the best Vegan Channels to follow in 2019!
1. Hot for Food
Lauren Toyota is hot for food… as long as it's vegan!
She's cooking up vegan love and bringing the increasingly popular lifestyle to food fans across the globe. Her knack for creating vegan versions of popular comfort foods like mac and cheese, burgers, Caesar salad, and even cheesecake is helping to catapult the vegan lifestyle into the mainstream and proving that plant based diets are far from boring.
If you are looking for healthy recipes this might not be the channel for you ( a lot of the food shown here is fried) , but if you are looking to find different flavourful ways of eating the food that you already love then you will have a blast watching her show.
Visit their channel HERE.
2. Julien Solomita
You might remember Julien as Jenna Marble's boyfriend but he's so much more than that! Julien is vegan and has been diagnosed with Celiac disease. On his channel you will be able to find mostly feel good vlogs of his life with his girlfriend and their now 4 dogs.
He also takes his vegan status and Celiac disease to his advantage as he shares amazing recipes for people in his same position. His sense of humor and beautiful shots will guarantee a fun time watching his videos and maybe even motive you to try the recipes.
Visit their channel HERE.
3. Unnatural Vegan
This channel is something else. Hosted by Swayze Foster, Unnatural Vegan explores the scientific angle of veganism and acknowledges both the pros and the cons.
Surprisingly, she is not loved in the vegan community as she often questions the communities beliefs and actions. I believe that her constant questioning of the community is what makes her channel so refreshing and special.
"I don't see how lying (e.g. exaggerating the health claims of vegan diets) could possibly be beneficial in the long-run. It's bad for people and it's bad for the animals."-Unnatural Vegan
Visit their channel HERE.
4. The Easy Vegan
Meet Jules, the Easy Vegan.
When Jules went vegan he didn't want to restrict himself to just a diet of raw mung beans and quinoa, so he started to investigate and experiment with plant food. He wanted to make vegan friendly versions of the food he loves like burgers or pasta carbonara or cookies and that's when he set up his own website and YouTube channel. Whether you're vegan, vegetarian, flexitarian, pescetarian or a straight up omnivore, we think you'll find The Easy Vegan recipes as tasty and satisfying as they are easy and vegan.
Visit their channel HERE.