We've all attended our fair share of conventions here. From small to large, it matters not. We have all tried everything. Some have failed us, others have saved us, but what we know for sure is that you need to pack something, anything to save you. (Sometimes, something small can save your sanity in the sea of overwhelming [insert noun here].)
Since San Diego Comic Con is around the corner, we have said our input of what the "Must-Haves" and "Wants" are. Trust us, we know.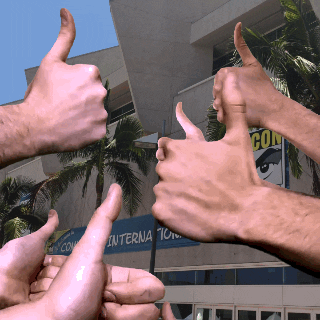 What items do you find the most helpful and the most necessary to better your convention experience? What are luxury items that you bring but don't necessarily need?
Michelle: I've tried so many things over the years, and in the most recent years, I've brought a fan and a folding chair. A majority of my con experiences are in Southern California (WonderCon and San Diego Comic Con), so it's always hot. These items are both amazing in the heat, while in line. And a luxury item that I bring but don't really need? Face powder. By day 3 and 4, I stop bringing this. But in the first couple of days, I want to be presentable to booth people and make a good impression.
Lariel: My most important items are extra power packs. I typically have three of them with me – I burn that much juice on Twitter, checking the various accounts for different rooms. Last year's "luxury" item was a coloring book and crayons. I never did get around to breaking them out, though.
Jasmine: One of The most helpful items for me has been a portable phone charger. My cell phone would always be just on the edge of death before I would leave a book convention. I would have to borrow a friend's sometimes. It's been the best investment ever. A luxury item I guess would be my lipsticks or lip gloss, I wear it for maybe the first hour and then afterwards, I don't even bother reapplying because I just stop caring about wearing makeup in line. 
Erin: The most helpful thing – my xanax. I shit you not – people be cray cray and will take a bitch out for the chance to have Tom Holland sweat on them or Stephen Amell make your hormones explode with his eyes. Now, I am totally aware that not everyone has xanax but hey, I am being honest. Weed is legal in California, but I'm not advocating that. I also don't go anywhere without portable phone chargers because a bitch has to stay connected. Only I will be the first to be like shit, there was no connection. 
Lizzie: COMFORTABLE SHOES. Like, not just sneakers, but the super comfy ones. No fancy footwear. As for luxury item, I guess I don't really NEED makeup, but I kind of want it, especially considering all the running around and/or not eating that goes on. Fake it till you make it!
What tech do you bring and use? 
Michelle: I don't bring much, just to save on space and weight. I do bring my phone, my Kindle, and an external battery with all the cords. Your phone is great for everything like spreadsheets, photo-taking, music or pod listening. The Kindle is a must for me, when waiting in line. Plus it's a great way to avoid people when I'm feeling introverted.  I will bring headphones, but by day 2, I'll probably take it out for extra space or weight saving. And the battery? Well, with all the time spent on the phone, of course I need it. As a side note, if you're going to watch shows, listen to music of podcasts, and etc, preload them onto your devices. Most convention centers are saturated with people and the cell signal isn't reliable. 
Gillian: Portable charger is a major necessity! Not everywhere in the convention center has free or strong wifi, so constantly searching for a signal kills your battery. And if you're with people, you need to coordinate schedules so being without your phone is a nightmare. Make sure it's charged and ready to go. You can maybe luck out with some outlets somewhere within the convention center but do not make that your only strategy!
Lariel: I already mentioned my power packs. I also keep my iPhone and iPad with me. If I am working the con, my Macbook Air also comes along for the ride. And of course the requisite cables. (Hint for SDCC goers: The UPS Store in the Marriott sells USB cables, and they're good ones. The one I bought in 2017 is holding up better than any genuine Apple cable I've had.)
Jasmine: As far as tech goes, I don't bring anything but my portable cell phone charger. I generally spend a lot of time talking to people or I'm a volunteer so there's no need to bring my kindle. 
Erin: Portable charger, USB cables, and the Find My Friend app activated so people can not hide from me. SDCC will test your patience and you will want to avoid your friends. Trust. But don't let a friend hide from you. I mean sure, feel free to hide from them, though. 
Lizzie: Portable chargers, portable chargers, portable chargers. That and my phone has been all I've needed.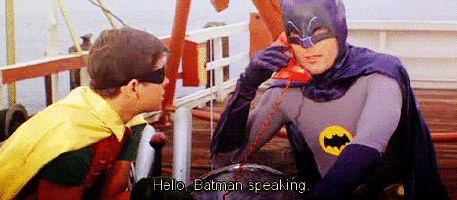 What clothes and shoes do you wear to make your experience more enjoyable and comfortable? 
Michelle: This varies from year to year. I try to dress up at least one of the days, and while I've gone all out in the past, my current costumes have taken a more laissez-faire approach. Graphic Tees and light pants are my usual staple, but I've slowly been playing with Dri-Fit attire or linen clothing. I'll pair these with some Adidas NMDs or similar. The extra cushion of sneakers are a must. Walking and standing for 10+ hours, for 4 days straight will wreck some havoc, and I've  just learned to sacrifice fashion for comfort. I've tried to wear Converses or Toms in the past, but my feet will suffer after hour 4 or 5. I've tried wearing Birkenstocks, and I think it was okay. I'll try that again this year and find out.
Gillian: I have always worn short sleeve T-shirts and jean capris for summer cons. Some lines require you to be outside and that could be hot but when you're in panels, the AC kicks in. It's a weird medium. And the con floor is usually hot due to all the people. I've sometimes brought a hoodie but can't remember how often I've used it. And seriously, wear sneakers! I love my Skechers. I have never been much of a cosplayer going more casual if I feel like it. 
Lariel:  My favorite con outfit is a Batgirl dress (it's actually a nightgown!) over leggings and a t-shirt. I have some inexpensive slip-on shoes with memory foam insoles that I switch out day to day. Once I wore my knee high black boots, but they're not quite as comfortable.I do suggest having a lightweight hoodie in your backpack. Last year at SDCC, I stayed in Ballroom 20 for both runnings of "The Death Of Superman" and got quite chilly by the end of the evening. One more suggestion: A hat for outside. I've gotten sunburned along the part of my hair in the past.
Jasmine: Comfort is key. In the days leading up to the events I go to, I'll periodically check the weather and plan based on that. The book conventions I go to are indoors but because there are so many people inside, it can get stifling hot. I usually wear Jeans and a short sleeved shirt. Sneakers, comfy ones are the best way to go. You're on your feet all day so the last thing you need is to have to soak your feet from swelling when you get back home or to your hotel. 
Erin: I don't cos-play. I ain't gonna lie. But there are some things that people need to remember. Spandex is a privilege and not a right. Look all bodies are spandex bodies – I ain't judging. Comfort is important. But also – pictures live forever. FOREVER. 
Lizzie: I'm telling you, the super comfy sneakers that have like extra cushion, those are the ones. As for the rest, your most comfortable jeans and a geeky shirt.
What backpacks or bags do you recommend? 
Michelle: I've brought every type of backpack in my con experiences. My new found love are hiking packs. They're bigger, but they distribute weight easier. I tried out a hiking bag at WonderCon this year and it was glorious. A million pockets, padded back, and straps to distribute weight? Amazingly comfortable and I didn't really feel the weight. I would suggest against messenger bags. They didn't distribute weight properly for me, and by the middle of the day, my shoulders would hurt.
Gillian: I used to always bring tote bags to cons but now I'm definitely switching to backpacks. Totes really screw up my back and they're not very secure. I always felt the need to check that I wasn't missing anything throughout the day. They're definitely easy to stuff swag in but after a whole day, it's not worth it. I got a backpack for Star Wars Celebration and it was easily one of the best decisions I've made. It had places for me to store a water bottle, food, swag, and still had tons of space left over for my hoodie. Backpacks for the win!
Lariel: My main con bag is a J World Sport backpack with loads of pockets. Appropriately for anything that's bigger on the inside, it's blue! It holds all my tech, the con guide book, a spare book for the lines, and hard plastic photo sleeve for any pictures I pick up along the way (up to 8.5 x 11). I also keep a lightweight shopping bag in the pack for any purchases that I don't want to put into the pack. I also hook a plastic poster tube to the backpack for anything larger than 8.5 x 11).
Jasmine: I get paranoid carrying backpacks. I always feel like it's easy for someone to steal from you in a crowded room, especially if they are right behind you. I've been carrying purses that are cross-body because I can keep it on me at all times, and I can twist it in front of me.  Another thing I've found to be a lifesaver is my quick cart. When I go to book cons, I'm usually bringing books for Authors to sign, and I'm buying a few too. The quick cart is super convenient because I can pull it around and I don't have to worry about trying to carry heavy books in my arms all day.  
Erin: Dagne & Dover. Most comfortable bag I own. Also it's water proof. 
Lizzie: SOMETHING WITH STRAPS OR YOU'LL HURT. Trust me on this.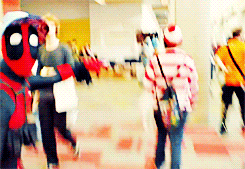 What type of snacks, drinks, or other food do you pack with you, if any?
Michelle: This is another tricky one. I've learned  to bring quick snacks with a lot of protein. I try to have a type of granola bar, plain nuts, slim jims, and protein cookies. I stick to water or an electrolyte drink, but water is usually my drink of choice. I'll try to have a real meal at least once a day to make sure I get out and decompress, but these are my quick snacks that help me not die. I'll bring M&Ms since they don't melt, and it's always nice to have some sugar throughout the day.
Gillian: Con food doesn't disgust me as much as some other people but when you're stuck in lines for panels, you don't want to waste time in lines for food as well. I grab little bags of chips and cookies though I know I should start bringing fruit. I really need to start bringing my own water bottles too.
Lariel: One year I brought a big bag of popcorn. Saw it in the grocery store and couldn't resist! But usually I'll bring water, protein bars and snack packs of crackers and cheese/peanut butter. I've also brought Uncrustables sandwiches; they thaw throughout the morning and are ready to go by the time I'm hungry.
Erin: Water, protein bars, and money because inevitably I am gonna eat the con food and suffer the consequences later. 
Jasmine: Lots if light snacks like granola bars, and some small bags of chips or nuts. Also, water because dehydration is real!
Lizzie: Bring snacks. It's important. Especially crackers and/or granola. Something for when you're about to collapse and realize it's 4pm and you haven't eaten yet!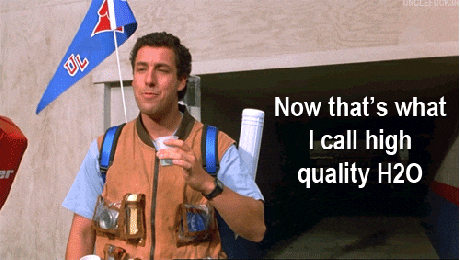 What do you strongly advise against bringing? What do you strongly advise bringing?
Michelle: Based on what you want to see, I advise bringing what you're going to commit to. Cons are about choices  and sacrifices. I will opt to not bring a book for an author if I know I'm going to wait in line for a panel at the same time. Sure there may be a chance, but I've learned not to go on the "what-ifs." I do advise with bringing things to make you sane. Things like deodorant, body wipes, hand sanitizer, aches and pains medicine, etc. These aren't necessary, but they're the "I'm going to need them at some point" items. I also advise for chapstick and a non-scented lotion. AC is blasting all throughout the buildings, you're going to get dry.
Gillian: I agree with Michelle. I always carry pain medicine, Tums, hand sanitizer, deodorant, chapstick, bandaids, extra hair ties, etc. You really never know when you (or a friend or some random person on line!) might need something. I have a special pouch for all that stuff and I've never regretted it.
Lariel: I agree with the other ladies. I'll add one thing to their list: sunscreen. Couple of years ago I was in the Indigo Ballroom line with an extremely pale young lady who'd forgotten sunscreen herself, and I swear I could feel her skin burning! I let her use the stuff I had. (Is it bad that it was Coppertone Water Babies? I'm such a mom!)
Jasmine: Like Michelle said, you really have to base what you bring on your situation. You have to be realistic in planning that's the number one thing. I strongly advise bringing things like pain relievers as well because sometimes I get a headache from being in the crowded hot spaces for so long (and yes I drink my water).  Heartburn relievers are also good too because you never know what kind of food is around to eat and your only option may be something that causes acid reflux etc. If you're outside, I also recommend sunscreen. 
Erin: Don't forget advil/tylenol/whatever you take. If your back and feet don't hurt – good on you. But I guarantee some jackass will give you a headache.
Lizzie: What Erin said. Even if you NEVER get a headache, bring tylenol. Your feet will hurt. Something will hurt. Don't worry so much about dressing up, and if you're doing cosplay, BRING AN OUTFIT TO CHANGE.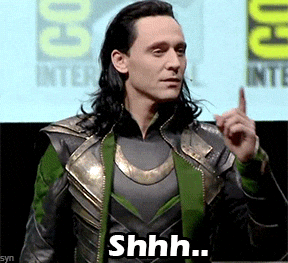 Any other tips?
Michelle: It's still time until the next convention. I would start looking at what you used last year and see if you backpack or other items are still usable for the next one. Sometimes there will be wear and tear, and while you still have time you can also look for deals on things like bags. Plus, if you are going to order your stuff online, you'll have time for delivery and shipping. Same for shoes. Brand new shoes? Wear them out at least a week before and make sure to break them in. Old shoes? Do they still feel comfortable wearing them? Because the worst thing that could happen is if you get a blister or some sort of food injury. Then there goes your foundation for standing in line. Literally. Also, start picking up things you may need several days before. Travel sized items? Get it now. That way, when you're packing, you're not scrambling around town for something. I've done that, and I can never find the thing I want. One last thing. Bring cash. Most places accept cards, but the signal to run those cards won't always work. And I've found that you can sometimes get a discount by paying with cash.
Gillian: This year was my first Celebration and I heard from a number of people that their credit card information was stolen at the previous con. I bought some RFID sleeves from Target before attending and used them. I didn't hear any horror stories this year so it's possible that those nefarious people didn't attend this time but it doesn't hurt to take precautions. I also kept cash and some cards in two different places in case I misplaced my wallet or something so I wouldn't be completely out of luck. Most of all, make a plan but also make alternative plans. You will not get into every major panel or autograph signing. It's just how the world works. If you have enough backup plans, you won't be disappointed.
Lariel: I have a small wallet I use for cons only. It holds my driver's license, my ATM card and credit card, my AAA card (since I drive in to these cons) and my health insurance card, along with any cash I'm carrying. I don't use a lot of cash at cons; I'm a little paranoid about it getting lost or stolen – more so than I am about credit card info being taken since my bank will cover me. And speaking of the bank: Call your bank and let them know you're traveling. You only want them blocking your card if someone else is using it!
Erin: Pack light and pack smart. That's all I am gonna say. Don't be dumb, your back will thank you for it. 
Jasmine: I have a few book cons I'll be attending in the next few months so I'm already thinking of ways to downsize etc. Early planning is always a good idea, and make a list, those are definitely helpful.
Lizzie: My #1 advice is, if you're thinking about it, you don't need it. Period.
Do you have any tips? Tell us below!