The more I reflected on the season seven premiere of my favorite of the One Chicago trio, Chicago P.D., the more frustrated I became. Not because it wasn't a gripping episode or that many of my season wishes are apparently coming true, but because old character conflicts have returned to the forefront and I just wish they weren't. 
I'll explain myself, I promise. First, let's get into the two major plot threads of "Doubt." 
Kelton's Murderer Uncovered
I'm going to be honest: I knew it couldn't be Voight – no matter what the evidence pointed to. That would have been too easy. As we recall, Hank already got away with murder once. The consequences of that decision laid waste to the entire unit. Erin left, Al was murdered, and trust eroded throughout the squad. 
That fractured trust came to a head as Intelligence was tasked with finding Kelton's killer. Jay had to cover for his boss from the get go, who was already being his usual mysterious and stone-walling self. Atwater had to essentially throw himself between trigger-happy homicide detectives and a young black suspect. It seemed strange that Kelton's murderer would be a gang member, even one out for revenge, or a random cop who liked to steal from crime scenes. Kelton has been the central antagonist of the show for so long that the narrative had to not only wrap, but leave enough threads to propel inevitable future conflicts. 
So, Brennan. 
Of course it was. Hank's "handling" and Jay's obvious suspicion throughout the episode lead to a heart-pounding climax, but first, plot B. 
Where's Antonio?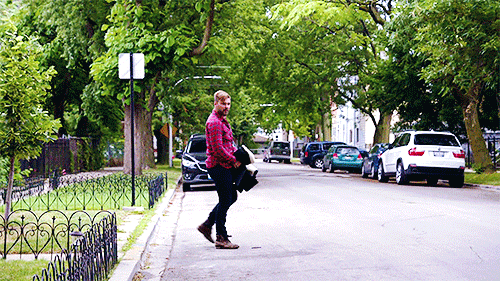 Adam's bail came as a welcome surprise – I'd expected him to be in jail for a couple weeks at least, but Voight's never gonna leave a man behind. Loved his reunion with Kevin, and their important bro moment when Adam apologizes for keeping his friend in the dark about this whole coverup ordeal. While Intelligence is busy working the case, Adam's tasked with trying to find Antonio, who looked really worse for wear in the season 6 finale and has completely vanished. 
Everyone's rightfully concerned, but when it turns out that Voight was covering for Antonio all this time and getting him into an off the books clinic, Jay's flabbergasted that it was kept a huge secret. I understand Antonio's desire for privacy, but didn't the reality of his addiction go out the window when Eva was kidnapped? It's not like the unit had no idea what was going on with him. One would hope that this glimmer of honesty from his sergeant is enough, but this only proves to Jay that Voight cannot be trusted to "handle" Brennan's arrest. 
The Upstead and Unit(y) of it All 
Jay's immediate disclosure to Hailey about his suspicions is yet another example of a) the strength of their partnership and b) his growth as a character. Throughout the episode she continued to check him and try to alleviate his concerns. When homicide finally confronted Jay, it was heartening to see Halstead leap to Voight's defense in spite of (or because of?) his own doubt. In conference with the rest of Intelligence, everyone agrees to back Voight. It was probably my favorite scene of the night. 
But the doubt still lingered, so of course Jay (with Hailey in tow) camped out in front of Brennan's home while he confronted her. But when Voight leaves sans the former Deputy Superintendent, Jay can't let it go. 
Stand Out Scene
Jay and Hailey storming the house only to find Brennan about to commit suicide wasn't as shocking as the pure desperation in Jay's voice as he tried to stop her. As an Army Ranger we all know Jay's seen his fair share of truly horrific things. So as badly as I did not want to witness a third consecutive and gruesome death in the One Chicago franchise, I didn't want Jay to have to go through it more. In true Upstead form, Hailey distracts Brennan just enough for to Jay to wrestle the gun away. Everyone is shaking: Kate, Jay, me. Predictably, Voight is furious, but I know that Jay will stand by what he did, and I'll stand with him. 
The Blow Out
I deeply disagree with Voight's proclamation that it's Brennan's choice whether to commit suicide or be arrested. She was happily about to get away with murder. Not to say Kelton didn't deserve to die, but we've seen Voight's brand of mercy play out before and that was with a killer much more sympathetic than Kate. It's unfair to say that Voight gets to pick and choose who he brings in, who he lets kill themselves rather than face consequences, or even who he kills himself. Quite frankly, Brennan did a lot of deeply immoral and illegal things. She should face the consequences of her actions. But she's not the real root of the issue. 
Voight could have easily trusted Jay with this decision, or any of his decisions over the last year. But his refusal to do so led to their dramatic fight, in which I still think Voight is in the wrong. As I said before, we've lost people to Voight's own brand of justice who were unintended consequences. Jay should not have to blindly follow his boss; Hank should have a little more faith in his detectives, especially if they want to maintain any kind of respectful relationship moving forward. 
Stray Observations
"Doubt" was a very strong premiere not only as an episode, but as a catalyst for many threads that will certainly take shape throughout the season:
Atwater grappling with his identity as a Black man and as a cop has cropped up more and more over the years, and I think it'll continue to do so. I really love

PD'

s refusal to shy away from that. 

I wonder if Antonio will get a proper final scene like Connor did in

Med

. One can only hope! Jon Seda was wonderful as the moral backbone of the unit; it seems like Jay is stepping up to fill in those shoes. 

Hailey's unflagging loyalty to Jay – especially when he goes against her advice – is one of my favourite things about them. The amount of Upstead packed into this premiere alone gives me a lot of hope for something more in the future.
Best Lines
Hailey: We have a warrant to search the premises.
Salon Owner: Search for what?
Hailey: Weapons of mass destruction
Salon Owner: What?
Hailey: Just kidding. Drugs and guns. 

Kevin: So what exactly did you tell [Homicide] Jay?
Jay: I told him to go to hell. Now you have all the info. 
We love a sassy detective duo.
Chicago PD airs Wednesdays at 10 9/c on NBC.