So not too long ago, we writers here at Fangirlish listed our 'Perfect TV Episodes' in a quick round-table. But being the avid consumers we are, I figured if given the opportunity, we'd all have a lot more to say, and a lot of favorites to boot. Ladies, gentlemen, and non-binary pals, may I present to you: 
FANGIRLISH'S TELEVISION TELL-ALL
Round One: Dramas
The rules were pretty straightforward. In 150 words or less, talk about your favorite episode(s) of one-hour drama. Everything was fair game: Networks, streaming, cable, and limited series. Everyone was able to pick two favs + an honorable mention if they had one. This massive and on-going series of round-tables will cover everything: eps of every genre, characters, story arcs, even opening credits. Keep an eye on this space for more, and we hope you pick up some new shows along the way!
–  Annie
Annie
Code Black
(1×15) "Diagnosis of Exclusion" 
TW: sexual assault
Diagnosis of Exclusion is the harrowing climax to a terrifying storyline: Dr. Paneda's stalker Gordon leaping from following her to attempted murder and sexual assault. Gordon, Malyia, and The ER director all end up at Centre Stage of Trauma One as the story unfolds in flashbacks through various POVs during an internal hospital review. The episode structure forces you to feel horror from all sides: Malya in her assault, Angus fighting Gordon, all the doctors trying to treat everyone, and forced to justify each choice and action. Code Black is usually chaotic but I spent nearly the full hour with my heart in my throat, even when the investigation portions broke up the break neck action. The show's premise of the busiest trauma hospital in America is truly stretched to its limits and the way its characters were equally tested made for an incredible hour of television.
911
(2×12) "Chimney Begins"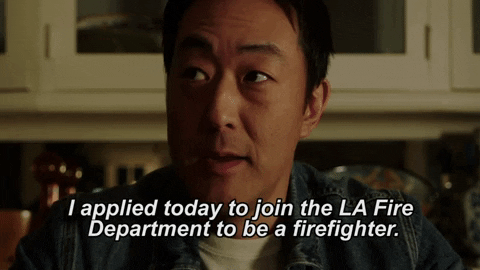 Love a backstory ep: 911's look at how Howie Han became a firefighter known as Chimney was amazing. Despite the fact that I am not a) a firefighter b) Korean or c) a man, this is one of the episodes I'll always point to when someone asks me why representation matters. As a second generation Viet Canadian, I related so deeply to Chimney's struggle to find a path, his parents who didn't understand his aspirations and the feelings of exclusion from other firefighters who didn't believe he was capable of being great. Even though the plot itself and even the twist were somewhat predictable, it was less about the story and more about developing our understanding of Chimney's character – and the show's staunch refusal to let him be the Token Asian. And because your girl is a crier, the scene with Kevin's mom towards the end had me bawling. 
Honourable mention: Criminal Minds (7×01) "It Takes a Village" 
Lizzie
Buffy: The Vampire Slayer
(6×07) "Once More, With Feeling"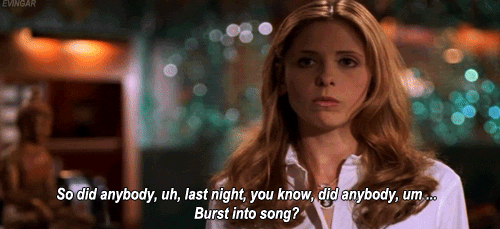 I grew up with Buffy: The Vampire Slayer and there are a lot of episodes I still love – some despite my better judgment considering all we now know about Joss Whedon. But "Once More, With Feeling," the sixth season episode where a musical demon forces everyone to get all their feelings and issues out, through song, remains a stand-out, and the kind of episode I re-play when I'm having a bad day, or a really good one, or when I just want to sing. This is both because of the combination of superb songs and the fact that the episode very skillfully moves the plot along, because the words being sung are not superfluous, and issues are actually being dealt with. Oh, yeah, and did I mention this episode is a hell of a good time? 
Alias
(2×13) "Phase One"
Alias got convoluted in later seasons, but in the first two the writing and the plots were as tight as I've ever seen in any show on TV, before or after, and it all comes to head in "Phase One," which feels both like the episode that's a culmination of everything you've ever wanted to happen, and something a show cannot, will not do in the middle of its second season. But then again, when has JJ Abrams followed the rules? "Phase One" changed the show, and I will even say it changed the way television approached the whole setup for TV shows. After all, if Alias could basically upend everything and then go on, why couldn't other shows? Also, Sydney and Vaughn, together at last!
Honorable Mention: Timeless (1×11) "The World's Columbian Exposition."
Lacey
The Brave
(1×05) "Enhanced Protection"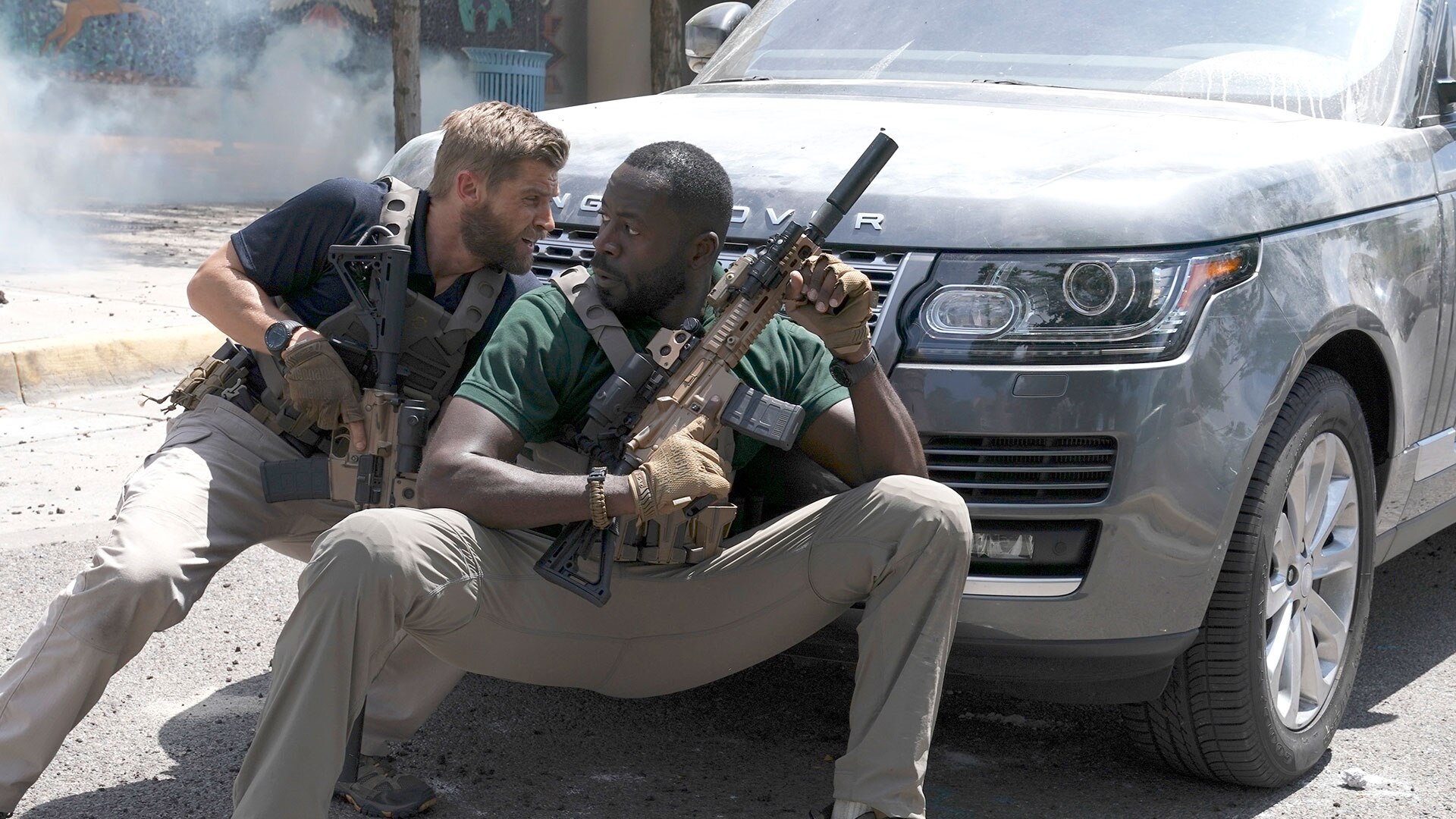 It's no secret that The Brave is hands down my favorite military TV series to ever exist and "Enhanced Protection" is one of the many reasons why. Every week, this stellar show left fans hanging onto the edge of their seats to see what happened next. When "Enhanced Protection" first aired, it had been my favorite episode to air (still is) and one of the most emotional for me. What started out as a simple mission turned into a high stakes hostage situation that found our heroes and the innocent people they swore to protect in grave danger. I still get super emotional when I think about it because the story feels so real. The plot was realistic and truly felt as if these sensational characters were really in danger. The Brave will always hold a special place in my soul as will the writers and stars that brought it to us.
Agents of S.H.I.E.L.D
(4×15) "Self Control"
There have been three episodes throughout the Agents of S.H.I.E.L.D. series that have stuck with me: "The Real Deal", "Inescapable" and "Self Control". While I love all three with my whole heart, what makes them all amazing is the incredibly and moving performances that Iain De Caestecker and Elizabeth Henstridge provide. They. Are. Everything!! AoS is one of those shows where every season is better than the last. Up until 4×15, I thought I couldn't love this duo more and these two perfect beings proved me wrong. The heartbreaking scene between our beloved Fitz-Simmons left me breathless and sobbing, blubbering mess. The raw emotions and pain that developed was beautiful and gut-wrenching all at once. It's such an odd episode to love but I can't help but rewatch it. It's painful in all the right ways and I can't help but love it!
Honorable Mention: Angel (1×08) "I Will Remember You"
Gillian
Friday Night Lights
(1×20) "Mud Bowl"
TW: sexual assault
As someone who is not a football fan, the fact that one of my favorite shows is about football is hilarious. Pretty much the entire first season was perfect but if I have to pick a standout episode, it's "Mud Bowl". A chemical spill ruins the field at Dillon and it's the semi-finals. Coach Taylor finds an abandoned field and that's where the game will be played. All seems to be back to normal until the rain starts and the field turns into a muddy mess (hence the episode title!) but the Panthers don't back down. It's so exhilarating. But in between those scenes, there is some bad as Tyra is being sexually assaulted but she fights off her attacker. The way they managed to juxtapose the joy of winning and the horror of sexual assault is why Friday Night Lights is a masterclass of television.
Angel
(1×08) "I Will Remember You"
Where to even begin? After Angel secretly visits Sunnydale to check up on Buffy, she decides to confront him in LA. A demon attacks and when his blood mixes with Angel's, Angel becomes human. He and Buffy can actually have a relationship! But he realizes he cannot save anyone as a human and asks to be turned back, and in doing so, erases Buffy's memory of the magical day they shared. My Bangel heart is still broken from this episode. It was everything I wanted for those two but Angel's decision still makes sense (also, it was the very beginning of his show; there was no way he wasn't going to be a vampire). "I'll never forget."
Honorable Mention: The O.C. (2×14) "The Rainy Day Women"
Zosia
American Horror Story
(2×11) "Spilt Milk"
The gif above from the second to last episode of AHS: Asylum says so much more than words themselves. Lana Winters, the main character played by Sarah Paulson, manages to fight the man who hurt her, humiliated her and abuse her. Everything is leading to a spectacular culmination. While the mentioned journalist prepares for the final encounter with her torturer, Kit (Evan Peters) finds out what happened to Alma (Britne Oldford). The Monsignor (Joseph Fiennes) loses all aspects of morality when he tries to silence sister Jude (Jessica Lange). The reason why I like this episode the most is because we see the definition of female power. Sarah Paulson's character who started in Briarcliff Manor (titled Asylum), finishes as powerful, mighty woman who went through hell but came back alive and stronger than ever. 
Jasmine
Law & Order: Special Victims Unit
(12×03)
"Behave"
TW: Sexual Assault 
I recently caught this episode of Law & Order and it was the most riveting hour of television.  I was glued to my seat the entire time. Jennifer Love Hewitt gives an outstanding performance as Vicki Sayers, a young woman who has been raped 4 times and harassed across the country over a period of 15 years by the same man.  Watching her recall every single date and time she was attacked before as she gets a new rape kit done, is heartbreaking. The final scene when she looks at her attacker straight in the eyes as she closes his jail cell door was so satisfying to watch. 
One Tree Hill
(03×16)
"
With Tired Eyes, Tired Minds, Tired Souls, We Slept"
TW: School Shooting 
One Tree Hill was always one of my favorite high school dramas and every episode always made me feel so many emotions.  This one was no different. After being bullied, Tree Hill high school student Jimmy Edwards shows up with a gun to seek revenge against his tormentors.  This episode was extremely emotional and I think that writer Mark Schwahn along with the director Greg Prange, did an amazing job of showcasing such a sensitive topic.  Each and every single cast member was incredible. This is still an episode I have never forgotten. 
McKenzie
Charmed 
(3X22) "All Hell Breaks Loose" 
Charmed is a series I grew up on. The original not the horrific reboot. It is the first series that I have rewatched multiple times.  It really let me escape into a magical world for a few hours. I love this series with my whole heart. While I prefer seasons 1-3 with Shannon Doherty, I do love the rest of the seasons as well. There is just something so magical with the original three sisters. Prue, Piper, and Phoebe. That is why this episode is heartbreaking for me, it's the one where Prue is killed.  However, that doesn't mean that this episode sucks, far from it. It shows what is so great about the Charmed ones and what they will go through for each other. 
Game of Thrones 
(3X09) "The Rains of Castamere"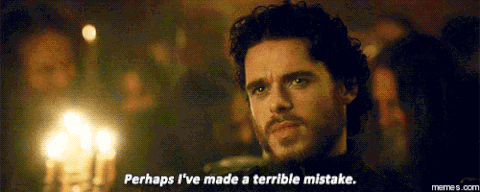 I came to the Game of Thrones party way late.  I didn't start watching it until the end of season 7. I had never read the books and never read any spoilers about it.  I had just heard that it was a great series and that I wanted to watch it. So, when I was out of the hospital and on bed rest for two weeks I decided that was the time to start. I was as Old Nan would say "oh, you sweet summer child". I didn't expect for my heart to be ripped out. Watching one of my favorite characters be murdered was horrific and traumatizing for me.  However, it is a masterpiece of writing. The whole episode from start to finish. The writing, acting, costumes, special effects, it was all there. It is still one of my favorite episodes though and I still feel the same emotions and shock everytime I watch it.  
Grace V.
Chuck (3×14) Chuck Versus the Honeymooners
I love Chuck more than words can describe. It's full of action, comedy, and drama — the perfect tv show combination. One of the best parts about the show is the will they/won't they relationship of Chuck and Sarah. And thankfully, without waiting too long, they finally officially got together in the middle of season three. This episode took place right after that and what I think makes it so great is the fact that they not only show us the happiness that comes with the honeymoon stage of a relationship, but all the complexities of a relationship as well. Both Chuck and Sarah thinking the other doesn't want to be a spy — and their willingness to give it up if the other wants — shows us just how perfect the two are. This episode is the reason I love Chuck. 
The 100
(3×16)
Perverse Instantiation: Part Two
It's hard for me to pick between episodes of The 100 because I honestly love a lot of them. But like most of their season finales, this episode is truly a standout. The City of Light has essentially taken over the minds of everyone and only a select few like Clarke, Bellamy, and Octavia are safe. So it is up to them to save mankind and with a lot of bloodshed and heroics they accomplish just as much. This episode does a fantastic job at not only concluding one storyline, but also opening up themselves to a whole new one. Full disclaimed: I love this episode 10x more just for the mere fact that Lexa pops in and helps save the day. 
Honorable Mention: One Tree Hill (3×16) With Tired Eyes, Tired Minds, Tired Souls, We Slept
Mimi
New Amsterdam 
(1X16) "King of Swords"
I love this episode of New Amsterdam for so many reasons, one it finally brought Max and Helen's feelings for each other to the surface without either of them saying a thing, and two it opened the possibilities for so much more.  There's a blizzard, and New Amsterdam is the only hospital with power. Max pleads with Helen to go on a house call with him and they end up getting trapped together with their unsaid feelings and a psychic. The psychic with a "bad heart" tells Max, "You will lose her," and tells Helen "You can't have him."  Guys! I was like holy shit she knows! The psychic is REAL AS FUCK and she KNOWS. However, things are left unresolved between them and by the end of the episode and Helen tells Max, "They need to talk."
Call the Midwife 
(07X07) 
If you have never watched an episode of Call the Midwife, you should. It's a British break out hit and I usually cry and laugh, all in one episode. Barbra came to show in season four as a young, midwife from Liverpool, whose father was a minister.  Barbra finds her true love in Tom, the local minister of the East End  parish. Barbra and Tom were only recently married and had just gotten back from another mission trip to Africa when she comes down with a cough, that she thinks it's nothing more than a cold. However, she never recovers and learns she has both Meningitis and Septicemia, and she dies within days. I lost my sister to Meniginits and she also died swiftly and without any notice. It was scary, and devastating. I have never  gotten over it. Watching this episode was gut wrenching for me, I had no idea they were going to kill Barbra. The shock reminded me of my own loss and I cried along with Barbra's friends and family. 
Honorable Mention:  Suits (1×7) "Play the Man."
Ashley
Game of Thrones
(8×02) "A Knight of the Seven Kingdoms"
The one bright shining beacon in the travesty of Game of Thrones season 8, and perhaps the best episode in the entire series, is "A Knight of the Seven Kingdoms," written by Bryan Cogman. The premise–it's the night before the long awaited battle with the Night King and the rest of the White Walkers. How do our heroes spend the night before battle? This episode answers that question. What I love about this episode is how we learn a little bit about each character. I think you learn a lot about a person when you observe how they choose to spend what could be their last night on the planet. I found that part of the episode compelling, but I also found Brienne's knighting scene to be one of the most affirming, beautiful, and compelling scenes in the entire series. I wept, not only because of what it meant to me to see my favorite character finally acknowledged and accepted for exactly who she is, but because that scene was affirming to me personally as an unconventional woman. 
Stranger Things
(3×08) "The Battle of Starcourt"
This is the first episode of Stranger Things where I felt like our heroes were faced with real life and death stakes. All bets are off. There's real character death and by more than just a prominent side character. Hopper's sacrifice was heroic and brave, and even though I thought that would happen, it still made me ugly cry, especially when we got to read his letter. However, I think my favorite part of the entire episode is when the gang attacks the monster with fireworks. It was the Tolkienian eucatastrophe of the series. I wept because it was so brave and so beautiful. That act that everyone thought was unnecessary ended up buying just enough extra time for our heroes to succeed in their mission. Also with Billy's sacrifice, I went from being a Billy hater to feeling sympathy for the embodiment of ever bully I've ever met. "The Battle of Starcourt" might just be the best episode of the entire series. Can't wait for next season. 
Julie
Doctor Who
 (3×10)
"Blink"
Blink is probably one of the most memorable episodes of the newer Doctor Who seasons, and certainly of David Tennant's time as The Doctor. This episode is unique in the fact that The Doctor is in it very little – communicating only through videos from the past where he and Martha are trapped. Instead, we get Sally Sparrow, who is played by Carey Mulligan. She encounters and eventually defeats the Weeping Angels. These monsters, introduced for the first time in this episode, were some of the most terrifying in the entire series. For those who haven't seen it, the angels are statues that come to life in terrifying ways when you are not looking at them. The episode won several awards, including a Hugo for its writing. 
Supernatural (6×15) – "
The French Mistake"
Supernatural has been on for many, many years. So, there are a lot of great episodes. My favorite ones are when the show goes meta, which happens a lot. And this is the most meta of all the episodes. There are probably arguably better episodes of the series, but this is one I can watch over and over and never get tired of it. Sam and Dean are sent to an alternate universe to protect them, and in this universe, they are stars of a television show called "Supernatural." Hilarity ensues as Sam and Dean try to "act" out their own life on set, encounter Misha Collins instead of Castiel, and learn that Sam is married to the girl who played their demon nemesis of the past (Jared's real wife, Genevive, who played Ruby on the show). They even make fun of their own ratings with Dean asking "Why would anyone want to watch our lives?" and Sam replying. "According to the interviewer, not very many people do." It's one of those episodes of television where you are like "I can't believe they did this, but I love it." 
Amanda
Agents of Shield
(6×06)
"Inescapable"
Jumping off from what Lacey said, Fitzsimmons is inarguably the best part of AoS. Yet, I have thought at times that the writers didn't know what to do with them when they're together, leading to a ridiculous amount of separations without emotional pay-off in between. This bottle episode made all of those separations worth it while allowing Iain de Caestecker and Elizabeth Henstridge to shine in an episode dedicated solely to them. "Inescapable" is funny, heartbreaking, enlightening, and above all, satisfying.
Buffy the Vampire Slayer
(4×09) "Something Blue"
I was shippily obligated to include this ultimate Spuffy wish fulfillment episode to off-set the inclusion of Bangel in this round table. "Something Blue" foreshadows both the strengths and the weaknesses that Spuffy will have as a relationship going forward. I don't think the writers had any idea the powerhouse they were hinting at here, but that just makes it all the more special. It's the kind of episode that makes you chuckle upon rewatch, knowing more than the characters do about what the future has in store. (This gif was totally a purposeful choice, for example).
Kris
Breaking Bad
(5×14) "Ozymandias"
There's a reason why this episode has a perfect 10 rating on IMDB. Everything about this episode is expertly crafted, beginning with the title of the episode ("Ozymandias" is a poem by Percy Bysshe Shelley about the 'king of kings,' forgotten in the desert, found to be nothing but dust), which succinctly summarizes Walter White's situation at this point in the show: his once great, powerful drug empire has crumbled and the rest of his life – notably the relationships of those who were closest to him – is quickly following suit. Everything comes to a head in Albuquerque between his brother-in-law Hank, his business partner Jesse, and his wife Skyler and son Walt Jr. It was such a satisfying episode to watch after years of buildup.
Spartacus
(1×09) "Whore"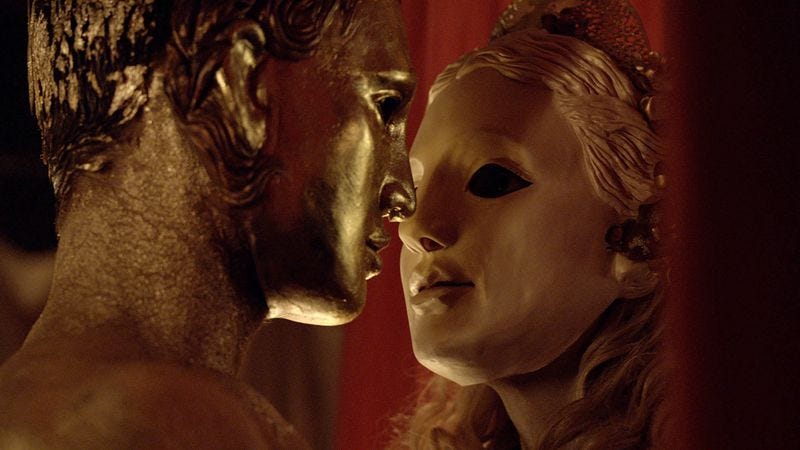 Yes, I'm aware this picture is terrifying. While most have first turned into this show for the epic gladiator battles, the Roman political intrigue, and the gratuitous sex that's expected in a premium cable show, this particular episode highlights the psychological trauma that the gladiators experience as slaves, focusing on gladiators being forced to use their bodies for sex. It's an interesting and heartbreaking exploration of agency, between Spartacus being ordered to "please" Licinia, to Lucretia ordering Mira to "prepare" Spartacus, to Lucretia forcing herself on Crixus, lost in a fantasy that he loves her, and Lucretia ultimately orchestrating a switch that ends in a murderous consequence. Not all of the episode is bleak – there are good things that happen when the gladiators utilize what agency they can manage to grab for themselves. This episode is one of the many reasons why I will defend Spartacus as one of the better shows to have come out this decade.
Honorable Mention: Sense8 (1×04) "What's Going On"
We hope you enjoyed this crash course into favorite dramas at Fangirlish! Stay tuned for round 2, aka Comedies, coming soon!