Who doesn't love a laugh? Find out which comedic episodes take our top spots in Round Two of the Fangirlish TV Tell-All. Our first round was even more robust; find dramas here.
Annie
Brooklyn Nine-Nine
(S05E04) "HalloVeen" 
There's only one other television romantic surprise that I'll remember seeing for the first time as vividly as this one.  I'd never been genuinely almost brought to tears by a comedy before, and waiting for my friends to watch it was the most painful several days ever. The Halloween Heist is arguably B99's most anticipated recurring ep and for good reason; they really perfected it in this iteration. Even without the beautiful romantic layer, the heist is objectively hilarious: everyone participating, in-joke after in-joke, and any episode featuring Cheddar will always be a highlight. There's a pang of joy in rewatching the episode and realizing when Jake says, "The only thing that got me through [prison] was planning this year's heist," he actually means this deeply elaborate proposal. This heist also really goes to show how incredible of a detective Jake really is and how well he knows everyone in the precinct, especially Amy. 
New Girl
(S01E24) "See Ya"
I haven't rewatched New Girl in years – I actually lost track of it several seasons before it ended – but this is an episode that even the memory of always makes me chuckle to myself. Nick's panic about leaving the apartment eventually becoming everyone stuck in the desert overnight really brought out the most hilarious parts of every character and dynamic. Even though the tension between Nick and Jess was off the charts, Winston really made the episode for me. Every hysteria that came out of his mouth was gold, especially, "You never want to lose a race against the night." The delivery on that line alone was peak comedy. 
Honourable Mention: The Office (S06E05) "Niagara Part 2" 
Lizzie
One Day At A Time(1×13) "Quinces"
Ironic that I chose the episode of One Day At A Time that has made me cry the most as my favorite, but this episode represents, not just this show, but my culture, so well, and also, it makes me feel all the things. I enjoyed this show from the beginning, but this was the episode that made me stop and see that this wasn't just a funny, heartwarming show, it was a game changer when it came to not just representation, but the idea that, despite our differences, there are common things that unite us all.
The Good Place (1×13) "Michael's Gambit"
Has an episode of comedy ever delivered such a game-changing episode as this one? I remember sitting there for a good ten minutes after it ended being like wait …what did I just watch, and how does it make sense why still, you know, being shocking? I'm still not sure, but I think The Good Place, and particularly, this twist, changed the way we see comedies, and also what we expect from them. And the show has continued to do that through every second of its run, but it will never be quite as shocking, or good, as this moment.

Honorable Mention: Brooklyn 99 (1×06) "Halloween"
Lyra
Schitt's Creek (2×02) "Family Dinner"
This episode of Schitt's Creek was right there in the sweet spot of knowing enough about the Rose's to love them but also still be very uniquely annoyed by them. This scene, where they're "trying" to fold in the cheese to an enchilada recipe, is one of the most memorable and if I had the choice, most award winning scenes ever to happen on the show. The level of frustration that David is having with Moira is hilarious and a test of their acting skills as I would be down, and on the ground, laughing my ass off every other second. Note: Please Youtube how to fold in the cheese so you're never in a situation like this.
One Day at a Time (1×11) "Pride and Prejudice"
Lydia's train of thought in "Pride and Prejudice" is a thing of beauty that should be admired and remembered across the board when it comes to this brilliant show. It's proof that an open mind isn't locked down against change because of age. Change can still happen and it will happen if we move forward in our lives with love and acceptance in our hearts. Also, let's not forget that this is also the scene where Lydia calls herself a "homo-fallopian." Ages later and I'm still laughing about it. Only abuelita could make me feel this way.
Honorable Mention: The IT Crowd (1×06) "Aunt Irma Visits"
Gillian
Friends (5×14) "The One Where Everybody Finds Out"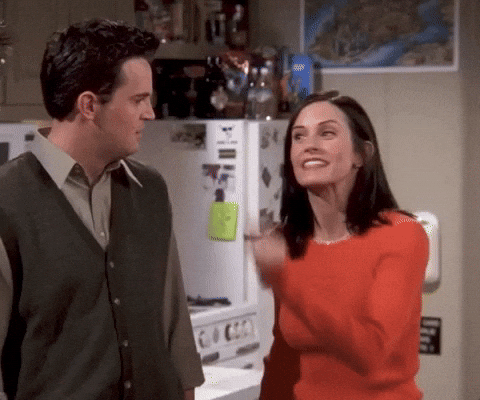 I listed this as one of my "Perfect TV Episodes" so I was going to broaden my options here but after attending one of the Friends 25th Anniversary screenings where they showed this episode, I have to do it. Chandler and Monica's secret relationship was one of the highlights of the show and how every one of the friends found out was such a thrill. It culminated here with Phoebe seeing them through the window and instead of outright telling them, she devises a scheme, hitting on Chandler and propositioning him until he breaks. This episode brings me such joy and it cemented Chandler and Monica as one of my OTPs.
NewsRadio (4×22) "Sinking Ship"
NewsRadio is one of the most underrated sitcoms and it's a travesty. Some background info on the show: it's a workplace comedy set in the world of an AM radio station. There is a wild cast of characters and hijinks always occur. One of the absolute best episodes is the season four finale where they parody Titanic. No, I'm not kidding. They hit every beat of the movie with comedic precision and it kills me every time I watch it. This is a show where every member of the cast gels and the wackier they go, the better it gets. The only drawback to this episode is that it was Phil Hartman's last performance on the show due to his untimely, tragic death. But he definitely went out on a high note.
Honorable Mention: Community (1×23) "Modern Warfare"
Kris
The Office (S02E01) "The Dundies"
vorite episode from The Office since there are so many classics, but the season two premiere felt like a fresh start to the comparatively weaker season 1 and it also felt like the show finally found its footing beyond being an American copy of a UK show. It set the bar high, leading the way to one of the best seasons of comedy television. "The Dundies" showcases everything I love about this show: Michael's ridiculous hijinks, everyone's unique reactions to him, and yet despite how annoying and childish most of them find Michael, they'll all band together and defend him; only they can make fun of him – no one else can! We also get quality Jim/Pam moments as a bonus. Finally, "I want to thank God, because God gave me this Dundie and I feel God in this Chili's tonight" is peak comedy.  
Brooklyn Nine-Nine (S01E16) "The Party"
This show has been almost perfect since the pilot, so narrowing down a singular episode was extremely difficult, but when I was considering episodes that made me laugh out loud the most, the first one that came to mind was "The Party." This episode highlights every character and why each of them are so funny; their inability to navigate a party at Captain Holt's house without showcasing their varying levels weirdness leads to hilarious moments, including the one above. Beyond the comedy, there is also the serious reveal that Kevin didn't originally want Holt's coworkers there due to the longstanding discrimination Holt has had to deal with for being gay. It ends in a heartwarming fashion with everyone in the precinct coming together to make sure Holt and Kevin have a wonderful date night. This episode proves this show has the masterful ability to make the viewer feel a lot of emotions in the span of 22 minutes, but it always leaves you smiling in the end. 
Honorable Mention: "Top Banana" – S01E02 Arrested Development. ('There's always money in the banana stand.')
Round Three: Sci-Fi/Fantasy, coming soon!