Welcome to another Sunday of talking about the shows & movies that made us laugh, cry, go awww and, of course, look around and wonder what in the world was happening. If it made us feel things, whether they were good, or bad, then this is where we talk about it. This is where you tell us if you agree. This is where we let it all out.
So, without further ado, here are these week's picks:
Badass Female Character of the Week
Naomi: Though she is dabbling in dark magic, Josie Saltzman of Legacies is my badass of the week. She struggled with making the right choice because she was afraid to lose Landon, but in the end she made the tough call by giving everyone their memories of Hope Mikaelson back.
Julie: Okay, this was not on TV, but I just have to mention Abra from Dr. Sleep. When Dan refuses to help her at first, she refuses to take his advice and hide her Shining. She is determined to use it to defeat the True Knot crew. And that moment when smirks after she is the first person ever to trap and injure Rose – badassery at it's finest. Shine on, Abra, shine on. 
Erin: For me, it's Regina on A Million Little Things. She dealt with everything coming at her, every moment being overwhelming, everyone being mad. She dealt with everything like a champ. And she's never had an easy life – but at the end of the episode, when she let her walls down and told Rome she wanted to adopt – I was like yes! It takes a lot to be strong enough to let go of your past. 
Jasmine: I'm going with young Rainbow on Mixed-ish. Her peers tried to tell her that girls need to dumb themselves down when it came to math and science. They told her boys wouldn't like her if she was too smart.  I'm so glad she didn't give in and let anyone else try to define who she should be.
OTP of the Week
Lizzie: Brooke and Sir Cole, on The Knight Before Christmas. I've watched most of the Christmas offerings this year, and this might just be my favorite, because it was cheesy AF, very, very tropey, and the two leads had a LOT of the right kind of chemistry. Plus, I literally just wanted them to live happily ever after. It made me happy. 
Erin: Landon and Hope on Legacies. I don't care what's going on – those two belong together and I refuse to see anything else.
Jasmine: Olivia and Asher on All American!!! I know Olivia told Asher she just wants to stay friends but I have high Hopes they'll get back together!
Moment That Made You Collapse Into a Puddle of FEELS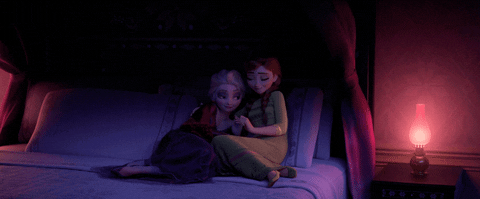 Gillian: No spoilers but I loved how the relationship between Anna and Elsa evolved in Frozen II so much. One of the reasons I have such an attachment to the first one is because of the sister relationship and they really expanded on it in the sequel. Gah, sisters, one of the few things that can make me cry.
Lizzie: I'm still recovering from the end of this week's The Good Place midseason finale. When Chidi opened that paper and it said: There's no Answer, But Eleanor is the Answer? Oh yeah, I don't think I'm ever getting over that. OTP heaven, right here. 
Julie: The entire third episode of Season 3 of the Crown, "Aberfan" was gut-wrenching. Not only did we have to learn about a very real-life tragedy that killed 116 children, but watching the fallout off that loss on the community was heartbreaking. That moment when the queen receives a drawing from the surviving children of Aberfan hit me in the feels so hard. And days later, I'm still thinking about that close-up of Oliva Colman at the end as she formed and shed a single tear. 
Naomi: After Josie restores everyone's memory of Hope, the realization that things cannot just go back to the way they were sets in. Landon is upset and now has to choose to rekindle his relationship with Hope or remain with Josie. Rafael tells Hope he can't be her buddy anymore because the restoration of his memories brings baggage; he is in love with Hope. Hope feels all alone. That is until her Aunt Freya shows up. From one Mikaelson to another: "Always and Forever"
Erin: Ummm if you haven't watched the fall finale of A Million Little Things, you are missing one of the most heartbreaking and emotional scenes I have ever seen on TV. Rome and PJ on the roof – OMG. Like I can't even explain. I cried for an hour. I fell the fuck apart. Rome saving PJ in his darkest moments and willing to sacrifice himself… 
I was a mess.
Jasmine: Watching Rebecca so lost on This is Us. Oh. My. Gosh. That broke my heart. I kept telling myself I would not cry but Dammit I did. Mandy Moore is a phenomenal actress and she really conveyed what's it like to be in the early stages of alzheimers so well! When i realized that particular episode when she got lost was happening in  the future (The big 3s 40th birthday) and then it went to her on Thanksgiving in the present, my mouth dropped open. When she told Randall she needed to see a doctor, I just can't even.
Quote of the Week
Julie: "You're a dazzling cabbage." – Prince Philip to Queen Elizabeth in The Crown
Erin: I will not lose you – Rome to PJ on A Million Little Things
Jasmine: "I'm Tess Pearson and I'm gay!" – Tess, This is Us
Lyra: "We're the guys that break the rules." – Sam Winchester, Supernatural
WTF Moment of the Week
Lizzie: I mean, I already knew the revelation was coming on His Dark Materials, but Ma Costa telling Lyra that Mrs. Coulter is her mother still gets this spot, because when you think about it, that means this woman didn't only abandon her child, but came back to get her just to use her and then, when Lyra wasn't the perfect robot child she wanted, she absolutely lost it. I know I said before Asriel was a bad father, but Mrs. Coulter is an even WORSE mother.
Gillian: Pretty much every week, this category could go to Riverdale, but I really have to call out the Blossoms and their absolute batshit craziness in the Thanksgiving episode. I'm so over the Jason storyline and now that Cheryl ate her twin and God, can we not do this anymore? Now Toni is even more entwined and she deserves better than this nonsense!
Jasmine: Olivia telling Asher she just wants to be friends on All American. Like seriously dude? We did not come this far and have this long slow buildup to those two getting together for them to break up immediately after. 
Agree? Disagree? Have any more feels? Share with us in the comments below!
---
Don't miss out on posts like this! SUBSCRIBE to our monthly newsletter HERE!