We're more than halfway through the first season of The Mandalorian. While we've had fun so far, our crew is a bit mixed on "The Gunslinger." Check out our review, our roundtable, and share your thoughts with us in the comments!
1). We're now 5 episodes into The Mandalorian. Share a gif with your overall reaction thus far.
Ashley:
Julie: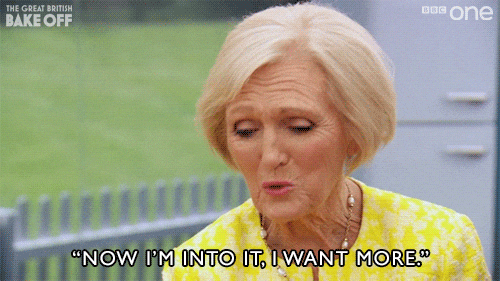 Lyra: EVERY. DAMN. EPISODE.
2).  We finally got to meet Fennec Shand (Ming-Na Wen)! How do you view her character? Have we seen the last of her? 
Ashley: I was extremely disappointed that we didn't get more of her! Fennec seems so interesting and a real challenger to Mando. I find it frustrating that they had so little of her in this episode. I really hope she's not done. 
Julie: I liked her a lot, and I was bummed that we thought her part was so short. It was great to see at the end that she will probably still be around. I'm very curious about her backstory and the person she was supposed to meet up with. 
Lyra: WE COULD'VE HAD IT ALLLLLLLL! Why bring in someone so fantastic for such a small time? She needs to meet the rest of the team and ended up being another aunt to Baby Yoda. We were robbed!
3). Star Wars has always borrowed heavily from the Western genre and The Mandalorian is by far the most space western of any Star Wars story in the canon. Who do you think was the real "gunslinger" in this episode? 
Ashley: I guess it would have to be Mando. While this episode had all the trappings of a western, the "gunslinger" aspect was decidedly lackluster. I liked the charge that Mando and Toro did against Fennec. The speeder bikes subbing for horses, and the flashes were an interesting touch, but the fights themselves were far too easy for me. There was more challenge in his brief scuffle with Cara Dune than there was in his fight with Fennec. 
Julie: Oh, it was definitely Mando. And this episode did have a lone gunslinger vibe, because the other guy was almost laughable in the way he thought he could go up against Mando at the end. Come on, dude. Seriously? I think Tatooine was a perfect place to set a gunslinger episode, and it was filled with all sorts of nostalgia goodness. 
Lyra: Agree with Ashley and Julie. It's all Mando and not this little squirt who was trying to make it big with the HELP of Mando. Also, considering that the last space western I've ever seen is Firefly, we are being gifted with goodness that I can watch over and over again. After all, who wouldn't want to experience Mando, father of the year, over and over again?
4). What do you think about Peli Motto (Amy Sedaris)?
Ashley: Maybe it's because Disney owns 20th Century Fox now, but as soon as I saw her, I did a double take and said, "Ripley?!" because her look made me really think of Signourney Weaver in Alien. She was the one real bright spot in this episode for me. I appreciated her humor and how sweet she is with Baby Yoda. 
Julie: It took me a few minutes to realize it was Amy Sedaris, and I was pleasantly surprised! I had no idea that she was going to be on the show. I loved how much she cared for Baby Yoda and gushed over it. She represents all of us. 🙂 
Lyra: Don't hate me but…I HAVE NO IDEA WHO AMY SEDARIS IS! *hides* I just thought she was Baby Yoda's new and sassy grandmother who watches Baby Yoda when Mando is off doing things and stuff. No? Pretty sure that's what they were doing. Also, she does look like Ripley. May her name never disappear from our lips!
5). What is your favorite part of this episode? Share a gif!
Ashley:
Julie:
Lyra: The moment I realized Baby Yoda got cute little teefs.
6). Place your bets here–who was the person in the final shot of the episode standing over Fennec?
Ashley: My guess is The Client or Greef Karga. It's hard to tell from just legs, but maybe Cara Dune? Long shot there, but I'd really just love to see her character come back. 
Julie: I've seen a lot of things, from the mysterious person she was supposed to meet to our old pal Bobba Fett. I'm going to be really random here and say it was Mando. They cut quickly from the scene of him finding the body to entering the hangar to get the baby. I'm wondering if there was a conversation there that we will learn about later. 
Lyra: I. HAVE. NO. IDEA.
We have spoken. 
The sixth episode of The Mandalorian airs on December 13, 2019 on Disney+.