Suddenly, my life has meaning again. Yes, that's right, folks, The Bachelor is back — and it's the most dramatic season YET.
Well, after watching the premiere, Chris Harrison might actually be right about that one. Because those three hours were extremely intense and emotional and honest and confusing.
Honestly, I was ready to keep watching for three more hours when I looked at the clock and realized there were four minutes left. It was like that moment you stop reading a book and look at how many pages are left thinking, "There's no way this can be resolved in that short amount of time."
Because, of course, we have to wait an entire week to see the conclusion of Peter and Hannah's emotional conversation and wait with baited breath for those sex stories from Peter's girls.
Let's break down this windmill – sorry, whirlwind of a three-hour season premiere and the emotional ramifications in store.
First Impression of Peter as the Bachelor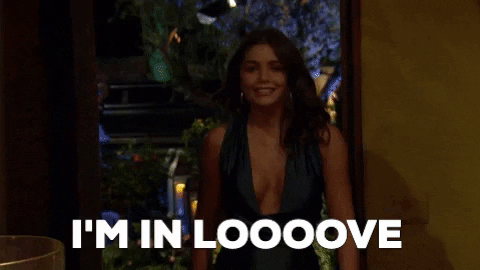 I have to admit, I was disappointed when I learned Tyler wasn't going to be The Bachelor. But Peter was my second pick — which isn't what he deserves, as he deserves to be someone's first pick. But Peter was born to be The Bachelor — as in those men watching can learn a lot from him this season, even just in the season premiere.
Peter is a great guy, and don't you ever doubt it. Even when he makes mistakes that he's destined to make this season — which he will — remember he's an actual good guy, and he's human.
But perhaps most important is that you sense Peter is there searching for the kind of true love his parents have. And it's not a line. It's real, and you can see that in every part of him. And God, I hope it goes better for him than it did Hannah.
The Hannah Brown in the Room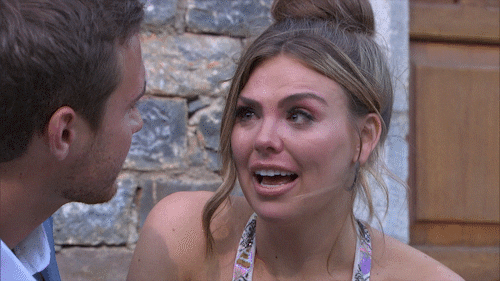 Okay, there's no other way to start recapping this massive three-hour premiere than addressing the Hannah Brown in the room. There's a reason they saved this for last – and made it a three-hour episode.
Peter and Hannah had perhaps the most honest conversation in Bachelor history – one that should've been had three months ago before Peter agreed to be the Bachelor. Hannah owned up to the fact that she fucked up. She chose the wrong guy in Jed. She should've chosen Tyler, but for Peter's sake, let's focus on how she originally was going to choose Jed and Peter as her final two. Hold up – what?
Was this Hannah's way of saving face after Tyler essentially turned her down when she asked him out after the show – not wanting to be someone's runner up? Or was this Hannah admitting that the end of her season could've been much different?
But there was one thing that was abundantly clear in their honest conversation – they both are not over each other. Which for Hannah, she has to deal with. But for Peter? Dude is in his first week as The Bachelor and suddenly these feelings of confusion have flooded him with Hannah's confession.
Peter is still in love with Hannah Brown. Even if he won't say it. He's not over her. Peter wonders how he's supposed to do right by the girls he has on this show, which is further proof that Peter is the great guy we all knew he was. He's not worried about himself – he's worried about these girls that he doesn't even know well. He wants to be the man they believe he can be.
Obviously, Peter finishes this show. Otherwise we wouldn't be watching The Bachelor featuring Pilot Pete. But now that Peter is in a different headspace, it's going to be interesting to see how he deals with these feelings and how he ultimately moves forward – without Hannah, right?
It'd be easy to say it's unfair of Hannah to come in and make him question things. It'd be easy to say, sorry, Hannah, you had your chance. And she did. She had her chance with two great guys in Peter and Tyler. And yet, there's a part of you that feels for Hannah as she realized, far too late, that she made a drastic mistake that might've cost her the love of her life.
The First Night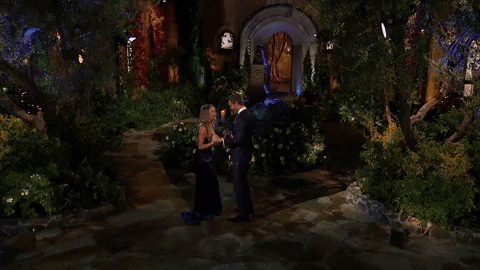 The first night is always one of the most entertaining just because there's a room full of desperate girls trying to stand out and make it to the next round. I was shocked that there were so many kisses on the first night – then again, it should've been expected considering these women were literally throwing themselves at him the first night. Hey, anything to stand out, right? 
The entrances were impressive, and featured windmills and aviation. For the love of God, a contestant was folded inside a bag of luggage knocking from inside as Peter watched on in fear probably thinking what I was — "This is how horror movies start."
There were some girls that actually seemed to be there for — wait for it — "the right reasons," but most of them just wanted their 15 minutes of fame. And they're the girls we're going to have to suffer through this season.
The first impression rose went to Hannah Ann, who the girls chose to hate because he had an immediate connection with her. Oh, and God forbid, she went back for more time with him because, wouldn't you know it, this is a show where the goal is to spend as much time with Peter as possible. And Hannah Ann definitely left a lasting impression — and a first impression.
The First Group Date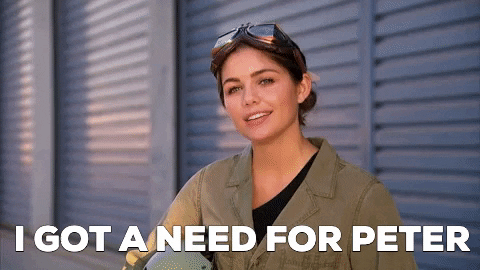 If you thought the windmill references were out of control, prepare for a season where Peter's affinity for planes is referenced a nausea-inducing amount of times. Although, I had to admit this first group date was pretty hysterical. A group of girls were tasked with a challenge of seeing if they were "worthy of being Peter's co-pilot." Although, let's be honest, Peter wouldn't trust any of them to be his actual co-pilot — if he wanted to live.
Ultimately, it was Kelley who won the obstacle course and earned a sunset flight with Peter. When she took some extra time with him at the hotel — the same hotel where they first met and sparks flew — the other girls freaked. Because, like with Hannah Ann, they were jealous that he had formed another connection with someone that wasn't them.
P.S.: I'd totally watch a Top Gun reboot starring Peter Weber — I mean, just look at him.
The First One-On-One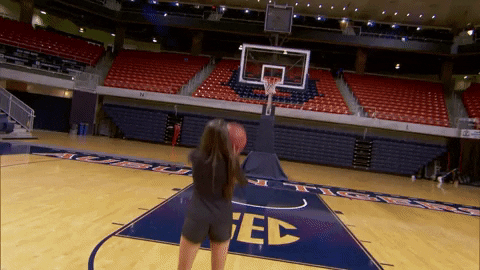 While I'm all for the drama on The Bachelor, my favorite girls always tend to be the ones that – wait for it – are there for "the right reasons." There were a few that stuck out to me on the first night, including Madison, who got the first one-on-one date with Peter. And boy, was it a biggie.
Peter took Madison to meet his family on their first date. Not just that – to his parents' renewal of vows, where he officiated. This was Peter bearing his heart and soul on his first one-on-one date. This was Peter showing Madison – and the audience – what he wants to get out of this experience. He wants the kind of "true love" that his parents have. The kind where 31 years later, they're renewing their vows – in front of their loved ones – with their love stronger than ever before.
As Peter officiated the ceremony, you could feel it in every word he spoke. He wants that true love. It was in the crack of his voice; it was in the way he held onto his father's arm as he delivered tear-filled vows; it was in the way he watched his parents with literal heart eyes as they pledged their love for each other – again.
Honestly, I don't usually put a whole lot of stock into first dates, but this one felt different. This was a meaningful day for Peter, and he could've chosen anyone. But he clearly felt a connection to Madison that made him want to share that moment with her. And, by the end of the night, even he acknowledged that feelings were already developing.
Spoiler alert: I've got myself my first ship on this season of The Bachelor. 
The Second Group Date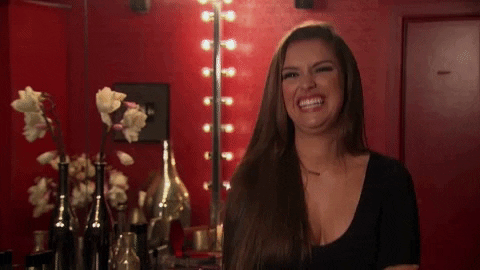 From the moment the date card read, "Hope this isn't awkward," there wasn't any part of me that doubted that this was the moment Hannah Brown was going to make her return. And boy, did she make an entrance. Hannah, standing on a stage with a windmill behind her, recounted the time her and Peter had sex in a windmill – not once, not twice, not thrice, but four times. Oh, and it was all in front of Peter and some of his new girls. 
This date is all about embracing the awkward, which in this case is about getting on stage and telling Peter – and a live audience – about a sex story.
Only, the date never actually happened. Because Peter and Hannah's conversation dominated the final hour, which left these girls bearing their hearts and sex stories for a guy that's still in love with another girl. Um, now that's awkward.
Villain Candidates: Victoria F. and Mykenna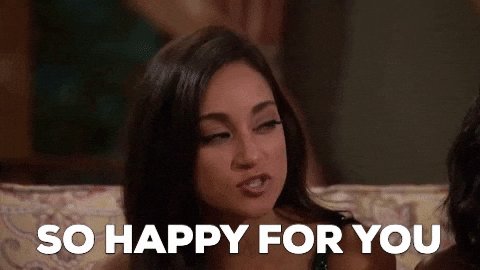 Victoria F. just does not look like someone that's there for love – let alone someone that cares about love. She's got the classic villain look, but her status is TBD. Mykenna, however, has already received the villain edit – and she's going to thrive in it.
My Favorite Peter Moment
Okay, so Peter is already killing it at this Bachelor thing, and there are countless things — big and small — that he did throughout these three hours that made me swoon because he's just a good buy. But when he remembered Victoria P. never received flowers from a guy, he took the time to pick some flowers just for her. And I swear to God, men need to watch this season just to see how the smallest efforts make all the difference.
My Favorite Girls: Madison, Alayah, Kelley & Hannah Ann
I could've dedicated this entire review to two things: Hannah Brown's return and Madison & Peter. Seriously, Madison is my hands-down favorite following the premiere. And because I can't have nice things, if she doesn't happen to win, she's my early vote for Bachelorette. That, and she's the lone sporty girl that's won multiple basketball championships. I stan a queen.
Alayah also got me with her sweet nature and her grandmother, who it is now my dream to meet. She wrote a freaking letter to Peter and Alayah and Peter read it together. It was the cutest fucking thing. Then there's Kelley, who just seems destined to win this show because, you know, fate. I also don't mind Hannah Ann, or First Impression Girl, who isn't the villain everyone was determined to make her out to be.
My Least Favorite Girls: Victoria F., Tammy, Mykenna
Ugh, troublemakers. All of them. I don't want to waste words on them. Not yet. Not until it's worth it.
Predicting the Final Two: Hannah Ann and Madison
 These two had the strongest connection with Peter in the premiere. Hannah Ann and Madison both had immediate connections with Peter — and it was the kind of chemistry that made it entirely obvious these are the final two. I'm sorry, you can't hide it. Hannah Ann got the First Impression rose, as well as Peter sitting next to her on the group date. Then there's the fact that Peter brought Madison to watch his parents renew their vows and meet his family. Talk about the one.
Predicting the Winner: Madison
The signs all point to Madison. I knew it from the moment Peter decided to take her to watch his parents have their vows renewed. He could've chosen any girl at that point. But he chose Madison because he felt an undeniable connection. Also, Peter's mom already gave Madison her seal of approval. Just saying.
The Bachelor airs Mondays at 8/7c on ABC