The Bachelor meets A Star Is Born?
That's how ABC is describing its newest Bachelor spinoff, which was ordered to series at ABC's Television Critics Association's winter press tour on Wednesday. The Bachelor: Listen to Your Heart will premiere April 13 at 8/7c, and will fill our Bachelor-less voids on Mondays.
Listen to Your Heart will bring together 20 single men and women who are looking to find love through music. Just like The Bachelor, The Bachelorette and Bachelor In Paradise, all the singles will cohabitate and go on dates — only these dates will focus on music.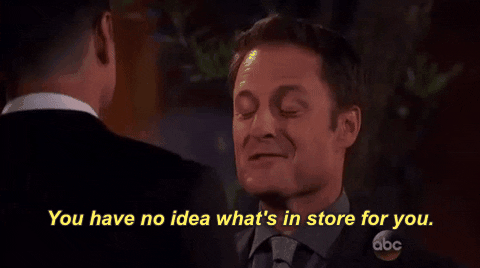 When couples form, they'll be tested through musical challenges, which include live performances judged by some big names in the music industry. The contestants will look to form real connections through songs — and hopefully fall in love. When all is said and done, only one couple that "reveal their love and devotion to one another" will be left standing.
"The format is an evolution of The Bachelor," ABC Entertainment president Karey Burke said. "Contestants will be talented musicians and people whose lives and work revolve around music. [The series will] capture what we all know: love, emotion and music are intertwined. How people find each other through songwriting and singing is the thrust of the show."
As the resident Bachelor expert here at Fangirlish, I'm never one to pass up an opportunity for more Bachelor goodness on my screen. Hell, the two-month break in between The Bachelor finale and The Bachelorette premiere is too long for my liking.
But let's be honest: This is either going to be the worst thing ever or the best thing ever, and there's no in between.
There's nothing like the drama that comes with reality television — especially what's essentially a reality-television competition. Just like there' nothing like strangers looking for — and sometimes finding — love in front of millions of people. But, at first sight, the music aspect of the show sounds a tad cheesy.
Not to mention my thoughts go immediately to Jed from last season's The Bachelorette and wonder if he single-handedly got this show greenlit. If he shows up on my screen one more time…not even Chris Harrison will be able to save me. Speaking of…
But can we talk about the most important question here: Is Chris Harrison going to hosting? Because it's not The Bachelor without him. Plus, who's going to warn us that it's going to be the most dramatic season yet? Unfortunately, ABC hasn't confirmed if he will just yet, but you figure he will.
Still, I'm going to be cautiously optimistic heading into a spinoff that, on paper, hasn't won me over entirely.
The Bachelor: Listen to Your Heart premieres Monday, April 13 at 8/7c on ABC.