Filthy Rich is back with a new episode this week titled "John 3:3". John 3:3 says this, "Jesus replied, "Very truly I tell you, no one can see the kingdom of God unless they are born again."" A lot of people I feel were born again on this episode of Filthy Rich this week. Some were also revealed as sinners.
SAINTS AND SINNERS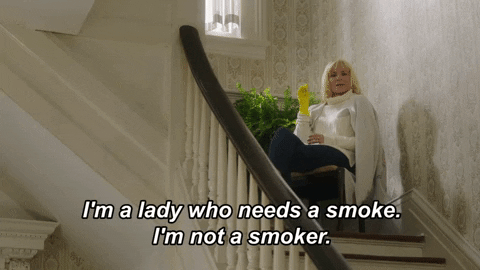 Ginger was literally baptized this episode and it was hilarious. While Margaret and Reverend Paul wanted to use her to get new subscribes for the Sunshine Network, Ginger played along and used it to further her goals. She used her entrepreneur spirit and used the platform she was given to advertise for SinWagon. The girl is a genius and isn't afraid to be vocal about who she is or what she wants. She isn't ashamed and it's so refreshing.
Now, let's get to Jason, a.k.a Mark. He is Jason's adoptive brother and is pretending to be Jason so he can get the money for medical bills. He might be a "sinner", but his heart is in the right place. He is trying to help his family and in the process he is loosing his brother Jason after a car accident. He seems like a good guy so far.
Rose, I knew she felt something for Jason and this episode of Filthy Rich just confirmed it. She is ashamed of her feelings and is obviously very relieved when she finds out Jason is really Mark and they aren't related biologically. I love that she convinces him to come back to New Orleans and continue the sharade as well because it's all going to hell in a hand basket. Someone, probably Margaret, Ginger or Eric is going to discover their new relationship and it will me a big hot ass mess.
Eric, we see you. You were being a stupid condescending prat. You claim to be all high, mighty and righteous but really, you are a secret subscriber for SinWagon. Ginger had your number all along. Like father, like son, the cycle shall continue with your secret online chats. I hope you find yourself coming to reality and realizing you are no better than everyone else.
I'm still trying to decide exactly how this Eugene plot line is going to play out. Obviously, his private plane was sabotaged. Now however, I'm wondering if it was Margaret all along and this is her avenue of revenge. But, also that seems too obvious. It would be a laugh if Eugene doesn't go back to his life at all but he starts a new one as a Reverend and is discovered alive at the end of the season.
What are your thoughts regarding Eugene? Share them with us in the comments.
Sign up for our bi-weekly newsletter here!
Filthy Rich air's Monday's on Fox at 9/8c.