2018 was full of canon LGBTQ+ ships! And yes, while mainstream can still do way better at representation as a whole, we are thankful to have couples like the ones listed below.
It's so great to see a long list of committed, healthy, loving relationships between LGBTQ characters this year! In no particular order, here are our favorite LGBTQ+ ships of 2018:
1. Waverly and Nicole, Wynonna Earp
Their ship name isn't Wayhaught for nothing! Waverly and Nicole took some major leaps forward this year in their relationship as they showcased a more domestic side to this couple. We cherished the moments of family dinners, double dates, and positive representation of a couple truly in love. We have no doubt they will fight like hell to get back to one another in Season 4!
2. Sara and Ava, Legends of Tomorrow
Sara and Ava have become a couple for the history books on Legends. Sara's growth to allow herself to love and be loved by Ava was captivating. They both showed just how complicated love can be, and the courage and vulnerability it takes to fully let yourself get to that point. Not only did it help them become better people, but it made their relationship better. Getting to see them happy is such a joy on an already great show.
3. Magnus and Alec, Shadowhunters
Let's be clear, Magnus and Alec's love story should be reason enough for the show to be saved. They are one of the best examples of what a gay love story and positive representation should look like, and the writers broke the mold when giving them this empowering relationship. The devotion, dedication, and support these two have for one another gives us all the feels.
4. Syd and Elena, One Day at a Time
Syd and Elena is one of the younger couples on this list, but you just can't help but smile when you think of them. Their story of activist pals who are now in a blossoming romance is a great portrayal of young love. Plus the show made a huge leap for representation as Syd is non-binary and showcasing them as average nerdy high schoolers made us all collectively sigh with heart eyes emojis.
5. Kat and Adena, The Bold Type
We might be a little bitter about this cute couple not having a happy ending yet, but this relationship was a huge step for Kat and we know she'll be better for it in the long run. They definitely pushed some boundaries as far as breaking down barriers, especially after *that* scene. These two queer power ladies showed that you can own your sexuality, challenge the stereotypes, and show how positive representation can make a difference.
6. Toni and Cheryl, Riverdale
While Cheryl's coming out story was a push from fans and the actress herself, we all know that from the second Toni came into her life these two were meant to be. They've definitely had a crazy start, and they are proof that there are no truer words when they say opposite attracts. Plus who wouldn't want to be with the person that broke them out of conversion therapy?
7. Mitchell and Cameron, Modern Family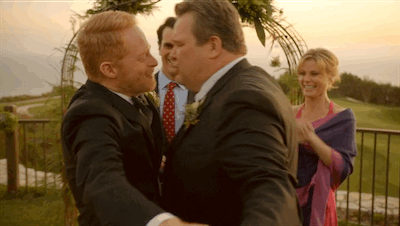 Mitchell and Cameron are relationship goals and one of our favorites on this list. They laugh, flirt, bicker and tease each other just like soulmates should. They have had their share of problems but every episode, we remember why finding someone who gets and supports you is one major life goal. They melt our hearts and give us hope for what love and a relationship should be.
8. Nico and Karolina, Marvel's Runaways
One of the most anticipated couples of the year, Nico and Karolina stood out in the comic books and their television debut was just as rewarding. Marvel has been reluctant in the past with any LGBTQ representation so we were excited to see this show get picked up. What's also great is that both Nico and Karolina had their own separate storylines, which allowed their relationship to have a natural fit versus making it only about them as a couple.
9. Connor and Oliver, HTGAWM
Connor and Oliver have been through hell and back to get where they are today. They made the choice to stick together and to make the best of the circumstances they found themselves in. They have had adorable couple moments over the years, but their wedding was the highlight of the love and commitment these two have for each other.
10. Mel and Niko, Charmed
Charmed has been a mess representation wise, and the show has had it's up and downs, but the highlight has always been the main OTP of the show, Mel and Niko. It's rare that a CW show allows the lesbian couple the chance to be the epic endgame couple, and yet, this show has set up Mel and Niko as the Piper and Leo of this reboot, and though there are a lot of secrets and yeah, time changed and they're not technically together now, they're still the #1 reason to tune into Charmed, without a doubt.
11. Jane and Petra, Jane the Virgin
Petra and Jane was another couple that fans had been pushing for after voicing their opinion about Petra being bisexual. Needless to say, her coming out storyline was one of the most genuine ones we have seen. It may have only gotten her the girl for a moment but we have hope for what comes next for these two.
What were your favorite LGBTQ+ ships from 2018? Let us know in the comments below!
Hillary Esquina
Hillary is tv/film fanatic and spends most of her free time talking about all things pop culture and representation. Her current day job is working in the nonprofit sector, and she is pretty much in love with any show that has strong female characters. Never one to be boxed into any sort of genre, her current favorites range from Wynonna Earp and Dark Matter to One Day At a Time and Modern Family.